Hainanese chicken rice is one of my absolute favorite comfort foods. This classic Southeast Asian dish features tender, poached chicken served on top of fragrant, garlic-infused rice. It's simple yet packed with flavor, and has become popular all over the world. As a food blogger and home cook, I've enjoyed learning all about the history and origins of Hainanese chicken rice. At Food And Meal, I'll share everything you need to know to make this iconic dish at home, along with my tips and personal twists. Let's get cooking!
A Brief History of Hainanese Chicken Rice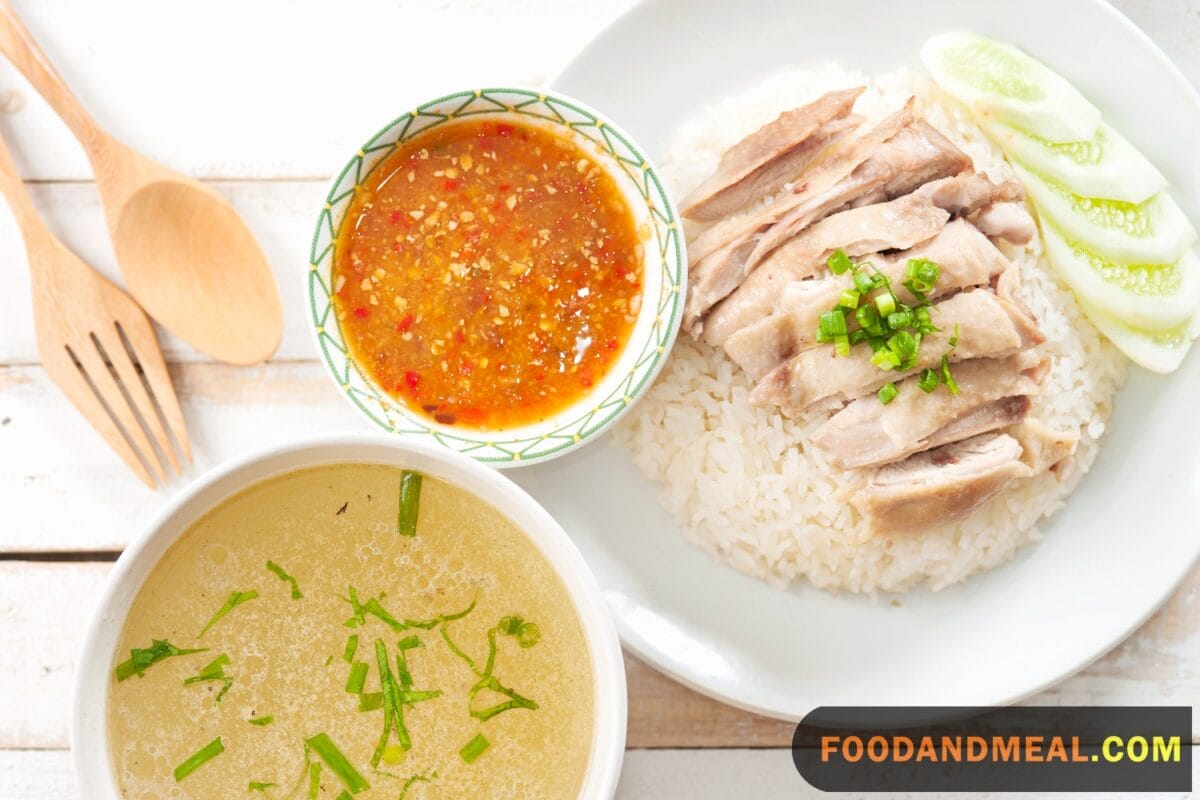 While many people associate Hainanese chicken rice with Singaporean cuisine, the dish actually originated in the Hainan province of southern China. Chinese immigrants from Hainan adapted a recipe called Wenchang chicken to create this tasty one-pot meal. The rice absorbs the chicken broth as it cooks, giving it an irresistible aroma and flavor. During World War II, Hainanese servants and restaurant workers in Singapore started selling their own versions, popularizing what became the national dish. From Singapore, Hainanese chicken rice spread to Malaysia, Vietnam, Cambodia and Thailand, taking on local influences along the way.
Hainan chicken rice is a traditional food in Hainan. Hainan Wenchang chicken is generally used for local production in Hainan. Wenchang chicken is small in size, round in shape, bright in color, thin skin and tender meat, and rich in meat flavor. Hainanese chicken rice should also be accompanied by rice dipped in chicken oil and
chicken broth. The unique rich fragrance of Wenchang chicken is integrated with the rice, and it has become a hometown flavor that cannot be parted in the hearts of Hainanese living in a foreign land.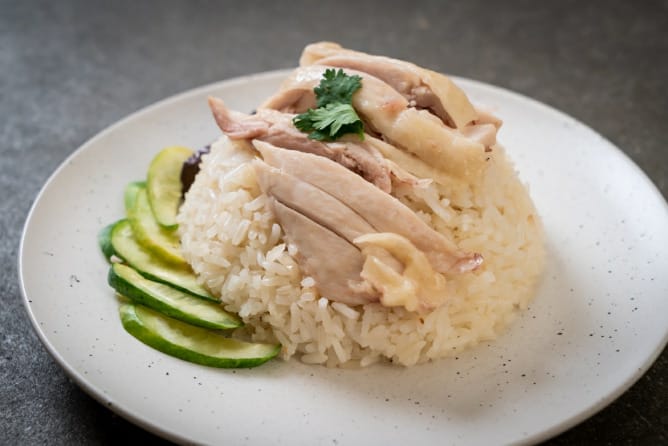 Hainanese chicken rice spreads to Malaysia, Singapore and other places along with the migration of Hainanese. Local chicken is used instead of Wenchang chicken when making it. The Hainanese immigrants in the Malacca area still retain the old ancestor worship habits.
When making Hainanese chicken rice, the rice balls are made into pieces. The outer surface is round and the inside is soft. Taste, everything is available.
Best Hainanese Chicken Rice at home Recipe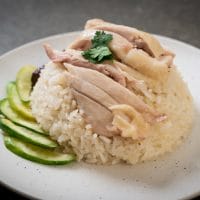 Hainanese Chicken Rice
Hainanese chicken is said to have originated from southern China when immigrants from Hainan created this poached chicken dish inspired by Wenchang chicken. It is usually served with seasoned rice, chili sauce, and chopped cucumber.
Print
Add to Collection
Go to Collections
Equipment
Instructions
Pour the olive oil into the Instant Pot.

Add the garlic, ginger, shallot and green onion to the pot.

Cook while stirring for 2 minutes.

Pour the broth into the pot.

Add the chicken and salt.

Seal the pot.

Cook on high pressure for 8 minutes.

Release pressure naturally.

Serve with rice, chopped cucumber and chili sauce.
Notes
I hope this guide has you excited to make Hainanese chicken rice at home. This versatile recipe is definitely worth the time and effort. The fragrant rice, tender chicken and punchy sauces come together to create a truly iconic Southeast Asian dish. Let me know if you have any other tips or tricks for nailing it! Now it's time for me to get cooking.
Share by Email
Share on Facebook
Share on Twitter
Nutrition
Serving:
1
serving
|
Calories:
376
kcal
|
Carbohydrates:
7
g
|
Protein:
23
g
|
Fat:
28
g
|
Saturated Fat:
7
g
|
Polyunsaturated Fat:
5
g
|
Monounsaturated Fat:
14
g
|
Trans Fat:
0.1
g
|
Cholesterol:
123
mg
|
Sodium:
4254
mg
|
Potassium:
401
mg
|
Fiber:
1
g
|
Sugar:
2
g
|
Vitamin A:
123
IU
|
Vitamin C:
4
mg
|
Calcium:
43
mg
|
Iron:
1
mg
© Food And Meal
This website provides approximate nutrition information for convenience and as a courtesy only. Nutrition data is gathered primarily from the Spoonacular Database, whenever available, or otherwise other online calculators.
Tips and Tricks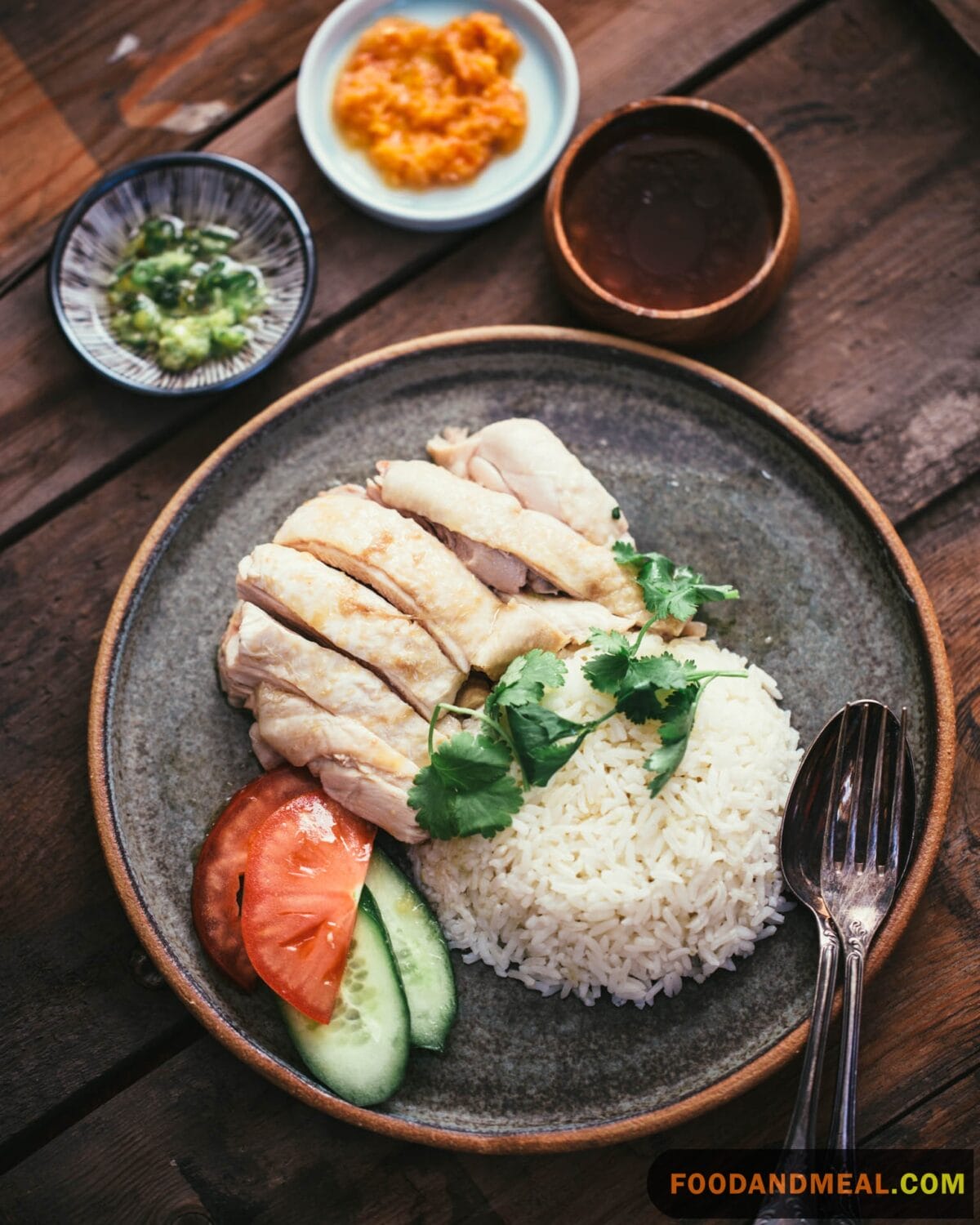 Tips for Perfect Hainanese Chicken Rice at Home
Recreating this popular hawker stall food takes some work, but the results are well worth it. Here are some of my top tips for making foolproof Hainanese chicken rice at home:
Use a whole chicken rather than just breasts or thighs. This gives you the flavorful poaching liquid you need for the rice.
Keep the temperature very low when poaching the chicken. You want it to cook gently so the meat stays juicy.
Chill the cooked chicken in ice water before slicing. This firms up the meat and prevents it from drying out.
Sauté the garlic and ginger before adding to the rice. This extra step really blooms the flavors.
Fluff and stir the rice after cooking to release excess moisture and give it the perfect texture.
Frequently Asked Questions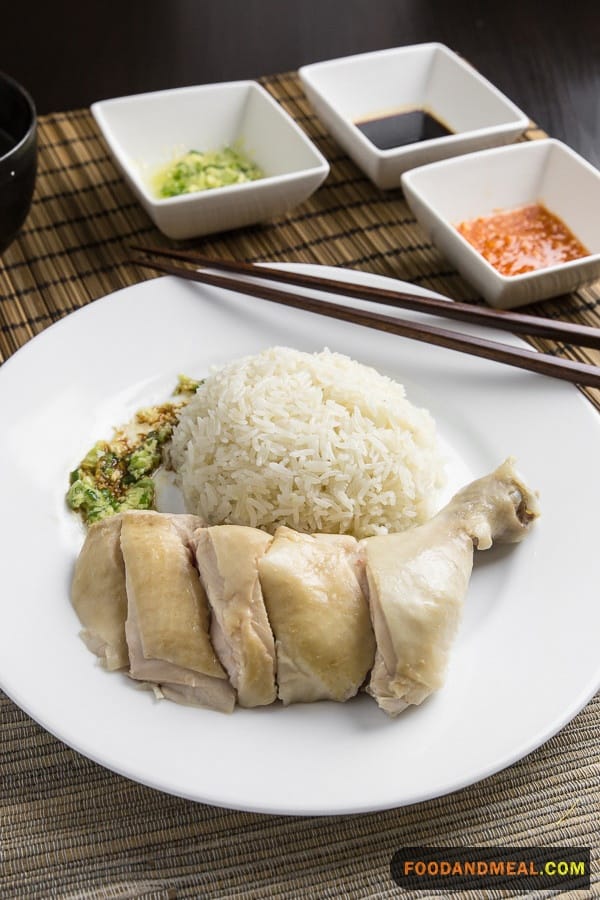 What kind of rice works best? The traditional choice is long grain white rice. Basmati or jasmine rice are great options that give fluffy, separated grains.
Can I use chicken breasts instead of a whole chicken? You can, but the rice won't have as much flavor. Use chicken stock along with the poaching liquid.
Is the chicken served warm or cold? Hainanese chicken rice is usually served with the warm rice and chilled poached chicken. But some enjoy it with warm chicken too!
What drink pairs well with this dish? I like serving it with chilled white wine or Asian beers like Tsingtao. Green tea also makes a refreshing beverage.
Serving Suggestions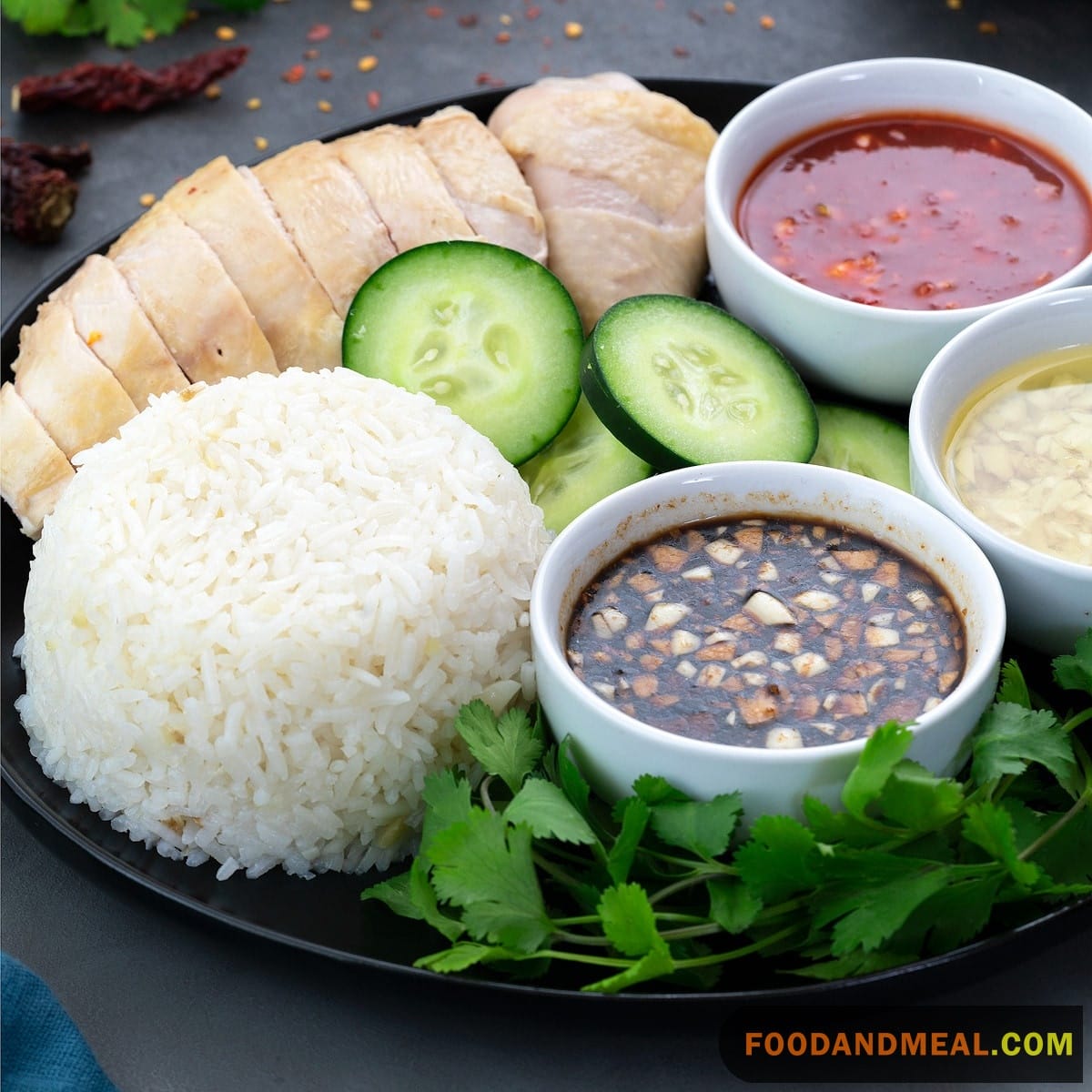 Hainanese chicken rice makes a fantastic family meal or dinner party dish. For a more casual meal, the components travel well for on-the-go lunches. Leftovers also reheat nicely. Here are some of my favorite ways to enjoy it:
As a well-balanced lunch bowl with the chicken, rice, veggies and sauce
Wrapped in lettuce leaves for a fresh, low-carb option
Served in stuffed tomatoes or bell peppers for a fun presentation
Topped with a fried egg for an extra protein boost
Alongside coconut rice for a tropical twist
With spicy Singapore noodles or stir-fried veggies on the side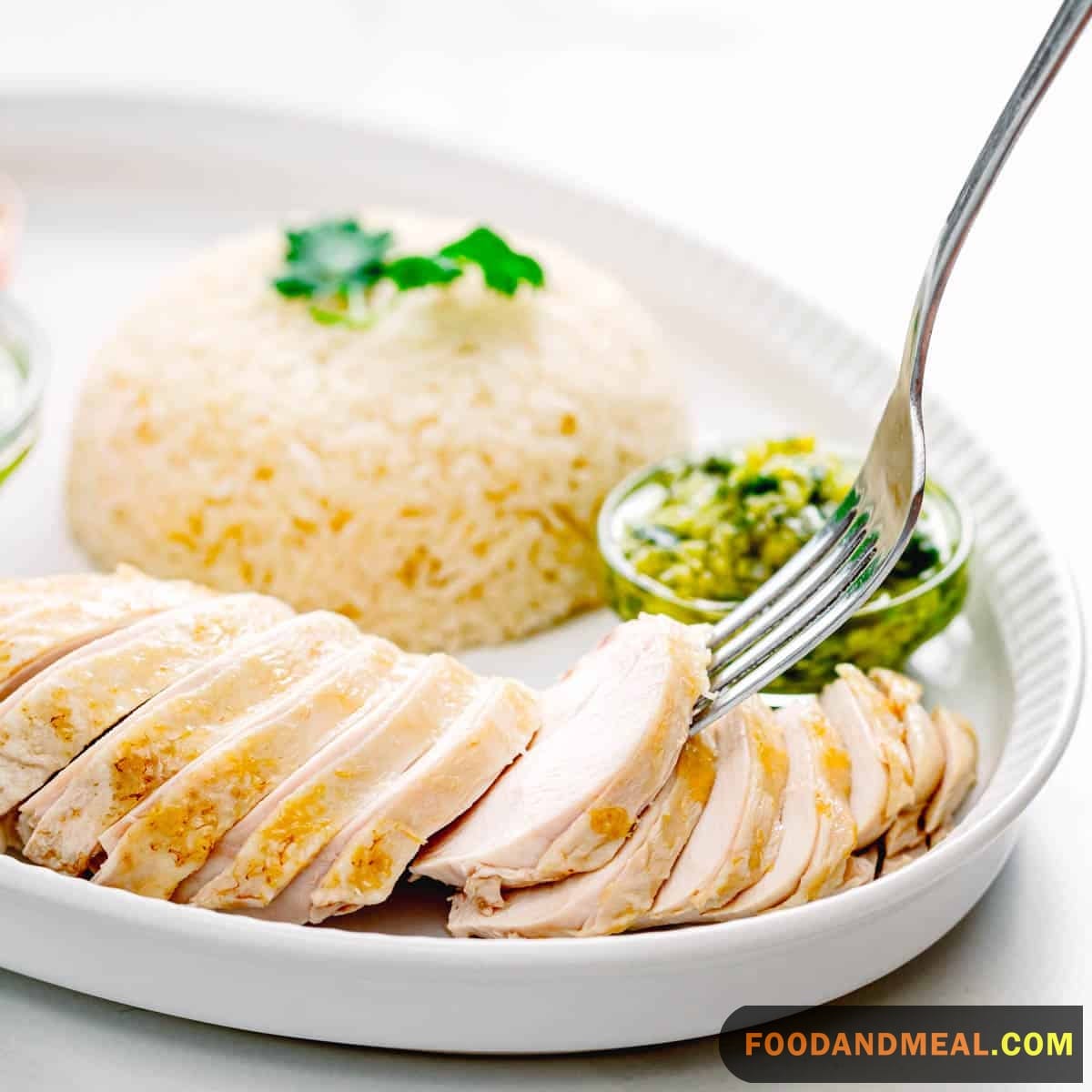 As a passionate home cook and foodie, I'm so excited to share my ultimate guide to making authentic Hainanese chicken rice. This post dives into everything from the dish's origins to my best cooking tips, plus answers common FAQs. I even include serving suggestions to turn this into a full meal. I'd love for you to try this iconic recipe and let me know how it goes! Please share this with any other chicken rice fans.
I'm Tracy F Hilton, a devoted culinary professional shaped by a mix of natural aptitude and refined skills from a top culinary school. In the dynamic kitchen environment, I'm a catalyst for seamless operations and timely, high-quality dish preparation. My culinary creations are a blend of art and skill, offering visually and gustatorily delightful experiences. A learner at heart, I'm continuously honing my craft, embracing new techniques, and culinary innovations. My positive, collaborative nature is amplified in fast-paced settings, showcasing my commitment to team efficiency and guest satisfaction. Each dish I present is a meticulous blend of tradition and innovation, promising an unforgettable dining experience that marries taste, aroma, and aesthetic appeal in perfect harmony. Join me on a gastronomic journey where each bite encapsulates a rich, evolving narrative of flavors and culinary artistry.
Affiliate DisclaimerAbout The Content
As an affiliate, we may earn a commission from qualifying purchases. We get commissions for purchases made through links on this website from Amazon and other third parties.