If you love pasta and spinach, you will love this Macaroni and Spinach Salad. It is a healthy, quick meal that's great served warm or cold. You can make it ahead and serve it at any time. Here are a few simple steps to follow to make this dish a success.
Macaroni and Spinach Salad
Recipes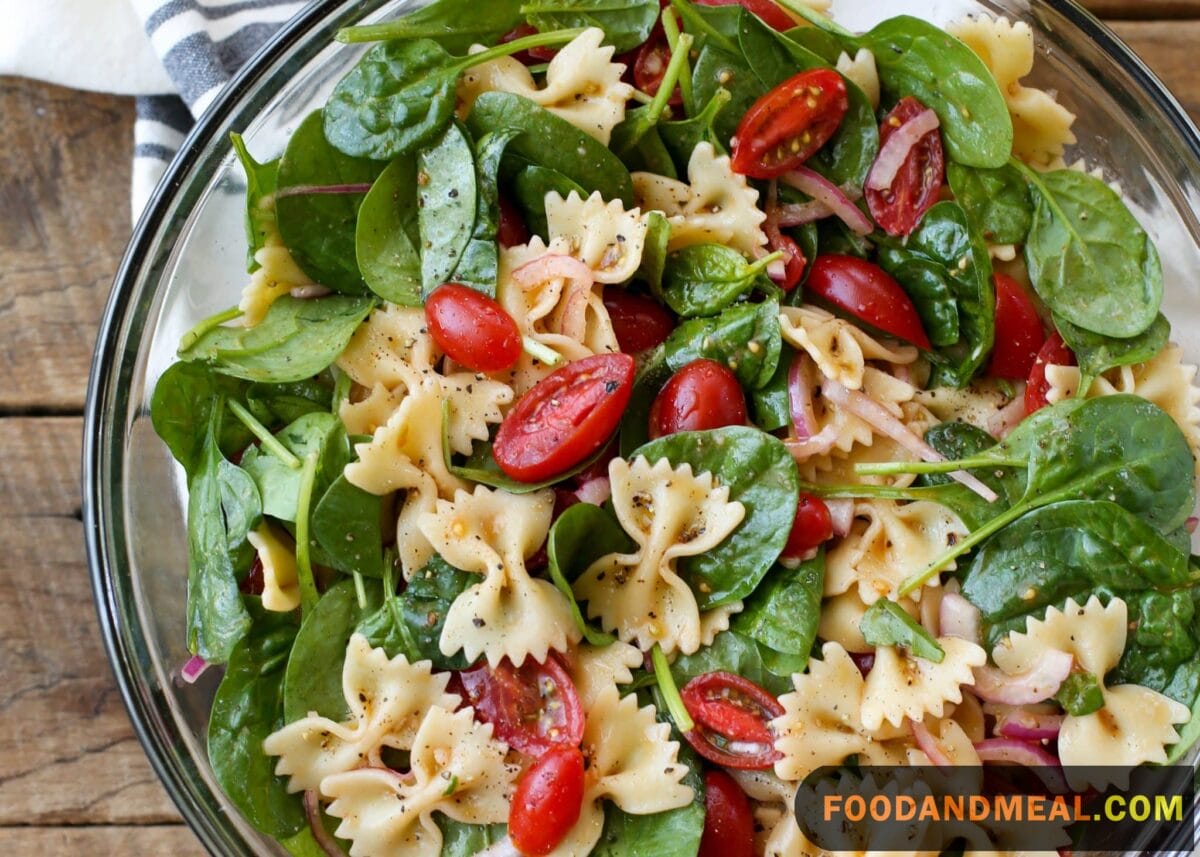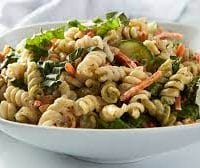 Macaroni and Spinach Salad
Macaroni and spinach salad is a healthy and delicious recipe that is easy to prepare. You can use any kind of pasta as long as it's cooked. The pasta should be cooked to al dente for best results. It is best to season it well. In this recipe, you can also use any type of cheese. Moreover, the dressing will complement the fresh ingredients. Once the pasta is cooked, the salad will be a delicious and nutritious dish.
Print
Add to Collection
Go to Collections
Equipment
Ingredients
2/3

cup

balsamic vinaigrette dressing

1

quart

cherry tomatoes

10

ounces

fresh mozzarella

2

cups

whole grain fussily or macaroni pasta

cooked 10 cups baby spinach
Instructions
Prep
Cook the pasta in salted boiling water for 8-10 min. or until tender but firm to the bite.

Let the pasta cool down.

Divide the ingredients evenly among the mason jar/s.

Layer them in order based on the ingredient list above in a mason jar starting with the dressing.

Make sure the dressing does not touch the greens yet.

Place the lid and close tightly.
To Serve
Shake the jar well to coat the ingredients with the dressing and enjoy!
Notes
For the salad to be a success, it needs to be made with fresh spinach. A delicious macaroni and spinach salad has plenty of flavors and makes a great summer meal. When making this pasta salad, make sure the ingredients are fresh and organic. Then, you can add bacon, feta cheese, and tomatoes. This salad is easy to make and is a great side dish for any occasion. You can even make it as a side dish for a potluck.
Share by Email
Share on Facebook
Share on Twitter
Nutrition
Serving:
2
servings
|
Calories:
188
kcal
|
Carbohydrates:
10
g
|
Protein:
5
g
|
Fat:
6
g
|
Saturated Fat:
2
g
|
Polyunsaturated Fat:
0.2
g
|
Monounsaturated Fat:
1
g
|
Cholesterol:
11
mg
|
Sodium:
165
mg
|
Potassium:
133
mg
|
Fiber:
1
g
|
Sugar:
1
g
|
Vitamin A:
327
IU
|
Vitamin C:
10
mg
|
Calcium:
79
mg
|
Iron:
0.6
mg
© Food And Meal
This website provides approximate nutrition information for convenience and as a courtesy only. Nutrition data is gathered primarily from the Spoonacular Database, whenever available, or otherwise other online calculators.
Alternative Method: Grilling Macaroni and Spinach Salad with Balsamic Glaze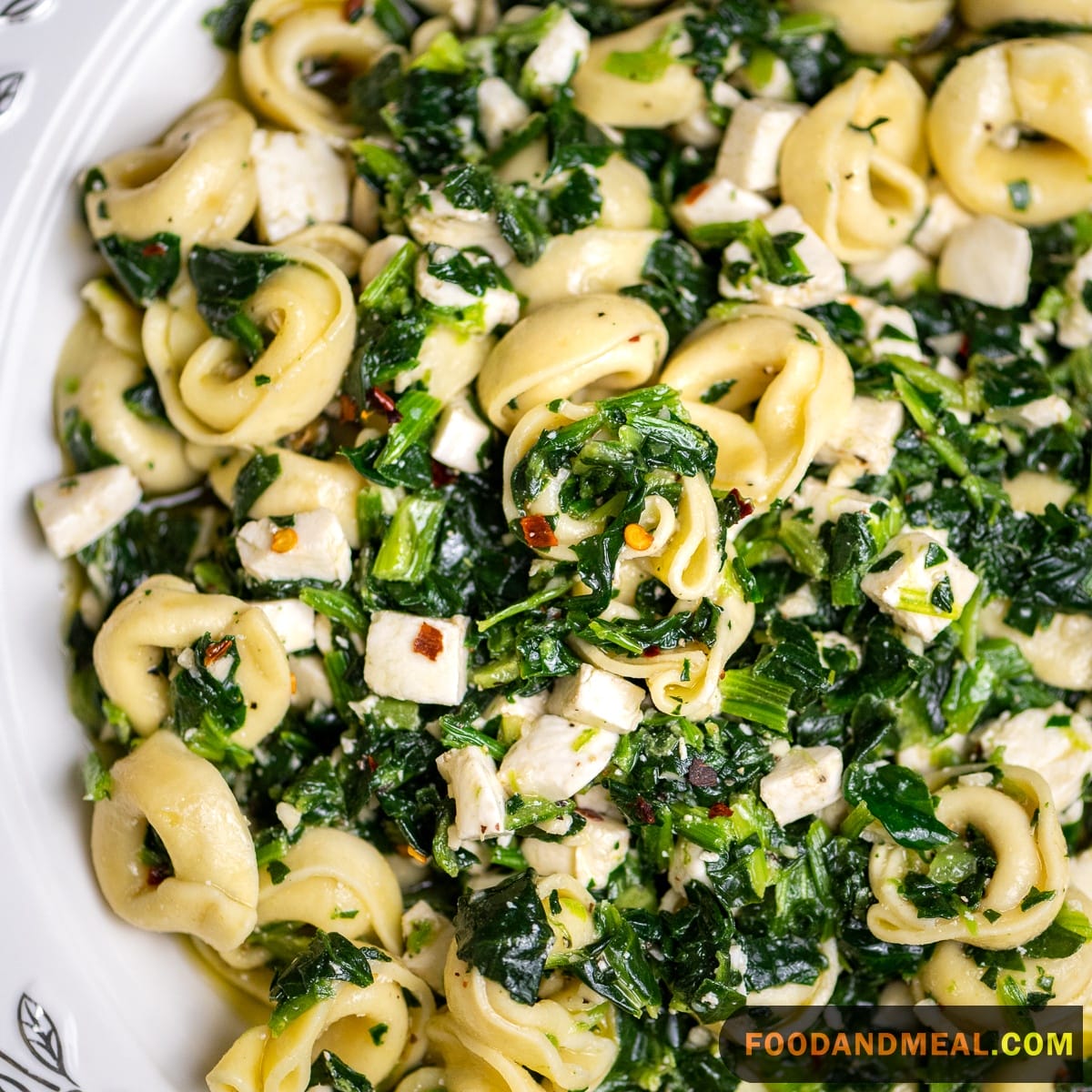 Ingredients:
2 cups cooked macaroni
2 cups fresh spinach leaves
1/2 cup cherry tomatoes, halved
1/4 cup red onion, thinly sliced
1/4 cup feta cheese, crumbled
1/4 cup pine nuts, toasted
1/4 cup fresh basil leaves
Olive oil
Salt and pepper to taste
For the Balsamic Glaze:
1/2 cup balsamic vinegar
2 tablespoons honey
1 clove garlic, minced
Instructions:
Preheat the Grill: Preheat your grill to medium-high heat. Make sure the grates are clean and well-oiled to prevent sticking.
Toast the Pine Nuts: Place the pine nuts in a small, grill-safe pan or foil. Grill for a few minutes, tossing occasionally until they are lightly toasted. Remove from the grill and set aside.
Prepare the Balsamic Glaze: In a small saucepan, combine the balsamic vinegar, honey, and minced garlic. Heat the mixture on the grill over indirect heat. Stir occasionally and allow it to simmer until it thickens, usually for about 10-15 minutes. Once it reaches a syrupy consistency, remove it from the grill.
Grill the Macaroni: Place the cooked macaroni in a grill-safe pan. Drizzle with a bit of olive oil, salt, and pepper. Grill for approximately 5-7 minutes, stirring occasionally, until the macaroni gets grill marks and a slightly smoky flavor.
Assemble the Salad: In a large salad bowl, combine the grilled macaroni, fresh spinach leaves, cherry tomatoes, red onion, and basil leaves.
Drizzle with Balsamic Glaze: Generously drizzle the balsamic glaze over the salad. Add more or less according to your taste.
Finish and Serve: Top the salad with crumbled feta cheese and the toasted pine nuts. Give it a gentle toss to mix the flavors. Serve immediately while it's still warm from the grill.
Enjoy: Gather your friends and family for a delightful outdoor meal. Enjoy the smoky, tangy, and slightly sweet flavors of your Grilled Macaroni and Spinach Salad.
Tips for making Macaroni and Spinach Salad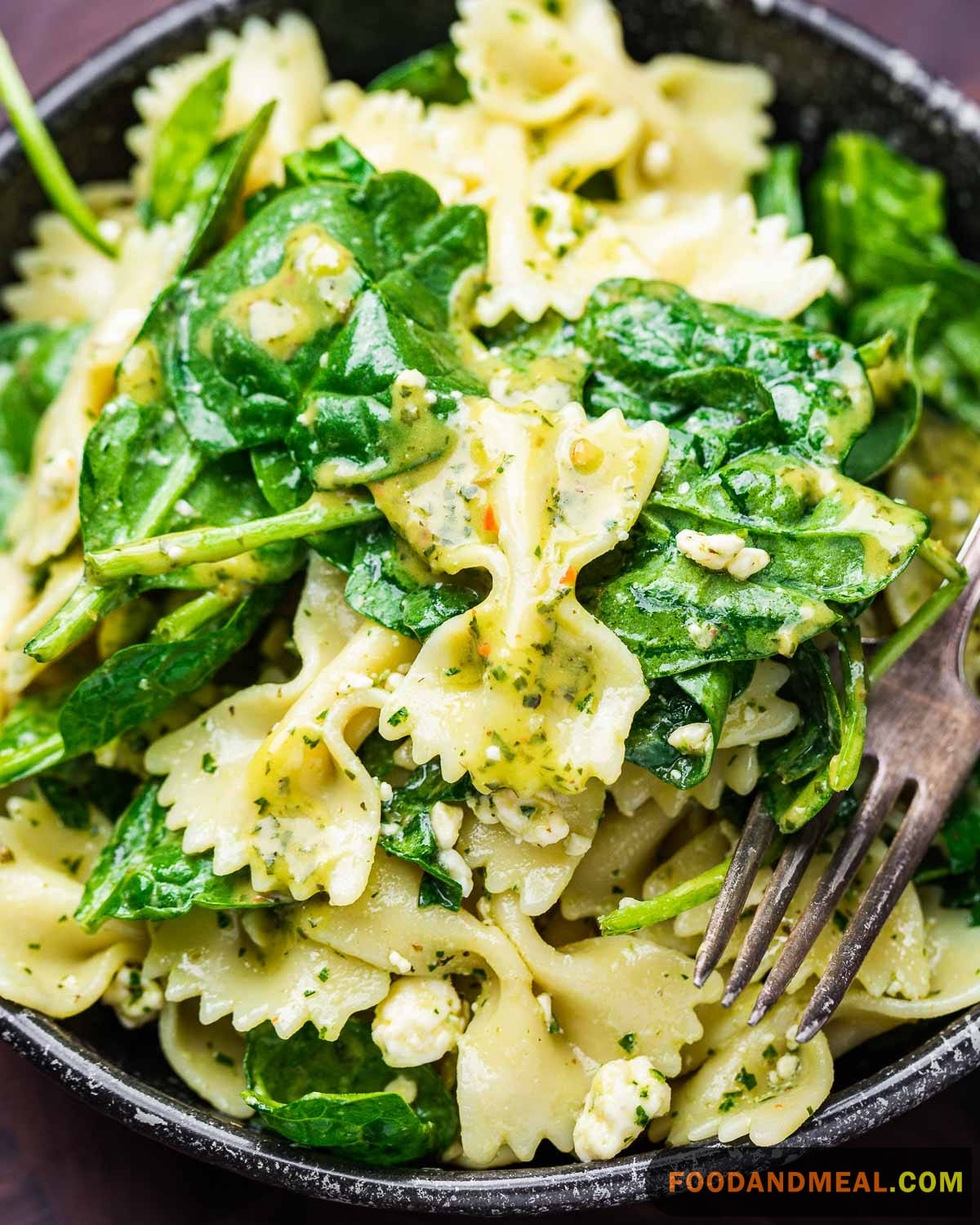 Cooking Tips
Use a Grill Pan: If you don't have a grill-safe pan for the macaroni, you can use a grill pan or a foil packet to prevent the macaroni from falling through the grates.
Watch the Balsamic Glaze: Keep a close eye on the balsamic glaze; it can go from syrupy to burnt quickly. Stir frequently to prevent burning.
Grill Over Indirect Heat: When grilling the macaroni, use indirect heat to avoid scorching. This ensures even grill marks without overcooking.
Don't Overdo It: Be careful not to overcook the macaroni on the grill; aim for a slight smoky flavor and grill marks but avoid making it too crunchy.
Freshness Matters: Use fresh, high-quality ingredients. Crisp spinach, ripe cherry tomatoes, and fresh basil enhance the overall taste.
Serving Suggestions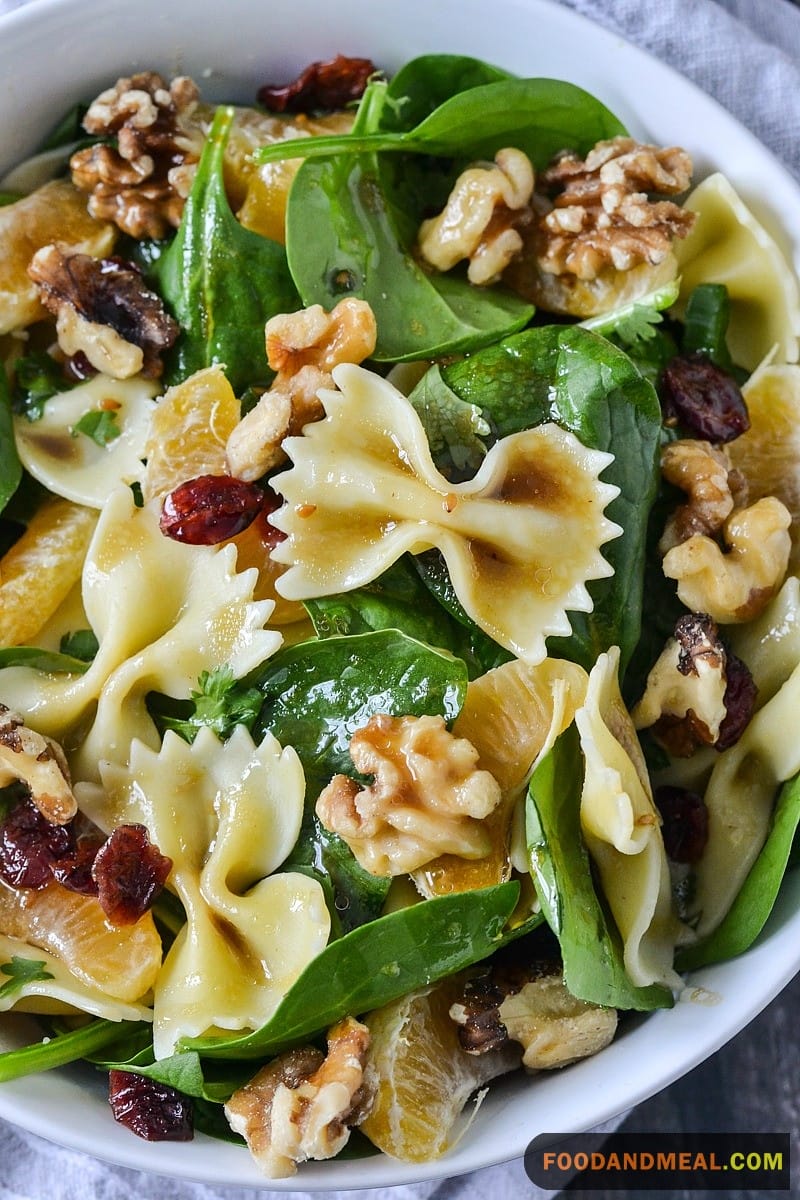 Complementary Sides: Serve your grilled salad with a side of crusty garlic bread or grilled chicken for a more substantial meal.
Refreshing Beverages: Pair this dish with a crisp white wine, such as a Sauvignon Blanc, or a sparkling water infused with lemon for a refreshing contrast.
Garnish with Fresh Herbs: Sprinkle some fresh basil or parsley on top for added color and flavor.
Serve as a Starter: This salad also makes a great starter before a grilled main course. It's a light and refreshing way to kick off your meal.
Leftover Transformation: If you have leftovers, consider stuffing them into a pita pocket or wrapping them in a tortilla for a delicious portable lunch.
FAQs (Frequently Asked Questions) about Macaroni and Spinach Salad
Can I make the balsamic glaze in advance? Absolutely! You can prepare the balsamic glaze ahead of time and store it in an airtight container in the refrigerator. When needed, gently reheat it for drizzling.
Can I use a different type of pasta? While macaroni works beautifully, you can experiment with other pasta shapes like penne or farfalle for variety.
How do I prevent the macaroni from sticking to the grill pan? Ensure your grill pan is well-oiled or use non-stick cooking spray. You can also toss the macaroni in a little olive oil before grilling.
Is this dish suitable for vegetarians? Yes, this Grilled Macaroni and Spinach Salad is vegetarian-friendly. It's a flavorful and satisfying option for vegetarians.
How should I store leftovers? Leftovers can be stored in an airtight container in the refrigerator. When ready to enjoy again, consider a light reheat on the grill or stovetop to revive the flavors and texture.
Savor Grilled Macaroni and Spinach Salad – A Flavorful Adventure – Elevate your outdoor dining with this unique recipe. Get ready to grill your macaroni to perfection. Subscribe for more culinary delights.
I'm James F Anderson, a noted sous chef from London and a Le Cordon Bleu alumnus. My career began in a Michelin-starred Parisian eatery, where my blend of classic and contemporary cooking, using seasonal ingredients, earned accolades. Recognized in culinary publications and on cooking shows, I'm committed to mentoring aspiring chefs and delivering memorable dining experiences, marking me as a standout talent in the culinary world.
Affiliate DisclaimerAbout The Content
As an affiliate, we may earn a commission from qualifying purchases. We get commissions for purchases made through links on this website from Amazon and other third parties.