A basic vinaigrette recipe is a great way to dress up your salads. It's not as strong as the bottled stuff and tastes better, too. But you should add something else to make it taste a bit fancier. Honey or sugar is a great addition. And if you want it to be even more flavorful, you can add more fresh herbs or spices. Here are some suggestions for flavoring the base.
Basic Vinaigrette Salad Recipes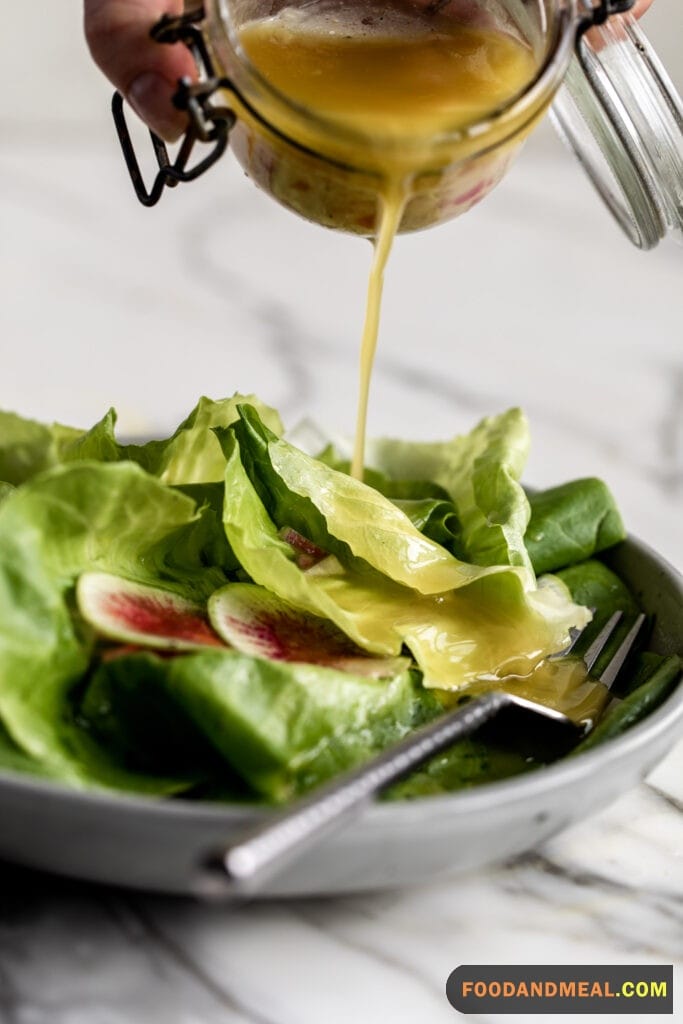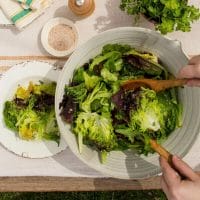 Basic Vinaigrette Salad
One of the easiest salad dressings to make is the basic vinaigrette, which is a combination of oil and vinegar. This basic dressing is made with just two ingredients: olive oil and vinegar. It's the perfect dressing for salads and stir fries. It takes only minutes to prepare and tastes better than the store-bought stuff. But it's important to note that this simple recipe is not the only type of vinaigrette you can create.
Print
Add to Collection
Go to Collections
Equipment
Ingredients
1

part

any kind of emulsifier such as mustard

raw eggs, soft boiled eggs or pureed vegetable

Freshly

ground black pepper

1/2

part

sugar

or any kind of sweetener

1

part

vinegar

wine vinegar or fresh juice from citrus fruits such as lemon, lime or orange

4

parts

the healthiest oil available to you such as olive oil or macadamia nut oil
Instructions
Whisk together everything except the oil.

Slowly drizzle the oil while your whisking.

Season with more salt and pepper, if needed.
Notes
When making vinaigrette, keep in mind that you can make it ahead of time and use it right away. To serve your vinaigrette, shake it well and let it stand at room temperature for 10 minutes before using it. You can make a large batch and use it over the course of a week. When it's ready, you can use it for salads on the same day.
Share by Email
Share on Facebook
Share on Twitter
Nutrition
Serving:
100
g
|
Calories:
75
kcal
|
Carbohydrates:
7
g
|
Protein:
2
g
|
Fat:
4
g
© Food And Meal
This website provides approximate nutrition information for convenience and as a courtesy only. Nutrition data is gathered primarily from the Spoonacular Database, whenever available, or otherwise other online calculators.
Alternative Method: Basic Vinaigrette Salad with a Blender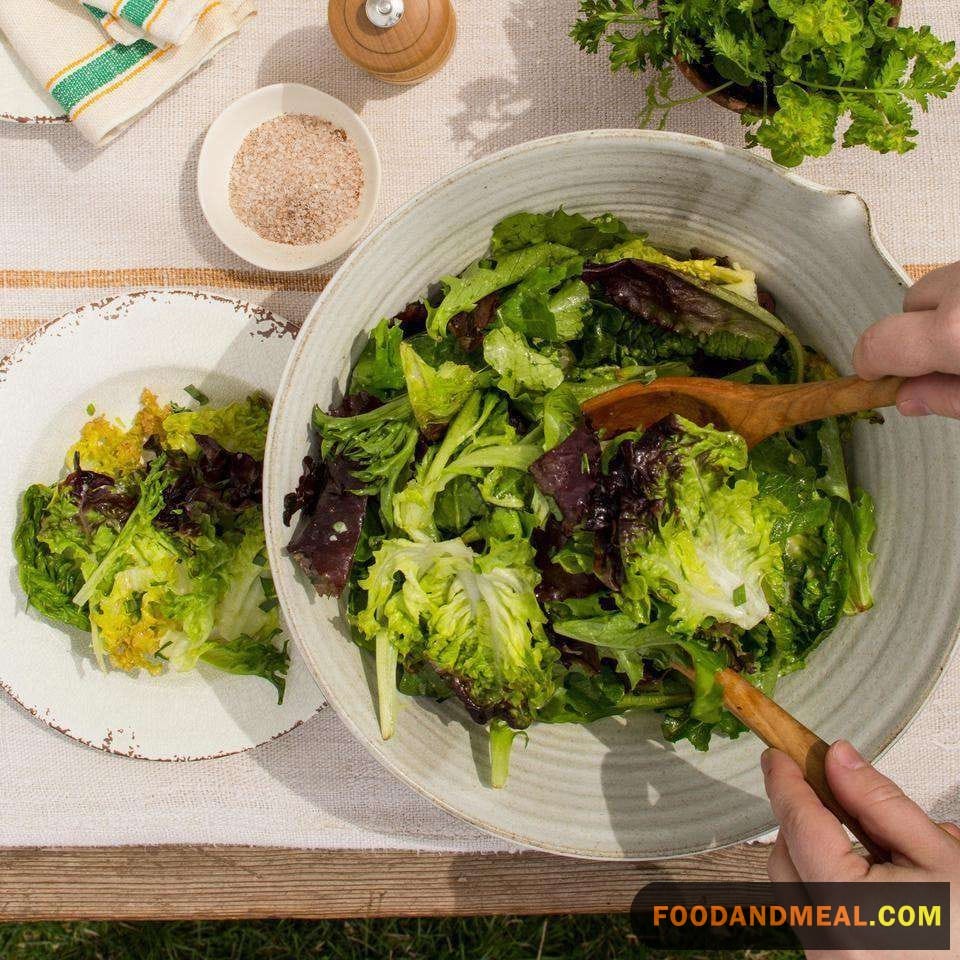 Ingredients:
1/4 cup olive oil
2 tablespoons balsamic vinegar
1 teaspoon Dijon mustard
1 small garlic clove, minced
Salt and pepper to taste
Instructions:
Place the olive oil, balsamic vinegar, Dijon mustard, minced garlic, salt, and pepper into a blender.
Cover the blender and start on the lowest setting, gradually increasing the speed to medium-high. Blend for about 30 seconds until the ingredients are well combined and the dressing appears creamy and slightly thickened.
Taste the dressing and adjust the salt, pepper, or vinegar to suit your preferences.
Once your dressing is ready, prepare your salad as usual, tossing it with fresh greens, tomatoes, cucumbers, or any other ingredients you desire.
Pour the emulsified vinaigrette over the salad, and gently toss until all the ingredients are well coated with the flavorful dressing.
Tips for making Basic Vinaigrette Salad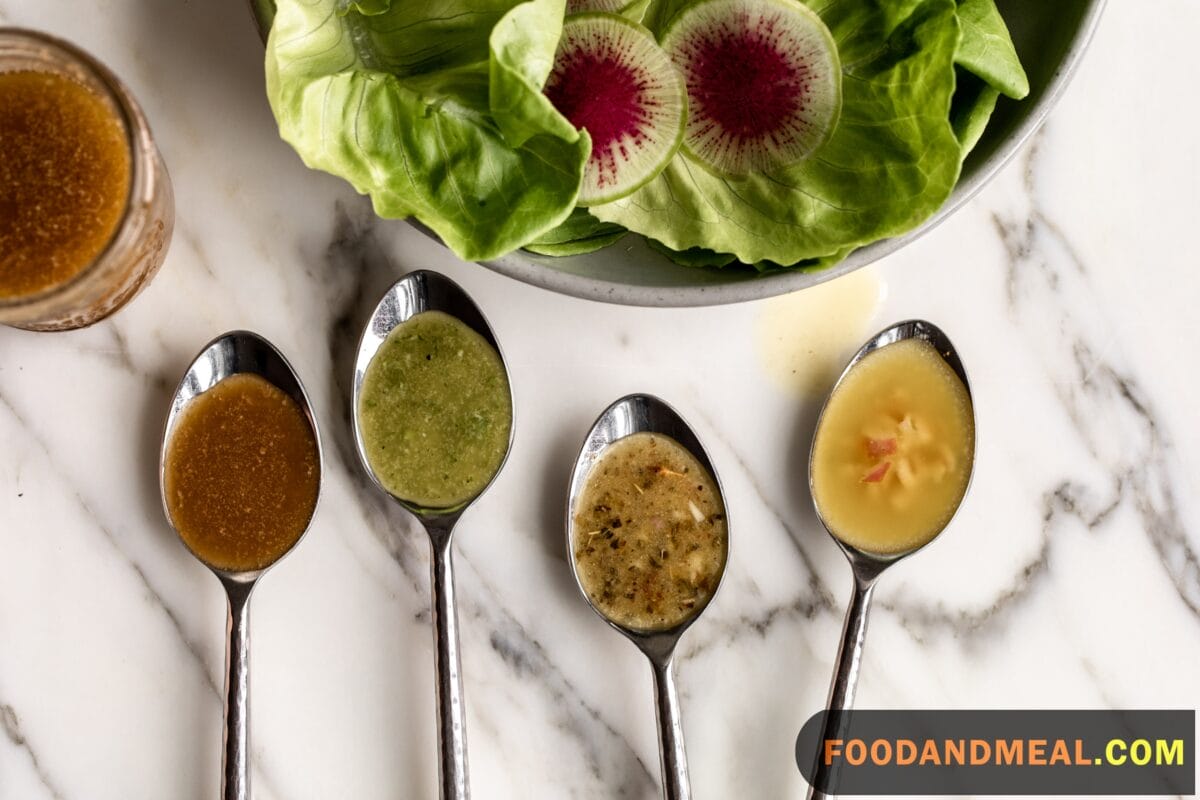 Cooking Tips
Emulsification Perfection: When using the blender method for your vinaigrette, start at the lowest setting and gradually increase the speed to prevent the dressing from separating. It ensures a creamy, well-emulsified vinaigrette.
Room Temperature Ingredients: Take the edge off your ingredients. Allow the olive oil to reach room temperature, and your vinaigrette will blend more harmoniously.
Customize the Dressing: Get creative with your vinaigrette by adding a touch of honey for sweetness, herbs for freshness, or a pinch of red pepper flakes for a spicy kick. Experiment with flavors to match your mood.
Freshness Check: Ensure your salad greens are completely dry before dressing them. Excess moisture will dilute the vinaigrette.
Overdressing: It's easy to go overboard with the vinaigrette. Start with a small amount and gradually add more, tossing the salad between additions until it's perfectly coated.
Insufficient Seasoning: Don't forget to taste and adjust the seasoning of the vinaigrette. It should be perfectly balanced to enhance the salad's flavors.
Premature Tossing: Give the vinaigrette time to shine. Allow the salad to sit for a few minutes after tossing to let the flavors meld before serving.
Serving Suggestions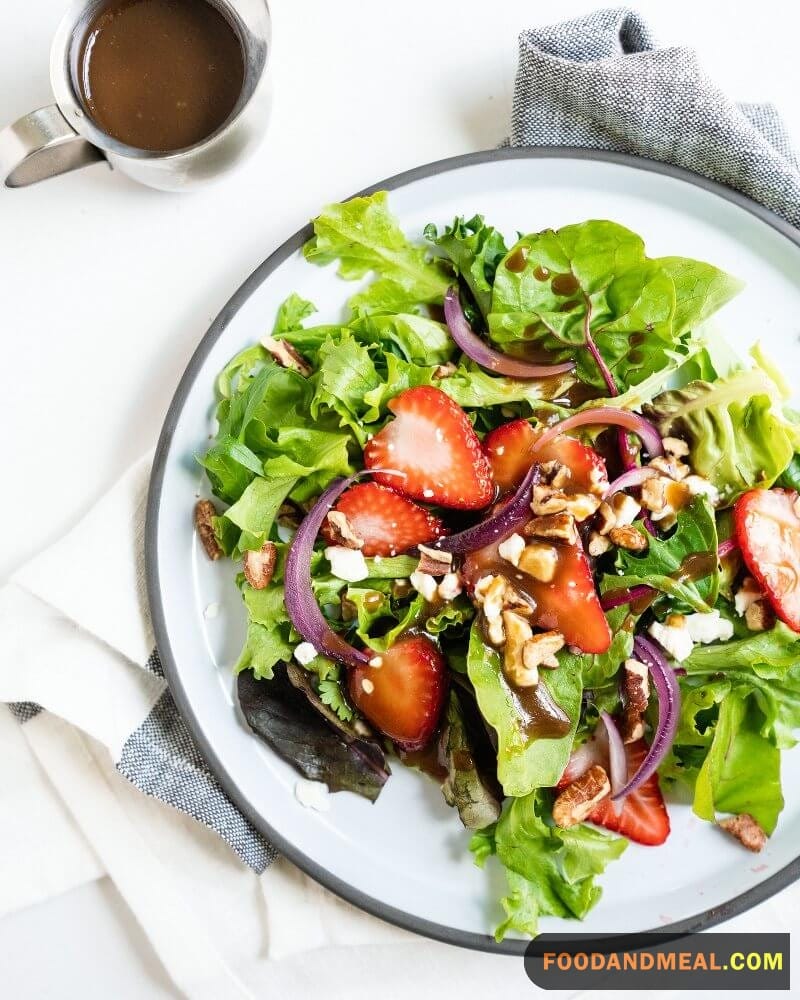 Perfect Pairings: Serve your Basic Vinaigrette Salad with a crusty baguette or artisanal bread to mop up the delicious dressing.
Protein Power: Add grilled chicken, shrimp, or slices of seared steak to turn your salad into a satisfying main course.
Cheese Lover's Dream: Sprinkle crumbled feta, goat cheese, or shaved Parmesan on top for a creamy and tangy contrast.
Fresh Herbs: Garnish with a handful of fresh herbs like basil, cilantro, or mint for an extra burst of flavor.
Chilled Delight: For a refreshing twist, refrigerate your salad ingredients before tossing. Perfect for a hot summer day.
FAQs about Basic Vinaigrette Salad
Can I prepare the vinaigrette in advance? Absolutely! In fact, making the vinaigrette ahead of time allows the flavors to meld. Store it in an airtight container in the refrigerator for up to a week.
How should I store leftovers? Leftover salad can be stored in an airtight container in the refrigerator for up to two days. Keep the vinaigrette separate until you're ready to enjoy it again.
Can I make this salad ahead for a gathering? Yes, you can assemble most of the salad components ahead. Store them separately, especially the vinaigrette, to prevent wilting. Combine everything just before serving.
What greens work best in this salad? This salad is incredibly versatile. You can use a mix of greens, such as arugula, spinach, or Romaine, depending on your preference.
How do I prevent a soggy salad if I want to pack it for lunch? Pack the vinaigrette separately and toss it into the salad just before eating. This keeps your greens crisp and fresh, even when on the go.
Master the art of Basic Vinaigrette Salad. Savor every bite and share this exquisite recipe. Subscribe for more culinary delights.
I'm James F Anderson, a noted sous chef from London and a Le Cordon Bleu alumnus. My career began in a Michelin-starred Parisian eatery, where my blend of classic and contemporary cooking, using seasonal ingredients, earned accolades. Recognized in culinary publications and on cooking shows, I'm committed to mentoring aspiring chefs and delivering memorable dining experiences, marking me as a standout talent in the culinary world.
Affiliate DisclaimerAbout The Content
As an affiliate, we may earn a commission from qualifying purchases. We get commissions for purchases made through links on this website from Amazon and other third parties.