Print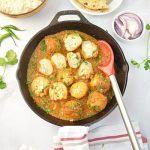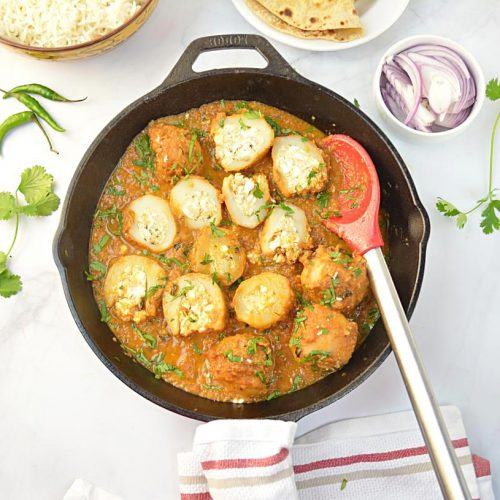 How to Prepare or Cook Bharwan Dum Aloo
---
Description
To those who didn't know, Bharwan Dum Aloo is a recipe that is actually made of potatoes that were stuffed with paneer and seasoned with the necessary spices before being cooked in rich and thick gravy. This recipe also compliments with both Tandoori roti and jeera rice.
Read More: https://foodandmeal.com/indian
How to Cook Bharwan Dum Aloo?
The procedure includes scooping some of the potatoes inside contents in order to make space for the stuffing. A small spoon or even a melon scooper can be used in order to achieve this.
---
Scale
Ingredients
For the Potatoes and Stuffing
7

–

8

pcs. Baby or regular-sized potatoes

½ cup

Paneer or Tofu, mashed

½ tsp

. Kasoori Methi or Dried Fenugreek Leaves

¾ tsp

. Coriander Seeds, coarsely pounded

¾ tsp

. Cumin Seeds, roasted and crushed

¼ tsp

. Red Chili Powder

1 tbsp

. Oil for Cooking
Salt to taste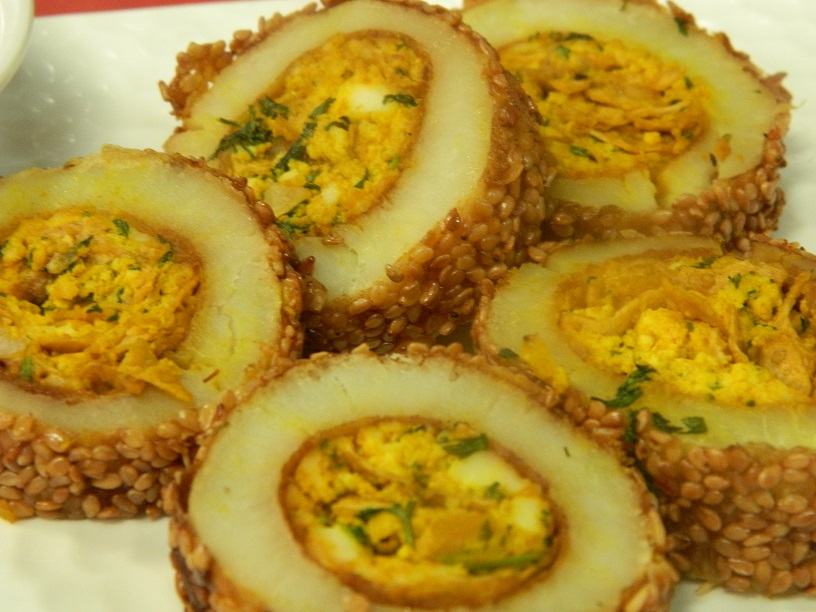 For the Gravy
2

pcs. Medium-sized Onions, pureed

½ cup

Tomato Puree

1 tsp

. Garlic Paste

1 tsp

. Ginger Paste

2

pcs. Small Mace or Javitri

2

–

3

pcs. Moti Eliachi or Black Cardamom, whole

2

pcs. Tej Patta or Bay Leaves

½ tsp

. Jeera or Cumin Seeds

¼ cup

Cashew Paste

1 tsp

. Garam Masala Powder

1 tsp

. Sukha Dhaniya or Coriander Powder

½ tsp

Red Chili Powder

1

–

2

tsps. Kasoori Methi or Dried Fenugreek Leaves

2

–

3

tbsp. Oil or Ghee
Salt to taste
---
Instructions
Step 1
Prepare the potatoes first by washing and cleaning it. After that, peel the potatoes in cold water in order to avoid discoloration. Once done, cut the potatoes in half then scoop the inner part in order to make space for the stuffing. Cooked the hollowed potatoes in a greased and heated pan until tender before setting it aside to cool.
Step 2
Next, prepare the stuffing by boiling or pressure-cooking the scooped potato insides. When done, combine it with paneer along with the spices then mix it well. Stuffed the newly-made mixture inside the hollowed potatoes.
Step 3
In an oil-heated pan, add the whole spices and let it sizzle for a while. After that, add the crushed ginger and garlic then saute it for at least a minute. Add crushed onions and cook until it becomes light brown before adding the tomato puree.
Step 4
Once the oil starts to separate from the tomato puree, add the cashew paste and cook for two minutes. Add the spices and mix before discarding the whole ones. Pour water according to how thick you want the gravy to become and let it boil before adding some Kasoori methi and stuffed potatoes.
Step 5
Once cooked, remove from heat and add some cream and chopped coriander leaves before serving.
Notes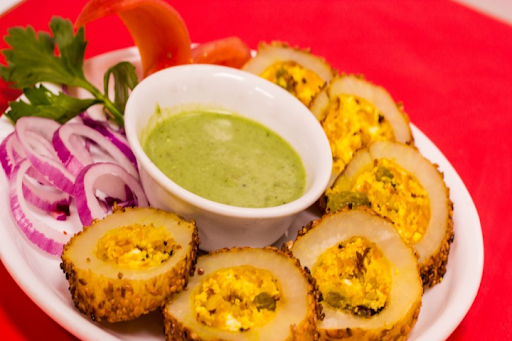 Bharwan Dum Aloo
Keywords: Bharwan Dum Aloo