This delicious dish is made by dipping sliced eggplant into batter and cooking it in hot oil until golden brown. Once fried, it is best to serve with the sauce on the side. The eggplant is not difficult to prepare, but the preparation process must be perfected. Let's try this Fried Eggplant in Tempura Sauce easy recipes
Fried Eggplant in Tempura Sauce Recipes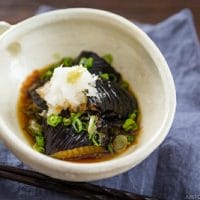 Fried Eggplant in Tempura Sauce ( Agedashi Nasu )
Agedashi Nasu is a Japanese vegetable dish that is delicious and versatile. The main ingredients for the agedashi tofu recipe are dried shiitake mushrooms and bonito flakes. This dish is delicious and easy to prepare. This recipe also uses a vegan dashi. This recipe contains no animal products and is a good alternative to a traditional meat-based version. Here's how to prepare agedashi tofu.
Print
Add to Collection
Go to Collections
Equipment
Ingredients
⅓

cup

dashi stock or broth

plus 1 tablespoon

1

tablespoons

soy sauce

1

tablespoon

mirin

1

teaspoon

sugar

2

medium-sized

eggplants

destemmed, cut lengthwise and then crosswise

¾

cup

hot water

grated, for garnish

Chopped green onion and bonito flakes

for garnish (optional)

1

tablespoon

ginger
Vegetable oil

for frying
Instructions
In a medium serving bowl, combine the stock or broth, soy sauce, mirin, and sugar. Set aside.

Make diagonal slits on the eggplant skins, about ½ inch apart and halfway into the eggplant. Pat the eggplants dry with paper towels.

Heat oil in a frying pan over medium heat, about 1-2 inches deep, to 350°F.

Deep fry the eggplant for 1 minute on each side, then remove it from the heat and place it in a metal rack or colander.

Pour the hot water over the eggplant to remove any excess oil.

Place the still-warm slices of eggplant in the Dashi-based stock.

Garnish with the grated ginger or green onion and bonito flakes (optional) and serve.
Notes
Unlike the original version, agedashi tofu has a different taste. It is made by marinating eggplant and frying it. Then, it is served with dashi nashi sauce. In the United States, agedashi tofu is a must-try appetiser at a Japanese restaurant. Regardless of where you get it, make sure you try it. Then, enjoy it with a delicious agedashi nasu.
You can also garnish the eggplant with sesame seeds to add a crunchiness to the dish. After cooking, you can serve the agedashi tofu with sesame seeds.
Share by Email
Share on Facebook
Share on Twitter
Nutrition
Serving:
2
serves
|
Calories:
157
kcal
|
Carbohydrates:
32
g
|
Protein:
6
g
|
Fat:
3
g
|
Saturated Fat:
1
g
|
Polyunsaturated Fat:
2
g
|
Monounsaturated Fat:
1
g
|
Trans Fat:
1
g
|
Sodium:
734
mg
|
Potassium:
1082
mg
|
Fiber:
14
g
|
Sugar:
19
g
|
Vitamin A:
189
IU
|
Vitamin C:
10
mg
|
Calcium:
44
mg
|
Iron:
1
mg
© Food And Meal
This website provides approximate nutrition information for convenience and as a courtesy only. Nutrition data is gathered primarily from the Spoonacular Database, whenever available, or otherwise other online calculators.
Other ways to making Agedashi Nasu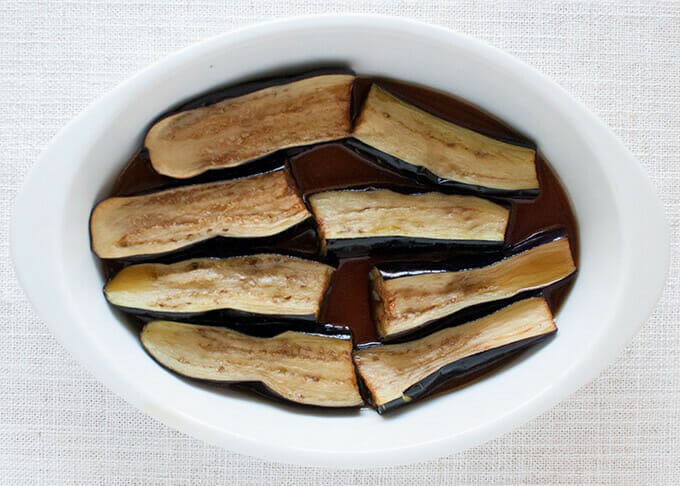 Before you start frying the eggplant, you need to make sure that the eggplant slices are thin enough to be coated in the batter. It is important to slice the eggplants very thinly or you will end up with a soggy dish. In order to make the batter, you need to mix a little soda water with the tempura flour. The bubbles in the soda water help create a puffy batter that coats the slices of vegetables perfectly.
Next, prepare the dipping sauce. The dipping sauce is a mixture of soy sauce, sugar, and dashi stock. It is also essential to keep the eggplant slices away from each other. This way, the fried eggplant can retain its crispy texture. If you want to eat a large amount of the dish, you can serve it with a salad or a yogurt dip. It's a great dish for a special occasion and can easily be served as a snack or a hot starter.
To make the tempura batter, you need to prepare the eggplant beforehand. To make the batter, you can use a 2-cup measuring cup with ice water. Whisk vigorously and discard the foam. During the frying process, you should be able to fry the eggplants on both sides to obtain a crisp crust. This delicious appetizer is great as a snack, a starter, or a main course.
For this recipe, the eggplant should be thinly sliced and coated with soy sauce. It should also be cooked in a hot oil to prevent it from getting soggy. Then, you should dip the slices of eggplant into the batter. To make a crispy eggplant, you can use a cheese slicer or a long-bladed knife. To create a fluffy batter, you can add soda water. The bubbles in the soda water help create pockets of air inside the batter.
Once the oil has reached the desired temperature, you can start making the batter. To make the batter, beat the egg in the icy water. Then, you can whisk the egg in another bowl and combine the mixture until it becomes a smooth paste. Once the batter has cooled, the eggplant is ready to be fried. Usually, the eggs are lightly cooked in the oil, so it takes less time to fry the eggplants.
Then, you need to make the tempura sauce. This is an excellent sauce for dipping the fried eggplant in tempura. The dipping sauce is usually a mixture of soy sauce, sugar, and dashi stock. While the sauce is warm, pour it into the pan. The eggplant will begin to soften. Continue to stir the batter while frying the eggplant. Once it's done, you can serve it as a snack or as a starter.
For this dish, you can use any type of dipping sauce. Soy sauce and sake are a common choice for the sauce. To prepare the dipping sauce, you should add the dashi stock, soy and sugar to the dashi stock. This will help the eggplant remain crispy. Aside from that, you can also add other ingredients like herbs, parmesan cheese, and other ingredients to your tempura.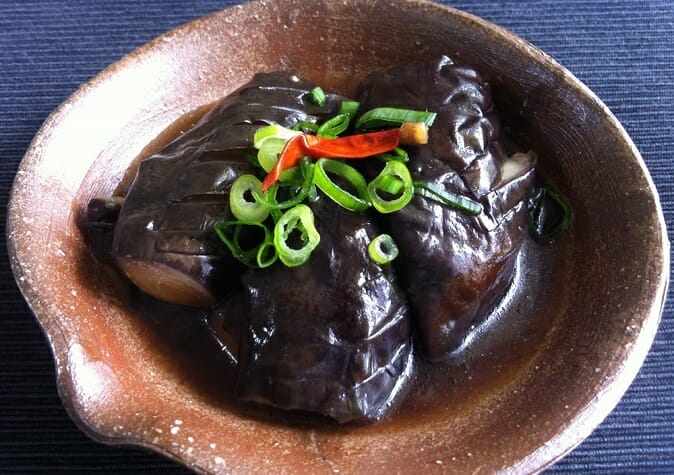 FoodAndMeal.Com blog is happy to accompany you on a tour of culinary cultures around the world. Feel free to ask us anything about the recipes because all your kind comments give us the chance to improve our site.
Affiliate DisclaimerAbout The Author
As an affiliate, we may earn a commission from qualifying purchases. We get commissions for purchases made through links on this website from Amazon and other third parties.