In this delicious Asparagus salad with feta and almonds, asparagus spears are sliced into beautiful thin ribbons that are softened by a tangy vinaigrette. Feta cheese and almonds add crunch and texture to the dish.
Asparagus Salad Recipes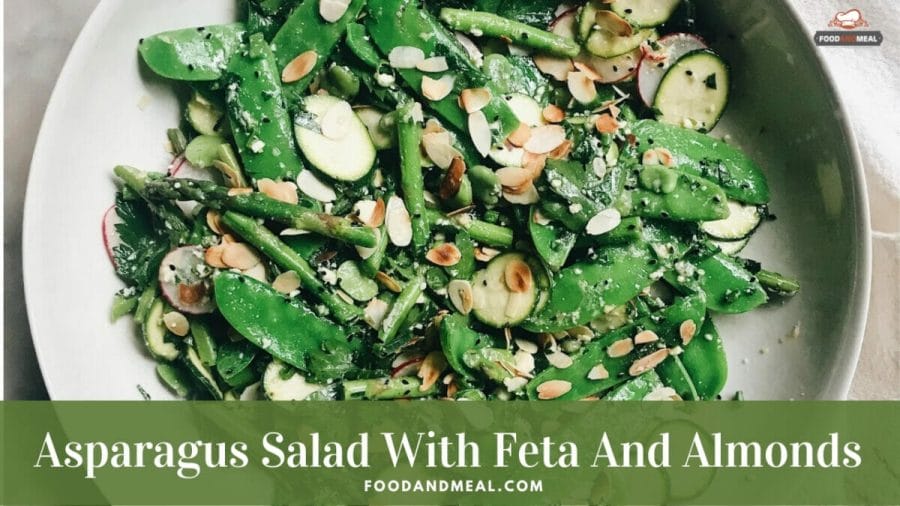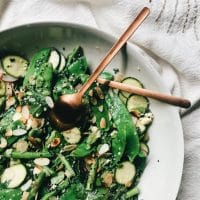 Asparagus Salad With Feta And Almonds
Asparagus is a very nutrient-dense vegetable, so you should definitely try making this recipe. It contains plenty of potassium, fiber, and vitamins A, C, and K. This recipe is packed with flavor, too! Make sure to serve this delicious salad at your next barbecue or summer party. Serve it with a glass of wine or your favorite beverage. And, don't forget to add some almonds or tomatoes, if you'd like!
Print
Pin
Add to Collection
Go to Collections
Equipment
Instructions
On a hot grill, place 12 asparagus spears and cook, turning often,until tender.

To make the vinaigrette, combine the lemon juice and zest, the white wine vinegar, the shallot as well as the salt and pepper. Add the olive oil and adjust the seasoning to taste.

With a vegetable peeler, slice the remaining asparagus into long strips and place in a large bowl. Add the feta and almonds. Toss with the vinaigrette.

To serve this dish, place the asparagus ribbons on a salad plate, top with grilled asparagus spears and extra vinaigrette.
Video
Notes
Asparagus is a delicious, versatile vegetable that has a wide range of health benefits. It can be used in a variety of recipes, and it can be served all year round.
Share by Email
Share on Facebook
Share on Twitter
Nutrition
Serving:
1
serving
|
Calories:
258
kcal
|
Carbohydrates:
10
g
|
Protein:
8
g
|
Fat:
22
g
|
Saturated Fat:
5
g
|
Polyunsaturated Fat:
2
g
|
Monounsaturated Fat:
14
g
|
Cholesterol:
17
mg
|
Sodium:
219
mg
|
Potassium:
481
mg
|
Fiber:
5
g
|
Sugar:
5
g
|
Vitamin A:
1781
IU
|
Vitamin C:
16
mg
|
Calcium:
148
mg
|
Iron:
5
mg
© Food And Meal
This website provides approximate nutrition information for convenience and as a courtesy only. Nutrition data is gathered primarily from the Spoonacular Database, whenever available, or otherwise other online calculators.
About Asparagus Salad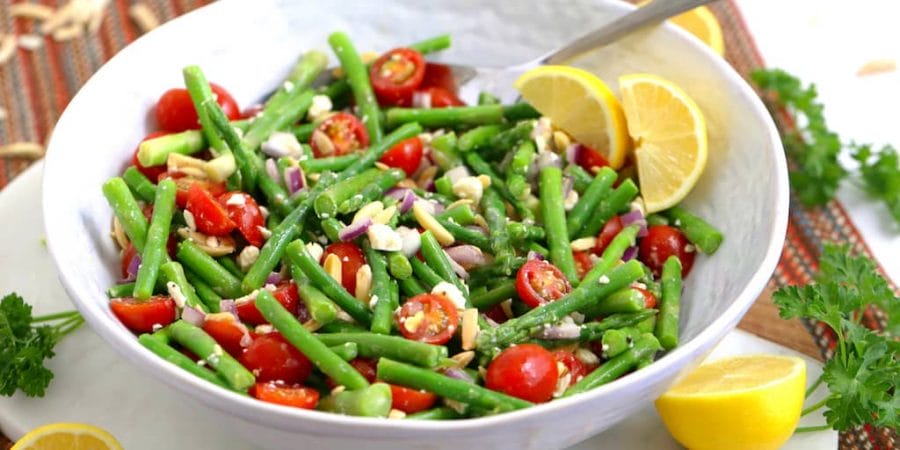 Asparagus is a nutrient-dense vegetable
Asparagus is a nutrition-dense vegetable that is low in calories and packed with antioxidants and other nutrients. The vegetable is high in fiber and contains several essential vitamins and minerals. It is a naturally diuretic and is conventionally farmed, meaning it uses fewer pesticides than other vegetables. It is also good for you because it is safe for rabbits.
For optimal flavor, choose asparagus that has tightly closed tips and bright green stalks. Apple green asparagus is the most tender, but you can find purple-tinged varieties as well. A pound of asparagus will yield about four half-cup servings, depending on the variety. A single asparagus crown will keep for about two to three weeks in the refrigerator when stored upright. Wet paper towels or an airtight plastic bag can be used to store asparagus.
Asparagus is safe to feed your dog in moderation, and it is also a good source of fiber and multivitamins. But if you have a dog, you should consider fencing the plant so your pet doesn't eat it. Asparagus is a delicious, versatile vegetable that has a wide range of health benefits. It can be used in a variety of recipes, and it can be served all year round.
Asparagus is a good source of fibre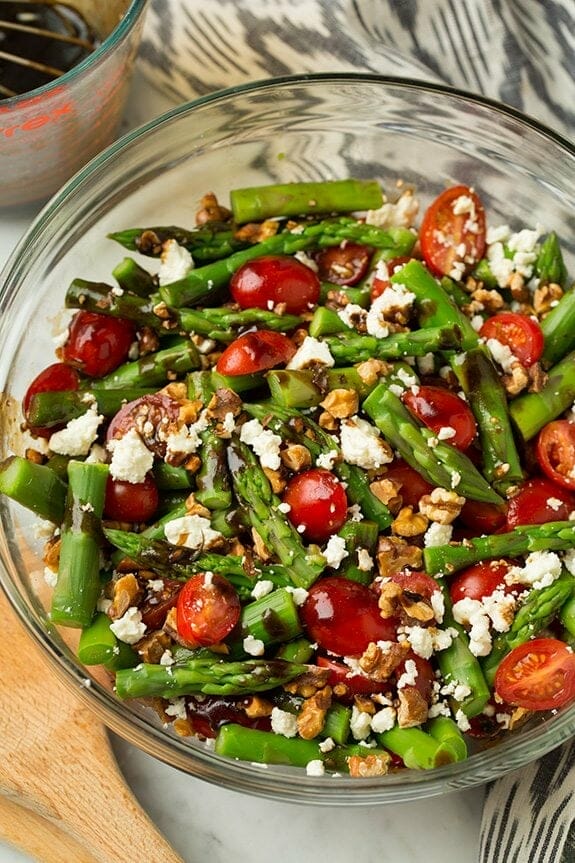 Asparagus is a great source of fiber and is a fantastic source of antioxidants. Fiber improves gut health, reduces cholesterol, and keeps us full longer. Unfortunately, only 5 percent of Americans get enough fiber to maintain good health, and the vast majority fall far short of their daily recommendation. According to the 2020-2025 Dietary Guidelines for Americans, adults should aim to eat 22 to 34 grams of fibre each day. Asparagus is also packed with flavonoids and antioxidants, which can protect your body from oxidative stress and maintain good health.
Asparagus is also high in antioxidants, which help combat the damaging effects of free radicals, oxygen particles produced as waste in the body. Free radicals damage nearby cells and can contribute to heart disease and cancer. The antioxidants in asparagus remove these harmful substances from your body, keeping you healthy and warding off illnesses. In addition to being high in dietary fibre, asparagus is also rich in potassium, which helps regulate the heart and blood pressure.
Asparagus is a good source of potassium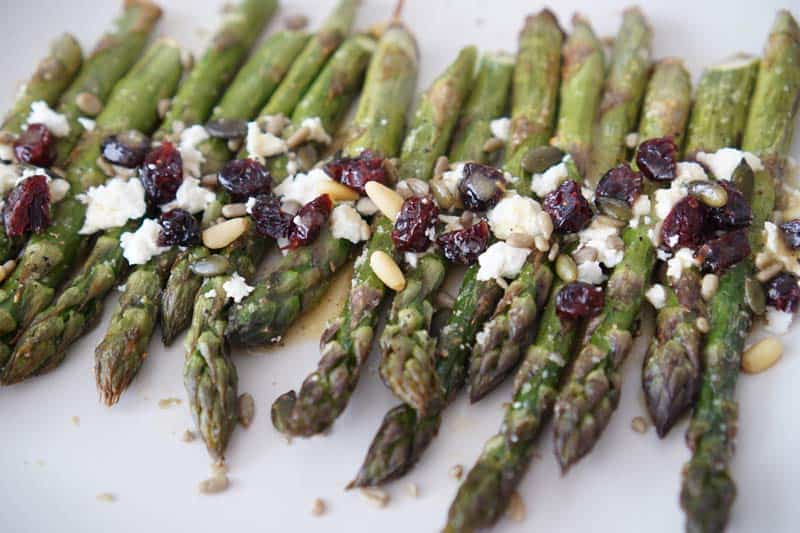 Asparagus is an excellent source of potassium. A single cup of asparagus can provide about 10% of your daily potassium needs. Asparagus has numerous health benefits, including a boost to the immune system, which may lower blood pressure and help prevent cardiovascular disease. It also contains vitamin B, a crucial nutrient for cardiovascular health. The American Heart Association recommends that people consume less sodium, and that asparagus is an excellent source of potassium.
Asparagus contains about 200 milligrams of potassium per cup, which makes it a highly nutritious vegetable. One cup of boiled asparagus contains 200 mg of potassium. However, the exact amount of potassium depends on how the asparagus is prepared. Asparagus is one of the healthiest vegetables, and most diets will allow it as part of the daily menu. Asparagus is also high in fiber and rich in vitamin A, calcium, folate, and vitamin C.
Asparagus is a good source of Vitamins A, C and K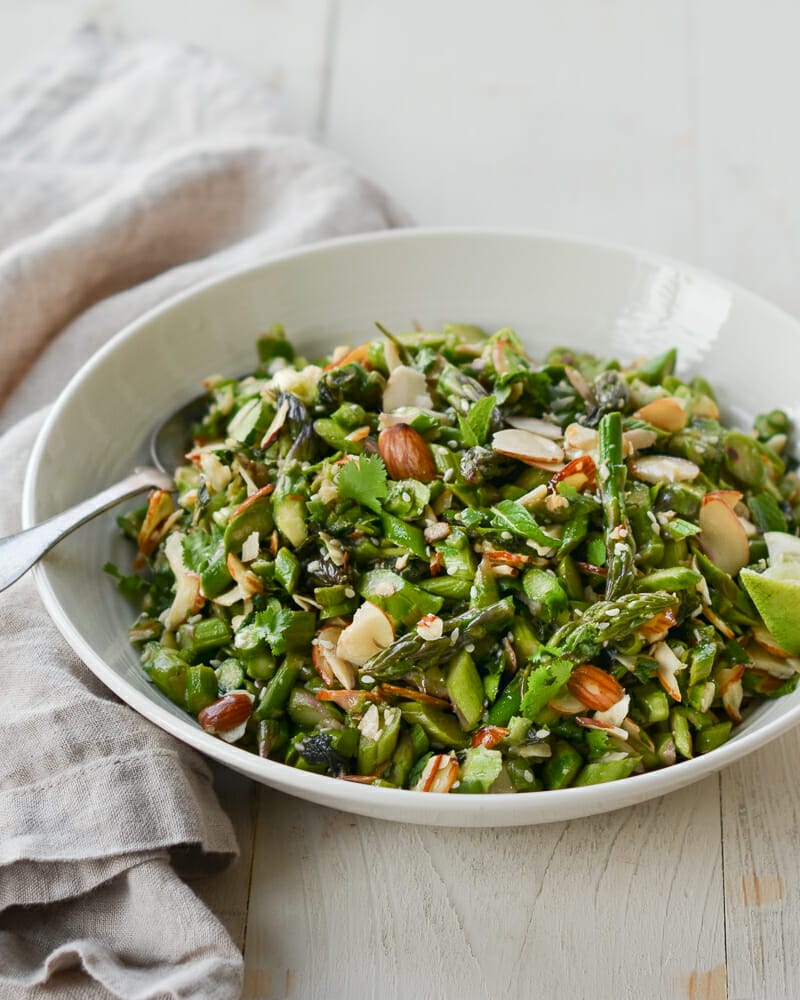 Asparagus is a rich source of folate, also known as vitamin B-9. Folate is a nutrient that is necessary for cell growth and development, especially during rapid growth, such as the teenage years. Folic acid supplements are also beneficial during pregnancy, as they prevent neural tube defects and help protect the developing fetus from miscarriage. If you're deficient in folate, you'll likely feel weak and tired, and you may suffer from a condition called folate deficiency anemia. One cup of boiled asparagus contains 17% of your daily folate needs.
Asparagus is low in calories and contains little fat, making it a healthy vegetable choice for those watching their caloric intake. It contains both soluble and insoluble fiber, which help to keep you satisfied between meals and keeps you feeling full. It is also a good source of Vitamin A, C and K, iron and potassium. This vegetable is also rich in antioxidants and may help control acne and other skin problems.
Thanks for your visiting our FoodAndMeal.Com website. Like and share this recipe if it is beneficial for you.