Welcome to my culinary world, where every dish is a canvas for creativity. Today, I'm thrilled to share a recipe that celebrates the freshness of spring – Asparagus Salad. It's a medley of vibrant flavors and crisp textures that will elevate your dining experience.
Asparagus Salad Recipes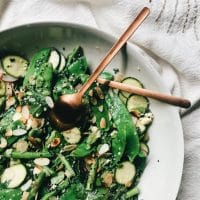 Asparagus Salad With Feta And Almonds
Asparagus is a very nutrient-dense vegetable, so you should definitely try making this recipe. It contains plenty of potassium, fiber, and vitamins A, C, and K. This recipe is packed with flavor, too! Make sure to serve this delicious salad at your next barbecue or summer party. Serve it with a glass of wine or your favorite beverage. And, don't forget to add some almonds or tomatoes, if you'd like!
Print
Add to Collection
Go to Collections
Equipment
Instructions
On a hot grill, place 12 asparagus spears and cook, turning often,until tender.

To make the vinaigrette, combine the lemon juice and zest, the white wine vinegar, the shallot as well as the salt and pepper. Add the olive oil and adjust the seasoning to taste.

With a vegetable peeler, slice the remaining asparagus into long strips and place in a large bowl. Add the feta and almonds. Toss with the vinaigrette.

To serve this dish, place the asparagus ribbons on a salad plate, top with grilled asparagus spears and extra vinaigrette.
Notes
Asparagus is a delicious, versatile vegetable that has a wide range of health benefits. It can be used in a variety of recipes, and it can be served all year round.
Share by Email
Share on Facebook
Share on Twitter
Nutrition
Serving:
1
serving
|
Calories:
258
kcal
|
Carbohydrates:
10
g
|
Protein:
8
g
|
Fat:
22
g
|
Saturated Fat:
5
g
|
Polyunsaturated Fat:
2
g
|
Monounsaturated Fat:
14
g
|
Cholesterol:
17
mg
|
Sodium:
219
mg
|
Potassium:
481
mg
|
Fiber:
5
g
|
Sugar:
5
g
|
Vitamin A:
1781
IU
|
Vitamin C:
16
mg
|
Calcium:
148
mg
|
Iron:
5
mg
© Food And Meal
This website provides approximate nutrition information for convenience and as a courtesy only. Nutrition data is gathered primarily from the Spoonacular Database, whenever available, or otherwise other online calculators.
Alternative Method: Grilled Asparagus Salad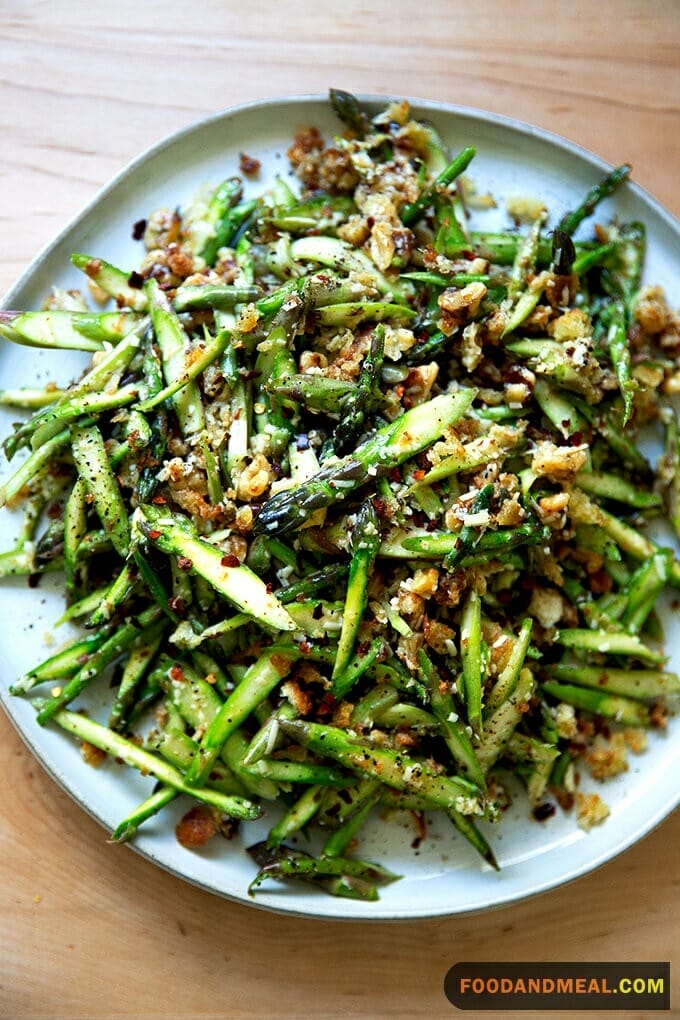 Ingredients:
1 bunch of fresh asparagus spears, trimmed
1 tablespoon olive oil
Salt and pepper to taste
1 red bell pepper, sliced
1/2 red onion, thinly sliced
1 cup cherry tomatoes, halved
2 tablespoons balsamic vinegar
2 tablespoons extra-virgin olive oil
1 garlic clove, minced
Fresh basil leaves for garnish
Grated Parmesan cheese (optional)
Instructions:
Preheat the Grill: Preheat your grill to medium-high heat (around 400°F or 200°C).
Prep the Asparagus: Toss the trimmed asparagus spears with olive oil, salt, and pepper.
Grill the Asparagus: Place the asparagus directly on the grill grates. Grill for about 3-5 minutes, turning occasionally until they are tender and have grill marks. Remove and let them cool slightly.
Make the Dressing: In a small bowl, whisk together balsamic vinegar, extra-virgin olive oil, minced garlic, salt, and pepper.
Assemble the Salad:
Arrange the grilled asparagus on a serving platter.
Top with sliced red bell pepper, red onion, and cherry tomatoes.
Drizzle with Dressing: Drizzle the balsamic vinaigrette over the salad.
Garnish and Serve:Finish with torn fresh basil leaves and a sprinkle of grated Parmesan cheese if desired.
Enjoy: Serve your Grilled Asparagus Salad immediately for a smoky, charred twist on the classic recipe. Perfect for outdoor gatherings and BBQs!
Tips for making Asparagus Salad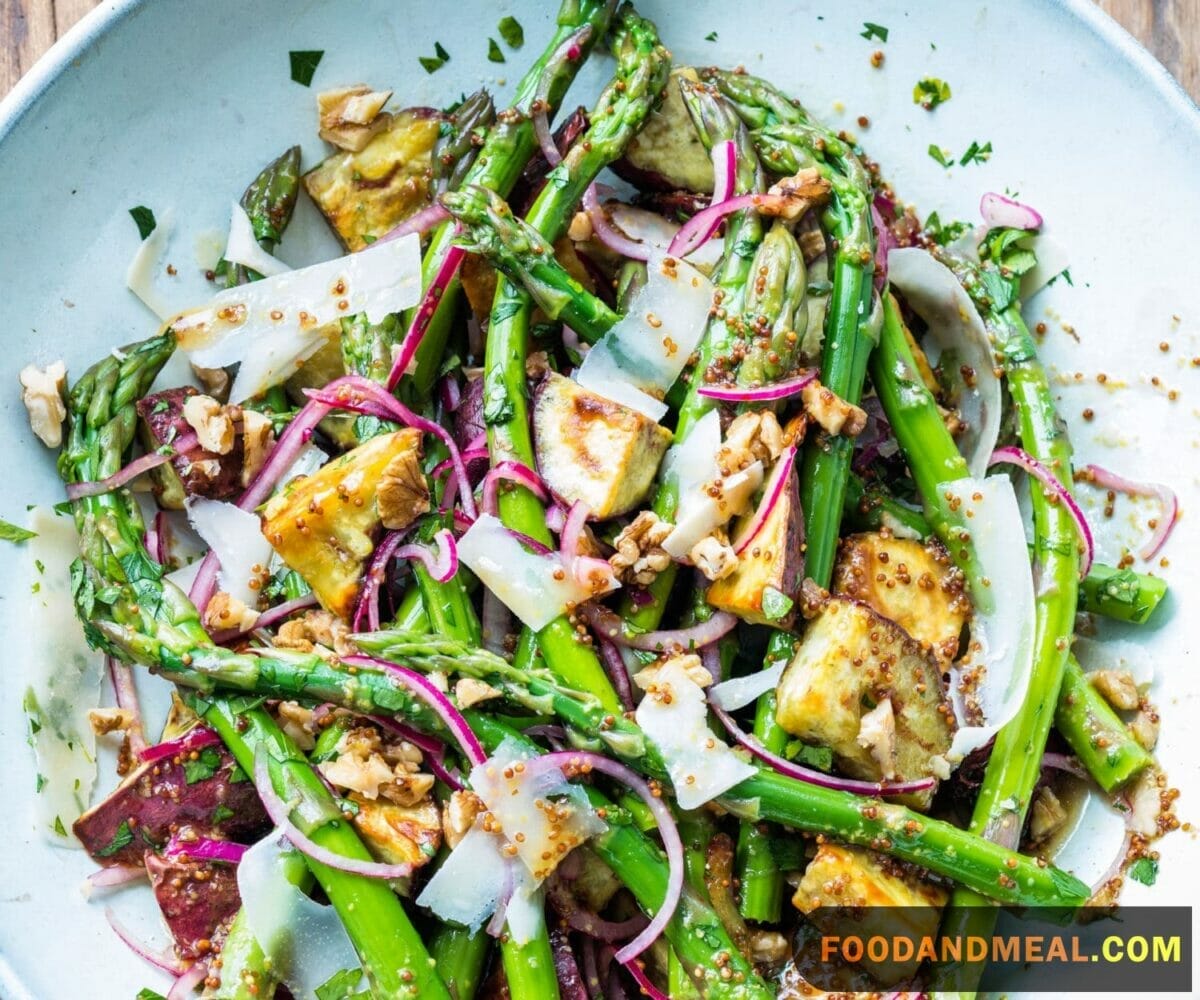 Serving Suggestions
Recommended Sides, Garnishes, and Beverages:
Protein Boost: Pair your salad with grilled chicken, shrimp, or a poached egg for a protein-packed meal.
Crunchy Texture: Add a delightful crunch with toasted almonds or pine nuts.
Citrus Zing: A squeeze of fresh lemon juice just before serving can brighten up the flavors.
Serving Variations:
Warm Salad: Serve the salad warm by tossing the asparagus and other ingredients with warm dressing.
As a Starter: Present smaller portions as an elegant starter for a multi-course meal.
Wrap It Up: Roll the salad in rice paper or tortillas for a portable, healthy wrap.
Cooking Tips and Tricks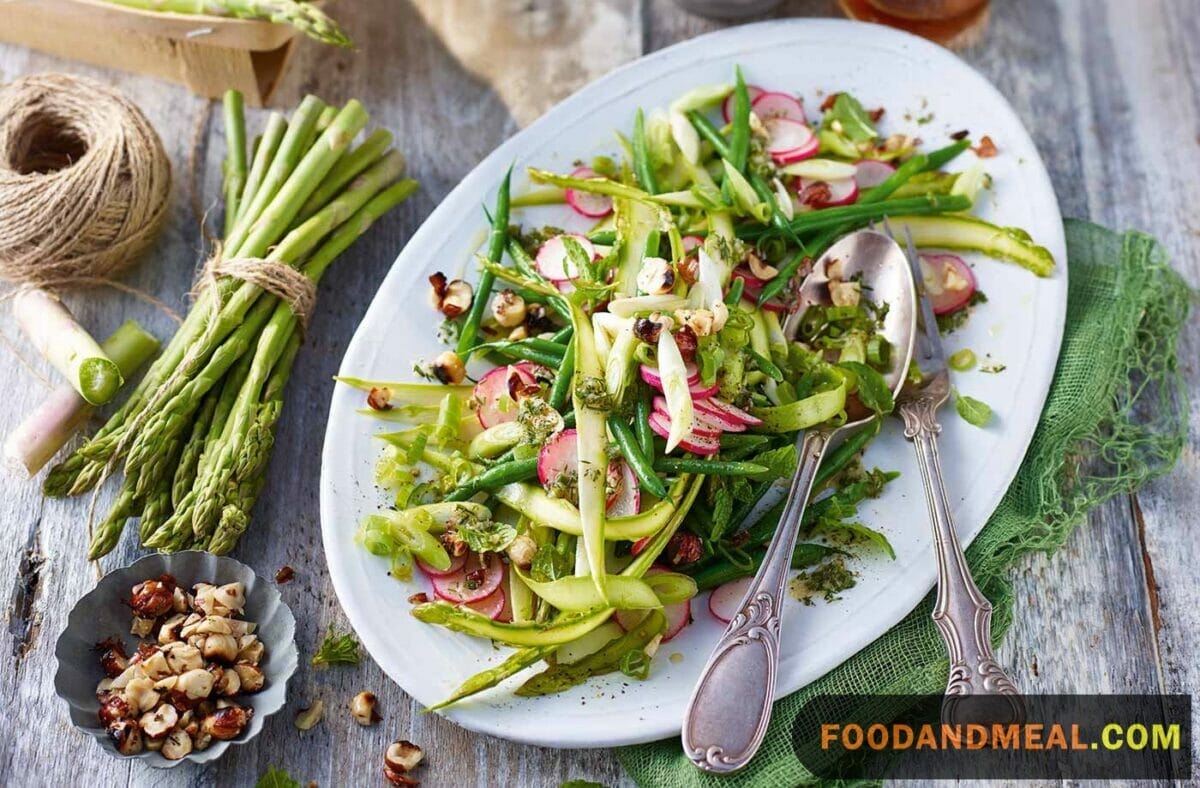 Tips for Tantalizing Asparagus:
Choose Fresh Asparagus: Look for firm, vibrant green asparagus with closed tips. The fresher, the better.
Trim with Care: Snap off the tough woody ends of the asparagus. You'll find the natural breaking point; discard the woody part.
Grilling Magic: When grilling asparagus, don't overcrowd the grill. Give each spear space for that delicious char.
Quick Blanching: If you prefer blanched asparagus, plunge them into ice water after boiling to preserve their vibrant green color.
Common Mistakes to Avoid:
Overcooking: Asparagus can turn mushy if overcooked. Keep a watchful eye, whether grilling or blanching.
Skipping the Rest: After grilling or blanching, let the asparagus cool slightly before adding them to your salad. This maintains their crisp texture.
Overdressing: Be cautious with the dressing; adding too much can drown the salad's flavors. Start with a light drizzle and adjust as needed.
Frequently Asked Questions about Asparagus Salad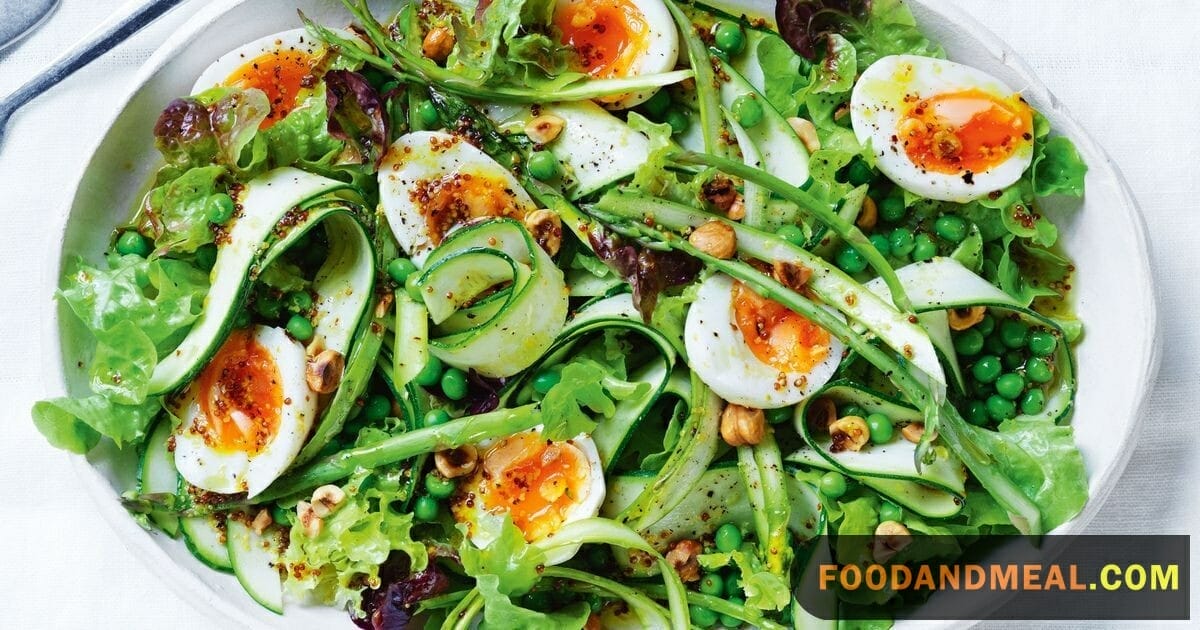 Can I make this salad ahead of time?Absolutely! Prepare the ingredients separately, store them in the refrigerator, and assemble just before serving.
What's the best way to store leftovers? To keep leftovers fresh, store them in an airtight container in the refrigerator for up to two days. Be mindful that the asparagus may lose some of its crispness.
Can I use other dressings for this salad?Of course! Feel free to experiment with dressings like tahini, yogurt-based, or a simple olive oil and lemon vinaigrette.
Are there vegan options for this salad? Absolutely. Simply omit any animal-based ingredients like Parmesan cheese and consider using a vegan cheese substitute.
Can I use different types of asparagus for this recipe? While green asparagus is the most common, you can certainly use white or purple asparagus for a visually striking variation of this salad.
Taste the freshness of spring with our Asparagus Salad recipe. Share it with fellow food lovers and subscribe to our blog for more culinary adventures.
I'm Tracy F Hilton, a devoted culinary professional shaped by a mix of natural aptitude and refined skills from a top culinary school. In the dynamic kitchen environment, I'm a catalyst for seamless operations and timely, high-quality dish preparation. My culinary creations are a blend of art and skill, offering visually and gustatorily delightful experiences. A learner at heart, I'm continuously honing my craft, embracing new techniques, and culinary innovations. My positive, collaborative nature is amplified in fast-paced settings, showcasing my commitment to team efficiency and guest satisfaction. Each dish I present is a meticulous blend of tradition and innovation, promising an unforgettable dining experience that marries taste, aroma, and aesthetic appeal in perfect harmony. Join me on a gastronomic journey where each bite encapsulates a rich, evolving narrative of flavors and culinary artistry.
Affiliate DisclaimerAbout The Content
As an affiliate, we may earn a commission from qualifying purchases. We get commissions for purchases made through links on this website from Amazon and other third parties.