Print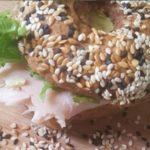 How to Make Cinnamon Raisin Bagels – 17 easy Steps
---
Description
Cinnamon raisin bagels is a classic partner for your morning coffee.  Though bagels may be a tad more difficult to make than other bread, making you want to buy some over the pastry store, still it's worth a try.  With the right ingredients, a little bit of passion and adherence to the following directions, you might just be surprised to see the hidden pâtissier in you.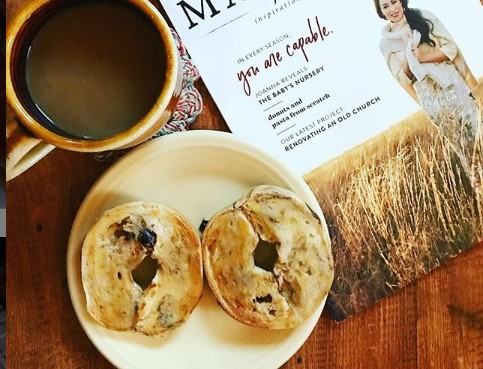 ---
For the dough:
2 cups

of brown rice flour

⅓

+ ½ cup of tapioca starch (a.k.a. tapioca flour)

⅔ cup

of potato starch

½ cup

of millet flour

1 tbsp

. of active dry yeast

2 tsp

. of xanthan gum

2 tbsp

. of light brown sugar, packed

2

large whole eggs, plus two egg yolks (reserve the whites for brushing)

1 tbsp

. of cinnamon

¾ cup

of raisins

1 tsp

. ofgrape seed or canola oil

1 cup

of warm water (prepare extra for adjustments)

1½ tsp

. of kosher salt
To finish:
1½ quarts

of water

¼ cup

of granulated sugar

1 tbsp

. of baking soda
Reserved egg whites, lightly beaten (see eggs under ingredients)
---
Instructions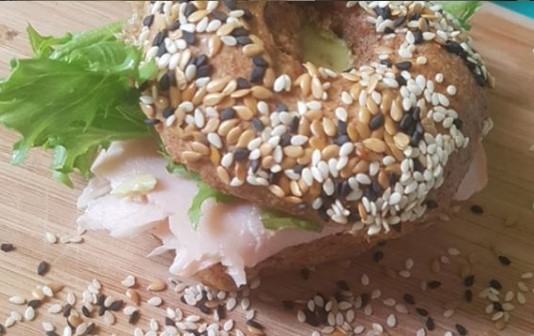 Prepare baking sheet by lining it with silicon baking sheet or slightly oiled parchment paper.
Mix in all the dry ingredients into a bowl of a stand mixer.
Attach paddle and slowly incorporate ingredients until they are well distributed. This should be accomplished within half minute and then you can set aside the mixture.
Whisk together the eggs, additional yolks, water and oil into a small bowl.
Mix in the wet ingredients into the dry mixture and mix using speed of medium-high of stand mixer for about 2 minutes. The result should be slightly sticky dough and not a dry one.  If it becomes too dry, adjust by adding 1 tablespoon of water at a time.
Stop the mixer and add the raisins and cinnamon. Adjust the speed into medium and mix until the ingredients are evenly blended together.
Next, dust your counter with tapioca starch sparingly.
Measure your dough into approximately ½ cup portions and roll each on the counter using your hands.  You should be able to make a smooth ball.
Place the ball on the counter and with your thumb, punch a hole right at the center. Do this step to the remaining balls until they are all ready.
Arrange the bagels into the baking sheet and press each of them slightly.
Cover the bagels with oiled plastic wrap slightly and allow them to rise in a warm place. This should take around 1 hour and 15 minutes up to 1.5 hours.  By then, they should be double in size.
Preheat oven into 450-degree Fahrenheit and bring a large pot of water into a boil.
Mix in sugar and baking soda into the water and proceed into dropping about 2-3 bagels into the pot. Boil them for about half a minute, flipping about half way through.
Remove the bagels using a slotted spoon and drain.
Bring them back onto the baking sheet and slightly brush the tops with the excess egg whites.
Place the sheet on the center rack of the oven and bake the bagesl for about 5 minutes in 450-degree temperature. After that, reduce the heat into 425 and bake for another 15-20 minutes until they achieve the golden brown tan.
Remove the bagels and let them cool before serving.
Notes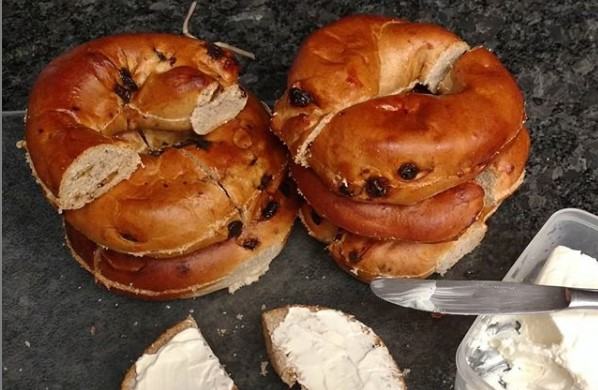 Cinnamon Raisin Bagels simple method
Keywords: Cinnamon Raisin Bagels