Picture this: streets of Seoul, a slight chill in the air, and the unmistakable aroma of Braised Fish wafting through. While I may be miles away, this recipe lets me travel back in time. With every bite, I'm reminded of my adventures and the flavors that made me fall in love with Korean cuisine. Dive in as I share my treasured Braised Fish recipe.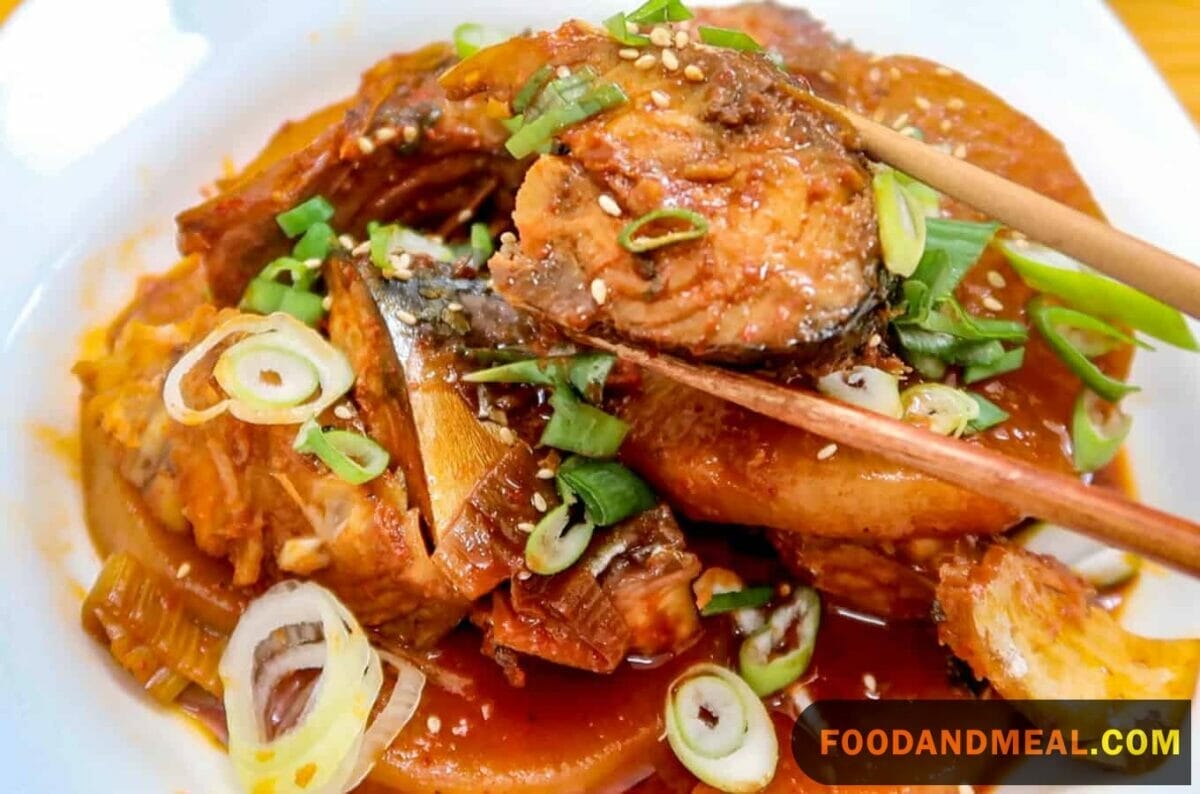 Braised Fish Recipe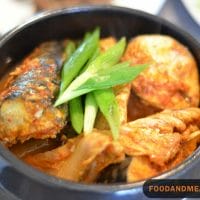 Braised Fish Recipe
Dive into the exquisite world of braised fish with our latest post! This culinary delight will surely elevate your dining experience. Love our recipes? Share this masterpiece with fellow food enthusiasts and don't forget to subscribe for more such gourmet treats.
Print
Pin Recipe
Add to Collection
Go to Collections
Equipment


Dutch oven
If you want your stew to be more tender, you can use a Dutch Oven and cook it over medium or low heat.
Ingredients
For the sauce
For the fish
1

large Korean radish, sliced into 1-inch-long rectangles (about 1⁄2-inch thick)

1/2

onion, sliced

2

pounds

firm-fleshed fish (like halibut, cod, red snapper, or sea bass), cut into 2-inch pieces

5

scallions, sliced into 1-inch pieces
Instructions
TO MAKE THE SAUCE
In a medium bowl, combine the garlic, ginger, chile, water, soy sauce, sugar,rice wine, sesame oil, and gochugaru and mix well.
TO MAKE THE FISH
In a stockpot over medium-high heat, mix the radish, onion, and the sauce mixture together and bring to a boil.

Add the fish on top of the vegetables, gently stir to mix, and again bring to a boil. Reduce the heat to low and simmer for about 15 minutes, or until the radish is tender. Baste the fish frequently, but try not to disturb it too much while cooking so that it doesn't fall apart.

Add the scallions about 1 to 2 minutes before the end of the cooking time.
Notes
VARIATION TIP: For everyday meals, I like the simpler version of this braised fish dish with just radish, fish, and scallions. But don't be shy—flavor it with mushrooms and a variety of chiles or bell peppers if you wish.
Share by Email
Share on Facebook
Share on Twitter
Nutrition
Calories:
23
kcal
|
Carbohydrates:
5
g
|
Protein:
1
g
|
Fat:
1
g
|
Saturated Fat:
0.1
g
|
Polyunsaturated Fat:
0.3
g
|
Monounsaturated Fat:
0.1
g
|
Sodium:
75
mg
|
Potassium:
78
mg
|
Fiber:
1
g
|
Sugar:
3
g
|
Vitamin A:
1186
IU
|
Vitamin C:
0.03
mg
|
Calcium:
19
mg
|
Iron:
1
mg
© Food And Meal
This website provides approximate nutrition information for convenience and as a courtesy only. Nutrition data is gathered primarily from the Spoonacular Database, whenever available, or otherwise other online calculators.
Pin Recipe
Cooking Tips for Braised Fish Korean Recipe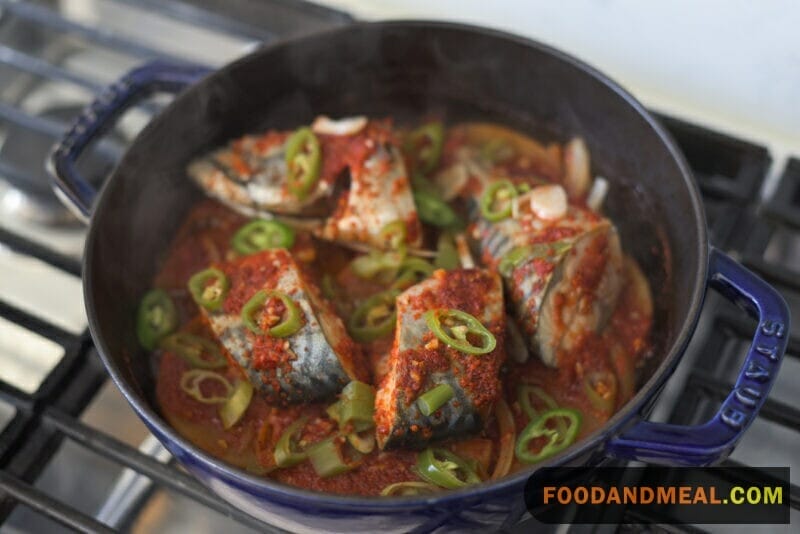 Fish Selection: Always, and I cannot stress this enough, opt for fresh fish. In a dish where the fish is the main act, the freshness will dictate the overall taste. Firm-fleshed fish like snapper, grouper, or even sea bass are your best bets.
Skin On or Off? Keep the skin on! Not only does it hold the fish together during the braising process, but it also imparts a depth of flavor that's truly unparalleled.
Searing is Key: Before you delve into braising, give your fish a quick sear. This locks in the moisture and ensures a gorgeously golden crust. And let's be honest, who can resist that beautiful caramelization?
The Right Pot: Using a heavy-bottomed pot or a Dutch oven ensures even heat distribution. This means your fish gets cooked uniformly without any parts getting too dry or staying undercooked.
Control the Heat: Braising is a slow-cooking method. Start with a high heat to bring your braising liquid to a boil, then reduce it to a low simmer. Patience, dear friend, is the secret ingredient here.
Watch the Liquid: Your braising liquid (be it broth, wine, or a mix of both) should only partially cover the fish. This isn't a stew, so don't submerge the fish completely.
Serving Suggestions for Braised Fish Korean Recipe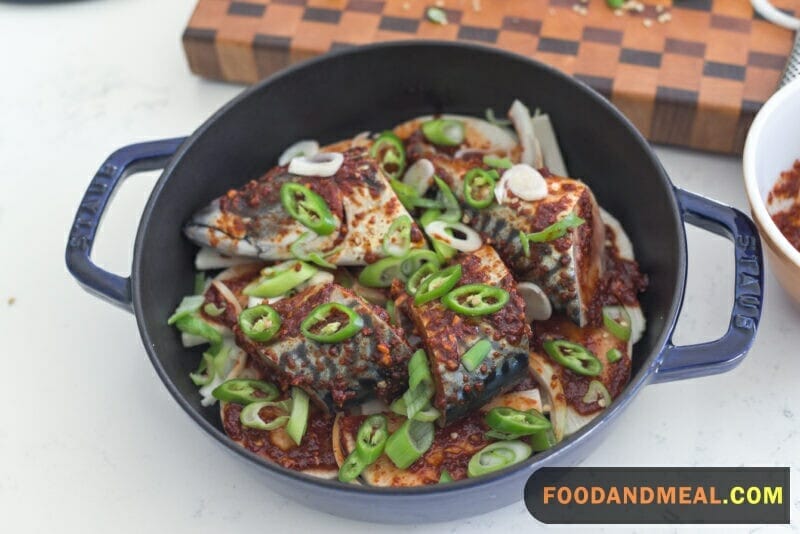 The Perfect Rice: Fluffy white rice, preferably short-grain or sushi rice, pairs beautifully with the rich flavors of the braised fish. The delicate grains soak up the sauce and provide a comforting base.
Korean Banchan: These are traditional Korean side dishes. Think Kimchi, pickled radishes, or sautéed spinach. These offer a contrast of flavors and textures, accentuating the star – our Braised Fish.
Soup on the Side: A clear, brothy soup, perhaps a mild Seaweed or Tofu Soup, can cleanse the palate and offers a comforting juxtaposition to the robustness of the braised dish.
Garnish Matters: A sprinkle of freshly sliced scallions or a dash of sesame seeds not only adds color but also a burst of flavor. It's those small details that often make the most significant impact.
Beverage Pairing: A cold glass of Soju for the adults is an obvious choice. However, a cool barley tea or even a white wine with crisp notes can be an excellent accompaniment to balance out the rich flavors.
Reinvent Leftovers: If by some miracle, you have leftovers, flake the fish and mix it with some rice, fresh veggies, and a dash of soy sauce to make a quick stir-fry the next day.
Presentation: Use wide, shallow bowls to serve. This not only allows the fish to lay beautifully but also showcases the braising liquid and the fish's golden crust.
FAQs on Braised Fish Korean Recipe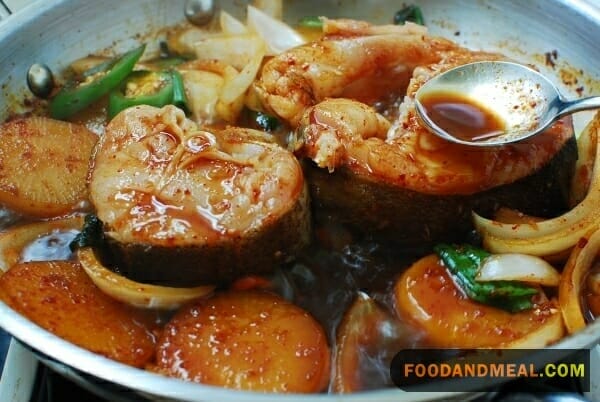 What kind of fish works best for this recipe? While the beauty of this braised fish recipe lies in its versatility, traditional choices include mackerel or cod. However, feel free to use any firm-fleshed fish. Just ensure that the fish is fresh, and it will imbibe the flavors beautifully.
I don't have all the Korean ingredients. Can I still make this dish? Absolutely! While certain ingredients add a distinct Korean touch, you can substitute with what's available. For instance, if you can't find Gochugaru (Korean red pepper flakes), use another mild chili powder. The essence is to capture the spirit of the dish, even if it means tweaking it a bit.
How do I store leftover braised fish? Leftovers can be stored in an airtight container in the refrigerator for up to 2 days. To reheat, gently warm it in a pan over low heat to retain the fish's delicate texture. Avoid microwaving as it can make the fish rubbery.
Can I make this dish ahead of time for a party? Yes, you can! Braised dishes often taste even better the next day as the flavors meld. If you're making it ahead, simply reheat on the stovetop before serving. Just remember, fish is delicate, so always use low to medium heat.
Can I use frozen fish for this recipe? While fresh fish is always the best choice for flavor and texture, you can use frozen fish. Thaw it properly in the refrigerator before cooking. Ensure it's thoroughly defrosted to achieve the best results.
Dive into our "Braised Fish" guide and master this culinary gem. A flavor-packed journey awaits. Start cooking now!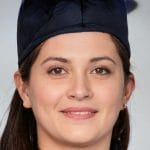 Hi! I'm Nazia of 'Nazia Cooks', a self-taught baker and cook residing in Chennai. Rooted in the rich South Indian culinary landscape, my palate has expanded to embrace global flavors. I revel in crafting fusion dishes, melding traditions to birth unique tastes.
Affiliate DisclaimerAbout The Content
As an affiliate, we may earn a commission from qualifying purchases. We get commissions for purchases made through links on this website from Amazon and other third parties.