Ingredients
For the braciola:
2-2½ lb. of flank steak
½ cup dry red wine
2 tbsp. of olive oil
1 shallot, minced
24 oz. of mushrooms, finely chopped
1 tsp. of kosher salt
freshly ground black pepper
1 tablespoon of fresh thyme, chopped
4 oz. of gorgonzola cheese, crumbled
For the gravy:
2 cups of dry red wine
2 cups of beef broth
1 can of 4 oz. tomato paste
1 tsp. of kosher salt
2 sprigs thyme
Directions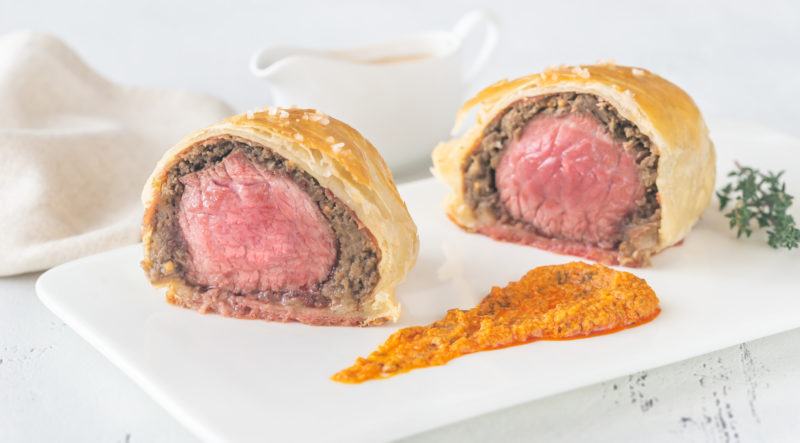 Put a large skillet over medium heat and add 1 tbsp. of olive oil.
Saute the shallots for about 2-3 minutes.
Add the mushrooms and thyme and season with salt and pepper. Saute for another 5-7 minutes until the mushrooms are tender.
Pour the wine and simmer for about 10 minutes until most of the liquid evaporated and there's the only little amount left of it. Put it aside until the duxelles is needed.
Using a sharp knife, slice through the flank steak horizontally but be careful not to cut it all the way through. The effect should be like flipping pages of a book.  Place plastic wrap over the beef and flatten it slightly using a meat mallet or rolling pin.  After flattening it, remove the plastic wrap.
Smear the steak with the duxelles or mushroom mixture, maintaining 1-inch border margin from the edge. Sprinkle the gorgonzola over the duxelles.
Parallel to the grain, start rolling the steak from either of the sides. Be sure that you roll it tightly and secure it with butcher's twine in several places.
Get a bowl and stir together all the gravy ingredients save for the time.
Heat the remaining olive oil in a large Dutch oven. Heat it up in high heat and sear the Braciola in about 2-3 minutes as per side.
Reduce the heat, bringing it into a simmer. Braise the beef within 1 ½ hour.
Before serving, slice it in a way that you can see the spiral pattern of beef and duxelles. Serve with the remaining mushroom duxelles.