If I could encapsulate the essence of a cozy Japanese evening in a pot, it would undeniably be the Beef Cabbage Hot Pot. Each ingredient tells a tale, and as they meld together, they create a culinary symphony that's a treat to both the palate and the soul. Journey with me as we recreate this magic.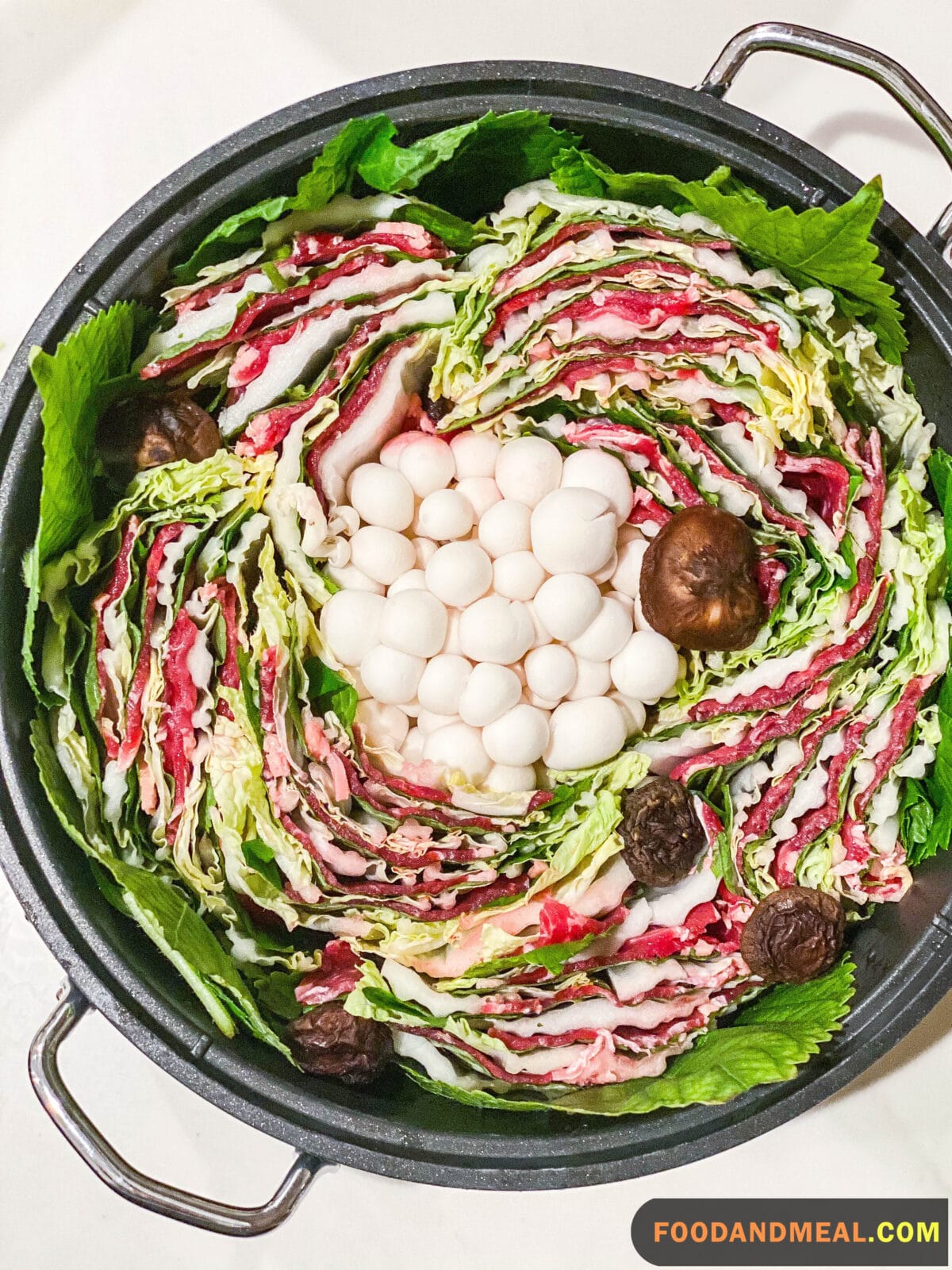 Japanese Beef Cabbage Hot Pot Recipe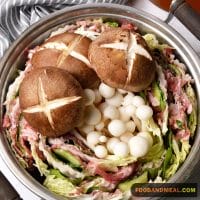 Japanese Beef Cabbage Hot Pot
Dive deep into the warm, flavorful world of Japanese cuisine with our Beef Cabbage Hot Pot recipe! If this steaming bowl of goodness warmed your heart, don't forget to share the love (and the recipe) with friends and family. Craving more such delectable dishes? Subscribe to our blog and get your gourmet fix!
Print
Pin Recipe
Add to Collection
Go to Collections
Ingredients
Ingredient List:
14

oz. of

innards, beef

1⁄2

head of

cabbage, Napa

2

bags

bean sprouts

1

bunch of

chives, Asian

Garlic chips, dried

Sesame, white or regular

Chili peppers, dried

Rice or noodles
For the soup:
4

cups

water, filtered

1

teaspoon

powdered dashi

2

teaspoons

powdered chicken broth

3

fl. oz.

soy sauce, low sodium

1

fl. oz.

sake, sweet

1

pinch

sugar, white

Garlic, grated

Ginger, grated
Instructions
Blanch motsu. Cut cabbage in 2-inch pieces. Cut chives in 2 3⁄4-inch pieces. Wash bean sprouts.

Mix ingredients for the soup. Add motsu. Heat hot pot over med-high.

When motsu has boiled, place cabbage and bean sprouts in middle of pot. Place chives on top with chili peppers, garlic and sesame.

Boil pot over high heat till veggies are done. Turn heat down.

Give friends and family small bowls and allow them to ladle in their own portions.

Place noodles or rice in bowls and finish up the soup.
Notes
Substitutions & Variations: While beef is traditionally used, feel free to experiment with pork or chicken for a different flavor profile. Vegetarians can opt for tofu or tempeh slices. Remember, the best recipes come to life when you add a touch of your own creativity. Loved this tip? Share the recipe and don't forget to subscribe for more!
Choosing the Right Cabbage: For this recipe, I swear by the Napa cabbage due to its delicate taste and texture. However, if unavailable, any fresh, crisp cabbage will do. The key is in the freshness! Tried it out? Share your experience and join our culinary community by subscribing!
Broth Base: The essence of this hot pot lies in its broth. While I've shared my signature broth recipe, don't hesitate to adjust the flavors to your liking. Whether you want it spicier or milder, make it your own. Impressed? Spread the joy by sharing the recipe and subscribe for more gourmet insights!
Share by Email
Share on Facebook
Share on Twitter
Nutrition
Serving:
1
serving
|
Calories:
622
kcal
|
Carbohydrates:
105
g
|
Protein:
35
g
|
Fat:
15
g
|
Saturated Fat:
6
g
|
Polyunsaturated Fat:
1
g
|
Monounsaturated Fat:
6
g
|
Trans Fat:
1
g
|
Cholesterol:
47
mg
|
Sodium:
371
mg
|
Potassium:
3268
mg
|
Fiber:
45
g
|
Sugar:
58
g
|
Vitamin A:
1809
IU
|
Vitamin C:
665
mg
|
Calcium:
739
mg
|
Iron:
10
mg
© Food And Meal
This website provides approximate nutrition information for convenience and as a courtesy only. Nutrition data is gathered primarily from the Spoonacular Database, whenever available, or otherwise other online calculators.
Pin Recipe
Beef Cabbage Hot Pot: Pressure Cooker Method
Ingredients: Note: Quantities remain the same as in the original recipe.
Method:
Preparation: Begin by thinly slicing your beef (partially freeze it beforehand for easier slicing). Chop the Napa cabbage into bite-sized chunks, ensuring they're washed and drained thoroughly.
Sautéing: Set your pressure cooker to the sauté mode. Once hot, add a drizzle of sesame oil followed by the beef slices. Lightly brown them for a couple of minutes. Remember, we're not cooking them through just yet.
Layering: Once the beef slices have been browned, layer the chopped cabbage over them. This layering helps in even cooking and flavor distribution.
Broth Addition: Gently pour in your broth (as prepared in the original recipe) ensuring the cabbage and beef are well submerged.
Pressure Cooking: Secure the lid on your pressure cooker and set it to manual high pressure. Cook for 15 minutes.
Natural Release: Once the cooking time is up, let the pressure release naturally for about 10 minutes. After that, you can manually release any remaining pressure.
Finishing Touches: Open the lid, give everything a gentle stir to combine, and check for seasoning. Adjust if needed.
Serving: Transfer the hot pot contents to a large serving bowl. Garnish with chopped spring onions, fresh herbs, or any other toppings of your choice from the original recipe.
Cooking Tips
Quality Beef: Always opt for fresh, quality beef. It truly makes a difference in the texture and flavor.
Don't Overcook: While it's a hot pot, the beef slices are thin and need only a short time to cook. Overcooking can make them tough.
Layering is Key: Proper layering ensures even cooking. Always start with meat at the bottom, followed by the veggies.
Natural Pressure Release: In the pressure cooker method, always allow for a natural release. It lets the meat remain tender and retains more flavor.
Taste and Adjust: Before serving, always taste your broth. Depending on the saltiness of your broth or soy sauce, adjustments might be necessary.
Serving Suggestions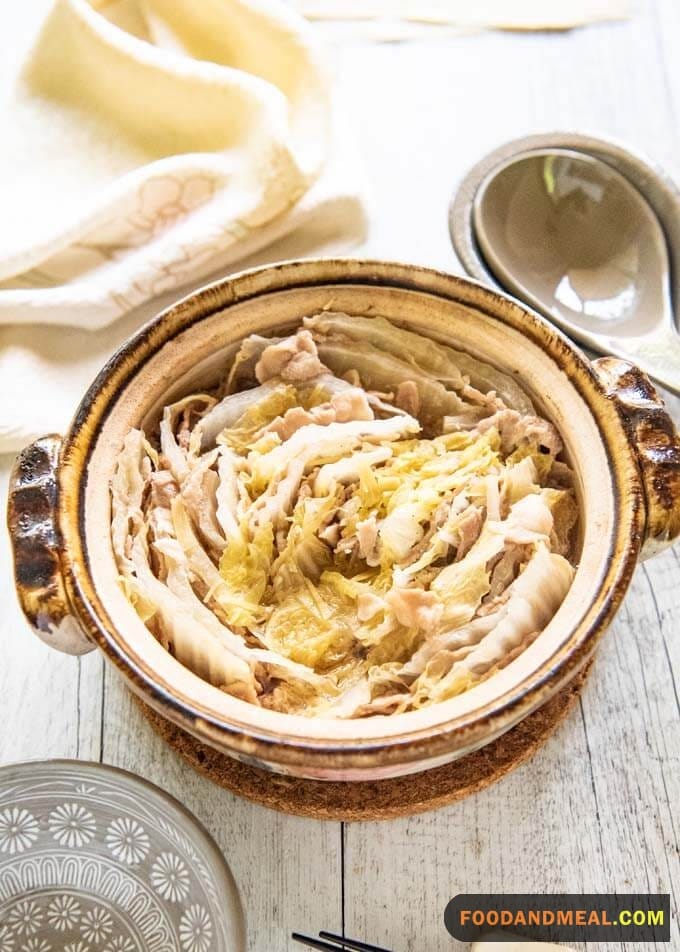 Occasions & Audience: This hot pot is ideal for cold winter nights, family gatherings, or even a romantic dinner for two. It offers both warmth and a hearty flavor profile that adults and kids alike will love.
Sides: Thin rice noodles or udon can be a fantastic addition, making the hot pot even more fulfilling. For those preferring a lighter option, a side of steamed jasmine or brown rice complements the hot pot beautifully.
Garnishes: Fresh herbs like cilantro or Thai basil can add a burst of flavor and color. Also, consider roasted sesame seeds for a nice crunch and a sprinkle of red pepper flakes for those who like it spicy!
Beverages: A pot of green tea or sake pairs well, balancing the rich flavors of the hot pot.
Ways to Serve: Serve it in individual bowls for a formal dinner. For a more communal experience, keep the pot simmering in the center of the table, letting everyone pick their favorite bits.
List of 5 FAQs of Beef Cabbage Hot Pot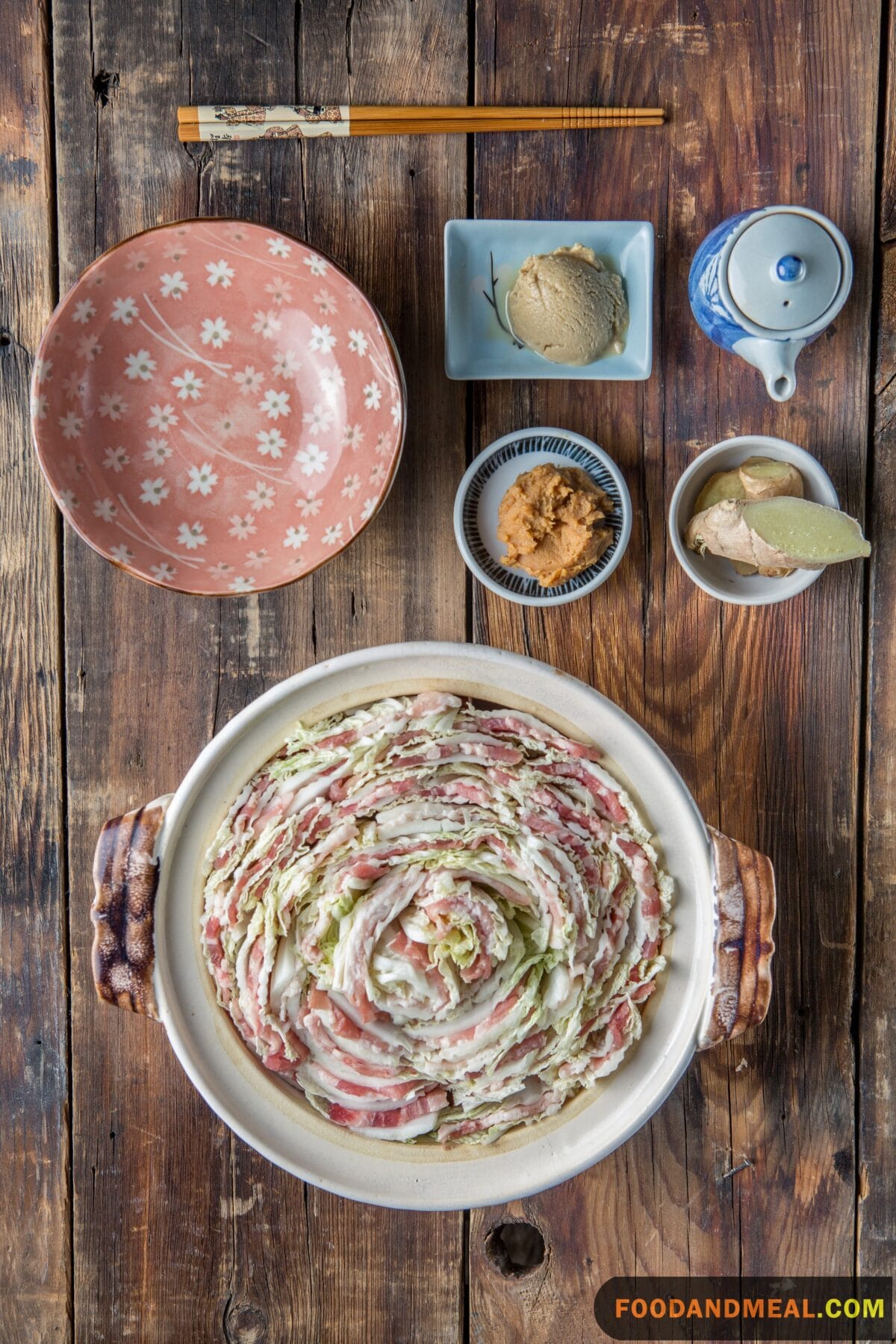 Can I use chicken instead of beef?
Absolutely! Chicken thighs would work best due to their tenderness. Adjust cooking time slightly, as chicken might cook faster than beef.
Is it necessary to use Napa cabbage?
Napa cabbage has a unique taste and texture that's perfect for hot pots. However, if unavailable, bok choy or regular green cabbage can be used.
Can I prepare this dish in advance?
Yes, but for the best flavor, prepare the broth in advance and add the beef and cabbage just before serving. This ensures fresh, crispy cabbage and tender beef.
How do I store leftovers?
Cool the hot pot to room temperature and store in an airtight container in the refrigerator. It should be consumed within 2-3 days.
Is this dish gluten-free?
The primary ingredients are gluten-free. However, ensure your soy sauce and any other store-bought ingredients are certified gluten-free if you're catering to a gluten-sensitive audience.
Unearth the rich tradition of Japanese hot pots with our Beef Cabbage recipe. Explore, cook, enjoy, and inspire others to taste. Discover today!
Affiliate DisclaimerAbout The Author
As an affiliate, we may earn a commission from qualifying purchases. We get commissions for purchases made through links on this website from Amazon and other third parties.