You may be wondering what is Beef and Salmon Teppanayaki, and you may not know how to start the process. This Japanese food is a unique way to cook meats and fish over a charcoal fire. The taste and texture of Beef and Salmon Teppanyaki is unmatched. The tender and flavorful Japanese beef is greasy-free and sweet-sour. The seafood course features grilled scallops, prawns, mussels, octopus, salmon, and a variety of other premium Japanese sea foods. The presentation and technique of the teppanyaki chefs are a showcase of their craft.
Beef and Salmon Teppanyaki Recipes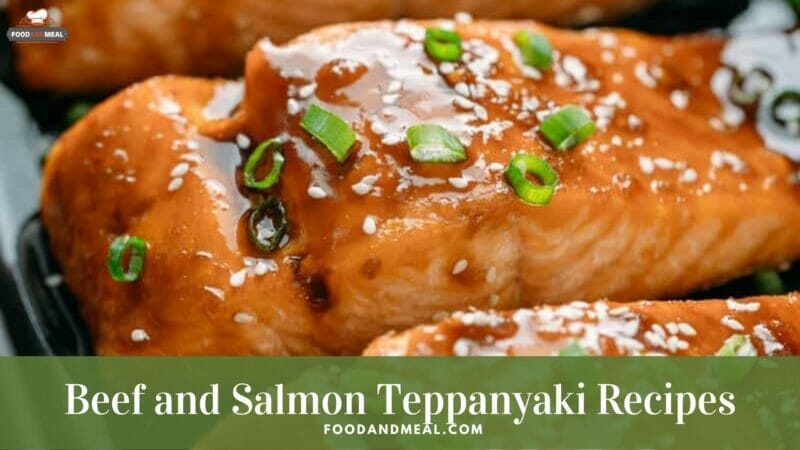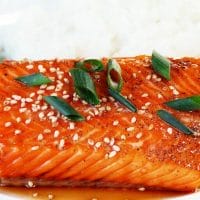 Beef and Salmon Teppanyaki
Beef teppanyaki is a classic Japanese dish that features thinly sliced steak grilled on a Himalayan salt plate. To make beef teppanyaki, beef slices are marinated with sesame oil, a sweetener used to enhance the meat's taste. In addition to the meat, the beef teppanyaki dish also uses vegetables and rice. Before cooking the meat, the vegetables and rice must be peeled and sliced. Crushing garlic cloves is a good way to add flavor to the meal.
Print
Pin
Rate
Add to Collection
Go to Collections
Ingredients
4

ounces

beef tenderloin

cut into bite-sized cubes or thin strips

4

ounces

salmon

1-2

tablespoons

vegetable or olive oil

1

tablespoon

soy sauce

2

tablespoons

butter

2

tablespoons

sake

Salt

to taste

Freshly ground pepper

White pepper

to taste Flour for coating
Instructions
1.Season the salmon and beef (separately) with salt, black pepper, and white pepper.

Coat the salmon evenly with flour.

Heat a heavy skillet or wok, which will serve as the "teppan" or grill.

Add the oil and fry the salmon until evenly browned, opaque, and easy to flake with a fork.

Move the salmon to the side of the pan and drain off any excess oil. Transfer it to a serving plate. Keep the skillet or wok warm, for cooking the beef.

Pan-fry the beef in the same skillet until the desired doneness is reached. Season it with freshly ground pepper, and transfer it to the same dish as the salmon.

In the same skillet or wok, add butter, sake, and white pepper.

Turn off the heat and stir to melt the butter.

Pour this sauce over the salmon and beef and serve while hot.
Video
Notes
Beef and salmon can both be cooked on the teppanyaki grill. While beef tends to be a popular choice for teppanyaki, salmon also has its advantages. Here are some of the benefits of grilled salmon. As salmon is a healthier choice, it is often prepared as a teppanyaki meal. Using lemon juice to enhance the flavor of the fish is a good idea. However, it's important to watch out for the pineapple salsa, as it tends to get sour quickly.
Share by Email
Share on Facebook
Share on Twitter
Nutrition
Serving:
2
servings
|
Calories:
312
kcal
|
Carbohydrates:
1
g
|
Protein:
23
g
|
Fat:
23
g
|
Saturated Fat:
7
g
|
Polyunsaturated Fat:
3
g
|
Monounsaturated Fat:
12
g
|
Cholesterol:
73
mg
|
Sodium:
571
mg
|
Potassium:
490
mg
|
Fiber:
1
g
|
Sugar:
1
g
|
Vitamin A:
47
IU
|
Calcium:
30
mg
|
Iron:
2
mg
© Food And Meal
This website provides approximate nutrition information for convenience and as a courtesy only. Nutrition data is gathered primarily from the Spoonacular Database, whenever available, or otherwise other online calculators.
Other Way to making Beef and Salmon Teppanyaki
When preparing the beef teppanyaki dish, beef slices are grilled on a hot plate. To prepare the beef teppanyaki meal, you'll need a large hotplate with a high grill. The vegetables are best prepared in chunky sticks, but if you don't have one, you can use a portable hotplate. To prepare the salmon teppanyaki dish, you'll need a large non-stick pot. The rice should be cooked for 15 minutes. Next, you'll need to add soy sauce and ginger.
As far as the meats go, you can use 250 grams of each for four people. A lemon juice marinade will make the salmon taste fresh and delicious. You can also use half a lemon for four people. One important thing to remember when grilling salmon is that the fish may fall apart while cooking. If you don't handle the salmon carefully, it may fall apart, making it difficult to cook it without breaking it.
About Teppanyaki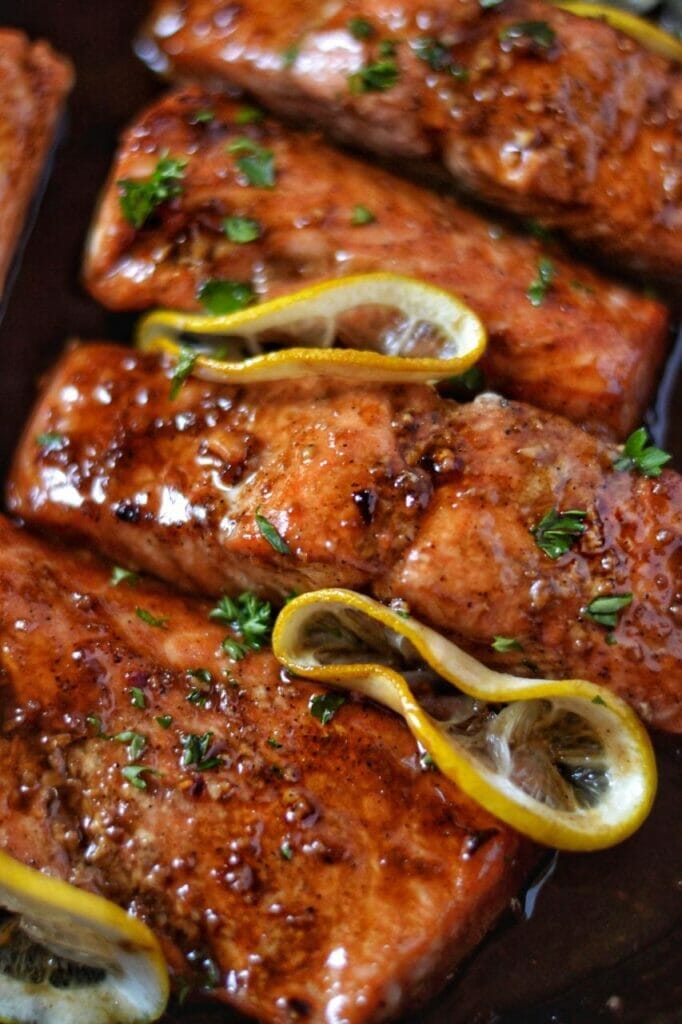 Cooking a meal on the teppan grill is a complicated process, which calls for an expert level of culinary skills. In teppanyaki, the main ingredients are beef and salmon, which are both highly nutritious. Because they are expensive, salmon has traditionally been treated as a luxury food. However, it can be prepared in a variety of ways and can have hundreds of different flavors.
A traditional teppanyaki meal includes different courses of meat, seafood, and vegetables, and is a theatrical experience. The chef often performs tricks while cooking, including flipping utensils, splitting eggs, and flaming onion rings to create a volcano. As with most teppanyaki restaurants, salmon is a specialty in Japan, which makes it a unique experience.
The steaks used in Beef and Salmon Teppanyaki can be sliced into pieces of 250 grams each. A lemon is usually sufficient for four servings of fish. A brown butter marinade is the easiest part of the steak preparation, but salmon is very slippery and can easily fall apart. Consequently, caution should be exercised during the grilling of salmon. When attempting this, be sure to keep an eye on the piece of meat, as it can fall apart.
Ideally, a teppanyaki meal should be at least three courses of meat, seafood, and vegetables. The meat and fish should be properly marinated and cooked to perfection. The meats should be cut to size to fit the table. If you plan to serve 4 people, use a large fish for four people. This will provide enough food for four people. If you're planning to take a large group to a teppanyaki restaurant, try to order enough for everyone in your party.
As the meats are grilled to perfection, the dish is made with the highest-quality Wagyu beef. This is the most expensive meat in Teppanyaki, but it's worth it! Guests love the taste and the presentation of this Japanese cuisine, and it's a great way to celebrate a special occasion with family and friends. You should also try it if you haven't tried it before.
Besides the meat and seafood, teppanyaki restaurants usually serve their meals with a variety of side dishes and Japanese-styled dishes. The beef and salmon are the most expensive meats available, but they are not the only meats offered in Teppanyaki. You can also order a side of salmon, grilled vegetables, and a salad. The meat and seafood are cooked in the same pan, so they need to cook together for optimal flavor.
The meats are grilled to perfection by a highly trained chef. The meats are often skewered over an open fire. The meats are grilled over a charcoal-fired grill. The sauce is made with a mixture of sake, so the meats and vegetables are paired with each other. The meal is often served with rice and vegetables. A high-quality teppanyaki restaurant should serve a variety of side dishes, including sushi.
Besides the chicken, you can also cook different types of fish such as shrimp, beef, and salmon. A typical meal might have only one meat, but you can order a whole platter of both. Aside from fish, you can choose to prepare the sauce separately. In addition to the meat, you can also opt for seafood and vegetables. The ingredients for this dish vary depending on whether you like beef or salmon.
FoodAndMeal.Com site is happy to accompany you on a tour of culinary cultures around the world. Feel free to ask us anything about the recipes because all your kind comments give us the chance to improve our site.