Africa, with its diverse cultures and flavors, offers culinary experiences that touch the soul. Among its treasures is the Sauce Aux Champignons – a mushroom sauce that embodies the spirit and essence of the continent. Join me on this gastronomic journey, where tradition meets innovation, and every spoonful tells a story.
The mixture of Congolese mushrooms and lemon can create a rich sauce that is often supplied at the traditional events of Central African. This sauce is called Aux Champignons et citron in French. Both ingredients are clean to find anywhere close to your property, or maybe in your refrigerator. Thus, you handiest need to take a few minutes to have them. You then follow this recipe underneath, you'll have a delicious sauce to renew your flavor.
Sauce Aux Champignons et Citron Recipe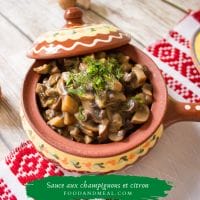 Sauce aux champignons et citron recipe (Congolese Mushroom and Lemon Sauce)
Sauce aux champignons et citron is a special sauce of Central African. It is easy to make this dish with some simple ingredients. For this recipe - a vegan recipe, you just use two main ingredients including Mushroom and Lemon Sauce.
Print
Pin Recipe
Add to Collection
Go to Collections
Instructions
Clean and chop the mushrooms into small chunks.

Place a saucepan over medium heat and heat the oil up.

Add the chunks of mushroom to the oil and sauté until the chunks are tender.

Pour the lemon juice into the pan along with the salt and pepper. Mix thoroughly and simmer for a couple of minutes.

You can serve this dish with rice, fufu, or baton de manioc.
Notes
This recipe will serve as an accompaniment to baked goods or pasta. You can add a little veal and/or white wine to the cooking part, this helps to enhance the taste of the sauce.
Share by Email
Share on Facebook
Share on Twitter
Nutrition
Serving:
220
g
|
Calories:
107
kcal
|
Carbohydrates:
6
g
|
Protein:
4
g
|
Fat:
9
g
|
Saturated Fat:
2
g
|
Polyunsaturated Fat:
2
g
|
Monounsaturated Fat:
4
g
|
Sodium:
105
mg
|
Potassium:
396
mg
|
Fiber:
1
g
|
Sugar:
3
g
|
Vitamin A:
377
IU
|
Vitamin C:
14
mg
|
Calcium:
8
mg
|
Iron:
1
mg
© Food And Meal
This website provides approximate nutrition information for convenience and as a courtesy only. Nutrition data is gathered primarily from the Spoonacular Database, whenever available, or otherwise other online calculators.
Pin Recipe
The Slow Cooker Method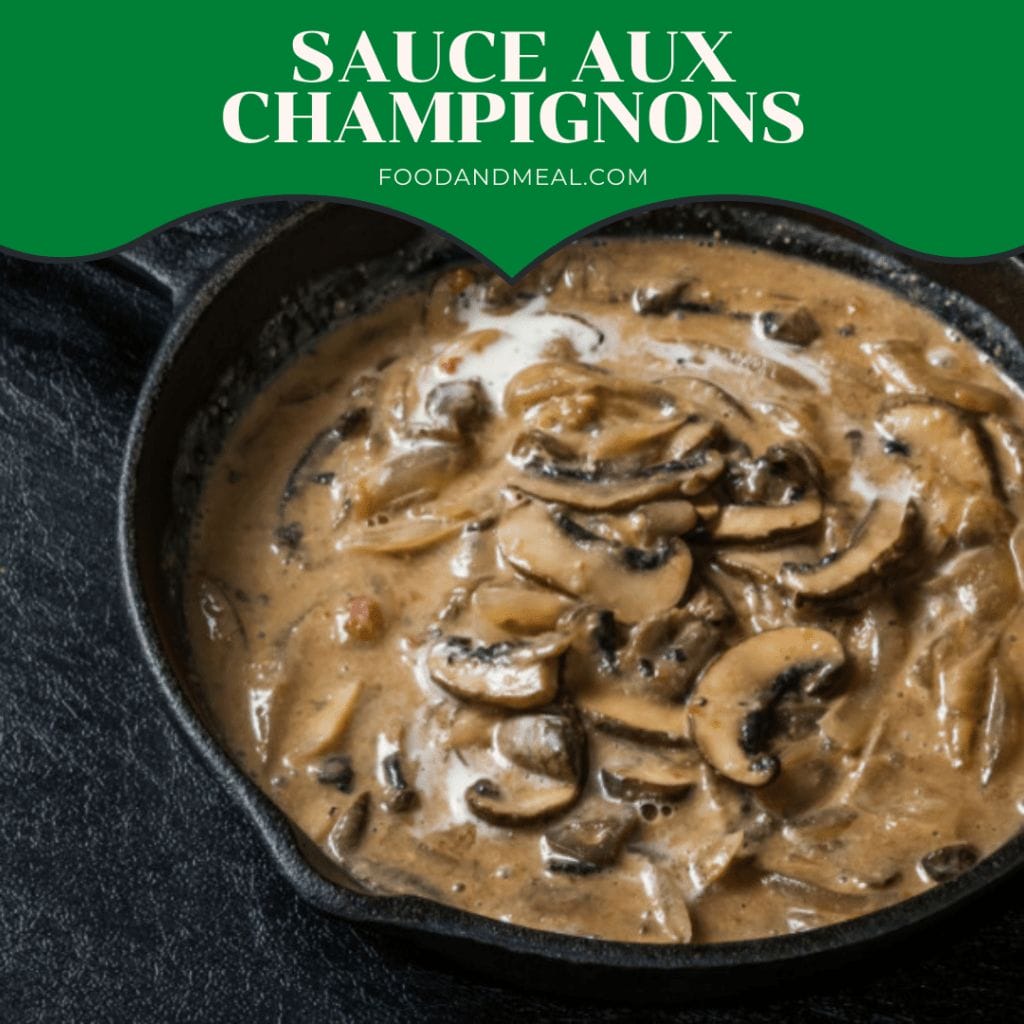 The slow cooker, often celebrated for its ability to extract and meld flavors over time, presents an ideal alternative to traditional cooking methods. Especially when considering a dish like Sauce Aux Champignons, which thrives on the amalgamation of its rich ingredients. Here's how to harness the magic of the slow cooker for this iconic African dish:
Ingredients
Your usual ingredients for African Sauce Aux Champignons
Method
Preliminary Sauté: Before introducing ingredients to the slow cooker, it's essential to enhance their flavors. In a skillet, heat some oil and sauté the onions and garlic until translucent. Follow up with mushrooms, cooking until they're softened and browned slightly. This step helps release the inherent aromas and flavors that the slow cooker will then amplify.
Spice Introduction: To the sautéed mix, add your spices – from aromatic herbs to the ground blends typical of African cuisine. Let them toast for a minute or two, ensuring they're fully awakened.
Slow Cooker Time: Transfer this aromatic mixture to the slow cooker. Add your tomato base, broth, and any other key ingredients particular to your version of Sauce Aux Champignons.
Low and Slow: Set your slow cooker to its low setting. Allow the sauce to simmer and meld for 4-6 hours. This extended time ensures each ingredient not only contributes its essence but also absorbs the flavors around it.
Final Adjustments: About 30 minutes before it's done, taste the sauce. Adjust the salt, spices, or other seasonings as required. If the sauce is too thick, consider adding a bit more broth or water to reach your desired consistency.
Serving Time: Once cooked, give it a good stir, ensuring the flavors are well combined. Serve your Sauce Aux Champignons atop your choice of grains or alongside traditional bread.
The slow cooker transforms the process of making Sauce Aux Champignons into a hassle-free experience, giving the ingredients ample time to weave their stories together. With minimal intervention, you're rewarded with a sauce that's deep, nuanced, and utterly delicious – a true testament to the power of slow cooking!
Alternative Recipe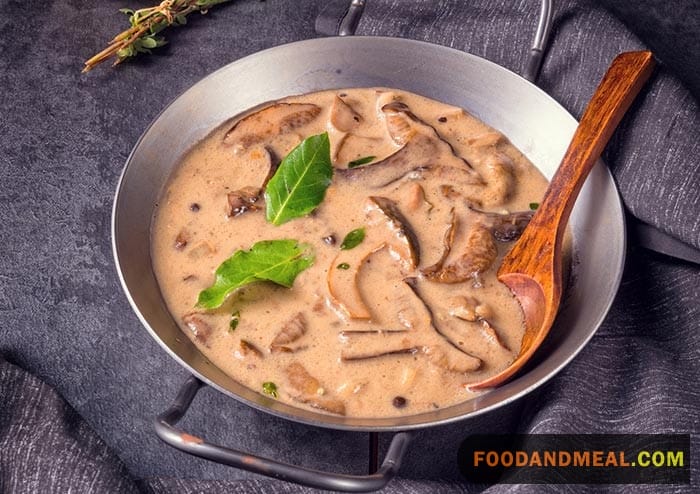 Ingredients
oil
8 oz button mushrooms, sliced
8 oz shiitake mushrooms, sliced
8 oz crimini mushrooms, sliced
1 lemon, juiced
salt & pepper
Method
Heat up some oil in a large pan or wok over medium-high.
Throw in the mushrooms.
Sautee until the mushrooms are soft. Lots of juices will accumulate in the pan. That's ok, they form a light sauce around the mushrooms. It might be looking like mushrooms are the star of this dish but you're sorely mistaken. The lemon steals the show.
Once squeezed, the citrus juice coats the mushrooms, making them nearly as tart as lemon meringue pie. Without the sugar, of course. Just be sure to add plenty of salt and fresh pepper to finish the dish off.
Sauce aux champignons et citron is much easier to make than you may think. You just need to have some simple ingredients, a perfect preparation, and a bit of cooking skill to process it. However, you should notice that the volume of right lemon juice added to the sauce is the most important point of the dish. It decides to adjust the flavor of your sauce. Knowing what the sauce of Congolese mushrooms and lemon have and choosing to make it at home instead of purchasing in the restaurant is a healthier option, definitely!
Our Tips and Tricks
List of 5 FAQs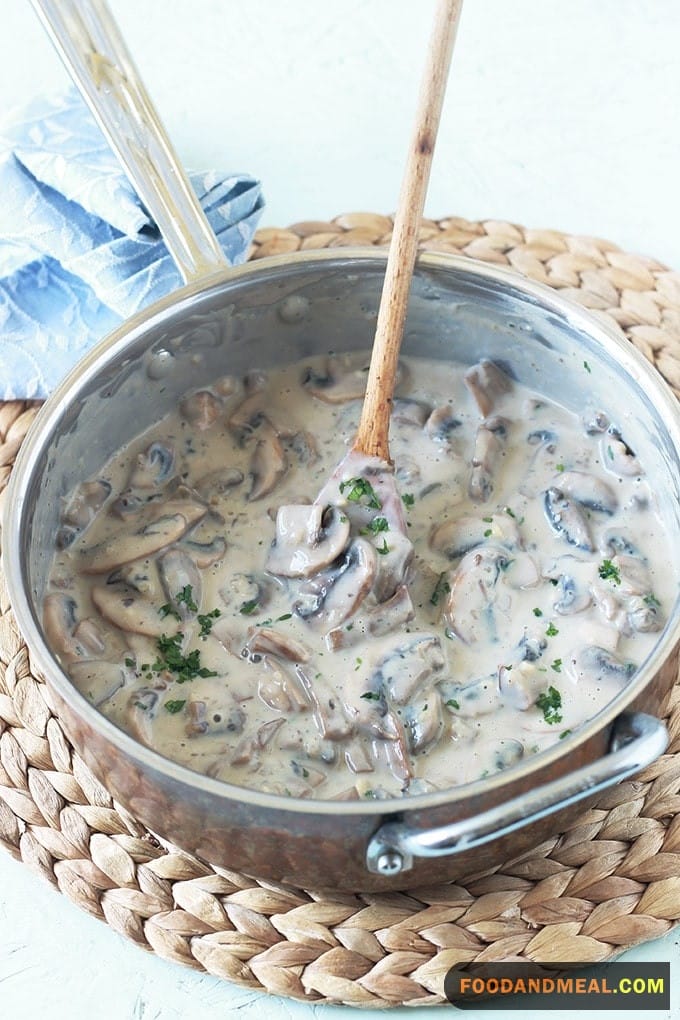 Understanding the Intricacies of Sauce Aux Champignons:
Can I use dried mushrooms in this recipe? Absolutely. Dried mushrooms have a concentrated flavor that can work beautifully in the sauce. Before using, rehydrate them in warm water for about 30 minutes, then drain and proceed as you would with fresh mushrooms.
How can I make the sauce creamier? For a creamier texture, consider blending a portion of the cooked sauce and then mixing it back in. Alternatively, you can stir in some coconut milk or heavy cream towards the end of the cooking process.
Is there a vegan version of Sauce Aux Champignons? Certainly! Just ensure you're using vegetable broth and replace any non-vegan ingredients with plant-based alternatives. For a creamy vegan twist, add coconut milk or cashew cream.
Why is my sauce too watery? A watery sauce can result from mushrooms releasing more moisture than expected. To counter this, you can uncover the slow cooker towards the end to allow some of the liquid to evaporate or thicken the sauce with a cornstarch slurry.
How should I store the leftover sauce? Cool the Sauce Aux Champignons completely, then transfer it to an airtight container. It'll keep in the refrigerator for up to 5 days. For longer storage, consider portioning and freezing the sauce for up to 2 months.
Cooking Tips
Diving Deeper into the Art of Sauce Aux Champignons:
Quality Counts: Always opt for the freshest ingredients. Fresh mushrooms, ripe tomatoes, and high-quality broth make all the difference in the final taste.
Layering Flavors: Don't rush adding your ingredients. Sautéing the mushrooms and onions until they're slightly caramelized adds a depth of flavor that's irreplaceable.
Avoid Overcrowding: When sautéing mushrooms, avoid overcrowding the pan. This ensures they brown nicely instead of steaming.
Common Mistake: While the slow cooker does wonders for flavor melding, refrain from overloading it with too much liquid. Remember, it retains most of the moisture, so you might need less liquid than you think.
Serving Suggestions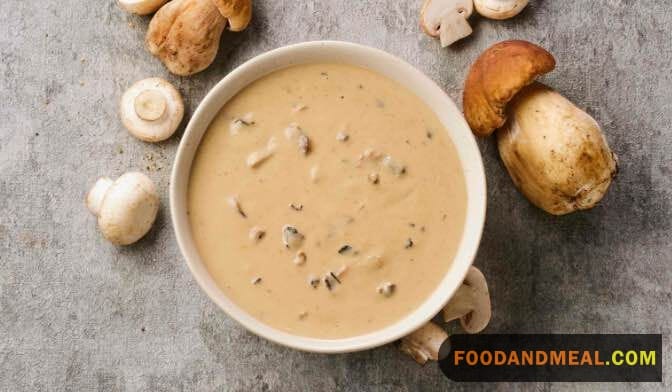 Elevate Your Sauce Aux Champignons Experience:
Grain Pairings: This sauce is versatile and pairs beautifully with a variety of grains. Think couscous, millet, or traditional African rice dishes.
Bread on the Side: Consider serving the sauce with African flatbreads or even crusty baguette slices to soak up all the goodness.
Garnish with Greens: Fresh herbs like parsley, cilantro, or even green onions can add a splash of color and a burst of freshness to the dish.
Beverage Pairings: Given the richness of the sauce, a light white wine or a chilled beer can complement the meal. For non-alcoholic options, consider a light lemon or ginger infused drink.
With these serving suggestions, practical cooking tips, and responses to common queries, you're all set to delve deep into the world of Sauce Aux Champignons and truly celebrate its African roots. Enjoy the culinary adventure!
African Sauce Aux Champignons is not just a dish—it's a celebration, an experience, a story waiting to be shared. From the choice of mushrooms to the delicate balance of spices, every detail matters. Cherish the flavors? Share this delectable journey with friends and family. For more such adventures in taste, ensure you subscribe to Food And Meal. Let's keep the culinary tales alive!
I'm Kelly Atkinson, with a passion for dissecting the world of home goods. My reviews stem from thorough testing and a love for sharing detailed insights. Each piece I write offers a glimpse into my explorative journey, aiming to guide readers to informed choices with authenticity and precision, making every review a blend of exploration and expertise.
Affiliate DisclaimerAbout The Content
As an affiliate, we may earn a commission from qualifying purchases. We get commissions for purchases made through links on this website from Amazon and other third parties.