Couscous is a staple in Moroccan North African cuisine. This is a traditional dish made from steamed semolina (drum wheat) seeds.
Moroccan couscous is traditionally served with vegetables (carrots, potatoes, radishes, etc.) stewed or cooked in a spicy or slightly spicy soup along with some meat (usually chicken or lamb). In Morocco it is served, sometimes at the end of a meal or on its own, as a dish called "seffa". Couscous is usually steamed several times until it becomes very smooth and pale in color.
Also, this is a dish imbued with the culture and religion of Morocco. Couscous is usually eaten for lunch on a Friday. It is usually served on a large round plate for family members to eat together after Friday prayers. Drinking with couscous will be a kind of fermented milk called Leben.
Moroccan Couscous with Roasted Veggies, Chickpeas, and Almond Recipe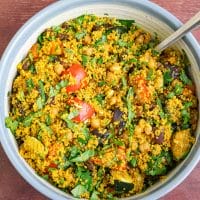 Moroccan Couscous with Roasted Veggies, Chickpeas, and Almond Recipe
An exotic and colorful Moroccan couscous dish with chickpeas, roasted red peppers and carrot, toasted almonds, and plump raisins. Serve as a hot dish or cold as a salad.
Print
Pin Recipe
Add to Collection
Go to Collections
Instructions
Preheat the oven to 475 degrees. Spray an 18 x 13-inch baking sheet with non-stick cooking spray. Put the diced carrots, sliced peppers, zucchini, and onions on a baking sheet.

Sprinkle with a spoonful of olive oil, add salt, and mix to coat evenly. Bake in the preheated oven for 15 minutes. Stir once while baking.

While the veggies are roasting in the oven, mix the 3 tablespoons of olive oil, garlic, lemon juice, coriander, cumin, cinnamon in a small bowl and season with 1/4 teaspoon salt.

Add turmeric and ½ teaspoon of salt to the chicken broth and bring to boil. In a large bowl, put the couscous and raisins and pour the hot chicken broth over it and mix thoroughly, cover with a plastic wrap and leave for 5 minutes.

Once it is 5 minutes, add the roasted veggies to the couscous along with the almonds, chickpeas, coriander lemon, and mint mixture, and mix well, tasting and adjusting seasoning as desired.

Serve warm!
Notes
Variations: Instead of chickpeas, use cooked shredded chicken or canned tuna. The carrots and red pepper can be replaced by sweet potato, pumpkin, zucchini, or eggplant. Instead of almonds use pistachios, pine nuts, or walnuts. Instead of raisins use chopped dates, apricots, or prunes. And instead of cilantro use fresh flat-leaf parsley or mint. 
Share by Email
Share on Facebook
Share on Twitter
Nutrition
Calories:
334
kcal
|
Carbohydrates:
30
g
|
Protein:
6
g
|
Fat:
24
g
|
Saturated Fat:
3
g
|
Polyunsaturated Fat:
4
g
|
Monounsaturated Fat:
16
g
|
Trans Fat:
1
g
|
Sodium:
36
mg
|
Potassium:
663
mg
|
Fiber:
6
g
|
Sugar:
5
g
|
Vitamin A:
5389
IU
|
Vitamin C:
74
mg
|
Calcium:
104
mg
|
Iron:
2
mg
© Food And Meal
This website provides approximate nutrition information for convenience and as a courtesy only. Nutrition data is gathered primarily from the Spoonacular Database, whenever available, or otherwise other online calculators.
Pin Recipe
Microwave Method: Moroccan Couscous in a Flash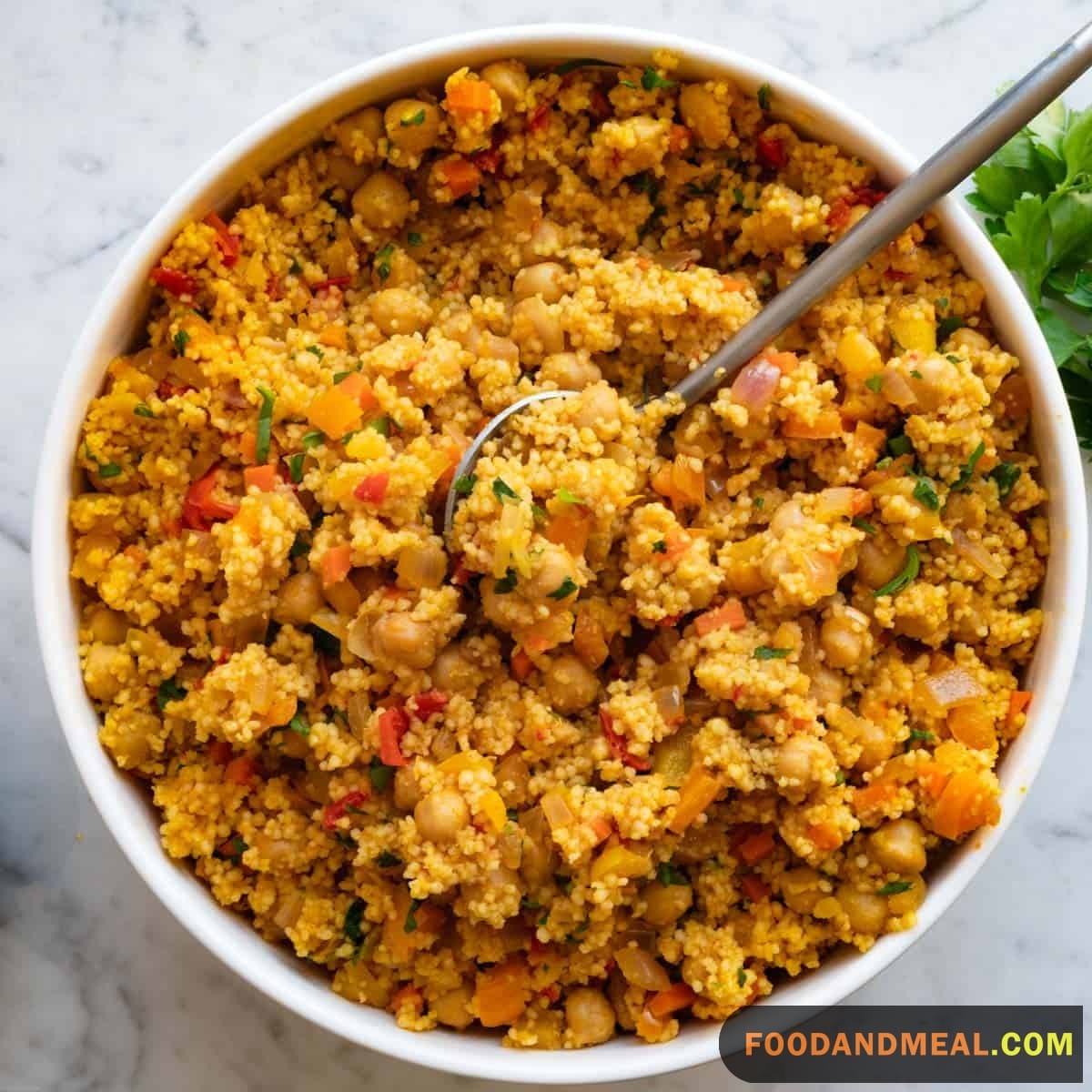 Ingredients:
1 cup couscous
1 1/2 cups water
1 tablespoon olive oil
1/2 teaspoon salt
1/2 teaspoon Moroccan spice blend (optional)
Instructions:
Prepare the Couscous:

In a microwave-safe bowl, combine 1 cup of couscous and 1/2 teaspoon of Moroccan spice blend (if desired). The spice blend will infuse the couscous with aromatic flavors.

Boil the Water:

In a separate microwave-safe container, heat 1 1/2 cups of water until it boils. This usually takes about 3-4 minutes in most microwaves.

Combine Ingredients:

Carefully remove the boiling water from the microwave, and pour it over the couscous in the bowl.
Add 1 tablespoon of olive oil and 1/2 teaspoon of salt to the mixture.

Cover and Steam:

Immediately cover the bowl with a microwave-safe lid or microwave-safe plastic wrap. Ensure the bowl is tightly sealed to trap the steam.

Microwave:

Place the covered bowl in the microwave and cook on high for 5 minutes.

Fluff the Couscous:

After microwaving, carefully remove the bowl (it will be hot) and uncover it.
Use a fork to fluff the couscous, separating the grains. This step ensures a light and fluffy texture.

Serve:

Your microwave-cooked Moroccan Couscous is now ready to be served. Garnish with fresh herbs, nuts, or dried fruits for added flavor and texture.
Tips for making Moroccan Couscous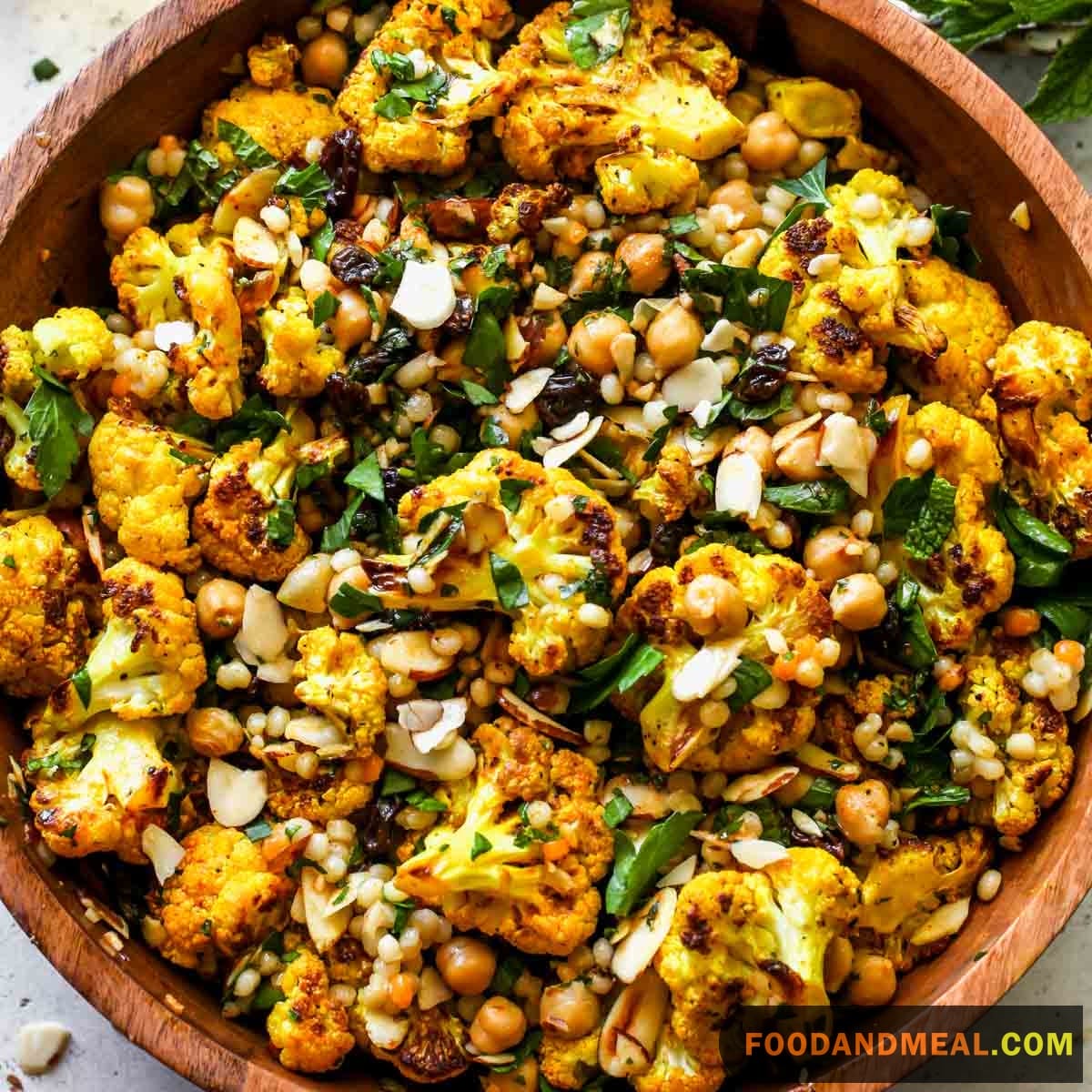 Cooking Tips: Mastering Moroccan Couscous
Proper Couscous Hydration:

Start by properly hydrating your couscous. Fluff it with a fork and add some olive oil and spices before cooking for a more flavorful outcome.

Perfect Water-to-Couscous Ratio:

The ideal water-to-couscous ratio is 1.5:1. Use a measuring cup to get it just right. Too much water can make your couscous mushy, while too little can result in dry grains.

Steam to Fluffiness:

After combining boiling water with couscous, cover the mixture tightly and let it steam. This steaming process ensures each grain becomes light and fluffy.

Mind the Microwave:

If you opt for the microwave method, don't overcook. Five minutes of microwaving is generally enough to achieve the perfect texture.

Use Fresh Ingredients:

Fresh vegetables, herbs, and spices will elevate the flavor of your Moroccan Couscous. Opt for quality ingredients for an authentic taste.

Spice Blends:

Explore Moroccan spice blends like Ras el Hanout to enhance the aroma and taste of your dish. Experiment with different spice combinations to suit your preference.
Serving Suggestions: Moroccan Flavors at Their Best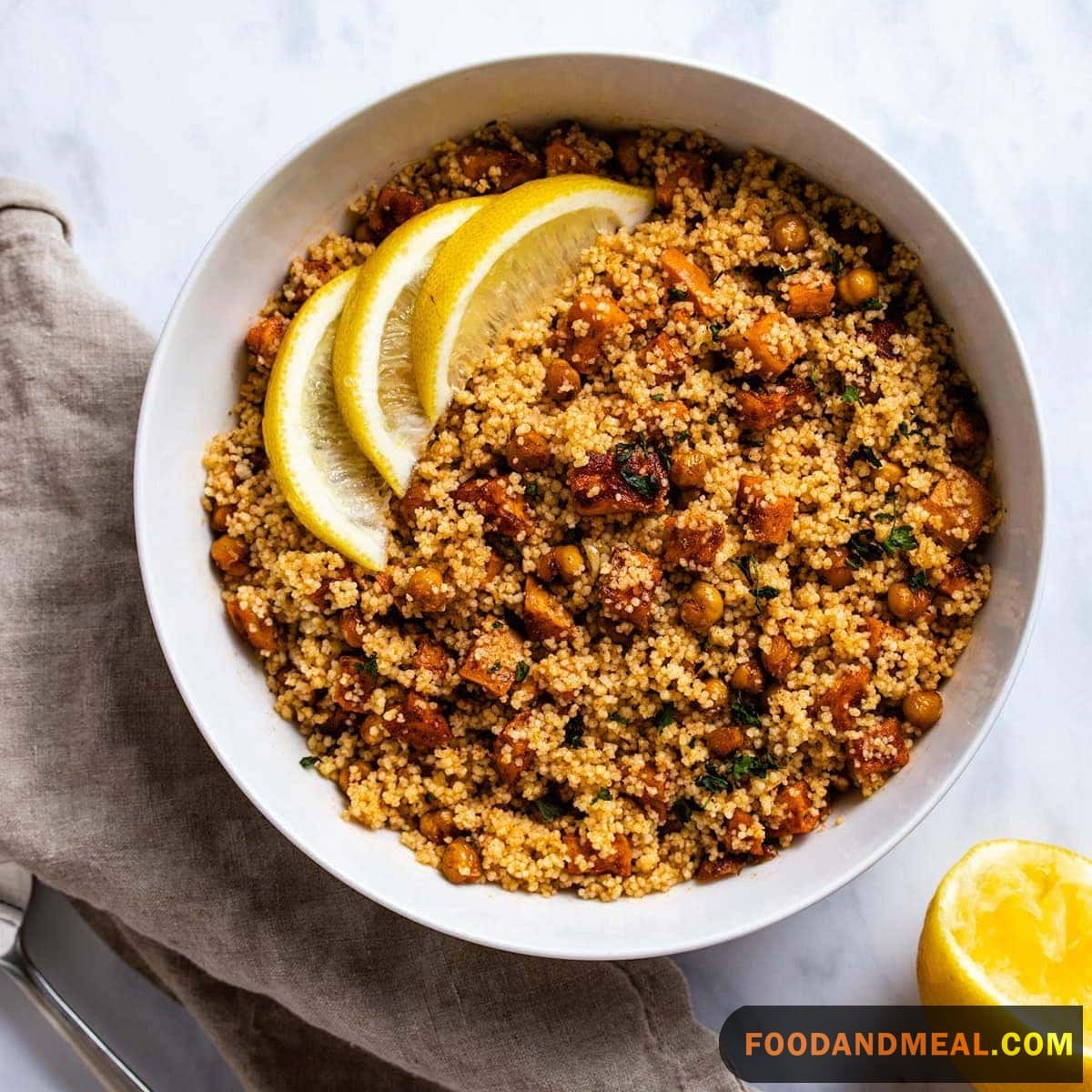 Side Dishes:

Serve your Moroccan Couscous with a side of fresh tabbouleh salad, roasted vegetables, or a flavorful hummus dip for a well-rounded meal.

Garnishes Galore:

Garnish your couscous with chopped fresh herbs like cilantro and mint. Add a sprinkle of toasted almonds or pine nuts for a delightful crunch.

Protein Pairings:

For a heartier meal, consider pairing your couscous with grilled chicken, lamb, or chickpeas cooked in Moroccan spices.

Beverage Bliss:

Complement the rich flavors of Moroccan Couscous with a refreshing mint tea or a glass of Moroccan lemonade.

Alternative Servings:

Get creative with your serving style. Moroccan Couscous can be stuffed into bell peppers, used as a filling for wraps, or served alongside kebabs.
FAQs: Your Guide to Moroccan Couscous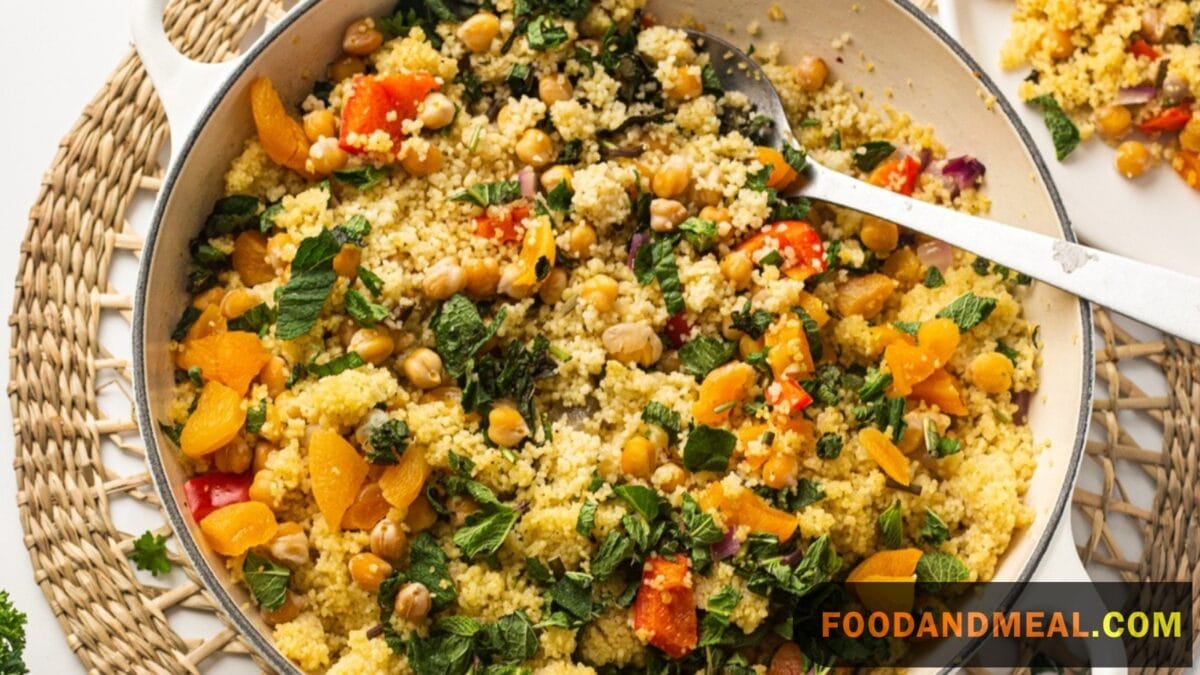 Can I prepare Moroccan Couscous in advance? Yes, Moroccan Couscous can be made in advance and stored in an airtight container in the refrigerator for up to 2-3 days.
Can I freeze Moroccan Couscous? While couscous can be frozen, it's best to store the ingredients separately and combine them after thawing to maintain the dish's texture and flavor.
What are the essential Moroccan spices for authentic flavor? To achieve an authentic taste, consider using spices like cumin, coriander, paprika, and Ras el Hanout. These spices are commonly used in Moroccan cuisine.
How can I reheat Moroccan Couscous? Reheat couscous gently in the microwave or on the stovetop with a splash of water or broth to retain its moisture.
Can I customize the ingredients in Moroccan Couscous? Absolutely! Moroccan Couscous is highly customizable. You can add or omit ingredients based on your taste preferences. Enjoy experimenting with different flavors and textures.
Creamy fava beans, zesty flavors. Dive into Middle Eastern cuisine!
Affiliate DisclaimerAbout The Content
As an affiliate, we may earn a commission from qualifying purchases. We get commissions for purchases made through links on this website from Amazon and other third parties.