Hello there, JaimeInez here! I'm thrilled to welcome you back to Food and Meal, where we celebrate the joy of cooking and the love for food. Today, I'm excited to share with you my recent culinary adventure with a delightful Filipino dish – the Guimaras Kansi. This journey has been nothing short of amazing, and I can't wait to dive into the details with you. So, let's embark on this gastronomic exploration together!
Guimaras Kansi Recipe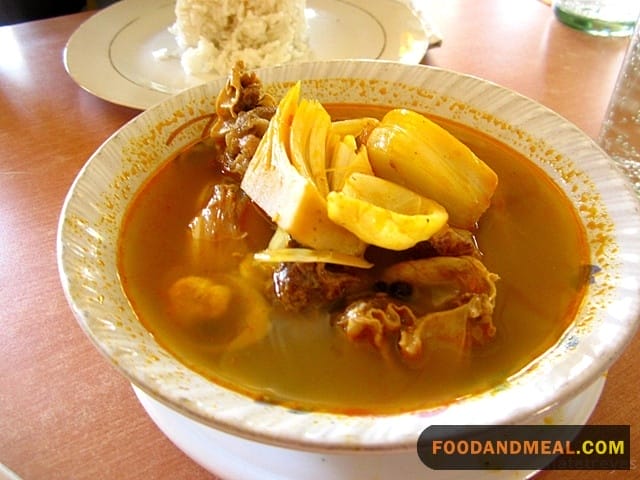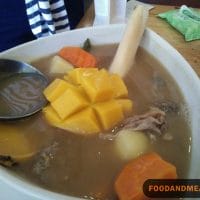 Guimaras' Kansi
Manggahan Festival of Guimaras (May 15-22). To commemorate the founding anniversary of the province, a mangoes festival is held. The best of the country's national fruit is found here in the province, through its vast orchard land.
Print
Add to Collection
Go to Collections
Equipment
Ingredients
2

lbs.

beef shank

3

cups

unripe jackfruit

sliced

2

pcs

lemongrass stalks

tied into knots

7

cloves

garlic

crushed

1

pc

onion

sliced

1

pc

tomato

cut into wedges

6

pcs

batwan

you may use a tamarind soup base if batwan is not available

3

pcs

long green chili peppers

4

tbsp

annatto oil

10

cups

water

3

tbsp

fish sauce
Instructions
Heat oil in a pan over medium fire and sauté garlic and beef shank until slightly brown.

Pour water and boil.

Toss in onions, tomatoes, and lemongrass.

Cover and simmer on low for 3 hours until meat is tender.

Add jackfruit slices and cook for 5 minutes until tender.

Stir in batwan, green chilies, and fish sauce. Allow to boil for 5 more minutes until the tastes are well incorporated.

Serve warm.
Notes
Kansi is a special Ilonggo dish that is widely served in most parts of Panay
Islands and the Negros region. It is a cross between Bulalo and Sinigang, two
of the favorite Filipino soup dishes. The locals mostly enjoy Kansi when the
cold weather sets in, but it is also a favorite fiesta food for its comforting
nature. Well, you can serve this hearty meal anytime you want to savor
something that's truly delightful.
Share by Email
Share on Facebook
Share on Twitter
Nutrition
Calories:
151
kcal
|
Carbohydrates:
1
g
|
Protein:
25
g
|
Fat:
4
g
|
Saturated Fat:
1
g
|
Polyunsaturated Fat:
0.2
g
|
Monounsaturated Fat:
2
g
|
Cholesterol:
44
mg
|
Sodium:
617
mg
|
Potassium:
469
mg
|
Fiber:
0.1
g
|
Sugar:
0.3
g
|
Vitamin A:
2
IU
|
Vitamin C:
1
mg
|
Calcium:
39
mg
|
Iron:
3
mg
© Food And Meal
This website provides approximate nutrition information for convenience and as a courtesy only. Nutrition data is gathered primarily from the Spoonacular Database, whenever available, or otherwise other online calculators.
About Guimaras Kansi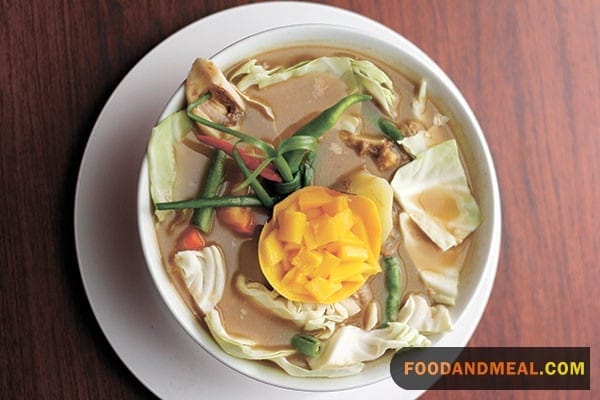 Guimaras Kansi is a renowned Filipino dish hailing from the island province of Guimaras. This dish is essentially a fusion of two beloved Filipino classics – Sinigang and Bulalo. It features beef shanks and marrow, slow-cooked to perfection in a sour broth infused with batwan fruit, a local ingredient that gives Kansi its distinct tangy flavor. The result is a hearty, comforting soup that truly embodies the rich culinary traditions of Guimaras.
Cooking Tips for Guimaras Kansi
Quality of Ingredients: The quality of your beef shanks can significantly impact the taste of your Kansi. Always opt for fresh, high-quality cuts.
Patience is Key: Slow-cooking is essential to achieving the tender beef and flavorful broth characteristic of Kansi. Don't rush the process!
Souring Agent: Batwan fruit is the traditional souring agent used in Kansi. If unavailable, tamarind or other sour fruits can be used as substitutes.
Serving Suggestions for Guimaras Kansi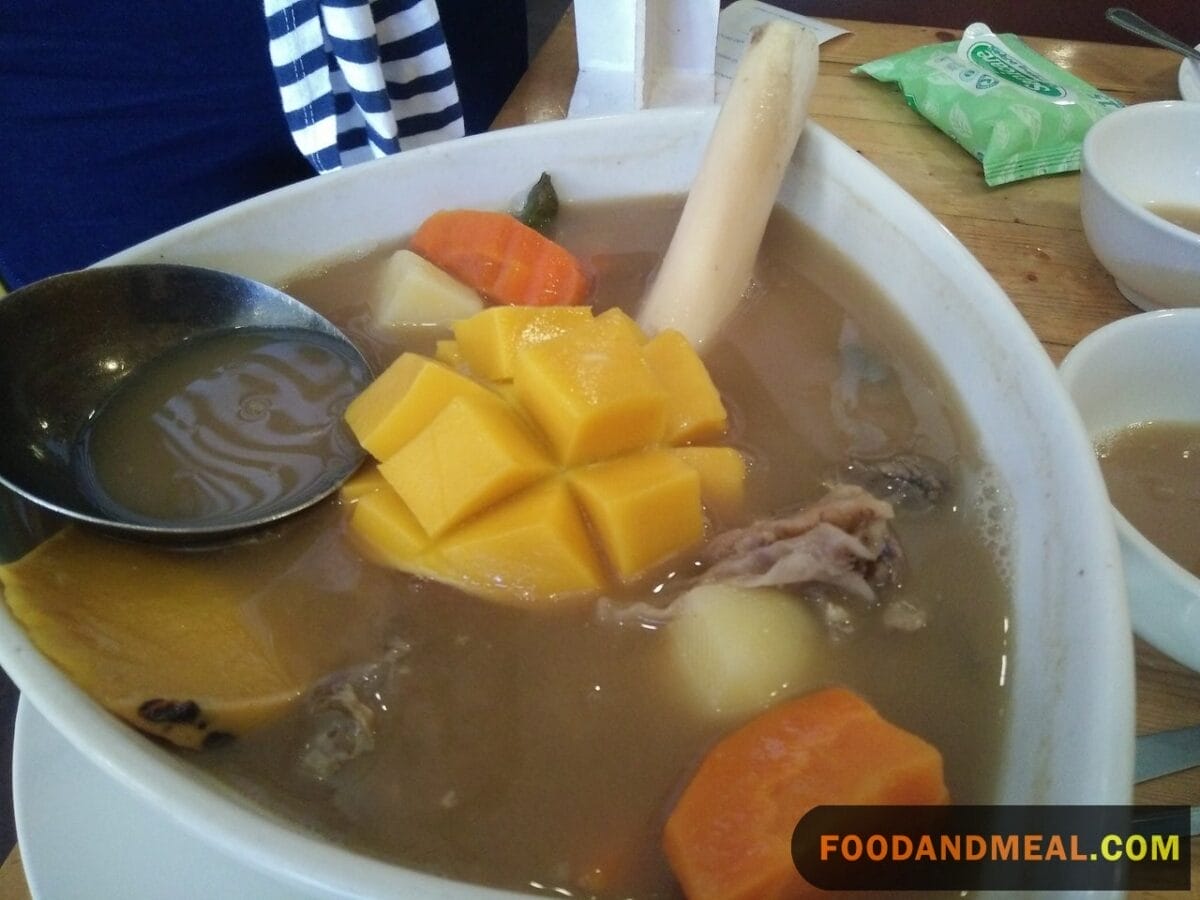 Veggie Boost: Enhance the nutritional value and color of your dish by adding a variety of vegetables like jackfruit and lemongrass.
Rice Companion: Serve your Kansi with a side of steamed rice for a complete, satisfying meal.
Sauce on the Side: A dipping sauce of calamansi (Filipino lime) and fish sauce adds a tangy contrast to the rich soup.
FAQs About Guimaras Kansi
What Makes Guimaras Kansi Special? Guimaras Kansi is special due to its unique fusion of Sinigang and Bulalo, and the use of batwan fruit which gives it a distinct tangy flavor.
Can I Use Other Types of Meat? While you can experiment with other types of meat, using beef shanks is recommended to maintain the dish's authenticity.
What Vegetables Go Well with This Dish? A variety of vegetables such as jackfruit and lemongrass go well with this dish.
How Can I Store Leftovers? Leftovers can be stored in an airtight container in the refrigerator for up to 3 days.
Can I Make It Vegan? While traditional Kansi is not vegan, you could experiment with plant-based proteins and vegetable broth to create a vegan version.
In conclusion, Guimaras Kansi is more than just a dish; it's a culinary experience that tells a story of Filipino culture and tradition. The process of making it requires patience and care, but the result is a comforting, flavorful dish that brings people together. Whether you're a seasoned cook or a beginner, I hope these tips and suggestions inspire you to try making your own Guimaras Kansi at home. Happy cooking!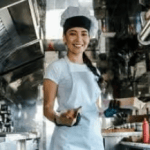 Cooking Like A Pro
Author Name : Jaime Inez
Address: Times Street, West Triangle, 1103, Quezon City, Metro Manila, Philippines
Phone:  96-2-4108596
Email: Contact@cookinglikeapro.net
Affiliate DisclaimerAbout The Content
As an affiliate, we may earn a commission from qualifying purchases. We get commissions for purchases made through links on this website from Amazon and other third parties.