If you ask me, wonton soup is pure magic in a bowl. The moment that first spoonful hits your mouth – the savory broth, the tender dumplings – it's like being wrapped in a warm, cozy blanket. Wonton soup just has a way of making everything feel right in the world.
I've loved wonton soup for as long as I can remember. Some of my earliest and happiest memories are of helping my grandma make wontons in her kitchen. I was probably only about 5 or 6 years old, but I vividly remember standing on a step stool at the counter, using my tiny fingers to carefully fold the wonton wrappers around the filling. My wonky, misshapen wontons looked nothing like grandma's perfect pouches, but I took such pride in making them.
Best Wonton Soup Recipe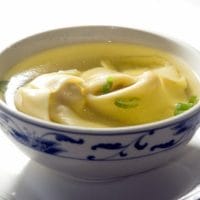 Ingredients
1

package wonton wrappers
For wonton filling
1/2

pound

medium shrimp

shelled, deveined

1/2

pound

ground pork

1

tablespoon

shallots

finely chopped

1/4

cup

cilantro

finely chopped

2

green onion stalks

thinly sliced

1

teaspoon

fish sauce

1

teaspoon

sugar

2

teaspoons

rice wine
Instructions
Wipe the prawns dry with paper towels, and chop finely.

Combine the ingredients for the filling in a bowl, and mix thoroughly.

Place a wonton wrapper on a clean surface.

Place about 1 teaspoon of filling in the middle of the wrapper. Moisten the wrapper with a dab of water around the filling; this will help the sides of the wrapper to stick together.

Fold into either a rectangle or a triangle, pressing the edges together to seal. For rectangles, bring the bottom corners together until they overlap, moisten with water, and press to seal. For triangles, bring side corners together until they overlap, and seal. Repeat until filling is used up.

Place the wontons on a parchment lined baking sheet. Leave some space between pieces to prevent sticking. For long term storage (about 2 months), cover with plastic wrap and freeze.

In a pot, bring water to a boil. Drop in the wontons in batches, and stir with chopsticks to prevent them from sticking to pan. The wontons are done when they float up to the surface, after about 3 minutes.

Distribute the wontons into serving bowls.

Place the cinnamon stick, fennel, coriander, and star anise in a square piece of cheesecloth, and tie it into a knot.

To prepare the soup, bring the chicken broth to a boil. Immerse the spice pouch in the boiling broth. Cover the pot and reduce it to a simmer.

Simmer for 30 minutes, and remove the spice pouch.

Add the fish sauce and sugar, adjusting the amounts according to your taste.

Scoop the hot broth into the bowls ready with wontons.

Serve garnished with cilantro and green onions, with chili sauce on

the side.
Notes
When making wonton soup at home, there are a few little tips and tricks I've picked up over the years that take it to the next level:
For the pork filling, I like to use a mix of ground pork and shrimp for added flavor and texture. The shrimp bring a subtle sweetness.

Chilling the wonton filling for 30 minutes before wrapping helps the flavors meld. It also makes the filling easier to handle.

Brushing the wonton wrappers lightly with water helps them seal tightly. Don't overfill them or they'll burst open during cooking.

Adding a pinch of baking soda to the boiling water helps keep the wontons tender. It maintains the water's pH.

Blanch the wontons in small batches so they have room to swim freely. This prevents them from sticking together.

For the broth, skim off any impurities that rise to the surface while simmering. This keeps it crystal clear.

Let the soup sit for 5-10 minutes after adding the wontons so they can soak up the broth's flavor.

Garnish with chopped scallions, cilantro and chili oil right before serving for maximum vibrancy.

For convenience, wontons can be made ahead and frozen raw or cooked. Thaw before using.

Leftover wonton soup is just as tasty the next day. The flavors have time to develop even more.

Customize the soup with favorite add-ins like bok choy, mushrooms, chicken, shrimp, rice noodles or chili sauce.
I hope these little tips help you make the best, most comforting wonton soup at home. This soup never fails to make everything feel right in the world. Enjoy!
Share by Email
Share on Facebook
Share on Twitter
Nutrition
Serving:
1
bowl
|
Calories:
195
kcal
|
Carbohydrates:
6
g
|
Protein:
13
g
|
Fat:
13
g
|
Saturated Fat:
5
g
|
Polyunsaturated Fat:
1
g
|
Monounsaturated Fat:
6
g
|
Cholesterol:
48
mg
|
Sodium:
2168
mg
|
Potassium:
320
mg
|
Fiber:
1
g
|
Sugar:
4
g
|
Vitamin A:
223
IU
|
Vitamin C:
2
mg
|
Calcium:
51
mg
|
Iron:
1
mg
© Food And Meal
This website provides approximate nutrition information for convenience and as a courtesy only. Nutrition data is gathered primarily from the Spoonacular Database, whenever available, or otherwise other online calculators.
About Wonton Soup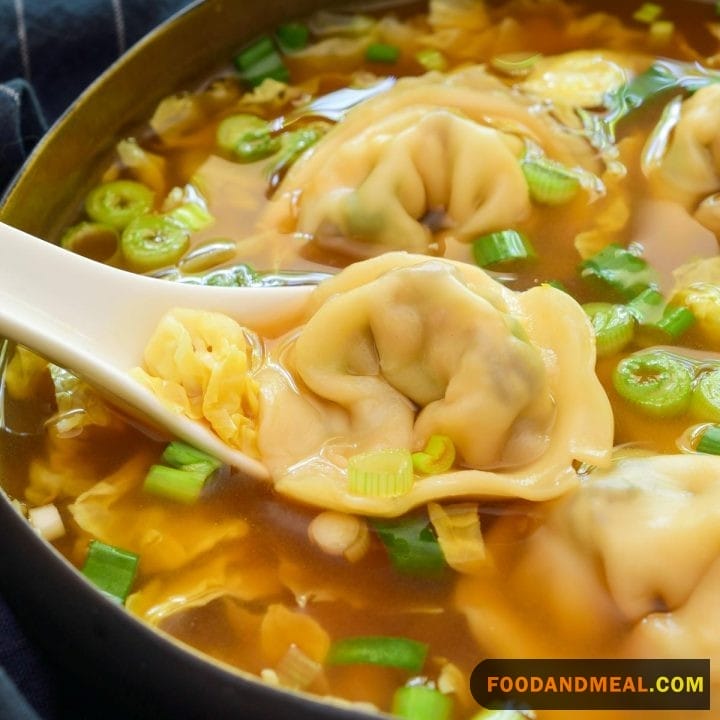 The Origins of Wonton Soup
Wonton soup has been around for centuries. It originated in China's Guangdong province. The earliest known mention of wontons dates all the way back to the Yuan Dynasty in the 13th century!
The name "wonton" comes from the Cantonese phrase "wun tan," meaning "cloud swallow" or "cloud pocket." This poetic name refers to the fluffy, billowy appearance of the dumplings floating in broth.
Over the centuries, wonton soup spread from China to become a staple throughout Asia. It's now popular around the world, with countless regional variations. But for me, the comforting, soul-warming magic of classic Cantonese-style wonton soup can't be beat.
The Key to Great Wonton Soup
The wontons themselves are obviously essential. But in my opinion, the broth is what really makes or breaks a good wonton soup. My favorite is a simple chicken broth seasoned with aromatics like ginger, green onions, and garlic. I also like to add dried shrimp and mushrooms for extra flavor and body.
The key is keeping the broth light, clear and pure. You want the fresh, delicate flavors of the filling and wrappers to shine through. Overly heavy, greasy broths just weigh everything down.
Serving Suggestions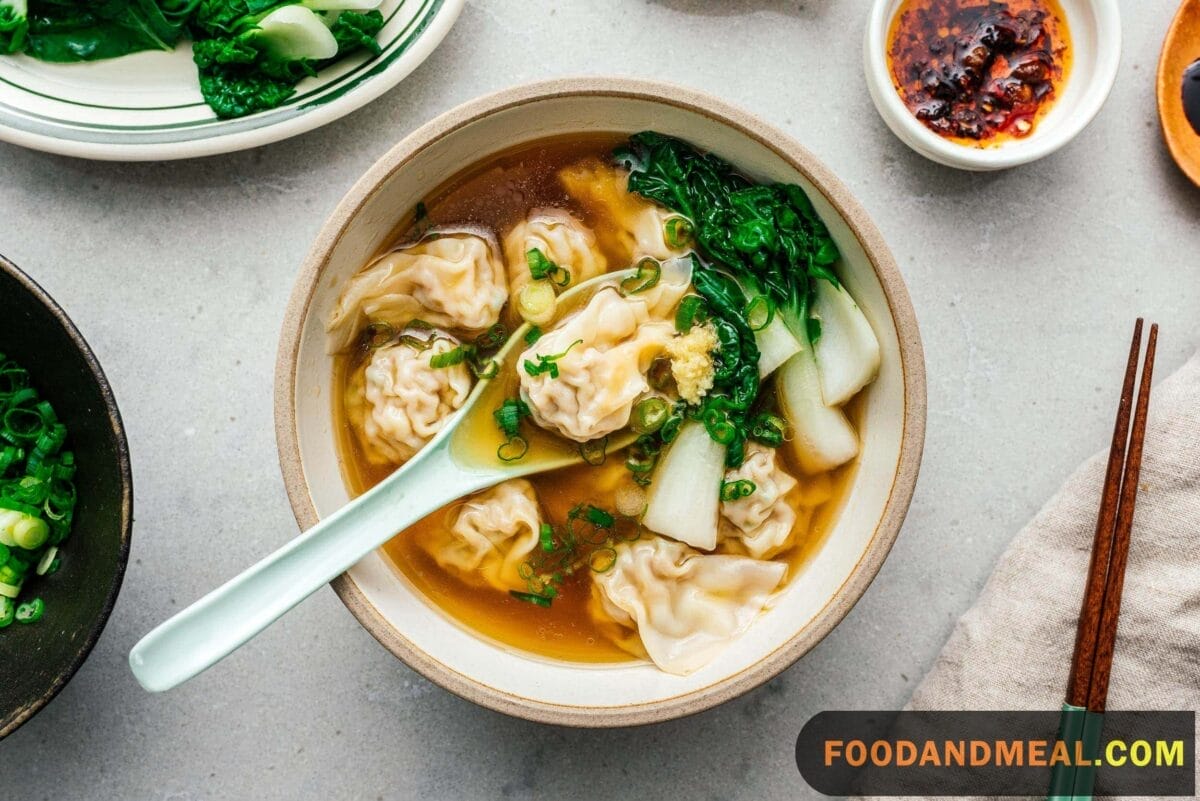 While wonton soup is perfect in its simplest form, there are lots of ways to jazz it up. Here are some of my favorite serving suggestions:
Add some noodles or rice for extra body and starch. This transforms wonton soup into a hearty one-bowl meal.
Mix in leafy greens like baby bok choy or spinach for color and nutrition. They wilt beautifully in the hot broth.
Garnish with chopped scallions, cilantro or chili oil for a pop of color and flavor.
For some crunch, top with fried wonton strips. They add fantastic texture.
For a protein boost, add cooked shrimp, chicken or extra wontons.
For a spicy kick, add chili garlic sauce or chili oil to taste.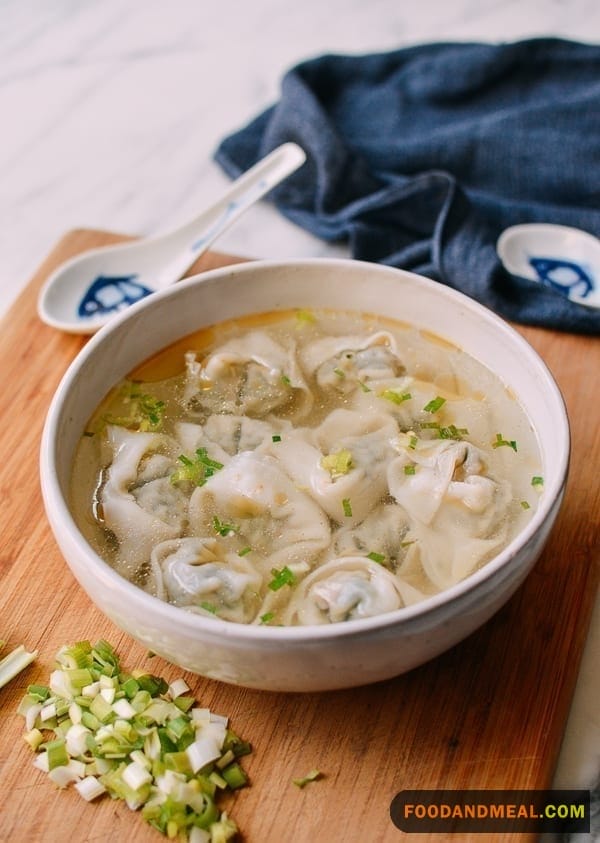 The possibilities are endless! But ultimately, all you really need for soul-warming comfort is tasty wontons in a steaming bowl of clear, aromatic broth. That's the true, timeless magic of wonton soup.
Conclution
Wonton soup has been warming bellies and soothing souls for centuries, and for good reason. This humble bowl of pillowy dumplings swimming in a savory, aromatic broth is the ultimate comfort food. For me, wonton soup will always hold a special place in my heart and taste buds.
I hope this post has shed some light on the origins, ingredients, and proper cooking techniques for authentic Cantonese-style wonton soup. While the basic components are simple, perfecting this soup does take some practice and patience. But the payoff is so worth it.
Even if your dumplings look a little wonky, they will still taste delicious. Don't be afraid to experiment with different fillings, broth flavors, and add-in ingredients until you find your perfect bowl. Make this soup your own.
The next time you need a little pick-me-up, turn to wonton soup. Let it transport you back to the warmth of your grandma's kitchen. Lose yourself in the nostalgic flavors and textures that only this soup can provide. One steaming spoonful is all it takes to feel that everything is right in the world, if only for a moment.
Wonton soup is so much more than just a meal. It's comfort, it's family, it's love – one dumpling at a time.
I'm Tracy F Hilton, a devoted culinary professional shaped by a mix of natural aptitude and refined skills from a top culinary school. In the dynamic kitchen environment, I'm a catalyst for seamless operations and timely, high-quality dish preparation. My culinary creations are a blend of art and skill, offering visually and gustatorily delightful experiences. A learner at heart, I'm continuously honing my craft, embracing new techniques, and culinary innovations. My positive, collaborative nature is amplified in fast-paced settings, showcasing my commitment to team efficiency and guest satisfaction. Each dish I present is a meticulous blend of tradition and innovation, promising an unforgettable dining experience that marries taste, aroma, and aesthetic appeal in perfect harmony. Join me on a gastronomic journey where each bite encapsulates a rich, evolving narrative of flavors and culinary artistry.
Affiliate DisclaimerAbout The Content
As an affiliate, we may earn a commission from qualifying purchases. We get commissions for purchases made through links on this website from Amazon and other third parties.