Print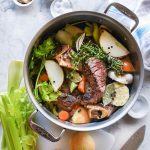 How to Make Homemade Beef Stock
---
Description
Beef stock is one hearty meal every homemaker must know how to prepare or cook.  The procedure itself is easy but consumes time greatly.  Primarily, you can achieve the broth by first roasting the bones and vegetables, and then letting them simmer. In low heat, let them boil slowly. This recipe is just as warm and hearty for everyone at home.
Read More: https://foodandmeal.com/southernfood
---
Scale
Ingredients
Prepare the ingredients for your beef stock.
6

lbs. beefy bones and trimmings (shanks, ribs or neckbones)

2

onions, medium-sized (quartered)

3

carrots, large (cut in 2-inch per piece)

2

celery, with leaves (cut in 2-inch per piece)

2 tbsp

. olive oil

1 tbsp

. tomato paste

3 ½ quarts

water

1

bay leaf

3

–

4

shoots parsley

½ tsp

. black peppercorns

¼ tsp

. dried leaf thyme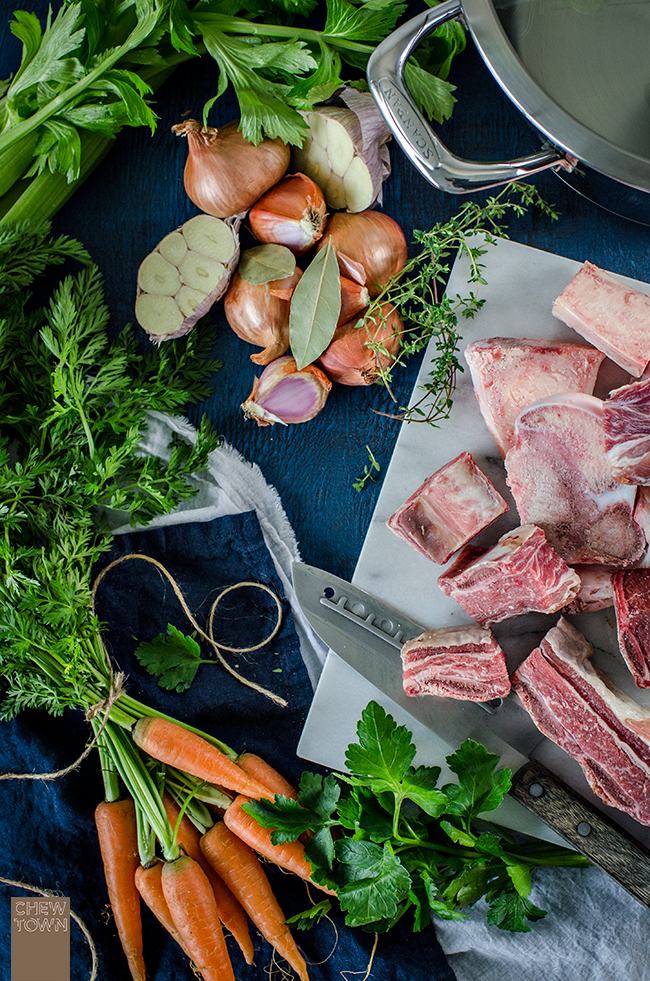 ---
Instructions
Preheat your oven for about 400-degree Fahrenheit.
In a large roasting pan, put the bones, trimmings, carrots, onions and celery. Pour out the olive oil and toss.
Roast the mixture for about 45 minutes, making sure that you turn the beef trimmings to make the roasting even.
After roasting, remove the trimmings and veggies. Put them into a stock pot and set aside.
Get the extra grease off the pan. Put the pan over the stove, observing medium heat.
Put 1 tbsp. of tomato paste onto the pan and cook for 2 minutes, stirring continuously. Pour 2 cups of water and let it simmer.
Add the paste into the stockpot together with 3 quarts of water, making sure that the water covers the bones. If the three quarts of water is not enough, just free to add some water.
Put the thyme, bay leaf, peppercorns and parsley.
Next, place the stockpot over the stove. Then turn on the stove into medium heat and let the stock simmer.
When froth develops at the top of the broth as it boils, separate the froth. Reduce the heat into low heat and continue to simmer for about 3-4 hours.  If you want a more flavorful stock, continue to simmer beyond 4 hours.
Using a cheesecloth strainer, strain the broth into a large bowl.  Cover up the bowl and put it inside your refrigerator.
Notes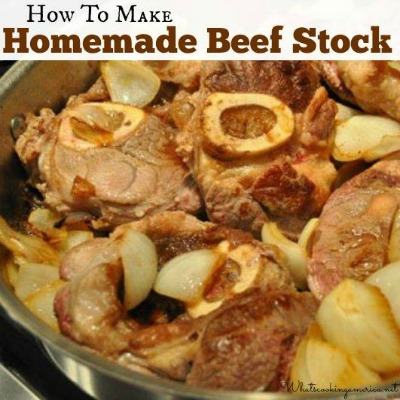 Time Table
Preparation time consists of 25 minutes or so.
The actual cooking time would be around 240 minutes or an equivalent of 4 hours.
Keywords: Homemade Beef Stock