Matzo Ball Soup, a definite comfort food. The delicious chicken broth, the soft, warm matzo balls makes for a perfect soup on a crisp Fall evening! When I saw this recipe for Sephardic Chicken Soup on the Food Network, I knew that I had to make it. It has all the Latin flavors of the Mediterranean plus good old fashioned Matzo Ball Soup. To see how it's made, keep reading.
About Sephardic Matzo Ball Soup
An introduction to Sephardic cuisine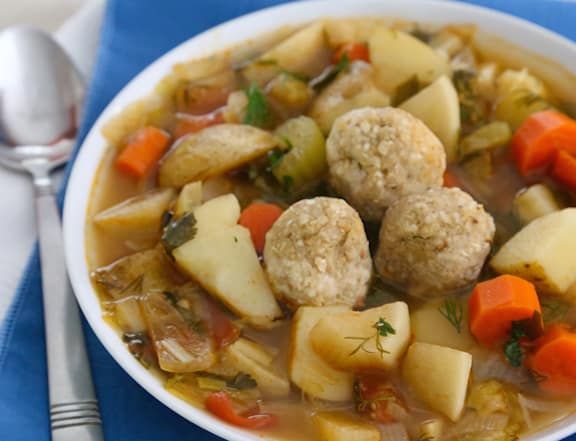 Sephardic cuisine is a unique and delicious blend of Middle Eastern, Spanish, and Mediterranean flavors. The cuisine is heavily influenced by the Sephardic Jewish diaspora, which resulted in a rich and diverse culinary tradition. Sephardic cuisine is known for its use of fresh ingredients, vibrant spices, and hearty flavors. Popular dishes include hummus, falafel, shakshuka, and spanakopita. Whether you're looking for a traditional meal or something new and exciting, Sephardic cuisine is sure to please.
The origin of Sephardic Matzo Ball Soup
The Sephardic Jews have a long and rich history, dating back to ancient times. They have lived in many different parts of the world, including Spain, Portugal, North Africa, and the Middle East. Sephardic cuisine is very diverse, and matzo ball soup is just one of the many delicious dishes that they enjoy.
This soup is traditionally made with chicken broth, and the matzo Ball Soup are usually made with eggs, matzo meal, and a little bit of water. Sometimes other ingredients, such as onions, carrots, or celery, are added to the soup for extra flavor. The soup is usually served with a side of bread or crackers.
Matzo ball soup is a comforting and hearty dish that is perfect for any time of year. It is a great way to use up leftover matzo, and it is sure to please everyone at the table.
The critical differences between Sephardic and Ashkenazi Matzo Ball Soup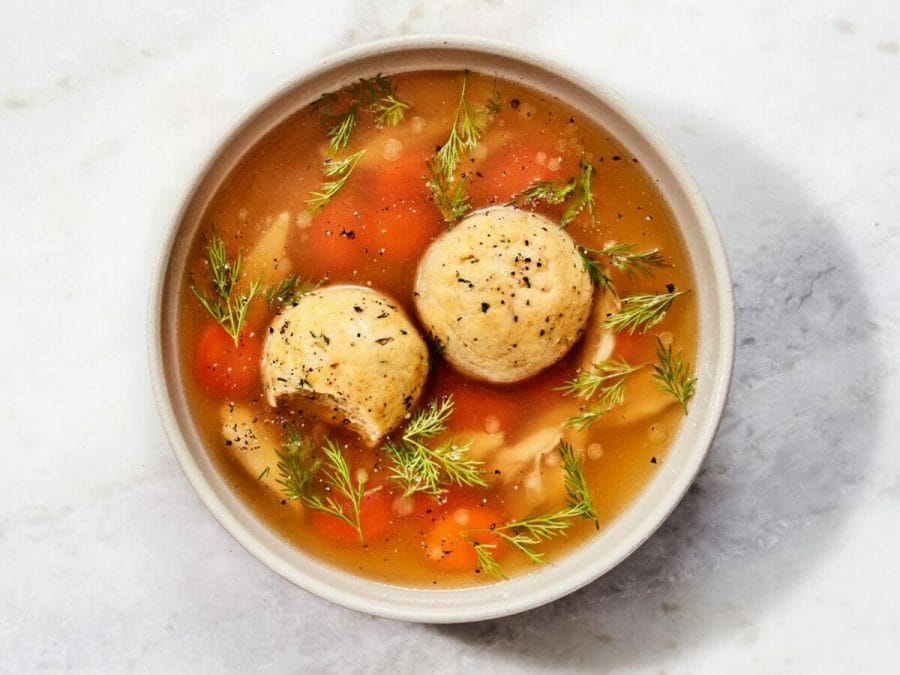 There are two types of matzo ball soup: Sephardic and Ashkenazi. Sephardic matzo ball soup is made with chickpeas, while Ashkenazi matzo ball soup is made with flour. The two soups also differ in their seasonings. Sephardic matzo ball soup is typically seasoned with cumin and turmeric, while Ashkenazi matzo ball soup is seasoned with parsley and dill.
When it comes to taste, Sephardic matzo ball soup is slightly sweeter and more savory than Ashkenazi matzo ball soup. Ashkenazi matzo ball soup, on the other hand, is more salty and peppery.
So, what's the bottom line? If you're looking for a soup that's hearty and filling, go for Sephardic matzo ball soup. If you're looking for a soup that's more flavorful, go for Ashkenazi matzo ball soup.
How to make Sephardic Matzo Ball Soup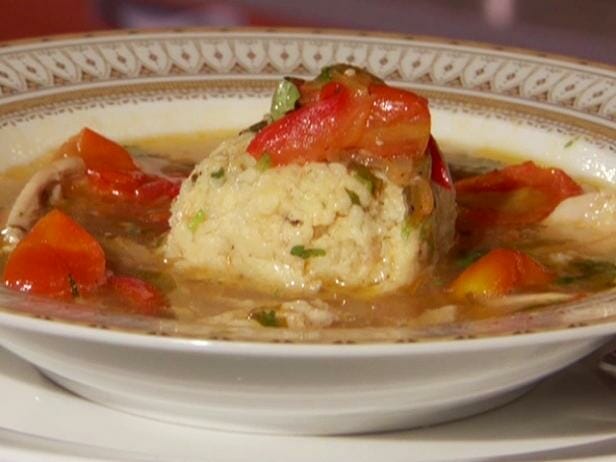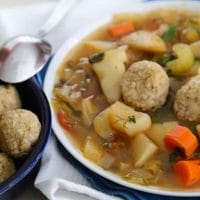 Sephardic Matzo Ball Soup Recipe
There's nothing quite like a hot bowl of matzo ball soup on a cold winter's day. This hearty dish is a staple of Sephardic cuisine, and is made with tender matzo ball soup, flavorful broth, and a variety of vegetables.
This soup is sure to warm you up from the inside out, and is the perfect comfort food for a chilly evening. So next time you're looking for something to warm you up, be sure to give Sephardic matzo ball soup a try.
Print
Pin
Add to Collection
Go to Collections
Ingredients
For the soup
Canned or homemade

chicken stock

If using canned

add the following and cook until the vegetables are soft and follow the directions below

4

carrots

peeled and cut into thirds

2

large

parsnips

peeled and cut into thirds

1

large

leek

washed well and cut in half. (Make sure all the sand is out)

2

medium

turnips

peeled and cut into chunks

3

stalks

celery

cut into thirds

A handful of

Italian parsley

A handful of

dill

4-6

rge whole

lagarlic cloves

peeled

5

or 6

peppercorns

Add all the vegetables

garlic and pepper to the canned stock and cook covered on a low flame for 45 minutes or until vegetables are soft, stirring occasionally. Once done, discard the vegetables and strain the soup. Set aside until ready to use. The soup can be made in advance and frozen. It freezes very well.
Sofrito (this is what gives it its distinctive Latin flavor)
Instructions
Bring a large pot of salted water to a boil. To a large bowl whisk the eggs, oils, water, parsley, salt, garlic powder and pepper. Add in the matzo meal and baking powder. Mix well. Refrigerate for at least an hour.

When water is boiling, moisten your hands with water and form the matzo meal mixture into small 1 inch size balls. Gently drop them into the water. Reduce heat to medium and cook for 20-30 minutes, turning over half way through. They can be made in advance. Just keep them refrigerated and then bring to room temperature before adding to the soup.

To make the Sofrito, add the oil to a large non stick Dutch oven. Add in the onions, tomatoes, peppers, cilantro, garlic and Saffron. Cook until the vegetables are tender, stirring occasionally, but do not brown. You just want the vegetables soft and tender. About 10 minutes. If using, add the hot sauce at the end.

When you are ready to serve the soup divide the Sofrito, matzo balls and soup amongst the bowls and serve.

Enjoy!
Video
Notes
If you want to make a Sephardic Matzo Ball soup, you will need to use different ingredients, how to make the best Sephardic Matzo Ball soup.
Share by Email
Share on Facebook
Share on Twitter
Nutrition
Serving:
1
serving
|
Calories:
349
kcal
|
Carbohydrates:
44
g
|
Protein:
11
g
|
Fat:
15
g
|
Saturated Fat:
3
g
|
Polyunsaturated Fat:
2
g
|
Monounsaturated Fat:
9
g
|
Trans Fat:
0.02
g
|
Cholesterol:
164
mg
|
Sodium:
1205
mg
|
Potassium:
561
mg
|
Fiber:
5
g
|
Sugar:
6
g
|
Vitamin A:
12608
IU
|
Vitamin C:
80
mg
|
Calcium:
154
mg
|
Iron:
3
mg
© Food And Meal
This website provides approximate nutrition information for convenience and as a courtesy only. Nutrition data is gathered primarily from the Spoonacular Database, whenever available, or otherwise other online calculators.
Freezing the matzo balls
A great way to preserve the matzo balls used in a Sephardic matzo ball soup recipe is to freeze them. They can be heated up at a later time without losing their shape or flavor. For this recipe, you should use chicken fat instead of canola oil, as it will add flavor and help the matzo balls retain their shape when frozen. In addition, you can also add some lemon zest to the mixture.
Another method is to freeze the matzo balls in the soup and thaw them out the day before cooking. Once you have thawed out the soup, simply add the frozen matzo balls to the pot and heat. When the matzo balls are ready, they will float to the top of the soup.
Before freezing the matzo balls in Sephardic Matzo Ball Soup Recipe, make sure to dry them thoroughly before placing them into the soup. You can store them in the refrigerator for up to 3 months. Thawing the matzo balls in the refrigerator will prevent bacteria from forming. However, poor circulation and power outages can compromise the quality of the matzo balls, so be sure to keep an eye on them.
You can also make the matzo balls ahead of time. Freezing them will allow them to be cooked in less time. However, if you are planning to serve them immediately, you should not freeze them. This will ruin the flavor.
What is in matzo balls ?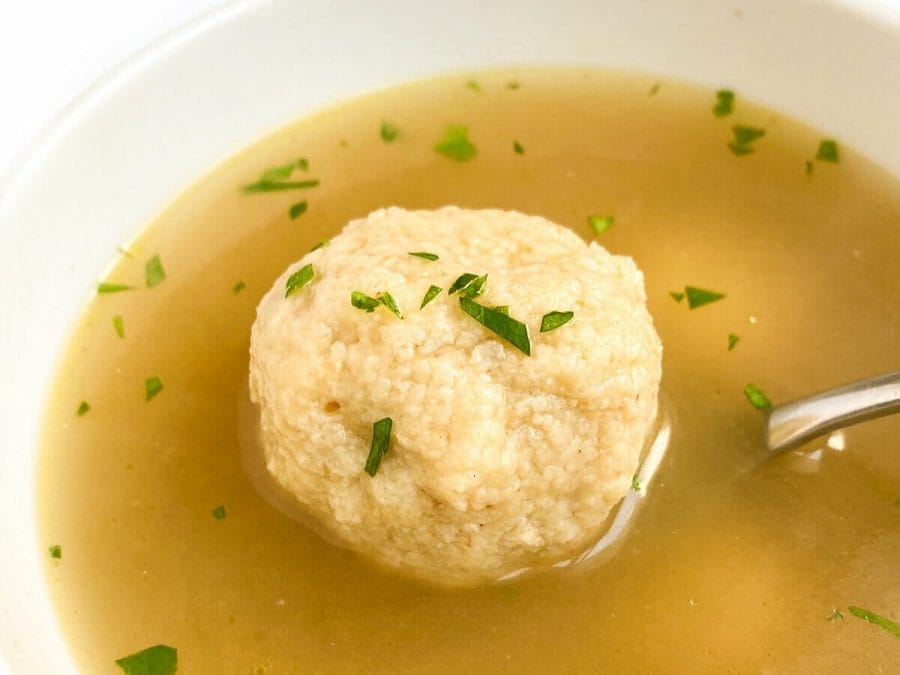 There's a lot more to a matzo ball than just flour and water. In fact, the traditional recipe for matzo balls includes eggs, oil, and salt. Some people like to add a little bit of baking powder to their matzo balls to make them lighter and fluffier. Others like to add chopped onions or parsley for extra flavor. No matter what you put in your matzo balls, they're sure to be a delicious addition to your next Passover meal!