Greetings, fellow food aficionados! As a devoted food blogger and seasoned chef, I'm thrilled to share with you a recipe that's close to my heart – the soul-warming Korean Rice Cake Soup. In a world bustling with flavors and culinary innovations, this traditional Korean dish holds its ground as the epitome of comfort and authenticity.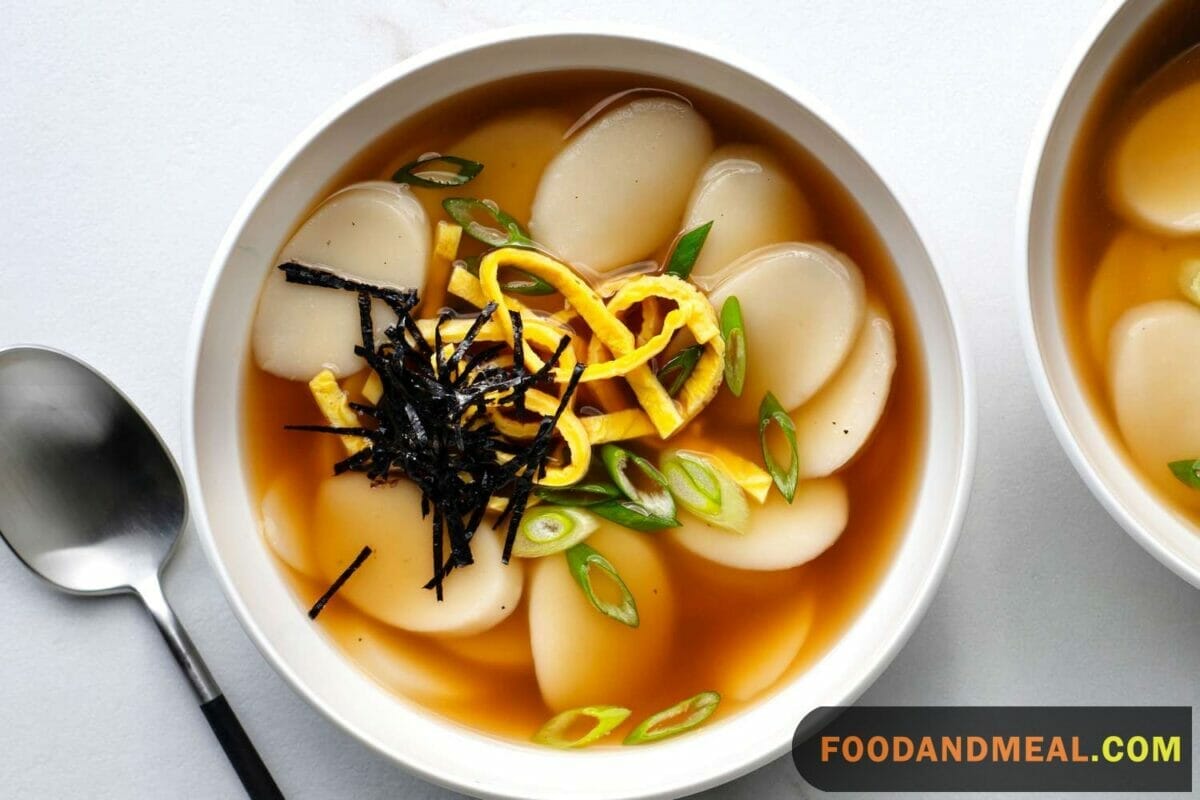 Rice Cake Soup Recipe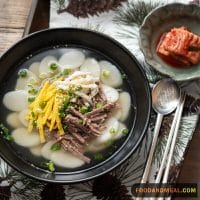 RICE CAKE SOUP
Korean Rice Cake Soup isn't just a recipe; it's an invitation to embrace tradition and flavor. As you relish every spoonful, consider sharing this culinary gem with others. Let the aroma and taste of comfort spread far and wide. Subscribe to our blog for more enriching recipes that connect heart and home.
Print
Add to Collection
Go to Collections
Equipment

Ingredients
1

package

Korean flat oval rice cakes

6

cups

Anchovy Stock (here), Beef Stock (here), or chicken broth (if using store-bought broth, see Substitution Tip following)

Soup soy sauce

1

teaspoon

freshly ground black pepper

2

eggs, beaten

1

sheet

dried seaweed, cut into thin slices

2

scallions, chopped, for garnish (optional)
Instructions
Soak the rice cakes in cold water for about 20 minutes. Drain.

In a medium stockpot over medium-high heat, add the stock and bring it to a boil. Season with soup soy sauce and the pepper, and stir.

Reduce the heat to medium-low, add the rice cakes, and simmer until tender, about 10 minutes.

While soup is cooking, cook the eggs into a thin, flat omelet. Cut the omelet into thin slices.

To serve, ladle the soup into 4 individual bowls and garnish with the egg strips, seaweed strips, and scallions (if using).
Notes
SUBSTITUTION TIP: If you are using store-bought broth and it is not low-sodium, then mix 4 cups broth with 2 cups water.
SUBSTITUTION TIP: For a vegetarian version, use vegetable broth. COOKING TIP: If you don't want to soak the rice cakes beforehand, you don't have to. You will need to add 6 to 8 minutes of cooking time, and your broth will be thicker.
INGREDIENT TIP: Common additions to this dish include beef strips and dumplings.
Share by Email
Share on Facebook
Share on Twitter
Nutrition
Calories:
1
kcal
|
Carbohydrates:
0.3
g
|
Protein:
0.1
g
|
Fat:
0.02
g
|
Saturated Fat:
0.01
g
|
Polyunsaturated Fat:
0.01
g
|
Monounsaturated Fat:
0.003
g
|
Sodium:
0.1
mg
|
Potassium:
7
mg
|
Fiber:
0.1
g
|
Sugar:
0.003
g
|
Vitamin A:
3
IU
|
Calcium:
2
mg
|
Iron:
0.05
mg
© Food And Meal
This website provides approximate nutrition information for convenience and as a courtesy only. Nutrition data is gathered primarily from the Spoonacular Database, whenever available, or otherwise other online calculators.
Cooking Tips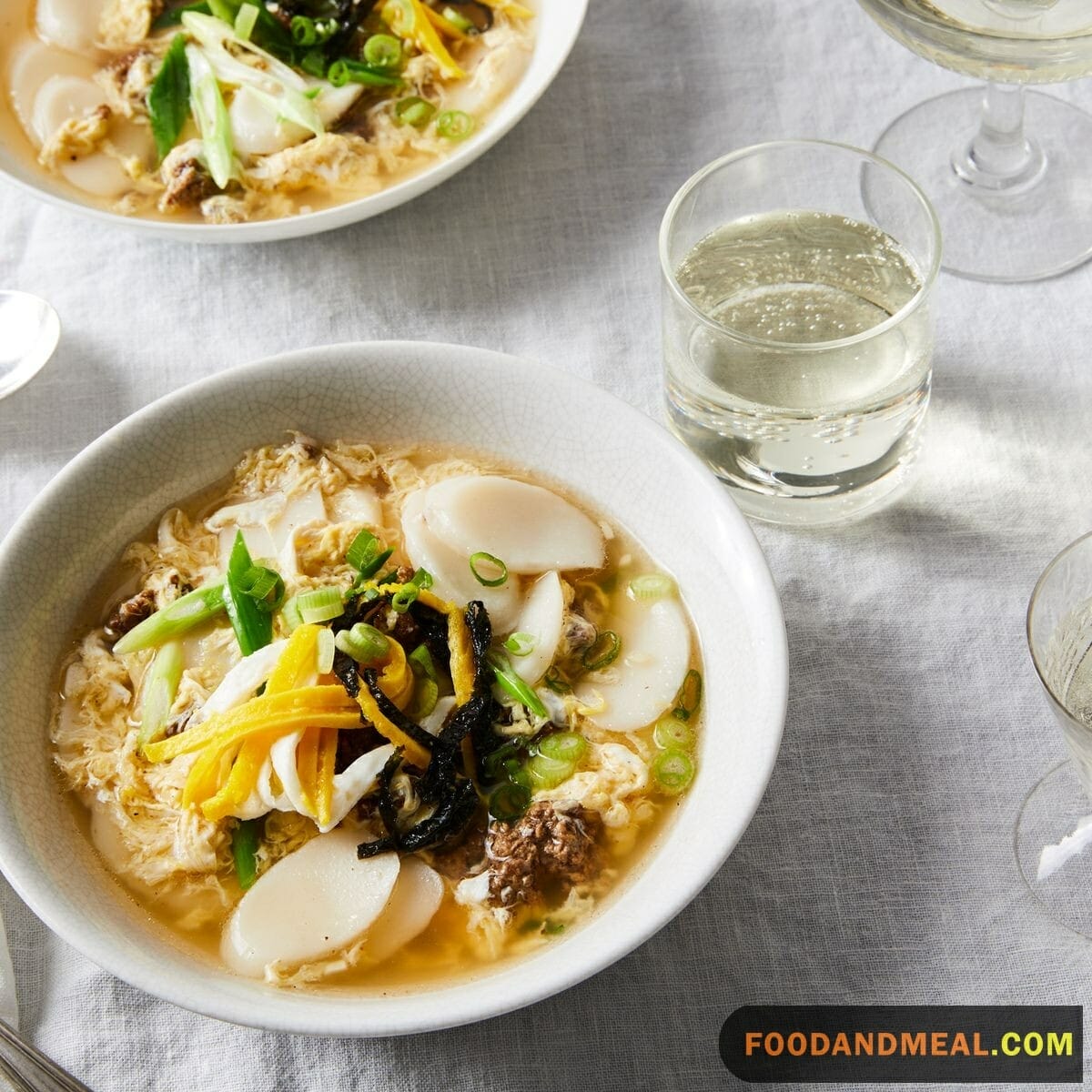 Fresh Ingredients, Enhanced Flavors: Opt for fresh rice cakes and top-quality broth. This foundation guarantees a rich taste experience.
Embrace Slow Simmering: Simmer the broth gently to extract every ounce of flavor. Rushing the process may compromise the depth of taste.
Marrying the Elements: Add rice cakes towards the end of cooking to ensure they're tender yet retain their chewiness.
Mindful Seasoning: Season judiciously. Start with a light hand and adjust to your taste preference gradually.
Garnish with Finesse: Sprinkle toasted sesame seeds, chopped scallions, and roasted seaweed for visual appeal and added layers of flavor.
Meticulous Broth Balance: Maintain the balance between salty and savory in the broth. Adjust seasoning if necessary.
Explore Ingredient Additions: Incorporate vegetables, tofu, or even a poached egg to create variations of the classic recipe.
Serving Suggestions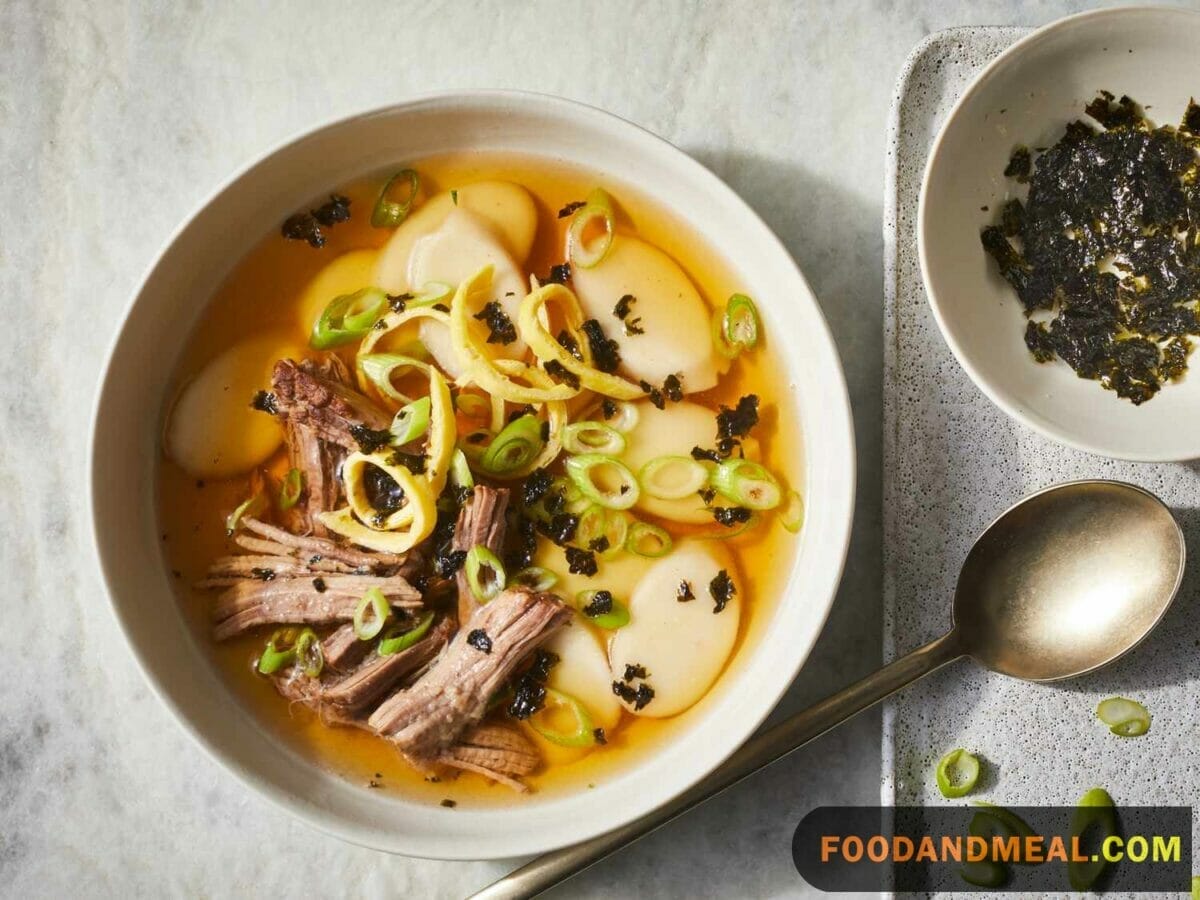 Homely Comfort: Indulge in Korean Rice Cake Soup for cozy lunches that provide comfort amidst busy days.
Family Feast: Gather your loved ones around for a soul-soothing dinner that nourishes both body and soul.
Festive Delight: Celebrate special occasions by introducing guests to the authentic charm of Korean cuisine.
Wholesome Weeknights: Craft Korean Rice Cake Soup for wholesome and nourishing weeknight dinners that satisfy cravings.
Quick & Flavorful: Enjoy a quick and flavorful bowl of Korean Rice Cake Soup that's perfect for days when time is of the essence.
Recommended Sides: Pair your soup with classic Korean banchan (side dishes) like kimchi, pickled vegetables, and seaweed.
Garnish Elegance: Elevate the visual appeal of your dish with finely chopped scallions and a sprinkle of toasted sesame seeds.
FAQs: Your Korean Rice Cake Soup Guide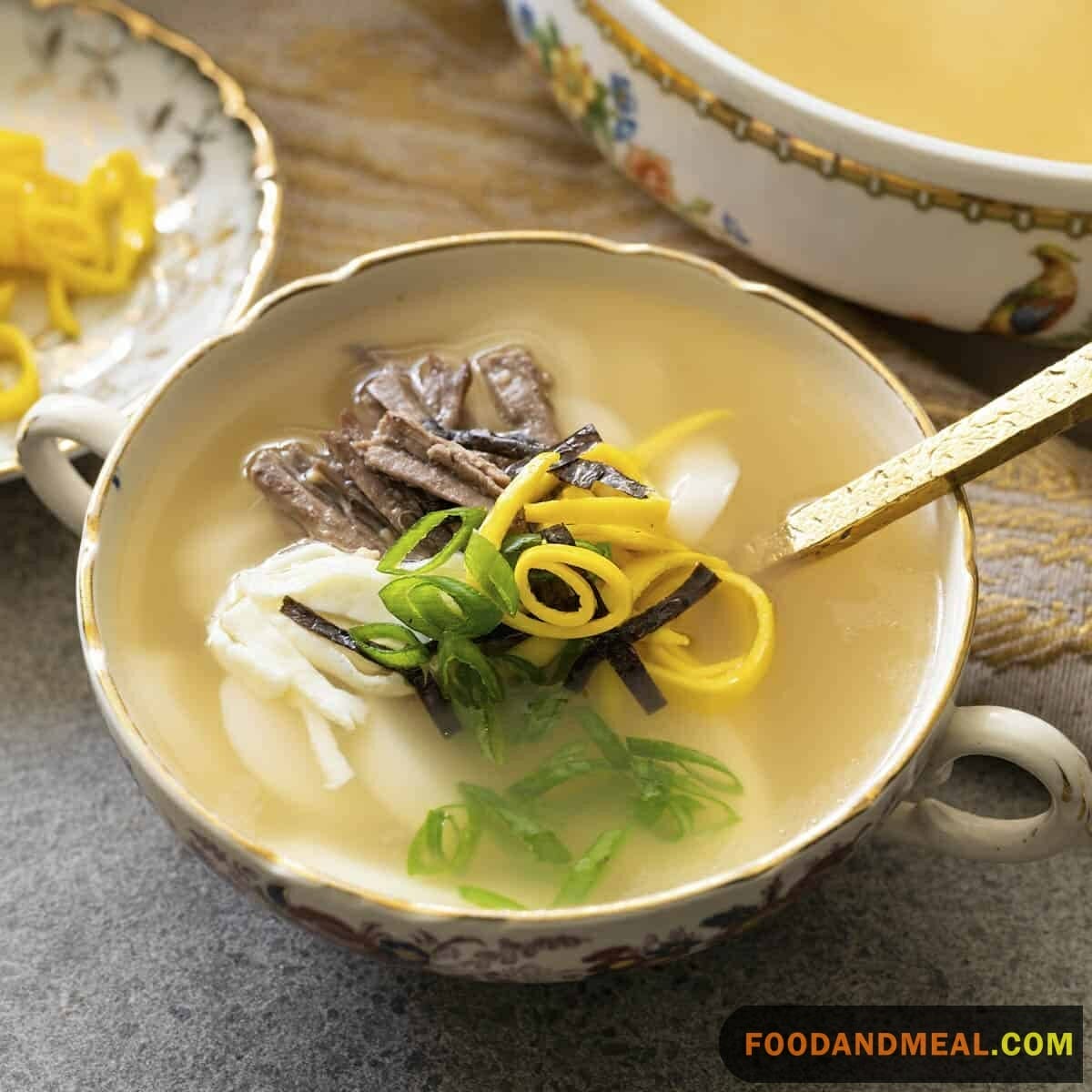 What Are the Essential Ingredients? The key components include rice cakes, broth, scallions, sesame seeds, and roasted seaweed.
Can I Use Store-Bought Broth? Absolutely! Choose a high-quality vegetable or beef broth for authentic flavors.
How Do I Achieve the Perfect Consistency? Cook the rice cakes until they are tender but still slightly chewy, ensuring the desired texture.
How Do I Store Leftovers? Refrigerate in an airtight container. Reheat gently on the stovetop, adding a splash of broth to restore
Can I Customize the Soup? Certainly! Experiment with add-ins like vegetables, tofu, or even a poached egg for a personalized touch.
Is This Dish Suitable for Vegetarians? Absolutely. Opt for vegetable broth and customize the ingredients to suit your preferences.
What Makes This Soup Special? Korean Rice Cake Soup carries cultural significance, often enjoyed during Lunar New Year celebrations.
Can I Freeze Leftovers? While possible, it's recommended to consume the soup freshly made for the best taste and texture.
What is the Origin of This Dish? Korean Rice Cake Soup, known as "Tteokguk," is a traditional dish served to celebrate birthdays and new beginnings.
How Can I Make the Soup Spicier? Add a dash of Korean red pepper flakes (gochugaru) or chili paste (gochujang) for an extra kick of heat.
You're now equipped to embark on a journey of Korean Rice Cake Soup mastery. Share the joy, savor the warmth, and subscribe for more culinary delights. Happy cooking!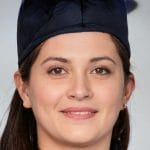 Hi! I'm Nazia of 'Nazia Cooks', a self-taught baker and cook residing in Chennai. Rooted in the rich South Indian culinary landscape, my palate has expanded to embrace global flavors. I revel in crafting fusion dishes, melding traditions to birth unique tastes.
Affiliate DisclaimerAbout The Content
As an affiliate, we may earn a commission from qualifying purchases. We get commissions for purchases made through links on this website from Amazon and other third parties.