A delicious and healthy appetizer, Takuan – Pickled Daikon Radish is easy to make. This recipe consists of a simple brine. It is made by adding water, sugar, vinegar, and salt to a medium-sized saucepan. The radishes should be cut into 1/4-inch-long cubes. Pour the mixture over the radish, then cover with a plastic bag and refrigerate for 24 to 48 hours. To remove the brine from the radishes, massage the mixture through the radish and then squeeze it into the pouch.
Takuan recipes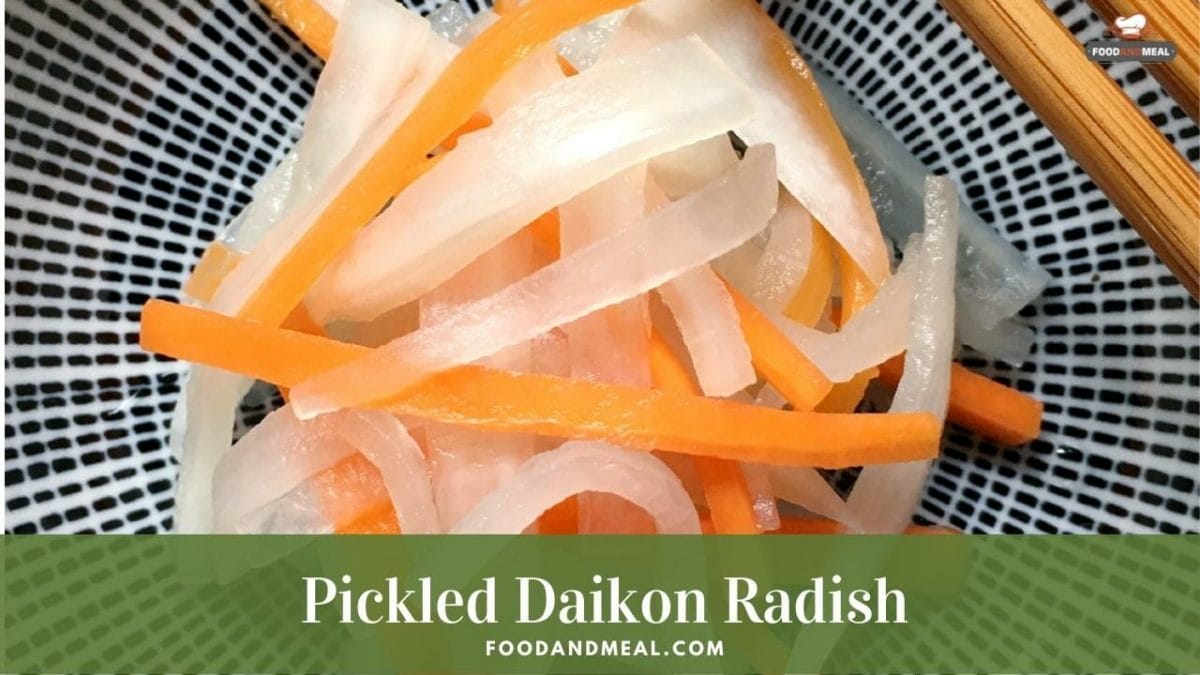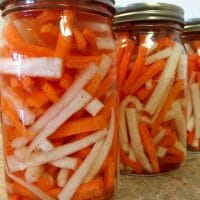 Pickled Daikon Radish
Takuan is a fermented daikon radish pickle that takes months to prepare. If you prefer something homemade but don't want to wait months, this "quick" pickled daikon radish is ready in just 2 days. It adds a crisp, refreshing contrast to a rich, meaty bowl of ramen.
Print
Add to Collection
Go to Collections
Instructions
Toss the daikon rounds with the salt and let stand in a colander (set over a bowl or in the sink) for about 2 hours.

In a medium saucepan over medium-high heat, combine the sugar, water, rice wine vinegar, and turmeric and bring to a boil. Cook, stirring, until the sugar dissolves, about 3 minutes.

Squeeze any excess water from the daikon and transfer to a heat-safe jar or bowl. Pour the hot pickling liquid over the top. Cover and refrigerate for at least 2 days.

Pickled Daikon Radish will keep in the refrigerator for at least 1 month.
Notes
Repurposing Tip: Pickled Daikon Radish also makes a great vegan filling for Japanese rice balls (onigiri) or an accompaniment for a bowl of steamed rice.
Share by Email
Share on Facebook
Share on Twitter
Nutrition
Serving:
1
jar
|
Calories:
119
kcal
|
Carbohydrates:
29
g
|
Protein:
1
g
|
Fat:
1
g
|
Saturated Fat:
1
g
|
Polyunsaturated Fat:
1
g
|
Monounsaturated Fat:
1
g
|
Sodium:
1764
mg
|
Potassium:
206
mg
|
Fiber:
1
g
|
Sugar:
27
g
|
Vitamin C:
19
mg
|
Calcium:
28
mg
|
Iron:
1
mg
© Food And Meal
This website provides approximate nutrition information for convenience and as a courtesy only. Nutrition data is gathered primarily from the Spoonacular Database, whenever available, or otherwise other online calculators.
Other ways to make Takuan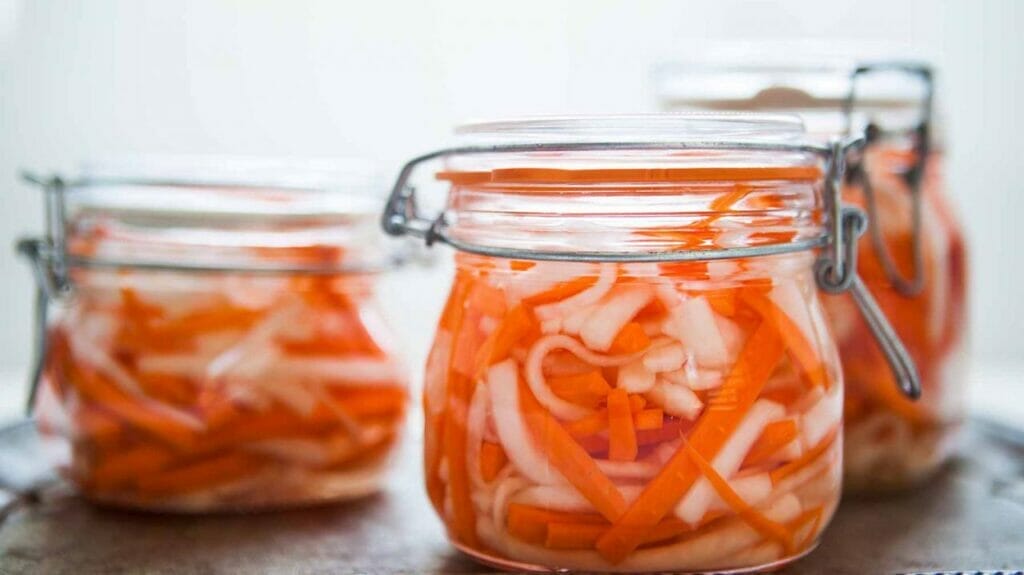 To make pickled daikon radish, you should rinse the radishes well and squeeze out any excess moisture. After that, you should place the radish pieces in jars with airtight lids. After that, the radishes should soak in the brine for 12 to 24 hours, and then be placed on a warm windowsill overnight. You can keep pickled radish in the refrigerator for up to 3 weeks.
After you've washed the radish and squeezed it to remove excess moisture, it's time to add the radish to the jars. The radish should be completely covered in the brine. The jars should be stored in a cool place overnight, out of direct sunlight. Afterwards, the radishes can be used to prepare salads. You can also use the leftover pickled radishes in other recipes.
About Takuan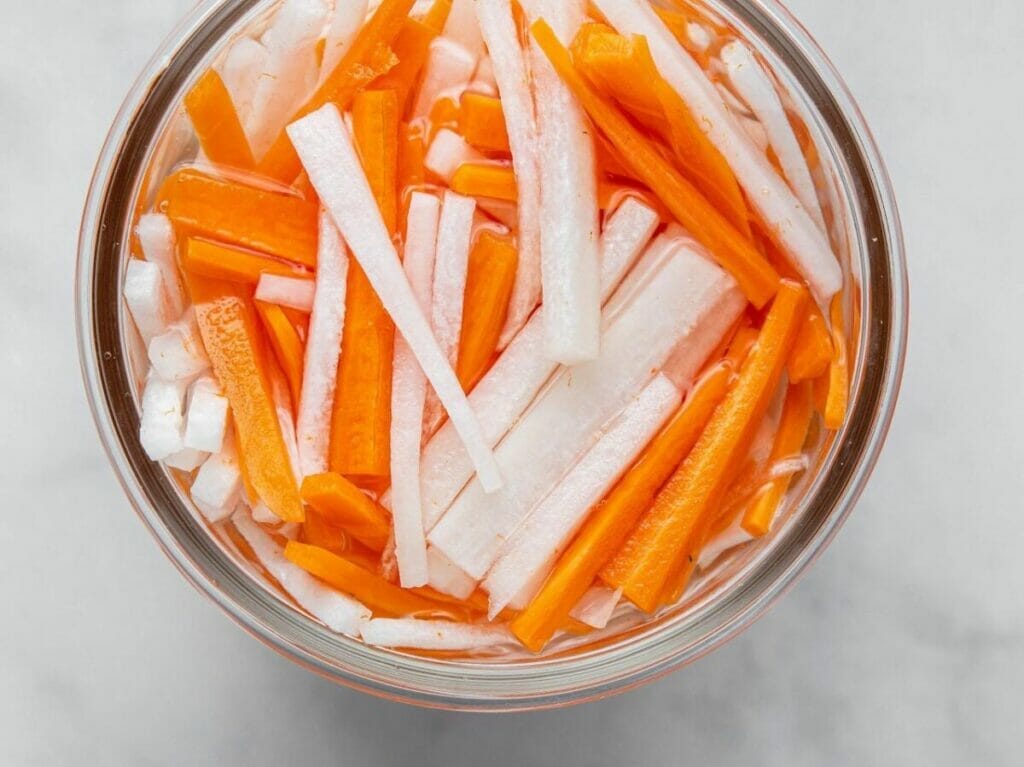 The brine for pickled radish consists of equal amounts of sugar, vinegar, and water. You can use the same mixture to make any other kinds of pickles. When making pickled radish, be sure to use a clean jar to store it. Otherwise, it may swell during pickling. It is also important to store the radishes in an airtight jar to preserve them.
Pickled daikon radish is a popular condiment in Asian and Korean cuisine. It is known as takuan in Korean. It is often eaten raw with rice or noodle dishes. It can also be added to stir-fries for a sour note. Alternatively, it can be added to braised dishes or stews for a richer taste. You should store pickled radish in an airtight jar to preserve it properly.
The pickled radish is a great source of calcium and Vitamin C. It also helps you digest oily foods. Its enzymes help dissolve mucus and fat deposits in the stomach. It is also a tasty side dish for rice and noodles. Aside from being delicious and healthy, it's also easy to prepare and use. It can be served with seafood, fish, or as a condiment.
The preparation of this Japanese vegetable is easy. It is a mixture of sugar, vinegar, and salt. The radish is cut into small bites and put in airtight jars. The brine should cover the radish completely. The radishes should be left overnight on a warm window sill. The radishes should be sliced into 1/4- to half-inch slices.
In South Korea, pickled Daikon Radish is commonly used as a side dish or as a sushi filling. It can be eaten as a side dish or added to rice or noodle dishes. You can also use older pickled radish for braised foods. However, make sure to use a jar with an airtight lid. You can store your pickled Daikon Radish for up to 3 weeks.
Its health benefits make it an excellent choice for a snack. Aside from being delicious, it is also very nutritious, so you may want to serve it with your sushi roll. Aside from being delicious and nutritious, it is also very easy to make. Simply chop it into bites and place it in jars filled with brine, then place them on a warm windowsill. Leave overnight. If you want to make the pickled Daikon Radish to last longer, you can use the radish rind as a garnish for the sushi rolls.
The daikon radish is a large white radish with a mild flavor, which is more pleasant than its pungent counterpart. It is sliced thinly or minced and can be added to rice balls and grain salads. For a delicious treat, you can try Pickled Daikon Radish. You can eat it as a side dish with sushi or rice. And it's even better in soups and sauces.
I'm Tracy F Hilton, a devoted culinary professional shaped by a mix of natural aptitude and refined skills from a top culinary school. In the dynamic kitchen environment, I'm a catalyst for seamless operations and timely, high-quality dish preparation. My culinary creations are a blend of art and skill, offering visually and gustatorily delightful experiences. A learner at heart, I'm continuously honing my craft, embracing new techniques, and culinary innovations. My positive, collaborative nature is amplified in fast-paced settings, showcasing my commitment to team efficiency and guest satisfaction. Each dish I present is a meticulous blend of tradition and innovation, promising an unforgettable dining experience that marries taste, aroma, and aesthetic appeal in perfect harmony. Join me on a gastronomic journey where each bite encapsulates a rich, evolving narrative of flavors and culinary artistry.
Affiliate DisclaimerAbout The Content
As an affiliate, we may earn a commission from qualifying purchases. We get commissions for purchases made through links on this website from Amazon and other third parties.