This Perogies Recipe with bacon and onions is crazy good. Pierogies are tiny, sinful pieces of flavour explosion.  If you are someone who is not ready to gain calories even for a bite of this recipe, then move along.  For those who are ready, then stay and keep on reading the steps how to make your homemade fried pierogies with onions and bacon on the side.
Perogies Recipe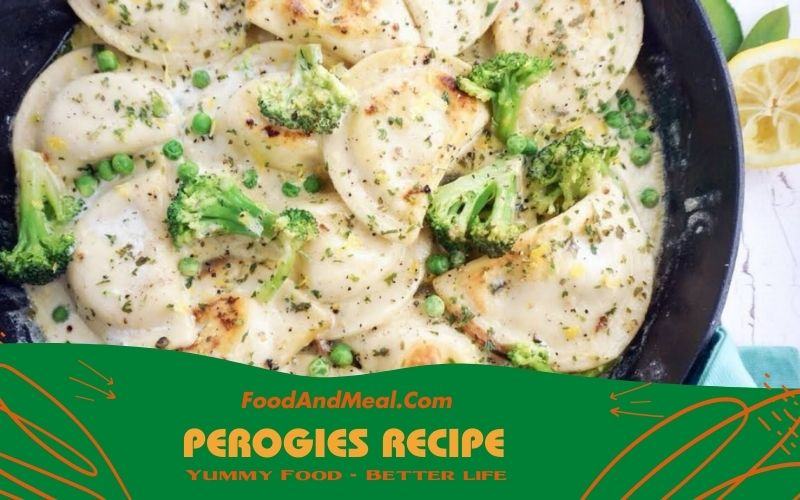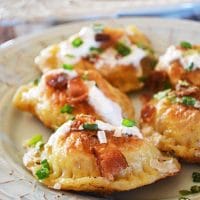 Pierogies with Onions and Bacon
The pierogies with onions and bacon are a delicious dinner. If you want a quick snack, you can buy pierogies at Walmart. They're easy to make and freeze, and you can enjoy them whenever you want. They also make a great snack, and are great as a side dish. The best thing about them is that they're a great way to eat your veggies. You can serve them as a side dish or as an appetizer.
Print
Pin Recipe
Add to Collection
Go to Collections
Ingredients
(Extra Ingredients) For Serving:
Instructions
To make the dough, mix flour and salt together in a large bowl. Get another bowl and whisk the eggs, the extra egg yolk, butter, sour cream and oil together.  Blend the wet ingredients until they are smoothly mixed then pour into the dry ingredients.  Mix again until there are no apparent flour lumps. Cover the bowl with a clean towel and let it be for about 15-20 minutes.

For the arrangement, divide the dough into two same-sized balls. Knead and roll out (one ball at a time) with a rolling pin in a floured surface.  Work it out until it's thin enough, but not too thin to be torn easily.  Get your round cookie cutters and cut the dough.  Brush around the sides of the circle with water and spoon enough filling into the middle.  Fold the circles in half and press edges with a fork to seal.  Place the pierogies on a lightly greased cooking sheet and put into the fridge.  Once they're frozen, you can seal them into freezer storage bags or containers and stock again.

For serving, boil the pierogies in a large pot with slightly salted water. Put the pierogies one piece at a time.  You will know that they're cooked once they pop right onto the surface.  Get them with a slotted spoon and put into a dish, then set aside.

Partially fry slices of bacon in a large skillet or frying pan over a medium flame. Add onions and once they look translucent, immediately add the pierogies into the skillet in a single layer.  Turn pierogies from time to time until each side of the pierogies achieves the golden brown shade.  Serve with sour cream and enjoy eating!
Notes
When making pierogies, you should always use a good quality, ready-made product. You can bake the frozen pierogies in water and add cheese and bacon at the last minute to make them even better. Don't forget to serve them with a delicious cheese board and Christmas music. They will surely become the perfect meal for any gathering! If you're planning a holiday get-together, make sure to make these pierogies with onions and bacon.
Share by Email
Share on Facebook
Share on Twitter
Nutrition
Serving:
1
serving
|
Calories:
598
kcal
|
Carbohydrates:
66.7
g
|
Protein:
22.9
g
|
Fat:
25.7
g
|
Saturated Fat:
8.7
g
|
Polyunsaturated Fat:
2.2
g
|
Trans Fat:
8.7
g
|
Cholesterol:
38.7
mg
|
Sodium:
1.113
mg
|
Sugar:
6
g
© Food And Meal
This website provides approximate nutrition information for convenience and as a courtesy only. Nutrition data is gathered primarily from the Spoonacular Database, whenever available, or otherwise other online calculators.
Pin Recipe
How to storage leftover
To make pierogies with onions and bacon, boil the pierogies in salted water until they float to the surface. Drain them and put them in a zip-top bag. When ready to serve, add the remaining 1/4 of caramelized onion to the pierogi and stir them together. Once the pierogies are ready to serve, they can be served immediately or fried in a pan with water.
When making pierogies with onions and bacon, choose a variety of toppings, including bacon. You can even fry the onion before serving. If you don't have time to cook the pierogies, you can always freeze them for later. They can last for up to 3 months in the freezer. They can be used as snacks or as a complete dinner. You can also cook them ahead of time and serve them cold.
Tips for making
Perogies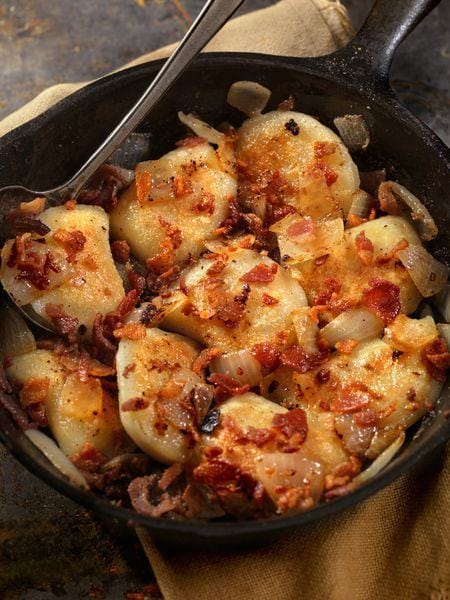 When making pierogies with onions and bacon, it's best to keep the process simple. The dough for the pierogies should be lightly browned and rolled thin. Once the dough is finished, gently fry the perogies until they are crisp. You can also add a slice of cheese or some sour cream to make them more special. The best way to make pierogies with onions and bacon is to bake them until they're golden brown.
To make the filling, combine the sour cream and butter with the flour. Mix in the eggs. Knead the dough for 3 minutes. Once it is ready, put the cooked pierogies on a lightly greased baking sheet and bake until they're firm and golden brown. Once done, you can either serve them right away or freeze them for later. Once they're baked, you can either eat them warm or keep them frozen in a freezer container.
Once the pierogies are cooked through, add the onions and bacon to the skillet. Sprinkle the top with chopped green onion, and then add the cheese and the butter. Once the perogies are ready, serve them immediately. Alternatively, you can serve them in a bowl or a casserole dish. This recipe is easy to make and doesn't require any special equipment. In fact, you can use a wine bottle as a rolling pin.
Caramelized onions are the perfect addition to your game-day feast. They're the perfect party food, and are a perfect game-day snack. Adding bacon and cheese to the pierogies is a great way to celebrate the big game. The flavors are complemented by the melted cheese. The cheese and bacon make these pierogies the perfect combination. If you're looking for a simple recipe for onion-filled pierogies, try this one!
In addition to bacon and onions, you can also use other ingredients for your pierogies. You can use a mixture of egg and potato flour, or add meat and sauerkraut. You can even put chopped pieces of bacon and onions on top of the pierogi and add them on top. You can serve them plain or fry them with a side of sauce. If you prefer, you can try a different flavorful one.
Thanks for your visiting our Food and Meal site. Like and share this recipe if it is useful for you.
Affiliate DisclaimerAbout The Author
As an affiliate, we may earn a commission from qualifying purchases. We get commissions for purchases made through links on this website from Amazon and other third parties.