Print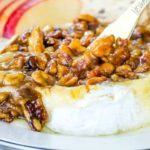 How to Make Honey Nut Baked Brie Bloomin' Apples – 7 easy steps
---
Description
Honey nut baked brie bloomin' apples is depicted as melting cheese with sweet nuts dripping onto the healthy goodness of the apple cuts.  Derived from a sinful dessert, Honey Nut Baked Brie Cheese, this recipe becomes a full-fledge appetizer that will always leave you craving for more delectable bites.
---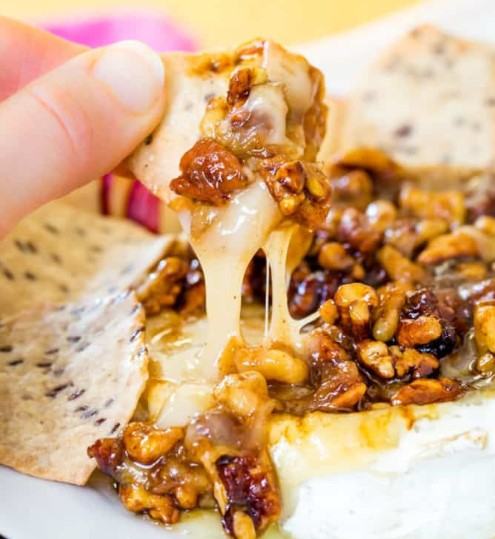 2

firm and fresh apples

8 oz

. wheel or wedge of Brie cheese

½ cup

of walnuts and/or pecans, roughly chopped

2 tbsp

. of honey (or maple syrup)

¼ tsp

. of cinnamon
A pinch of salt
Crackers (optional)
read more HORS D'OEUVRE recipe
---
Instructions

simple Bloomin' Apples recipe
You have to preheat your oven first into 375-degree Fahrenheit.
Prepare the apples by slicing off their top quarters. Scoop out their cores with a sharp knife and make circular cuts just around the core, delving deeper into the fruit.  Set the apple upside down and create cuts down the apple.
Flip back the apples and set them into a baking dish.
Top each apple with estimated ½ of the cheese. If you're going to use a wedge, just cut off the top and bottom rind and set over the apples.  If you're going to use a wheel, just remove the top and bottom rind and horizontally slice into half and put over each of the apples. Serve the apples with crackers if you want to.
Bake the apples for about 20 minutes.
For the meantime, you can prepare the nut n' honey mixture. Start off by heating a small pan over medium flame and then you can add the nuts.  Toast the nuts until they attain the slight brown hue and they also give off that aromatic nutty smell.  Put the honey, salt and cinnamon to the nuts and stir to coat the nuts completely.
Get the apples off the oven and top them with the nut n' honey mixture. Bake again for another 10-20 minutes or until the apples are tender.
Keywords: Honey Nut Baked Brie Bloomin' Apples