Hello there, Elaina here! I'm delighted to welcome you back to Food and Meal, where we explore the world of culinary delights from my sweet little city, Winnipeg, nestled in the heart of the Canadian prairies. Today, I'm excited to share with you my recent culinary adventure with a delightful dish – Chicken and Bean Stir-Fry. This journey has been nothing short of amazing, and I can't wait to dive into the details with you. So, let's embark on this gastronomic exploration together, showcasing the diversity and adaptability of Canadian cuisine!
Chicken and Bean Stir-Fry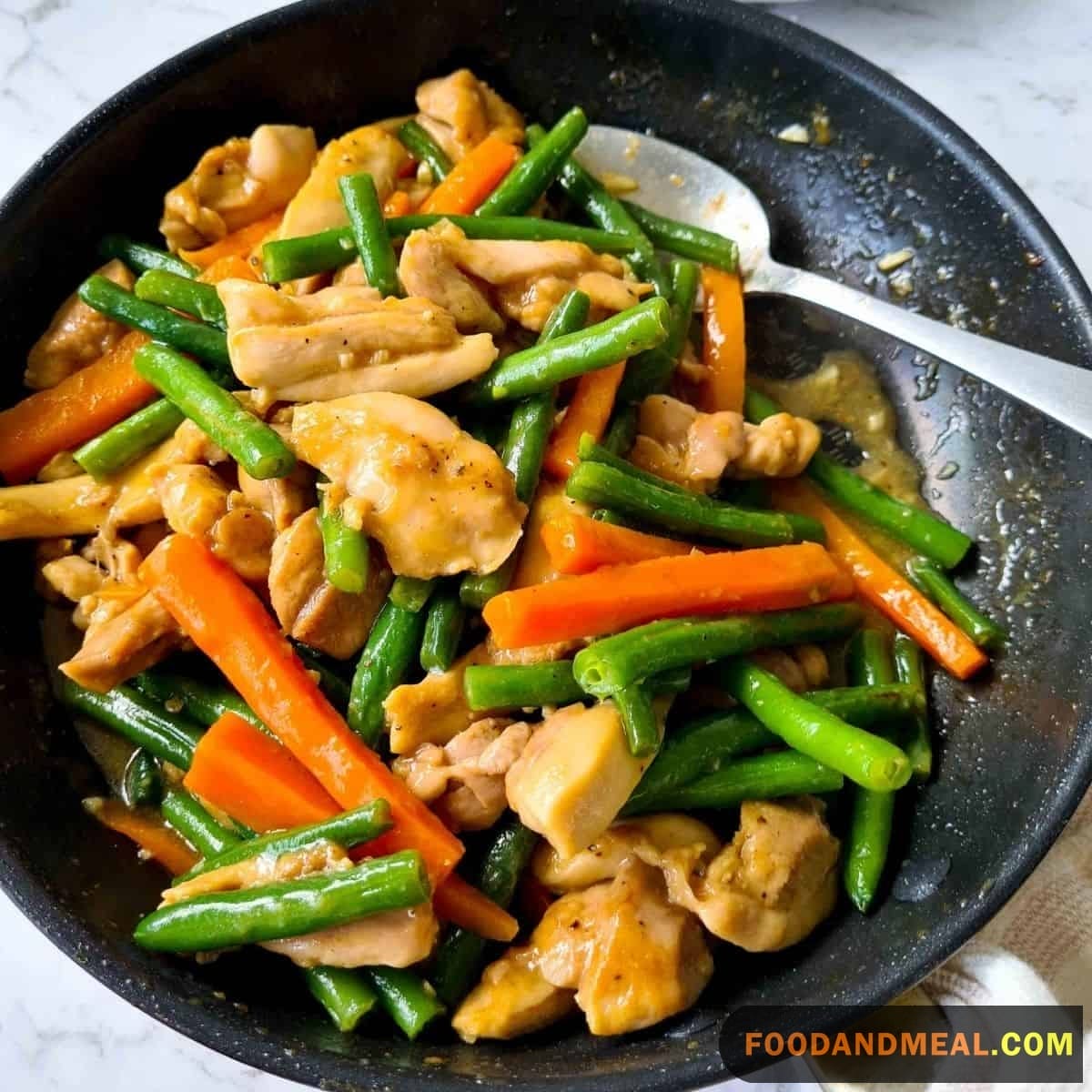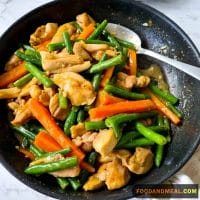 Equipment
Ingredients
1

lb.

Chicken breast fillet

sliced into long thin strips

2

tablespoons

Worcestershire sauce

8-

ounces

green beans

trimmed and

sliced into 2-inch pieces

2

tablespoons

garlic

minced

2

tablespoons

light olive oil

salt and ground black pepper

to taste
Instructions
Using a wok, heat the oil over a moderate flame. Stir-fry garlic and onion for about 3 minutes or until aromatic.

Add your chicken strips into the wok, cooking for about 5 minutes, or until browned, stirring often.

Add the soy sauce, Worcestershire sauce, green beans to wok. Cook for an additional 8-minutes, stirring occasionally. Season with salt and pepper, to taste.

Transfer the chicken and bean stir-fry into a serving dish.

Serve and Enjoy!
Share by Email
Share on Facebook
Share on Twitter
Nutrition
Calories:
233
kcal
|
Carbohydrates:
7
g
|
Protein:
25
g
|
Fat:
10
g
|
Saturated Fat:
2
g
|
Polyunsaturated Fat:
1
g
|
Monounsaturated Fat:
6
g
|
Trans Fat:
0.01
g
|
Cholesterol:
73
mg
|
Sodium:
246
mg
|
Potassium:
623
mg
|
Fiber:
2
g
|
Sugar:
3
g
|
Vitamin A:
432
IU
|
Vitamin C:
11
mg
|
Calcium:
43
mg
|
Iron:
2
mg
© Food And Meal
This website provides approximate nutrition information for convenience and as a courtesy only. Nutrition data is gathered primarily from the Spoonacular Database, whenever available, or otherwise other online calculators.
About Chicken and Bean Stir-Fry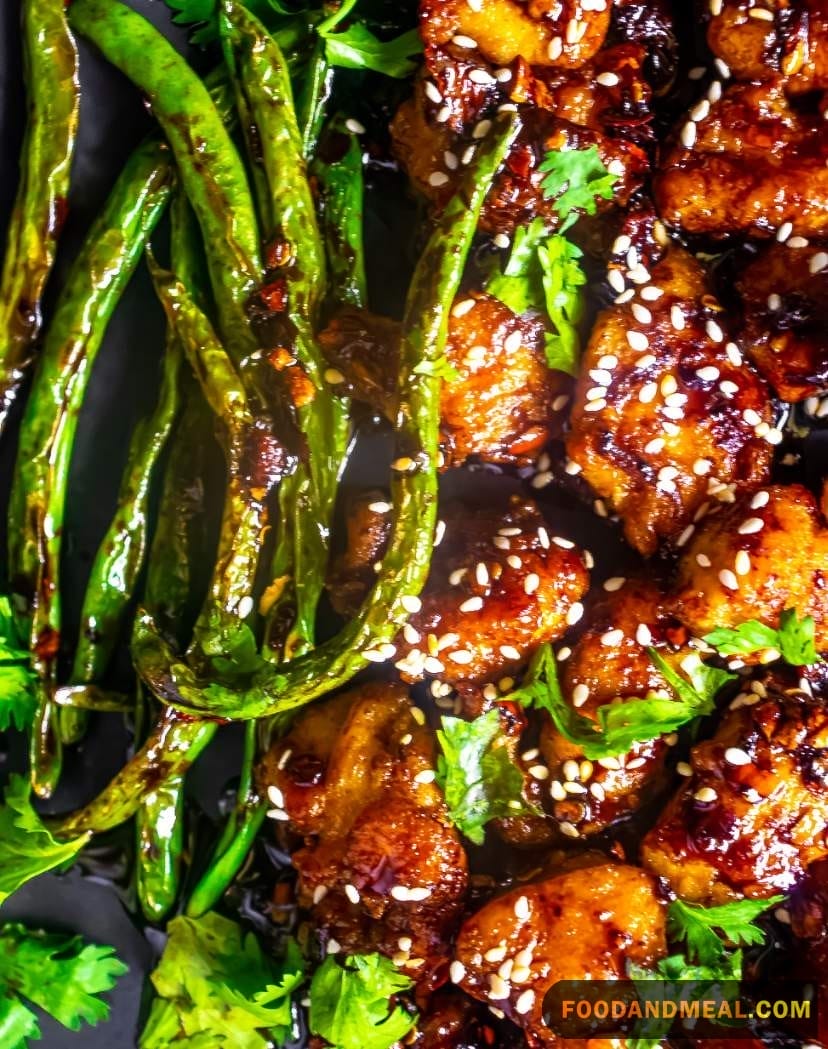 Chicken and Bean Stir-Fry is a versatile dish that's popular across many cultures, including Canadian cuisine. This dish features chicken and beans stir-fried in a savory sauce. The result is a flavorful, nutritious, and quick-to-prepare dish that truly embodies the diversity and adaptability of home cooking.
Cooking Tips for Chicken and Bean Stir-Fry
Quality of Ingredients: Always opt for fresh chicken and crisp beans. The quality of your ingredients can significantly impact the taste of your dish.
Preparation Process: Properly cut the chicken into thin slices and the beans into bite-sized pieces to ensure even cooking.
Stir-Frying Technique: Stir-fry the chicken first until it's no longer pink, then add the beans and sauce. Stir-fry quickly over high heat to maintain the crispness of the beans and the tenderness of the chicken.
Serving Suggestions for Chicken and Bean Stir-Fry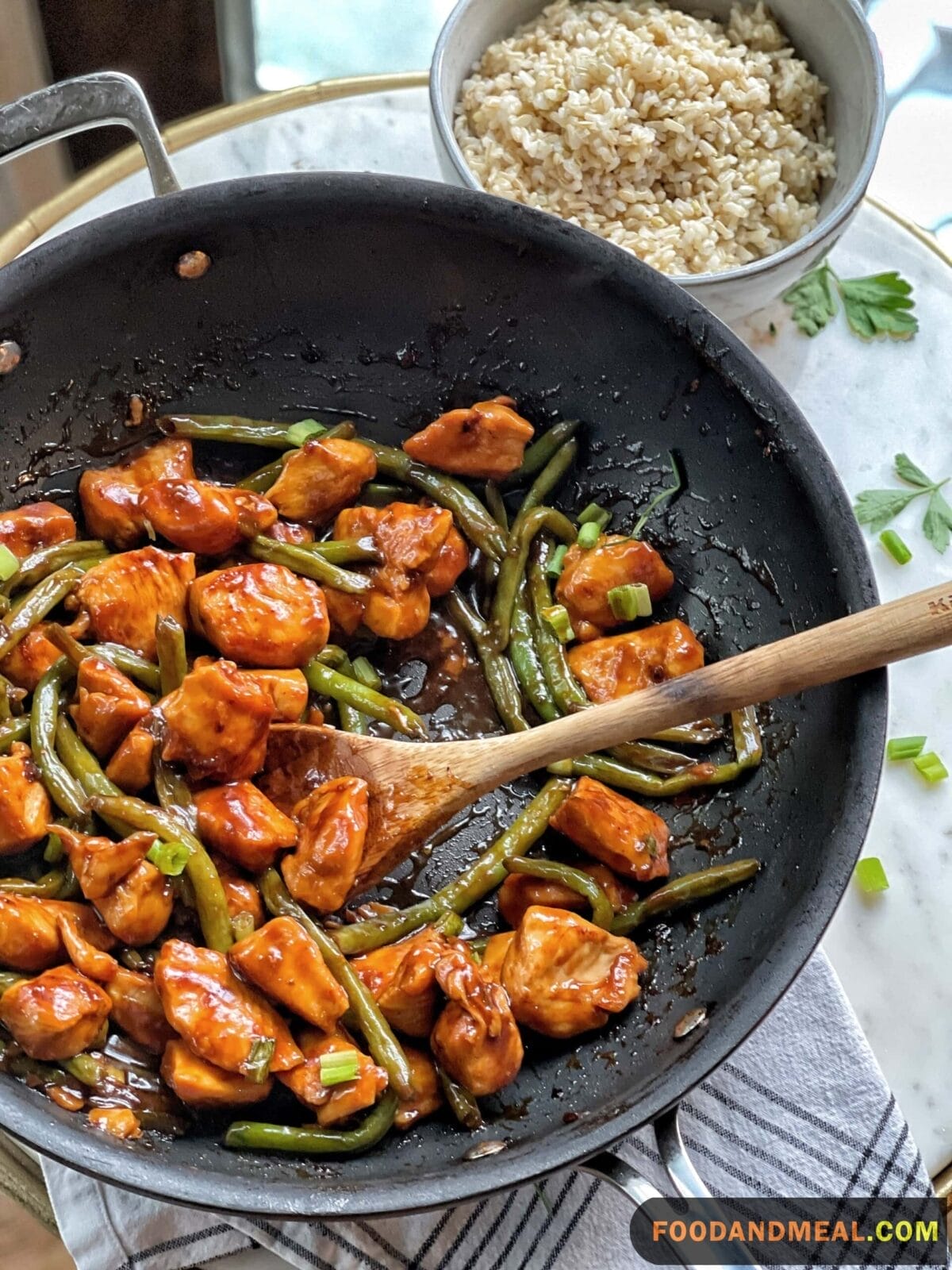 Rice Companion: Serve your stir fry with a side of steamed rice to complement its savory flavors.
Vegetable Side: A simple vegetable salad can provide a refreshing contrast to the savory stir fry.
Drink Pairing: A cold drink like a craft beer or a white wine can complement the flavors of this vibrant dish.
FAQs About Chicken and Bean Stir-Fry
What Makes Chicken and Bean Stir-Fry Special? Chicken & Bean Stir-Fry is special due to its combination of tender chicken, crisp beans, and savory sauce, creating a balanced and flavorful dish.
Can I Use Other Types of Meat or Vegetables? While you can experiment with other types of meat or vegetables, using chicken and beans is traditional and recommended for this dish due to their complementary textures and flavors.
How Can I Store Leftovers? Leftovers can be stored in an airtight container in the refrigerator for up to 2 days. Reheat on the stove or in a microwave.
Can I Make It Spicier? Yes, you can adjust the recipe according to your preference. Adding chili flakes or fresh chilies can enhance the heat level!
In conclusion, Chicken and Bean Stir-Fry is more than just a dish; it's a culinary staple that reflects the diversity and adaptability of home cooking. The process of making it involves careful preparation and quick stir-frying, resulting in a dish that's both flavorful and nutritious. Whether you're a seasoned cook or a beginner, I hope these tips and suggestions inspire you to try making your own Chicken and Bean Stir-Fry at home. Happy cooking!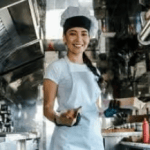 Cooking Like A Pro
Author Name : Jaime Inez
Address: Times Street, West Triangle, 1103, Quezon City, Metro Manila, Philippines
Phone:  96-2-4108596
Email: Contact@cookinglikeapro.net
Affiliate DisclaimerAbout The Content
As an affiliate, we may earn a commission from qualifying purchases. We get commissions for purchases made through links on this website from Amazon and other third parties.