For vegetarians, tofu serves as a great alternative for meat.  It is low fat and high in protein but bears enough taste to bring life to your tongue and palate.  Who says it can't be great to liven up barbecue parties?  Skewer bite-sized tofu and assemble them with your favorite veggies. Here are few simple steps and tips how to help you grill tofu on BBQ or grille your favorite bean curd like a pro: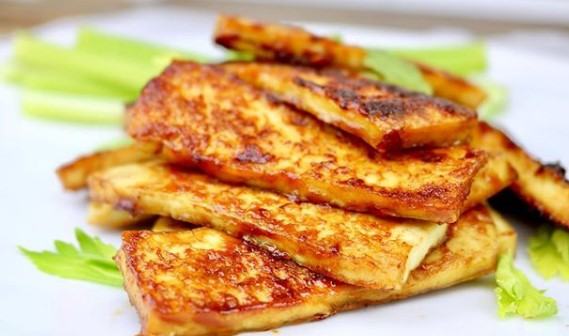 grill tofu on BBQ
Tips
As tofu is low in fats, it can easily stick on grills. Be sure to spray or rub non-stick cooking spray or oil on grilles.
Use firm or extra firm tofu for barbecue and kebob recipes. Also, see to it that you press the tofu for about 15 minutes then freeze it. Freezing the tofu beforehand will help it attain the "chewable" factor instead of being sponge-like.
Marinate tofu for about 30 minutes before the grilling process. Alternatively, you can prepare it the night before the grilling.
Marinate tofu with soy sauce, barbecue sauce or vinaigrette. You can also add sugar to your marinate to help it caramelize during grilling. Your tofu can then achieve that crunchy factor. You can also substitute sugar with honey, maple syrup or rice wine vinegar.
Use bamboo skewers in barbecuing tofu rather than putting it atop the grill. But before that, ensure that you soaked the skewers in water for at least 30 minutes before using.
Preheat the grill before assembling the tofu kebobs or barbecues on top. Grill tofu for about 6-7 minutes per side, brushing it with the extra marinade occasionally.
read more: https://foodandmeal.com/vegetarian