Filtered water bottles offer more than just hydration; they provide a sense of security by ensuring that you won't risk falling ill due to bacteria-contaminated water. Moreover, they prove to be an economical and sustainable alternative to single-use water bottles, promoting eco-friendliness. Additionally, filtered water bottles serve as a space-saving solution, making them ideal for various situations.
When opting for a filtered water bottle, it's crucial to select a reliable and well-established brand to avoid potential health risks. To identify the best filtered water bottles available, we extensively researched numerous options from the most reputable and trusted brands. Our focus was on models equipped with reliable, top-notch filters capable of removing multiple unwanted substances. Furthermore, we prioritized water bottles crafted from safe and durable materials, offering generous capacity without unnecessary bulkiness. We made it a point to include options at various price points to cater to every budget.
To ensure the quality and performance of our top selections, we put them to the test in the Food and Meal Testing Lab to find out the 9 Best Filtered Water Bottles of 2023. Our evaluation encompassed drinkability, leak-proof seals, portability, insulation efficiency, durability, ease of cleaning, and overall value. The result is a carefully curated list of the finest filtered water bottles on the market, tailored to meet diverse preferences and needs.
What to Look For in Filtered Water Bottles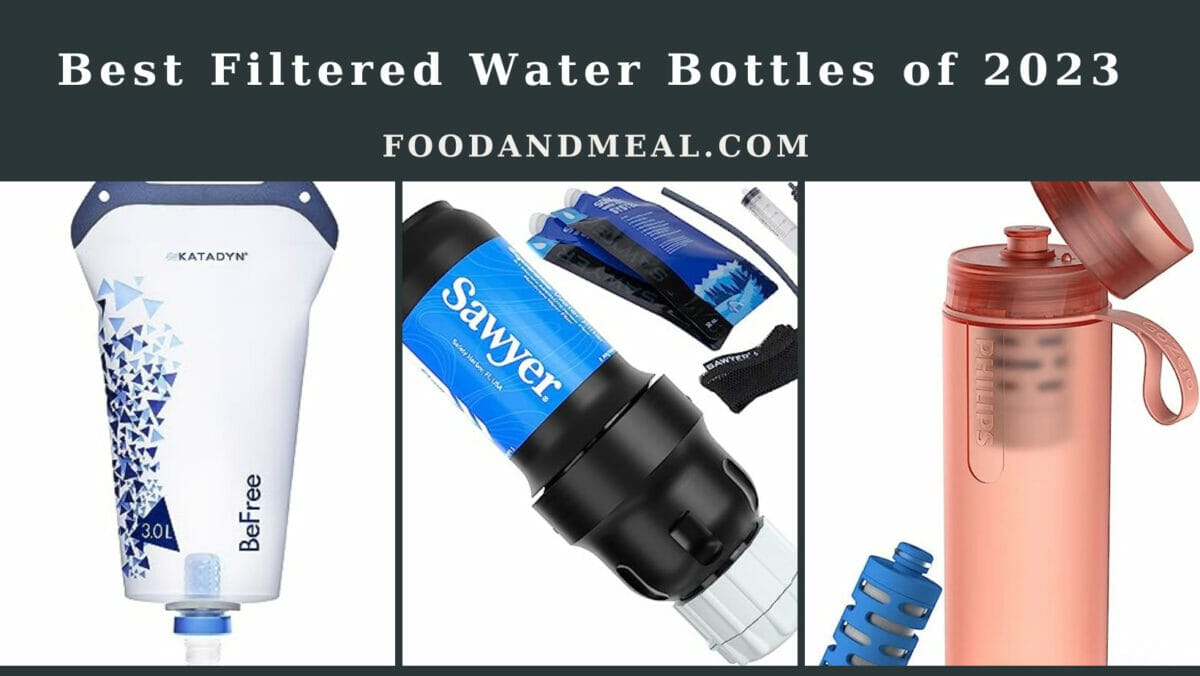 | | |
| --- | --- |
| Material | Consider preferences, purpose, and health risks. Metal bottles keep water cool but may be bulkier. Choose based on your specific use case. |
| Type of Filter  | Consider filter types when choosing a water bottle. Membrane microfilters remove bacteria, while activated carbon filters reduce chlorine and improve taste. For comprehensive purification, choose a hollow fiber membrane filter for a safer water consumption experience. |
| Price  | Membrane microfilters remove bacteria and microplastics, while activated carbon filters reduce chlorine. Opt for a hollow fiber membrane for comprehensive purification and safer water consumption. |
| Size and weight | Choose the ideal size and weight based on personal preferences and intended usage, whether for travel or gym sessions. |
Best Filtered Water Bottles of 2023
Best Price
LifeStraw Go Water
4.6
(8690 ratings)
$58.99
The LifeStraw Go Water Bottle personal water filter has been updated with 2-stage filtration to improve the taste of filtered water and provide even better protection from contamination. In addition to the award-winning LifeStraw hollow fiber membrane filter, the next-generation Go Bottle incorporates a carbon capsule that reduces bad taste, odor, chlorine and organic chemical matter.
Good brand ethics
Comes in many colors
Suitable for a variety of activities
Some users complain of leaking
Topping our list as the best overall choice is the Lifestraw Go Water Filter Bottle, lauded for its versatility, user-friendliness, and ability to ensure safe hydration. The combination of a membrane microfilter and activated carbon filters works in harmony, safeguarding against an array of contaminants, including bacteria, parasites, microplastics, chlorine, organic chemical matter, dirt, sand, and cloudiness—all while enhancing the taste and eliminating odor.
Rest assured of its reliability, as the filters underwent rigorous independent lab testing to meet the stringent standards set by the US Environmental Protection Agency and the National Sanitation Foundation International (NSF) for drinking water quality. This makes the Lifestraw Go Bottle a trusted companion for international travel, hiking adventures, and leisurely visits to your local park. With its variety of colors to choose from, you can select one that perfectly matches your style, ensuring it remains at your side on every thrilling escapade.
Crafted from BPA-free plastic, this budget-friendly bottle is remarkably lightweight and conveniently features a carabiner for effortless attachment. Additionally, the brand proudly advocates for reducing pollution caused by single-use plastic water bottles. Notably, with each Lifestraw purchase, a child in need receives the gift of clean, safe water for an entire school year—a testament to the bottle's positive impact beyond its user's satisfaction.
Best Price
Brita Stainless Steel Water Filter Bottle
4.6
(11071 ratings)
$41.49
The durable, double wall insulated bottle stays cold for a full 24 hours. It includes 1 replaceable filter, which reduces Chlorine (taste & odor) as you drink. Featuring an enclosed, easy-sip straw, built-in carrying loop for grab-and-go portability, and one-handed push button lid, this bottle is designed for effortless convenience.
Enclosed straw
Sleek look
Double-wall insulated
Only recommended for travel and everyday uses
Brita's stainless steel filtered water bottle stands out with its impressive double-wall insulation, ensuring your water stays refreshingly cold for over 24 hours, allowing you to enjoy safe and satisfying hydration throughout the day. The activated carbon filter efficiently eliminates contaminants like chlorine and certain particulates from your water, all the while retaining essential minerals and electrolytes present in tap water.
During our rigorous testing at the Verywell Testing Lab, we discovered that the 20-ounce version of this water bottle consistently delivered great-tasting water, regardless of the water source. The silicone mouthpiece and easily accessible button on the lid for one-handed drinking were features that particularly caught our attention and garnered our appreciation.
Designed for convenient daily use, the bottle boasts an easy-to-hold handle, an enclosed straw, and a sleek overall design. It proves to be an excellent companion for everyday activities. However, it's important to note that this bottle might not be the best choice for outdoor excursions like hiking or backpacking trips, as it doesn't filter out some of the more hazardous contaminants often found in natural water sources, such as rivers or streams.
Best Price
Philips GoZero Active Water Bottle
4.3
(2738 ratings)
$14.69
Powered by innovative electro-adsorptive filter media, the Adventure filter removes up to 99.999%* of waterborne pathogens from the water, so that you have access to safe drinking water anywhere, anytime**. It also reduces particulates, chemicals and heavy metals. Simply fill the bottle, squeeze and drink!
Sleek look
Squeeze bottle
Delivers great tasting water
Not suitable for freshwater sources
The Philips filtered water bottle is a fantastic budget-friendly option that doesn't compromise on quality. It includes an attachable blue fitness filter, which effectively enhances the taste of tap water by reducing lead, pesticides, and chlorine. For more demanding adventures, there's a separate green adventure filter available, specially designed to filter viruses and bacteria.
Crafted from BPA-free plastic, this easy-to-use squeeze bottle not only ensures leak-proof performance but also flaunts a sleek and appealing design. It proves to be an excellent companion for everyday use, gym sessions, and various outdoor activities. A significant advantage lies in its dishwasher-safe feature, offering utmost convenience and low-maintenance usability.
Best Price
Sawyer Products Squeeze Water Filtration System
4.8
(8690 ratings)
$29.08
Ideal for hiking, camping, hunting, fishing, emergency prep, or traveling abroad, Sawyer's Squeeze Water Filter ensures access to clean water in the backcountry or anywhere in the world. Rated to 0.1 micron absolute filtration, the Squeeze Filter removes 99.99999% of all bacteria such as salmonella, cholera, leptospirosis, and e. Coli, and removes 99. 9999% of all protozoa such as giardia and cryptosporidium (independent testing laboratory Hydration, LLC.; microbiological report S05-03).
Very lightweight
Quick flow rate
Easy to use
Highly recommended by our outdoor gear experts as the ultimate choice for hiking, the Sawyer Squeeze Water Filtration System was an obvious addition to our top picks. While not a traditional filtered water bottle, its functionality is simple—just fill the included water pouch, attach the filter, and squeeze to enjoy the purified water directly into your mouth or any other container. For portability, a mesh pouch allows you to carry the system on the go, and an included syringe ensures effortless cleaning of the entire setup.
Maggie Slepian, an esteemed outdoor gear expert, editor, and writer, hails this system as a cost-effective and lightweight gem, dubbing it the "best-kept secret for long-distance hikers." Its reliability in providing clean water makes it an invaluable companion on all hiking journeys, whether you're exploring local trails or conquering the vast Appalachian Trail.
According to the manufacturer, this system safeguards against 99.99% of bacteria, including notorious culprits like salmonella and E.coli, while also eliminating 99.99% of protozoa such as giardia and cryptosporidia. With a stellar reputation among hiking communities, it's a well-vetted and highly-rated option that has garnered immense popularity for its unwavering performance.
Best Price
CrazyCap UV Water Purifier & Bottle
4.3
(1548 ratings)
$29.08
Certified by NSF International for ultraviolet water treatment. Stainless steel with vacuum insulation keeps drinks hot for 12 hours and cold for 24 hours. Satisfaction guaranteed with a 30-day return policy and 10-year warranty against defects.
Sleek look
Extremely durable
Keeps temperature well
Requires re-charging
Expensive
This advanced filtered water bottle has captured our hearts with its innovative self-cleaning capabilities. Thanks to its built-in UV purification system, UV rays from the cap activate every four hours to thoroughly clean the bottle's interior, effectively preventing mold, mildew, bad odors, and unpleasant tastes.
The UV-C purification system, utilizing the same wavelengths employed in sanitizing operating rooms, has undergone rigorous testing and certification by NSF International against NSF/ANSI 55 for Disinfection Performance, Class B, when operated in Crazy Mode.2 This substantiates its ability to significantly reduce non-disease-causing bacteria in disinfected drinking water.
Maggie Slepian is a fan of this option due to its exceptional user-friendliness, requiring only a simple button push for activation, making it highly portable for her travels to unfamiliar cities, day hikes, gym sessions, or whenever she desires pristine drinking water. As she puts it, "It's the simplest solution."
Convenience continues with a tap-twice option for quick cleansing or five taps for a thorough two-minute purification process. The bottle is constructed from durable stainless steel, featuring double-walled insulation, ensuring your water stays refreshingly cold and can withstand occasional, clumsy drops. Although it requires recharging, the bottle boasts a long battery life, providing up to seven days of usage on a single charge—perfect for extended adventures without worrying about power.
Best Price
LifeStraw Flex Multi-Function Water Filter System
4.6
(2738 ratings)
$41.21
Maximize protection and water throughput with this ultralight, compact gravity water filter system built to provide safe drinking water in almost any environment. The LifeStraw Flex with gravity bag offers advanced filtration for protection against bacteria, parasites, and microplastics in addition to lead, chlorine and other contaminants including sand, silt, and cloudiness.
Sleek look
Squeeze bottle
Delivers great tasting water
Not suitable for freshwater sources
This filtered water bottle for travel has won our hearts with its lightweight, portable design, making it a breeze to carry along on any adventure. Whether you're trekking through the mesmerizing landscapes of Machu Picchu or immersing yourself in the captivating streets of Rome, rest assured that you'll have access to safe and clean water throughout your journey.
Equipped with a two-stage filtration system, a soft-touch water bottle, and a backwash syringe for effortless maintenance, this filtration setup ensures optimum performance. The collapsible nature of the soft-touch bottle allows for easy packing, fitting perfectly into any carry-on or luggage with minimal fuss.
The filtration process combines a hollow-fiber membrane, effectively removing waterborne bacteria and protozoan parasites, with a replaceable activated carbon capsule that elevates the taste, eradicates unpleasant odors, and reduces the presence of organic chemical matter such as pesticides and herbicides.
One added advantage is that the filter can be utilized with standard disposable water bottles, offering a backup solution in case the LifeStraw bottle happens to be misplaced during your travels. With all these features combined, this filtered water bottle is a must-have companion for any travel adventure, providing peace of mind and safe hydration wherever your wanderlust takes you.
Best Price
Astrea One Premium Stainless Steel Filtering Water Bottle
3.6
(2262 ratings)
$41.21
Enjoy bottled water quality with reduced chlorine and odor. Removes 20+ common tap water contaminants like lead, pesticides, and pharmaceuticals. Eco-friendly: Up to 80% cheaper than bottled water, one filter replaces 225 single-use plastic bottles.
Double-wall insulated
Sleek look
Delivers great tasting water
Only recommended for travel and everyday use
If you're on the lookout for a water bottle that complements your daily routine, offering both convenience and reliability, look no further than the Astrea filtered water bottle. Designed with lightweight and compactness in mind, this bottle proves to be a trustworthy companion, ensuring safe hydration throughout your day. Rigorously tested and certified, it effectively filters out over 20 common tap water contaminants, including lead, pesticides, hormones, chlorine, and zinc, leaving you with great-tasting water you can trust.
Crafted from BPA-free stainless steel, the bottle features double-wall vacuum insulation, keeping your water refreshingly cold throughout your busy and hectic schedule—a feature we absolutely adore. While it may not be the ideal choice for hiking and backpacking adventures, as its primary focus lies in filtering tap water contaminants, it excels in everyday use and general travel, making it the perfect partner for your regular activities.
Best Price
Katadyn BeFree Water Filter
4.7
(2262 ratings)
$41.99
With the Katadyn BeFree Water Filtration System, you no longer have to worry about where your next drink will come from. Just fill up the flask and let the EZ-Clean Membrane do the work. Let gravity do the work, or gently squeeze the flask for instant refreshment. Maintain the EZ-Clean Membrane quickly and easily for longer life and more enjoyment. Simply fill the flask with water, attach the cover and shake free the debris. Or, remove the filter from the flask and swish in any lake, river or stream. And when you're ready to hit the road, the collapsible flask packs small to fit into tight sp
Quick flow rate
Easy to use
Cap over mouthpiece to keep clean
Some complain of pinhole leaks
The Katadyn BeFree bottle stands out as our top choice for the best lightweight option due to its exceptional collapsible design. Unlike traditional water bottles, this filter comes in the form of a soft flask pack, which conveniently collapses to fit into the tightest and smallest spaces. Whether you're carrying a backpack, luggage, or purse, this bottle effortlessly conforms to your needs.Its hollow microfilter is extensively tested to exceed EPA standards, ensuring protection against harmful organisms, protozoa, and bacteria. This makes it a perfect companion for outdoor activities like backpacking and hiking, as it provides quick and efficient hydration in less than one minute. Thanks to its compact nature and swift filtering capability, the Katadyn BeFree bottle proves to be an indispensable asset during your adventurous outings.
Best Price
GRAYL Geopress Water Purifier
4.7
(3690 ratings)
$51.99
The 24 Fl Oz GeoPress Water Filter & Purifier Bottle removes ALL global waterborne pathogens (virus, bacteria, protozoa). As dirty water is pressed through the purifier media, electroadsorption permanently binds any waterborne pathogens. Multiple layers of ultra-powdered activated carbon then filter particulates and adsorb volatile organic compounds (VOCs), PFAS, chemicals, pesticides, heavy metals, flavors and odors.
Quick flow rate
Removes heavy metals
Easy to use
May be a little bulky Expensive
When it comes to your outdoor adventures like hiking, backpacking, or camping, look no further than Grayl's heavy-duty filtered water bottle. Designed to withstand the toughest conditions, it can handle drops of up to 10 feet, ensuring durability and reliability on your most extreme journeys.
Equipped with a trustworthy activated carbon filter, this water bottle efficiently removes waterborne pathogens such as Hepatitis A, E. Coli, Cholera, and more. It doesn't stop there – the filter also effectively eliminates particles like sediment and microplastics, as well as a wide range of chemicals, heavy metals, and pesticides.
Praised by enthusiasts, Slepian shares her experience with the bottle's user-friendly design: "The filter screws onto the bottom, and then you push a plunger and it filters the water. This removes the little floaties in water, so it's great for collecting water from outside sources," she says.
With just a simple fill, press, and wait for eight seconds, you'll have a refreshing 24 fluid ounces of safe and clean water. The Grayl GeoPress bottle, made from BPA-free plastic, not only meets but exceeds agency standards, making it an exceptional and reliable choice for even the most daring adventures. Get ready to conquer the great outdoors with the assurance of Grayl's heavy-duty filtered water bottle. Hydration has never been this easy, safe, and convenient.
Summary
In summary, the top filtered water bottles for 2023 present a variety of options to suit different needs. The LifeStraw Go Water Bottle stands out for its versatility, reliability, and ethical commitment. Brita's Stainless Steel Water Filter Bottle impresses with insulation and sleek design, while the budget-friendly Philips GoZero Active Water Bottle offers an innovative solution.
Outdoor enthusiasts may favor the lightweight Sawyer Products Squeeze Water Filtration System, while the tech-savvy may appreciate the self-cleaning feature of the CrazyCap UV Water Purifier & Bottle. The LifeStraw Flex Multi-Function Water Filter System caters to travel needs, and the Astrea One Premium Stainless Steel Filtering Water Bottle focuses on daily use.
For a lightweight option, the Katadyn BeFree Water Filter excels, and the heavy-duty GRAYL Geopress Water Purifier is ideal for extreme adventures. Ultimately, the best choice depends on your lifestyle, be it daily activities or outdoor exploration.
Affiliate DisclaimerAbout The Content
As an affiliate, we may earn a commission from qualifying purchases. We get commissions for purchases made through links on this website from Amazon and other third parties.