Your dinnerware set may not have included larger bowls for enjoying pasta, but proper pasta bowls can elevate your dining experience. These bowls are typically low and wide, accommodating generous portions of pasta. They are available in various materials such as china, ceramic, tempered glass, or melamine. Food and Meal have researched and tested best pasta bowls of 2023 to help you find the best options for enjoying saucy pasta dishes, salads, and more. Whether you're serving a family-favorite carbonara or homemade ravioli, we'll reveal the perfect pasta bowls for the job.
What to Look for in Pasta Bowls?
Materials
Pasta bowls come in a variety of materials, much like other types of dishware. You can find them made of stoneware, pottery, china, glass, melamine, plastics, and even wood and bamboo. It's important to note that the material doesn't necessarily indicate the quality of the pasta bowl. However, it's crucial to choose a material that suits your lifestyle, cooking habits, maintenance preferences, and personal taste.
In many sets of matching dishes, you may find a bowl or plate that is labeled as either "pasta" or "salad." However, the shape and utility of these bowls are usually quite similar. If your current dishware doesn't include a suitable bowl for pasta, and having matching dishes is important to you, take the time to explore different options until you find a pasta bowl that coordinates with your existing set. There is a wide range of styles available, ensuring that you'll find one that meets your preferences.
If you prefer using a dishwasher, make sure to select a pasta bowl that is dishwasher safe. Additionally, opting for a thicker and heavier dish will help retain the heat of your food slightly better. A pasta bowl made of a heavier material will keep your food warmer, although the difference may be marginal.
Color and Shape
If you aim to match your existing tableware, white pasta bowls are a versatile choice that harmonizes with any style and complements the food you serve. Additionally, various brands offer basic color options that provide a similar neutral appearance.
The timeless design of a pasta bowl carefully considers two fundamental elements found in most pasta dishes: noodles and sauce. Regardless of the noodle shape, which comes in a wide array, it's crucial to ensure that all the noodles come into contact with the sauce and blend harmoniously. The low and wide shape of a pasta bowl is ideal for achieving optimal sauce distribution. Moreover, the bowl's non-flat design helps contain the sauce, ensuring it stays cozy with the noodles without any spillage over the sides. Many individuals particularly appreciate pasta bowls with a wide and flat lip as it creates a visually pleasing frame for the food, adding an appealing touch to the presentation.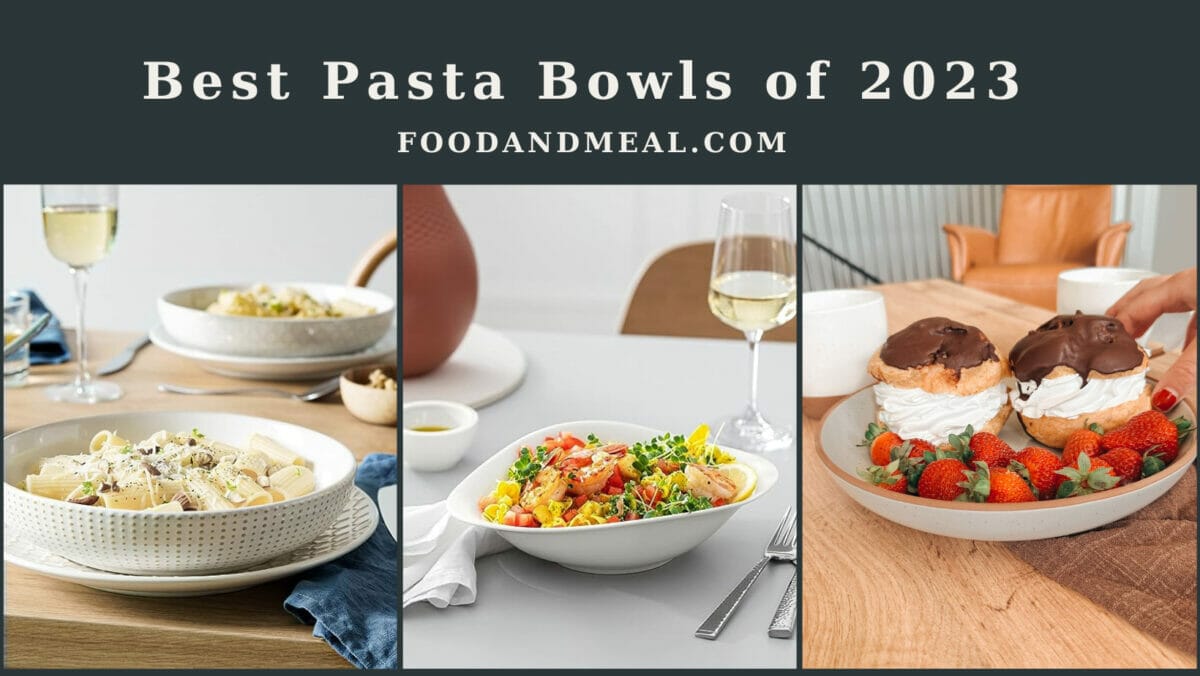 Size
Pasta bowls come in various sizes, ranging from under 20 ounces to much larger capacities. The middle-sized bowls serve a dual purpose, serving as both pasta serving bowls and elegant, large single-serving dishes, depending on your dining situation and the number of people you're serving.
The generally recommended serving size for pasta is around 2 ounces when dry, which translates to approximately a cup of cooked noodles. When you add sauce to the equation, this portion size is far from meager. However, even with a standard portion, there is an undeniable visual appeal in having the pasta and sauce delicately resting at the center of the dish, beautifully framed by the edges of a stunning pasta bowl.
Best Pasta Bowls of 2023
Best Price
Mora Ceramic Large Pasta Bowls
4.9
(2262 ratings)
$34.99
Mora is Latin for 'Pause', acting as a reminder to slow down in your amazing life. You are always being told to do more, to go faster, to be better, but it's time for you to slow down every once in a while and hit pause. Your Mora bowls can help you do that. Whether you are eating noodles, salad, or anything else, every time you use a Mora bowl it is a reminder to hit pause, give yourself some me time, and practice mindful eating.
Handcrafted and distinctive
Strikes a balance in size and shape
Coordinates with other handcrafted pieces
Can be placed in the oven
Won't blend well with all décor
Investment pricing
Indulging in good pasta calls for special dinnerware, and it doesn't get any more exceptional than these unique handcrafted ceramic pasta bowls from YomYomCeramics. Each bowl is a one-of-a-kind piece, meticulously made by hand, with glazed interiors and matte, metallic exteriors featuring raw and organic design schemes. Whether you're serving pasta, ramen, or vegetables, these bowls provide a delightful way to present your dishes. Moreover, they are completely safe to use in the dishwasher, microwave, and even the oven.
During our experience, we enjoyed a serving of cheese-filled ravioli from one of these bowls and appreciated the material's excellent grip, which prevented the food from sliding around. However, we should note that the "gritty" texture of the interior, while effective in securing the food, didn't provide the most pleasant sensation when using stainless steel utensils. Additionally, we found that placing the bowl on the top rack of the dishwasher was the best approach due to its curved edges.
While these bowls may not perfectly match most dishware, the question is whether that truly matters. They offer an elegant presentation and boast an intriguing aesthetic appeal—no two bowls are exactly alike. By incorporating these unique pieces into your table setting, you're not only enjoying their beauty but also supporting the talent and craftsmanship of a gifted ceramics artist.
Best Price
Fiesta 32-Ounce Pasta Bowl
With a capacity of 32-ounces and at a roomy 8.25" in diameter, this bowl is ideally sized for holding a hearty serving of Spaghetti and Meatballs or Chicken Alfredo, a salad as a main dish, a burrito bowl, and more.
Gorgeous color options
Generous capacity
The size and shape make it versatile
Retains heat well when microwaved
Thicker and heavier than other options
If you have a penchant for vibrant colors or are in search of pasta bowls to match your existing serving set, look no further. These pasta bowls are a perfect choice. If you're familiar with Fiesta dinnerware, you may already own other pieces that can be easily coordinated. These stackable bowls, which are particularly great for small spaces, come in an impressive range of colors – a total of 16 different shades. The options include neutral tones like white and gray, as well as bold and vibrant hues like purple and red. Crafted from porcelain china, these pasta bowls have received rave reviews from users for their generous size, holding up to 32 ounces each. Notably, they are microwave, oven, and dishwasher safe, offering convenient versatility.
During our testing, we were captivated by the stunning "Mediterranean-ish" turquoise color and the subtle striping adorning the interior and exterior of the bowl, which added an extra touch of visual appeal. Thanks to its robust construction, adaptability, and attractive design, this bowl became a go-to choice time and again.
While we primarily used the Fiesta pasta bowl for dishes like cheese-filled tortellini with spinach in olive oil, small fruit salads for two, and cereal with yogurt, its versatility extends beyond that. It would also work wonderfully for serving green salads, grain bowls, and chili. We even utilized it to present a delectable street corn salad for Cinco de Mayo and found that the ceramic material retained heat quite effectively when we microwaved leftover Chinese food.
Best Price
Le Tauci Pasta Bowls
rge openings, large capacity of 42 oz, provide satisfactory in large spaghetti bowl food, their width and large diameter means more space for the sauce of liquid scattered, or more space for solid food in a bowl of rice to eat, ceramic bowls can easily fit a solid and liquid food, suitable for salad, pasta and stews. At the same time suitable for family dinner, party, restaurant service.
Made of thick, quality stoneware
Chip- and crack-resistant stoneware
Large surface area makes them versatile
Retains heat well
May be too heavy for some people's taste
While these oversized pasta bowls have excellent heat retention, it's worth noting that some individuals might find them too heavy for their liking.
If you prefer dinnerware with larger dimensions and ample surface area, these shiny white ceramic pasta bowls are an excellent choice. With a capacity of 45 ounces, they are perfect for serving small pasta portions or larger individual servings of noodles without appearing comically large.
These bowls are a versatile option, particularly suitable for serving various types of food such as soups (especially ramen) or generously sized dinner salads. During testing, we even used them to serve fruit salad and pretzels at a toddler's birthday party.
Despite their generous capacity, the shallow silhouette of these pasta bowls maintains an elegant and refined appearance, avoiding any clunkiness. Crafted from thick and high-quality stoneware, they are resistant to chips and cracks, ensuring durability for everyday use. They can easily withstand cycles in the dishwasher and microwave, making them highly practical.
Best Price
Pottery Barn Cabana Melamine Individual Bowl
4.7
(1917 ratings)
$23.30
High quality heavy weight melamine bowls are perfect for everyday dining and for entertaining. Great for BBQs, summer fun, pool parties, and fiestas of all kinds. Use these small bowls for side dishes, dessert bowls, or for sauce, salsa or dip.
Durable for al fresco dining
Attractive color options
Perfect for pasta salad or snacks
Very easy to clean
On the small side
Not microwave-safe
When it comes to outdoor dining, durability is paramount for dinnerware. Whether you're transporting meals from the kitchen to your outdoor table or dealing with windy conditions, the risk of breakage is significantly higher. However, disposable options are not ideal due to their lack of eco-friendliness and sophistication.
Your best bet is melamine. These pasta bowls possess the same qualities as more refined ceramic options. While they may be slightly smaller than other bowls on the list, we found that they comfortably accommodate standard servings of pasta, oatmeal, and yogurt mixed with granola. They are also versatile enough to be used for items beyond warm pasta dishes, such as pasta salad. One notable difference is that they don't retain heat as effectively as ceramic bowls.
You can choose from two rich colors—stone or turquoise—that effortlessly complement a wide range of styles. Additionally, you have the option to complete your set with various companion pieces, including serving bowls, platters, salad plates, and dinner plates. These melamine bowls are dishwasher-safe (top rack), but like all melamine products, they are not recommended for use in the microwave.
Best Price
Corelle Winter Frost White 20-Ounce Bowl 6-Piece Set
Set of 8 bowls. Bundle and save! Break and chip resistant, made from our patented Vitrelle glass technology Space saving: lightweight and thin, yet extremely durable Microwave, dishwasher & oven safe Made in the USA
Long lasting Safe for the microwave, dishwasher, and oven
Great for everyday use
Doesn't coordinate with formal dining sets
You don't have to break the bank to find a quality pasta bowl set. If you're content with simple white options that don't feature elaborate designs or glazing, there are affordable choices available. This particular pasta bowl set offers excellent value for its price, with each bowl costing under $5 when purchased as a set on sale.
These pasta bowls have a standard 20-ounce capacity, providing ample space for a full serving of pasta and sauce, or even more. We found them to be highly practical for everyday use, perfectly shaped and sized for pasta dishes, as well as salads, snack plates, and burrito bowls.
Crafted from triple-layer strong glass, these bowls not only have an appealing appearance but also boast exceptional functionality and durability. They are lightweight, stackable, and highly resistant to chips and breaks. Furthermore, these bowls are microwave, oven, and dishwasher safe, adding to their convenience. Reviewers highly recommend this set, praising its ideal size and shape. Many attest to the fact that these bowls can last for years, despite their affordable price. Our testing confirmed this, as there were no marks on the finish after use or washing. One tester even noted that these bowls exhibited the same durability and resistance to breakage as other Corelle pieces they own.
Best Price
Villeroy & Boch Vapiano Pasta Bowls
4.8
(3452 ratings)
$57.93
As an official partner of Vapiano, Villeroy & Boch along with the restaurant chain can fulfil your wish. Enjoy your home-made dishes in the original Vapiano plates. Invite your friends over for a meal and surprise them by creating a proper restaurant feeling.
Generously sized
Beautiful design and shape elevate any table setting
Color coordinates with almost anything
Nesting design for easier storage
Can't buy singles
Take up width in storage cabinets
This delightful pasta bowl set consists of two bowls that are manufactured in Europe but readily available in the U.S. They are perfect for serving pasta and salads, and their gently curved oval design adds an eye-catching element compared to plain, round bowls.
Crafted by Villeroy & Boch, a renowned German manufacturer with a rich history spanning centuries, these bowls are made of lightweight yet sturdy porcelain. They can be easily cleaned in the dishwasher. However, due to their depth and curved oval shape, we found that they occupy a significant amount of rack space, making it a bit challenging to fit multiple bowls on a single rack. These bowls comfortably hold more than the standard 2-ounce serving of pasta, and the two low-curved sides facilitate easy transfer of noodles onto a fork. They would also be ideal for serving dishes like beef stew piled over buttered noodles or mashed potatoes.
In person, we adore the shape and design of these bowls, particularly the contoured sides, which enhance any table setting. It's important to note that these bowls may not be the most suitable choice for families with young children, as the shape might make them a bit challenging to carry and eat directly from.
Best Price
Denby White Square Pasta Bowl
Chic and stylish, the White by Denby Pasta Bowl is crafted from porcelain. Ideal for warm and cold salads, pasta dishes and desserts.
Feels sturdy without being too heavy
Neutral white matches anything
Great for salads and dips
Adding some variety to the table with dishes of different shapes can be a nice touch, and square pasta bowls can beautifully showcase the visual appeal of any pasta dish. Although these bowls have a smaller volume, their shape is quite pleasing.
The neutral color of this bowl caught our attention, as it easily complements other dishware. However, the sloped sides limit its versatility a bit—it's not the best choice for soups, cereals, or pasta dishes with heavy sauce, as filling the bowl to capacity can easily result in food spilling over the rim. With a capacity of approximately 18 ounces, this size might be better suited for salads, dips, or serving bread.
The Denby pasta bowl can be purchased individually or as part of a set, where all the dishes share the same square shape with slightly rounded corners. These bowls are oven and microwave safe, and they can be conveniently cleaned in the dishwasher.
Affiliate DisclaimerAbout The Content
As an affiliate, we may earn a commission from qualifying purchases. We get commissions for purchases made through links on this website from Amazon and other third parties.