Print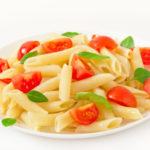 How to Cook Veggie Pasta Salad
---
Description
Most people tend to stock up on meat and other fatty foods at the end of summer since eating vegetables can be somewhat boring. However, this is only applicable if you tend to eat this in the usual way. And if you're a fan of salads somehow, then eating your favourite vegetables with a twist of pasta will work wonders for you.
Veggie pasta salad is very easy to make, aside from the fact that the ingredients are very flexible since you can also use other vegetables, too. Aside from the usual lettuce and tomato combinations, you can also use other crunchy veggies such as artichokes, olives and pine nuts. And if Rotini or Fusilli Pasta doesn't look appealing to you, you can also use plain spaghetti pasta or fettuccine instead.
---
Scale
Ingredients
16 oz

. Fusilli or Rotini Pasta

1

pc. Red Capsicum, small

1

pc. Orange or Green Capsicum, small

1

pc. Onion, big

6

–

7

pcs. Broccoli florets

1 cup

Eggplant, diced (optional)

¼ cup

Sun-dried tomatoes (optional)

1 cup

Artichoke hearts (optional)

1 cup

Pine nuts or Walnuts

½ cup

Green and Black Olives, sliced

½ cup

Olive Oil

1 tbsp

. Garlic, crushed

½ tbsp

. Black Peppercorns, freshly ground

½ tbsp

. Red Chili Flakes, crushed

4

–

5

pcs. Fresh Basil Leaves, chopped
Salt to taste
---
Instructions

Buddha bowl. Pasta salad with tuna, tomatoes, olives, cucumber, sweet pepper and arugula on rustic background .
Prepare the pasta first by cooking the rotini under the package instructions. Once done, drain the pasta and set it aside to cool for at least a while. However, you must make sure that it doesn't get sloppy.
Next, mix the diced onions and vegetables in a large bowl and coat it with some olive oil. Put the mix vegetables in a baking tray and toast it along with pine nuts or walnuts for at least 25 to 30 minutes. However, make sure that you get the nuts earlier since it gets cooked faster than the vegetables. After that, remove it from the tray and put it in two separate bowls.
Transfer the boiled pasta in a serving bowl and put ¼ cup of olive oil in it along with chopped pine nuts and olives. Add some crushed peppercorns and mixed vegetables and give it all a very good toss. Always remember that you should put a little salt since the vegetables and pasta are already salted earlier. Once done, serve it hot and enjoy its delicious taste.
Notes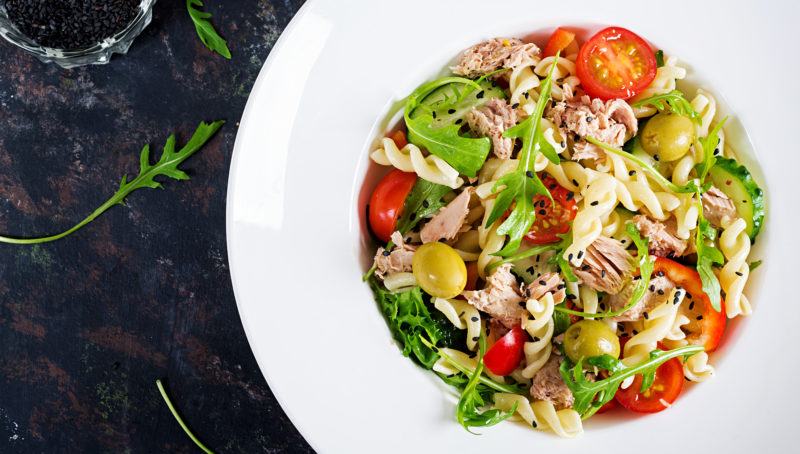 Pasta salad with tuna, tomatoes, olives, cucumber, sweet pepper and arugula on rustic background . Top view
Keywords: Veggie Pasta Salad