Grilling evokes images of cooking outdoors, enjoying warm weather, wearing shorts, and sipping a cool beverage. But what if you could capture that feeling even when it's not summer? That's where a good grill pan comes in. It allows you to create charred, caramelized flavors indoors.
When choosing a grill pan, there are important factors to consider: nonstick or cast iron, size, shape (round or square), oven compatibility, and the type of cooktop you have. Food and Meal have taken all of these into account and tested a range of grill pans to bring you the 7 best Grill Pans of 2023 option that suits your needs and preferences.
What to look for when buying a grill pan?
Materials
When searching for a new grill pan, the material it is made of is an important consideration. Here are the most popular material options:
| | |
| --- | --- |
| Cast iron | Cast iron is a common choice for grill pans because it can reach high temperatures and effectively retain heat. However, it requires seasoning to prevent rusting, making it slightly more challenging to clean and maintain. Nevertheless, cast iron is highly durable and excels at creating deep sear marks on your food. |
| Hard anodized aluminum | Hard anodized aluminum heats up evenly without quickly overheating. It is much easier to clean compared to cast iron. Some grill pans made from this material have a nonstick coating to prevent sticking. However, it's important to note that these nonstick surfaces are susceptible to scratching and should not be exposed to extremely high temperatures. |
| Enameled cast iron | This material offers all the advantages of cast iron, but with the added benefit of easier cleaning and maintenance. You can wash enameled cast iron without worrying about rusting. |
| Ceramic | Ceramic grill pans are another popular option due to their nonstick properties. They heat up quickly, but you should be cautious as they can overheat if left unattended. |
If you are considering a two-burner grill pan, it is essential to choose a material that heats evenly, such as cast iron. This helps prevent cool spots between the burners.
By considering the construction material of a grill pan, you can make an informed decision based on your cooking preferences and maintenance needs.
Care instructions
It's worth noting if the material of your grill pan is dishwasher-safe, as this makes for a much easier cleanup. Cast iron will require a scrub and cannot be placed in the dishwasher, while some hard anodized and nonstick materials are fine to put in the dishwasher, though we recommend hand washing to increase the pan's lifespan.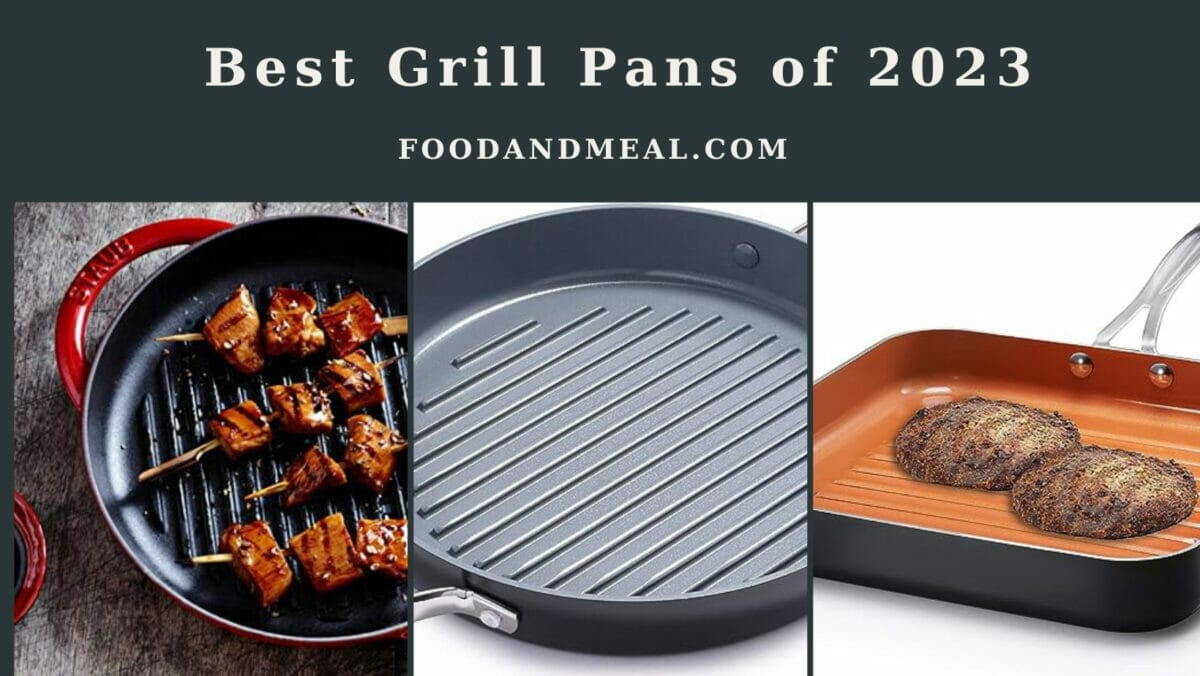 Size and shape
The size and shape of your grill pan play a crucial role not only in determining the cooking capacity but also in the weight and maneuverability of the pan. Here are some considerations regarding size and shape:
Cooking Capacity: The size of the grill pan determines how much food you can cook at once. Some pans are large enough to cover two burners, which is ideal if you need to cook a significant amount of food simultaneously. However, it's important to note that these longer pans have a higher tendency to become very hot and produce smoke, which may trigger your smoke alarm. Moreover, their larger size can make them more challenging to clean.
Heat Distribution: Round pans generally distribute heat more evenly, ensuring uniform cooking results. However, they might have a slightly smaller surface area for cooking. On the other hand, square pans provide more cooking space, but the edges may not heat as evenly as a round pan. Consider your cooking needs and preferences when deciding between round and square grill pans.
Dual-Sided Grill Pan: If you have limited space or want a versatile option, you can consider a dual-sided grill pan that features a griddle side in addition to the grill side. This allows you to explore additional cooking options and expand your culinary repertoire.
Handles
The material and handle design of a grill pan impact its usability. Cast iron handles get hot, so handle with heat protection. Metal and plastic handles stay cool, but plastic handles may not be oven-safe. Some pans have two handles for better balance with heavy pans, while others have one handle, making cleaning and maneuvering slightly more difficult. Avoid handle-less pans if swift handling is important to you.
Pour spout
 Pour spouts on the sides make it super easy to discard accumulating grease so that the food that you're cooking can achieve a deep sear, plus it makes it easier to clean and toss the fat after you're done cooking.
How to use a grill pan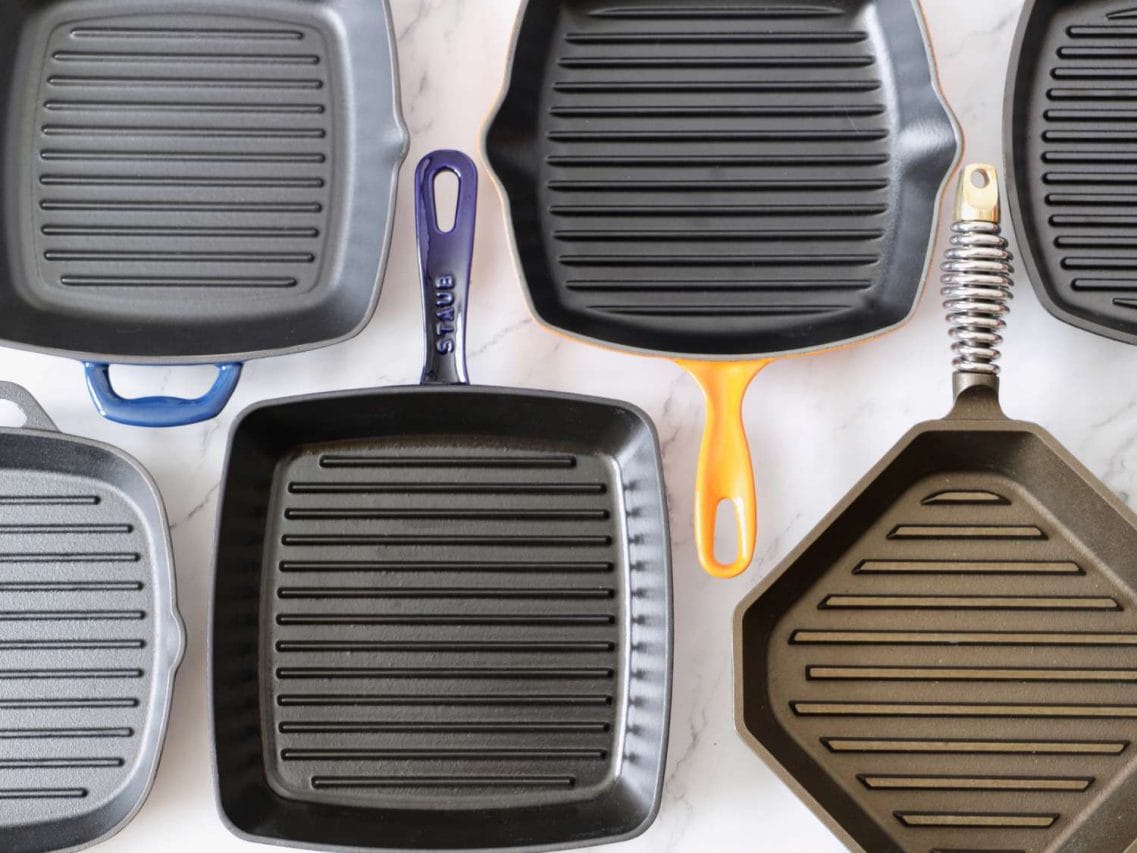 Using a grill pan is a straightforward process. Here's a step-by-step guide:
Preheat the grill pan: Place the grill pan on your stovetop over medium-high heat. Allow it to heat up for a few minutes until it becomes hot.
Prepare the food: While the grill pan is heating, season or marinate your food as desired. Ensure that the food is cut into appropriate sizes for even cooking.
Oil the grill pan: Lightly coat the surface of the grill pan with cooking oil or spray to prevent sticking. Use a brush or paper towel to spread the oil evenly.
Place the food on the grill pan: Carefully place the seasoned or marinated food onto the hot grill pan. Arrange the pieces in a single layer, leaving some space between them for proper heat circulation.
Cook the food: Allow the food to cook on one side for a few minutes until it develops grill marks and starts to release easily. Use tongs or a spatula to flip the food and cook the other side. The cooking time will depend on the type and thickness of the food.
Monitor the heat: Keep an eye on the heat and adjust it as needed to prevent burning or undercooking. Lower the heat if the pan is getting too hot, or increase it slightly if the food is not cooking evenly.
Remove the cooked food: Once the food is cooked to your desired level of doneness, carefully remove it from the grill pan using tongs or a spatula. Place it on a serving platter or plate.
Clean the grill pan: After the pan has cooled down, clean it by hand using warm soapy water and a sponge or brush. Avoid using abrasive materials that could damage the pan's surface. Rinse thoroughly and dry it completely.
Best Grill Pans of 2023
Best Price
Enameled cast iron reaches high temps and is easy to clean
Short handle makes pan comfortable to hold
Comes in an assortment of colors
Looking for a stylish and functional addition to your kitchen? Look no further than this Le Creuset pan. Crafted from durable enameled cast iron, it not only serves as a reliable cooking tool but also adds a touch of elegance to your countertop.
The pan features a convenient handle with an opposing loop handle, making it easy to maneuver and handle with precision. Its high ridges ensure deep sear marks on your grilled dishes, while the sloped sides enhance the grilling process. The addition of a pour spout adds to its convenience and makes pouring out liquids a breeze.
With its cast iron construction, this pan excels at reaching high temperatures and distributing heat evenly. The best part? It requires no special seasoning or cleaning methods, offering hassle-free maintenance. It is compatible with various stovetops, including induction, gas, electric, and ceramic, and can also be safely used in the oven.
Weighing in at seven pounds, it provides substantial heft, but the short handle design helps balance the pan and ensures comfortable handling. Moreover, Le Creuset backs this pan with a lifetime warranty, showcasing their commitment to quality and durability.
Available in a range of rich, glossy colors like teal and bright orange, this Le Creuset pan combines functionality, style, and longevity, making it a perfect centerpiece for any kitchen.
Best Price
Offers both grill and griddle
Budget-friendly
Spacious square shape
Heavy
Requires diligent maintenance
If you're looking for a heavy-duty grill pan that delivers impressive grill marks and versatility, this option has got you covered. Made of cast iron, it requires a bit more maintenance but rewards you with excellent searing capabilities.
This grill pan offers exceptional performance while remaining budget-friendly. With its square shape measuring 10.5 inches, it maximizes surface area, allowing you to cook more food at once without overcrowding nearby burners. The pre-seasoned cast iron heats up rapidly and retains heat effectively, and our experts were particularly impressed by its ability to reach high temperatures during testing.
Weighing in at six and a half pounds, this pan is slightly heavier than some competitors, but it remains manageable and practical. It's perfect for outdoor activities like camping and can be used directly on the grates of your backyard BBQ. The pan features one long handle for easy maneuvering, while the smaller handle comes in handy for cleaning and scrubbing. Remember to always use heat protection when grasping the handles, as they can get extremely hot.
With its impressive cooking performance, durability, and the added convenience of the smaller handle, this grill pan is a reliable choice for a variety of culinary needs. Whether you're searing steaks or preparing a barbecue feast, this pan won't disappoint.
Best Price
Gotham Steel Aluminum Grill Pan
4.4
(1786 ratings)
$19.30
Brand: GOTHAM STEEL
Material: Aluminum
Special Feature: Induction Stovetop Compatible
Color: Brown
Capacity: 10.5 Ounces
Budget-friendly
Easy to clean
Nonstick surface
If you're looking to try out a grill pan without breaking the bank, the aluminum grill pan by Gotham Steel is a fantastic option. It's lightweight, weighing less than two pounds, making it easy to maneuver around your kitchen. Unlike cast iron pans, this aluminum pan requires less maintenance and is a breeze to clean.
The Gotham Steel grill pan is oven-safe up to 500°F and dishwasher-safe, offering convenience in both cooking and cleanup. However, please note that it's not compatible with induction stovetops. Its square shape is designed to fit perfectly on a single burner, allowing you to cook up to four burgers at once.
One notable feature of this pan is its brown interior, which makes it easier to spot any remaining burnt bits or stuck-on food when cleaning. Although it may not create deep charred grill marks like a cast iron pan, it still delivers excellent grilling results. Gotham Steel is renowned for its cookware that heats quickly and provides an "ultra nonstick" surface, which our experts appreciate.
With its affordability, lightweight design, and reliable cooking performance, the Gotham Steel aluminum grill pan is an excellent choice for those new to grill pans. Whether you're searing steaks or grilling vegetables, this pan will serve you well.
Best Price
Lightweight
Easy to clean
Dishwasher-, oven- and broiler-safe
Ceramic can overheat quickly
If you're looking for a grill pan that's lighter and easier to maintain than a massive cast iron, this hard anodized ceramic nonstick grill pan is a fantastic option. It provides convenience without compromising on performance.
The pan is not only oven- and broiler-safe but also metal utensil-safe, making it durable and versatile. Cleaning is a breeze as it is dishwasher-friendly. The round surface area heats up quickly, and the side handles are designed for easy gripping, making maneuvering effortless (remember to use mitts as they can heat up).
While the ceramic nonstick coating ensures easy cleaning, it's important to note that it can overheat quickly, making it less ideal for cooking thicker cuts of steak. However, you have the option to purchase a fitting glass lid separately to enhance its capabilities. During testing, our experts were impressed by the grill marks it achieved on the food, and the round shape adds to its appeal. Additionally, this pan is induction stovetop-friendly, providing worry-free compatibility. Weighing in at two pounds, it offers a lightweight solution that doesn't strain you while moving it around.
If you're looking for a lighter alternative that still delivers excellent grill marks and offers the convenience of ceramic nonstick, this hard anodized ceramic nonstick grill pan is an ideal choice. Its performance, compatibility, and manageable weight make it a practical addition to your kitchen.
Best Price
large square design with a lot of surface area
Nonstick
Easy to clean
Handle is thin and does not have smooth, rounded edges
Not induction-safe
Nonstick pans are a popular choice among many cooks due to their easy cleaning and user-friendly nature, not to mention the potential to use less oil compared to other materials.
When it comes to grill pans, the nonstick option from All-Clad is a reliable pick. During testing, we noticed that food stayed in place well on the pan, unlike some other nonstick surfaces. Its sturdy construction was also appreciated. Made from hard, anodized aluminum, this pan is both durable and scratch-resistant. It features wide ridges that create distinct grill marks, offering a satisfying grilling experience. In fact, our tests revealed that this pan produced more pronounced grill marks compared to other nonstick options.
While being lightweight compared to cast iron, this pan can still handle high temperatures and is a breeze to clean. Its square shape allows for efficient use of cooking space. The stainless steel handle provides easy maneuverability and stays relatively cool to the touch, unlike cast iron handles. However, we did find that its thin design with defined edges made it slightly challenging to hold and balance. Please note that this pan is not compatible with induction stovetops and should be used on gas or electric burners.
If you're looking for a nonstick grill pan that combines durability, excellent grill marks, and easy maintenance, the All-Clad nonstick option is a great choice. Its reliable performance and user-friendly features make grilling a hassle-free experience.
Best Price
Sleek design and color options
Slim with easy-to-grab handles
Durable cast iron material
When it comes to enameled cast iron, Staub pans stand out for their durability, sleek appearance, and seasoned matte interior. With its round shape and 10-inch diameter, this pan offers ample cooking area. The rounded handles are easy to grip, although they can become hot during use.
Despite its large handles, this compact grill pan doesn't interfere with other pans on nearby burners. During testing, we observed that the high ridges on the pan effectively allowed juices to drip away, creating noticeable grill marks. However, it lacks a convenient pour spout for discarding residual liquids.
One of the highlights of this pan is its attractive design, available in a variety of vibrant colors to add flair to your kitchen. The coating is resistant to rusting and cracking, eliminating the need for additional seasoning like some other cast iron pieces. Our experts appreciate the quick cooking performance, ability to reach high temperatures, and overall sturdiness of this pan. While cleaning may require a bit more effort compared to nonstick or aluminum pans, the durability and superior heat capabilities of cast iron make it well worth it.
If you're seeking an enameled cast iron grill pan that combines style, functionality, and long-lasting performance, Staub pans are an excellent choice. Their seasoned interior, generous cooking area, and reliable construction make them a reliable companion in the kitchen.
Best Price
Sleek design and fun colors
Cast iron can get super hot
Large size
Prepare a feast for your dinner party with this generously sized grill pan. If you prioritize entertaining and cooking large quantities of food at once, a sturdy pan with ample surface area is essential. This enameled cast iron pan not only boasts durability but also adds a touch of elegance with its wide range of vibrant color options. Choose from unique shades like olive green or ocean blue to make it a standout centerpiece in your kitchen.
Designed to accommodate induction stovetops, this large rectangular pan allows you to cook multiple large steaks or burgers simultaneously. It can be placed over a single burner with some overhang or fits perfectly on the long oval burner found on many stoves today. Our experts found it to be an excellent fit on the middle burner, appreciating the spacious cooking area it provides. Despite its size, this pan weighs a manageable seven pounds, making it surprisingly light.
While the side handles may not offer the quick grab convenience of a long handle, they prove to be useful during handling and cleaning tasks. It's important to note that they can become hot during use, so always use mitts or protective gloves for safety.
For those seeking a grill pan that combines functionality, style, and a large cooking capacity, this enameled cast iron option is an excellent choice. Its durable construction, wide range of colors, and compatibility with induction stovetops make it a versatile and attractive addition to any kitchen.
Affiliate DisclaimerAbout The Content
As an affiliate, we may earn a commission from qualifying purchases. We get commissions for purchases made through links on this website from Amazon and other third parties.