Brewing coffee at home saves money and allows for a perfected recipe. Factors like the coffee maker, brewing temperature, bean type, and freshness affect the flavor. Grinding beans just before brewing ensures maximum freshness and allows control over the grind size, which impacts taste. Coffee makers with built-in grinders are convenient for drip coffee, but a separate grinder accommodates various machines with different grind needs. Best coffee grinders of 2023 are chosen based on accuracy, consistency, noise level, and ease of use through testing conducted by Food and Meal.
What to look for when buying a coffee grinder
Type
| | |
| --- | --- |
| Blade grinders | Unlike traditional coffee  appliances, it designed with non-stick surfaces and easy-to-dismantle parts, making them a breeze to clean either by hand or in a dishwasher |
| Burr grinders | Like pepper mills, offering precise grind control for balanced taste. They are larger, louder, and pricier than blade grinders. |
| Manual grinders | There are budget-friendly but require more effort and time. They function like pepper mills, and though quiet, have a smaller bean capacity and need more manual labor. |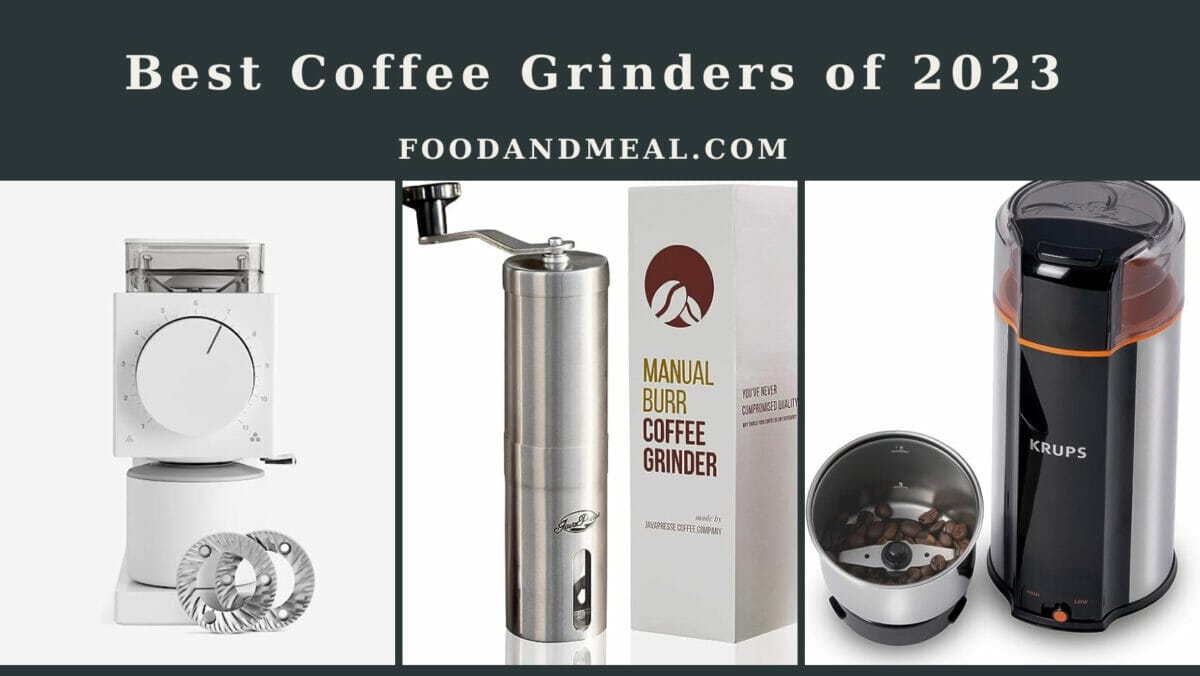 Hopper Size
Burr grinders feature hoppers where you can store your whole beans, while blade grinders do not. If you prefer to load your grinder less frequently, opt for a burr grinder with a larger hopper. However, some coffee enthusiasts argue that beans retain freshness better when stored in a cool, dry cupboard away from light. Hoppers vary in capacity, with most holding around 1/2 to 3/4 pounds of beans.
Settings
Burr grinders offer various settings, but for most coffee drinkers, fine, medium, and coarse settings are sufficient. These settings produce different grounds suitable for espresso, drip, and cold brew coffees. Blade grinders, on the other hand, do not have specific settings. Instead, you adjust the grind size by processing the beans for a longer or shorter duration, depending on your desired outcome.
Best Coffee Grinders of 2023
Best Price
OXO Brew Conical Burr
4.7
(16190 ratings)
$99.95
Because the best coffee starts from the grounds up, we created the OXO Brew Conical Burr Coffee Grinder to help your beans unlock their full potential. The design is simple, so nothing stands between you and your first cup. Just add beans and choose from 15 grind size settings—from fine for espresso to coarse for French press—then turn the dial to select grinding time and push to start.
Produces even grounds
Hopper holds up to 3/4 pounds coffee beans
UV-blocking tint and airtight lid help preserve the freshness of the coffee bean
Oily beans may clog grinder
Our testing experts were thoroughly impressed with the performance of the OXO burr grinder. It consistently produced even and precise grounds across various settings, making it suitable for espresso, cold brew, and everything in between. Among the coffee grinders we tested, the OXO model boasted the largest hopper capacity, accommodating up to 3/4 of a pound of coffee beans. The hopper is equipped with an airtight lid and UV-blocking tint, ensuring optimal freshness preservation for the beans.
Operating the grinder is a breeze, as it features a simple touch-button interface. The grounds are conveniently collected in a stainless steel container that effectively combats static. This container is equipped with a lid featuring a strategically placed hole, allowing for mess-free transfer of the grounds into a coffee filter. Moreover, the lid helps prevent grounds from scattering during the grinding process. Once the grounds are emptied, the container can be securely clicked back into place, preparing it for the next batch. It is worth noting that some online reviewers have mentioned that this machine may experience clogging when using very oily beans, but aside from that, it performs admirably.
Best Price
Bodum Bistro Burr Coffee Grinder
4.1
(7381 ratings)
$89.99
The Bodum Bistro Electric Burr Coffee Grinder with adjustable grind is our premier coffee grinder. Our conical burr crushes beans as opposed to slicing them (with your typical blade grinder); ensuring consistency, while preserving the bean's intrinsic flavor and aroma.
Produces even grounds on different settings
Lid gives suggestions on how long to grind beans
Easy to shake grounds in a filter or scoop out from the container
Coffee grinder needs to rest between each 20-second grind
Bodum's burr coffee grinder stands out with its clear labeling, ensuring you know exactly which setting to use. The airtight plastic lid features an etched chart that provides guidance on grinding time based on the type and quantity of coffee being brewed. With a simple turn of the 7.75-ounce hopper, you can select one of the 12 grind settings. The angled design of the hopper allows beans to flow smoothly into the grinder. In our tests, the Bodum Burr Coffee Grinder delivered consistently even grounds on the fine, medium, and coarse settings, each exhibiting noticeable differences in size, making it perfect for espresso, drip coffee, French press, and cold brew preparations.
This grinder features a timer that allows grinding for up to 20 seconds. However, it's important to note that the instructions recommend a 5-minute rest period between each 20-second grind. The glass container of the grinder includes a lid that effectively prevents grounds from scattering. The lid remains securely in place during shaking grounds into a filter and is easy to remove for convenient coffee scooping. The grounds container is equipped with a rubber grip for enhanced handling, and it effortlessly slides in and out of the holder for user convenience.
Best Price
Hamilton Beach Fresh Grind
Because it's removable, the durable grinding bowl is also easy to fill with coffee beans and makes it easy to pour ground coffee after grinding. The electric coffee grinder grinds enough coffee to brew up to 12 cups. It's simple and intuitive to use whether you're new to whole bean coffee grinding or have been grinding your own beans for years. Just place the lid on the grinder and press the button to grind coffee and release to stop grinding.
Grinds coffee beans evenly
Clear lid makes it easy to check how beans are grinding
Hidden cord storage
Grinds stick to side of the container
While blade grinders are generally more affordable than burr grinders, the Fresh Grind Electric Coffee blade grinder from Hamilton Beach offers impressive performance at an affordable price point. It effortlessly grinds up to 9 tablespoons of coffee beans quickly and evenly. Operating the grinder is a breeze with its single-button functionality. The clear lid allows you to monitor the grinding process, and the removable grinding container makes it convenient to transfer the grounds to a coffee filter. The only minor drawback is that static may cause some grinds to stick to the sides of the container.
Our experts were particularly pleased with the inclusion of 6-, 10-, and 12-cup coffee ground markings on this blade grinder. This unique feature helps users gauge the amount of coffee needed for a specific pot size, providing added convenience. Additionally, the hidden cord storage around the base allows for neat organization, minimizing cord clutter when the grinder is not in use. The brand also suggests that this grinder can be used for spices, although we generally recommend using separate grinders for coffee and spices to maintain flavor integrity.
Best Price
Fellow Ode Brew Grinder Gen 2
4.1
(2381 ratings)
$345.00
With a unique two-stage grinding geometry, Gen 2 Brew Burrs produce a sweet, balanced, complex cup with enough clarity to respect the coffee. Whether you're a light roast drinker looking to increase extraction yield, or a medium and dark roast lover seeking rich chocolate and toffee notes, these burrs have something for everyone.
Lid has grind settings for various types of coffee drinks
Produces accurate coarse and medium coffee grounds
Hopper has a large opening for easy filling
Grinds stick to side of the container
The Ode Brew Grinder Gen 2 catches the eye with its sleek and minimalist design, complemented by a modern matte finish. During our tests, we found it to be remarkably user-friendly. What stands out is the lid, which conveniently displays the various grind settings for Aeropress, pour-over, drip coffee, and more. This feature eliminates the need to consult the instruction manual, making it a breeze to find your desired grind setting.
According to the brand, this coffee grinder is specifically engineered to provide a single dose of grounds at a time, maximizing the freshness of your coffee. It is an ideal choice for those who prefer freshly ground coffee every morning. However, if you prefer grinding in bulk, this grinder may not be the most suitable option for you.
Our experts observed that the medium and coarse grind settings of the Ode Brew Grinder Gen 2 were accurate and consistent. However, when it came to the fine grind setting, the results were less precise and consistent. Each batch of beans yielded a mixture of coarse, medium, and fine grounds in varying ratios. It is worth noting that the brand states that this machine is not designed to produce fine grounds for beverages like espresso.
We were pleased with the easy-to-fill hopper, featuring a spacious opening. Additionally, the grinder impressed us with its strong magnetic base, which securely held the grounds cup in place. The hopper has a capacity of up to 100 grams of beans, making it sufficient for a 10-12 cup drip coffee maker if you use one tablespoon of ground coffee per cup. Furthermore, its compact height makes it convenient to store under cabinets without hassle.
Best Price
Krups Ultimate Silent Vortex
4.6
(66666 ratings)
$54.99
It is called the ULTIMATE grinder, because it is a kitchen tool you will reach for three times a day. In the morning, easily and quietly grind fresh coffee in less than 15 seconds for the perfect morning brew
Grinds up to 12 cups
Small footprint
Grind container is dishwasher safe
Does not have grind size settings
The Krups Silent Vortex Electric Grinder proved to be the most noise-reduced blade grinder in our testing, although not completely silent. Its operation emitted a muffled sound, which would be advantageous for individuals in households with sleeping members or those residing in apartments with thin walls.
In addition to its quiet performance, this grinder efficiently produced consistent grounds and had the capacity to grind enough coffee for up to 12 cups. However, it is important to note that it lacks specific grind size settings. As a result, you will need to carefully monitor the grind time to achieve your desired grind size.
The compact size of the Krups Silent Vortex Electric Grinder makes it especially suitable for apartment dwellers with limited counter space or storage options. The grind container, made of stainless steel, is dishwasher safe for easy cleaning and is equipped with a lid to maintain the freshness of any remaining coffee grounds.
Best Price
Capresso Infinity Plus Conical Burr Grinder, White
Grinding fresh whole beans right before brewing is the first step to achieving the best tasting coffee. The Infinity PLUS offers precision grinding for any brewing method, including Turkish, espresso, drip coffee, French press, pour-over brewers, percolators and cold brew.
16 grind settings
Clearly labeled to grind 1 to 12 cups
Container has minimal static
Not as intuitive to use as others
The Capresso Infinity Plus Conical Burr Grinder stood out as the quietest burr coffee grinder in our testing. Similar to the Krups, our quietest blade grinder, the Capresso emitted a noticeable low, muffled sound during operation. This feature makes it an excellent choice for those seeking a quieter grinding experience.
With 16 grind settings, the Capresso Infinity Plus offers versatility and precision. The clearly labeled markings make it easy to select the desired grind size. Additionally, the grinder features a convenient dial that allows you to adjust the grind quantity, ranging from enough beans for 1 to 12 cups of coffee.
The hopper of the Capresso Infinity Plus has a capacity of up to 11 ounces of coffee beans, while the removable grounds container can hold 4 ounces of ground coffee. The wide mouth of the grounds container minimizes static, making it easy to pour the grounds into a coffee filter. Moreover, the ergonomic design of the container allows for effortless removal from the housing with just one hand.
Best Price
Baratza Virtuoso+
.The Baratza Virtuoso grinder that has been loved for years and years just got even better! The Virtuoso+ now includes a digital timer that offers easy and repeatable dosing.
Can grind directly into a portafilter for espresso
Easy to use
Requires a few extra steps to set up
Baratza is a renowned brand highly regarded by coffee enthusiasts, and it's easy to understand why. The Baratza grinder offers an impressive range of grind sizes, precisely 40 in total. Its interface is user-friendly, featuring a single button and a digital timer display. According to the brand, this grinder incorporates a unique feature that automatically adjusts the grind speed to prevent overheating of both the machine and the beans. This allows for continuous grinding without the need to wait for the machine to cool down between batches. During our home tests, we ground multiple batches of coffee without experiencing any issues with heat.
Consistency is a key strength of the Baratza grinder. It consistently produced fine, medium, and coarse grounds with noticeable differences, ensuring precision in grind size. Additionally, the container remained static-free, preventing coffee grounds from scattering during the grinding process. While setting up the machine may require a few additional steps, such as attaching a gasket and the hopper, once it's set up, the grinder is straightforward to use. Espresso enthusiasts will appreciate the convenience of being able to grind coffee directly into a portafilter. The large and easy-to-read digital display timer is another feature we appreciated during testing.
Best Price
JavaPresse Manual
4.3
(23571 ratings)
$38.95
he Manual Coffee Grinder by JavaPresse Coffee Company has a built-in adjustable ceramic burr with over 18 manual grind settings to ensure you have 100% precision & control over the coarseness of your grind. This hand coffee grinder is great for all brewing methods to enjoy the perfect cup of fresh coffee and espresso in the morning.
Does not require electricity
Extremely quiet
User-friendly grinding handle
Requires more work than an electric grinder
If you prefer grinding coffee without electricity or are seeking a budget-friendly alternative to an electric burr grinder, the JavaPresse Manual Coffee Grinder is a fantastic option. Despite requiring manual cranking to grind coffee beans, we found it to be the top performer among the manual coffee grinders we tested.
One standout feature of the JavaPresse grinder is its user-friendly handle. It boasts an ergonomic design that is easy to use, and we found it to be the most comfortable handle among the manual grinders we evaluated. Importantly, the handle did not slip during our testing, ensuring a secure grip.
Controlling the grind settings is a breeze with the JavaPresse grinder. It features a dial located at the bottom of the grinder, similar to some pepper mills, allowing for easy adjustment of the grind size. Additionally, we appreciated the viewing window on the container, which allowed us to monitor the coffee grounds as we ground them.
Summary
In summary, the top coffee grinders of 2023 offer a variety of choices to meet different needs. The **OXO Brew Conical Burr** impresses with its simplicity and precise grinding. **Bodum's Bistro Burr Coffee Grinder** stands out for clear labeling and versatility. The budget-friendly **Hamilton Beach Fresh Grind** offers easy operation.
For a premium option, the **Fellow Ode Brew Grinder Gen 2** boasts a sleek design and grind settings for freshness. The **Krups Ultimate Silent Vortex** provides a quiet grinding experience. The **Capresso Infinity Plus Conical Burr Grinder** excels in quiet operation and precision.
The **Baratza Virtuoso+** is renowned for consistency and a broad grind size range. The **JavaPresse Manual Coffee Grinder** is a top choice for those preferring a manual, electricity-free option. The best grinder depends on individual preferences, whether for simplicity, precision, quiet operation, or manual grinding.
Affiliate DisclaimerAbout The Content
As an affiliate, we may earn a commission from qualifying purchases. We get commissions for purchases made through links on this website from Amazon and other third parties.