People who are working inside company offices are usually too busy to eat. Because of this thing, most of them are skipping necessary meals, thereby resulting in lesser productivity. This is the reason why companies nowadays now have snack times, permitting their employees to eat at these times.
Usually, when we say healthy snacks, people often think of junk foods such as potato chips and the like. Though junk foods can suppress hunger temporarily, eating those on an everyday basis isn't recommended. They don't contain nutrients and are too salty, food experts say.
So instead of piling up your office table with junk foods, you can just bring foods that are listed below. These foods not only suppress hunger but are also known to be a healthy snack as well.
Recommend:
top 5 Healthy Snacks
1.Fresh vegetable slices with dip
Instead of junk foods, you can just bring sliced carrots, zucchinis and lettuce along with your choice dip such as low-fat mayonnaise or salsa. Not only are those vegetables very delicious; they are also healthy and their crunch is somewhat enjoyable.
Fresh tomato and sliced cucumber isolated on white background with clipping path, vegetable salad ingredients
 
2. Crispbread with cottage cheese
To those who didn't know, crispbreads can be comparable with crackers but are usually multi-grained, therefore making it heavier than junk foods. Cottage cheese can also be added for additional taste. If you don't like cottage cheese, you can also put meat slices, nut butter or jam as a substitute.
3. Rice Cakes – Best Healthy Snacks
Unknown to most people, rice cakes are not only delicious, they are also packed with carbohydrates. In addition to that, the plain one compliments with vegetables along with some cottage cheese and fruits along with some honey.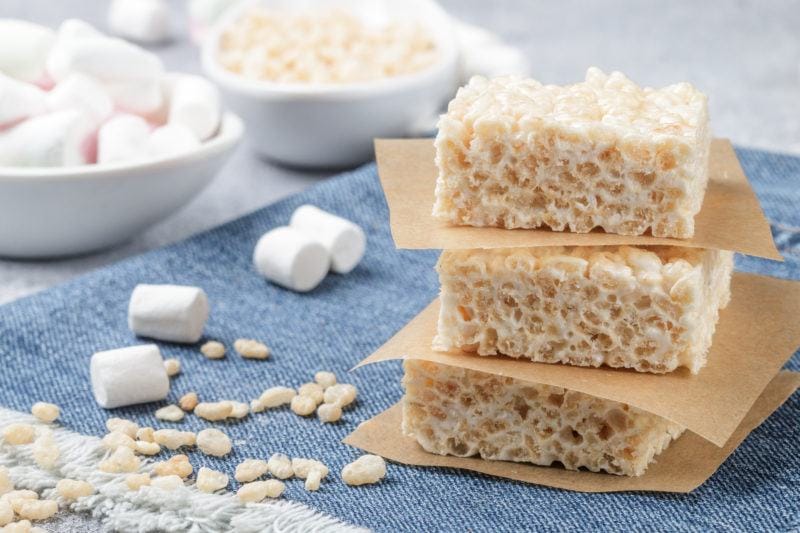 Homemade bars of Marshmallow and crispy rice and ingredients on the table. American dessert. Selective focus
4. Salad
What is healthier than fruit or vegetable salad itself? Aside from the fact that they are both delicious, salads of any kind are also known to be nutritious. As we all know, this is the usual choice for vegans and vegetarians alike. However, always make sure that you watch out for too much sugar in your fruit salad and too much mayonnaise or Caesar sauce in your vegetable salad.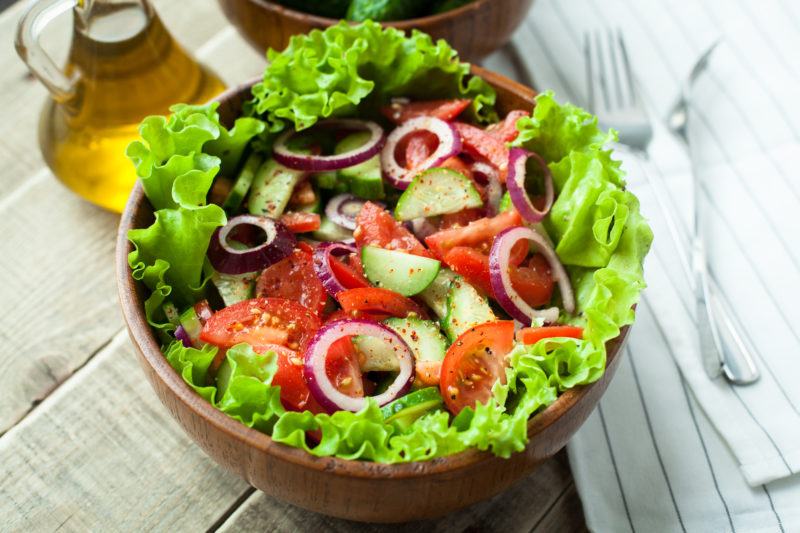 Rustic salad of fresh tomatoes, cucumbers, red onions and lettuce, dressed with olive oil and ground pepper in a wooden bowl. Top view.
5. Fresh fruits and nuts
Most food experts say that the best and most delicious foods are those which tend to be the simplest of them all. Nuts are a perfect snack so you must not forget to put some in your office drawer. You can also bring some ripe fruits such as apples, oranges and pears for a change.
Healthy Snacks for Kid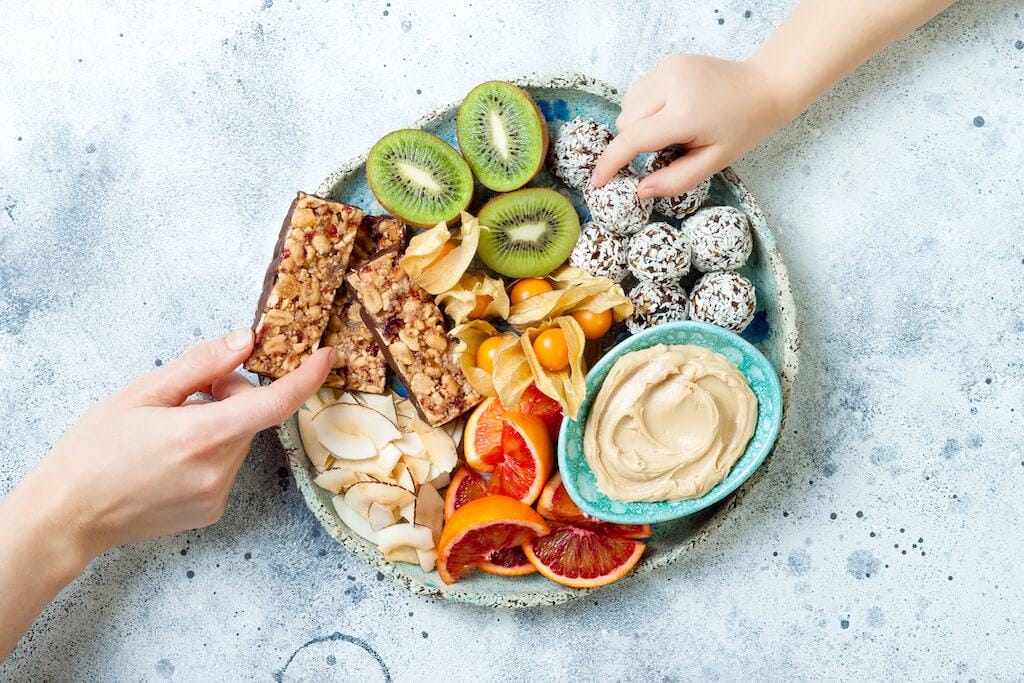 Most packaged snacks for kids are packed with refined flour, added sugars, and artificial ingredients. This is the perfect time to sneak extra nutrients into your child's diet. Besides fruit, you can also make your own healthy snacks with whole grains and legumes. Yogurt is also a great snack for kids because it is rich in calcium and protein, and some varieties contain live bacteria. Using a blender to make your own yogurt is an excellent way to get your child's daily dose of nutrients.
Many fruits and vegetables are also healthy snacks. Bell peppers, for example, are naturally sweet and are rich in fiber. They also have carotenoids, which provide multiple health benefits. Avocados are a good source of vitamin C, while guacamole is an excellent source of antioxidants. nut butters, such as almond butter, can also be spread on whole grain crackers. These snacks are a great way to get the nutrients your body needs.
While you are shopping for healthy snacks for your child, check the nutrition labels carefully. You may want to opt for a brand with less added sugar. Some brands of snacks are healthier than others. Some people also like to snack on fresh fruit. Another healthy snack idea is a turkey and avocado roll-up. It contains a high amount of protein and is easy to make. Besides, it is delicious and can keep your child satisfied between meals.
Tuna and eggs are two of the healthiest snacks you can eat. Combined with raw veggies, they have seven grams of protein. It also increases your fiber without adding any calories or fat. A snack like this is also great for people who love their mornings. For breakfast, try scrambled or fried eggs. If you're too lazy to cook, consider buying a few hard-boiled eggs.
If you're looking for healthy snack ideas for your child, you can also try a couple of healthy snacks. A tuna and egg sandwich contains 7 grams of protein and 107 calories, and is an excellent snack for kids. It also contains lycopene, which can help prevent certain cancers. A healthy snack is the perfect choice for your child. When choosing a healthy snack, keep in mind that you should not only eat what your child enjoys, but it should also be nutritious and filling.
Having healthy snacks in your house is important. You need to choose snacks that are high in protein and fiber. Moreover, you need to check the label of the food. Read the ingredients before buying it. Ensure that the ingredients are not artificially processed. You can also choose whole-grain crackers. In this way, you'll be able to satisfy your sweet tooth while at the same time reducing your risk of diabetes.
When choosing healthy snacks, you should choose whole-grain versions. This will prevent the body from craving junk food later. Besides, whole-grain crackers are usually healthier than refined flours. They have no added sugar and are full of fiber. So, choose a healthy snack for your child today. It's a great time to start a new habit. So, let your children get excited about healthy eating.
Among the healthy snacks, apples are a great choice. They are low in calories and packed with fiber, protein, and carbohydrates. In addition to apples, apricots also contain low amounts of saturated fat and cholesterol and can provide a good source of Vitamin A and potassium. Alternatively, you can try guacamole and almond butter, which are low in saturated fat and are free of trans-fats.
The content of this microsite on healthy snacks for kids is adapted from the National Heart, Lung, and Blood Institute. It was created by the Office of Disease Prevention and Health Promotion to share knowledge about healthy snacking with children. The microsite also includes recipes and information from other sources. These tips are helpful for everyone. You can make your own healthy snacks and enjoy them whenever you like. And if you're like me, it's easy to eat these healthy snacks for your kids when you need them.
Homemade snacks are another healthy option. You can make a healthy snack mix with unsalted nuts, seeds, dried fruit, and popcorn. You can also prepare your own snacks by making them in advance and storing them in containers that you can re-use. You can also make your own homemade snack mixes by combining nuts, whole grains, and fresh vegetables in reusable containers. Moreover, you can mix yogurt with nut butter and whole grain crackers. Lastly, if you don't have the time to prepare the dishes, you can dip these into a low-fat yogurt sauce.
Affiliate DisclaimerAbout The Author
As an affiliate, we may earn a commission from qualifying purchases. We get commissions for purchases made through links on this website from Amazon and other third parties.