Hello there, JaimeInez here! I'm thrilled to welcome you back to Food and Meal, where we celebrate the joy of cooking and the love for food. Today, I'm excited to share with you my recent culinary adventure with a delightful Filipino dish – the Leyte Baked Scallops. This journey has been nothing short of amazing, and I can't wait to dive into the details with you. So, let's embark on this gastronomic exploration together!
Leyte Baked Scallops Recipe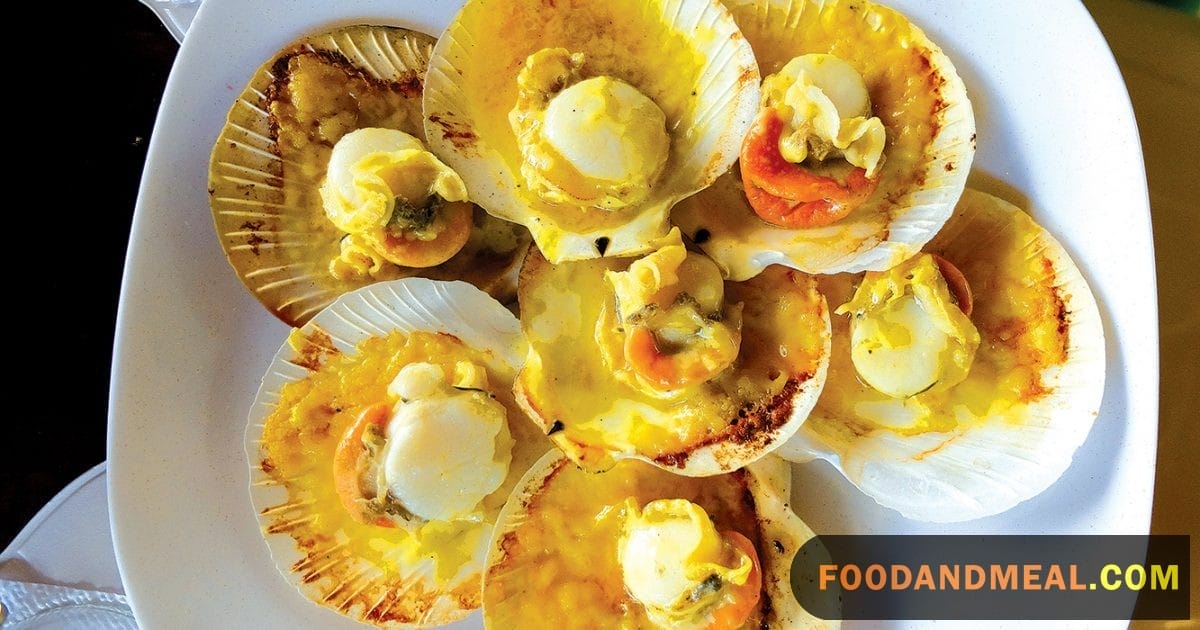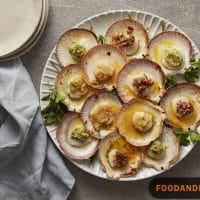 Leyte Baked Scallops
Pintados Festival of Leyte (June 29). This Visayan festival celebrates the love body art. It features ritual dance and a grand parade, which shows off a nice play of vibrant colors and brilliant smiles.
Print
Add to Collection
Go to Collections
Equipment
Instructions
Preheat the oven to 350 degrees F.

Meanwhile, mix together garlic, butter, and salt in a bowl until well blended.

Arrange the scallops, with one part of the shell still attached, in a baking pan.

Spread some garlic-butter mixture, then sprinkle with cheeses and parsley.

Bake scallops for 15 minutes or until the cheese is melted and bubbly.

Serve with hot sauce and some lemon wedges.
Notes
Leyte has an abundant supply of the freshest seafood. All that you need to do
to enjoy them is to turn them into delightful recipes. Scallops are very
delicious and easy to turn into a grand meal. Simply bake them with cheese
on top and you have something yummy and restaurant-grade food to
celebrate a fiesta in style.
Share by Email
Share on Facebook
Share on Twitter
Nutrition
Calories:
154
kcal
|
Carbohydrates:
2
g
|
Protein:
10
g
|
Fat:
12
g
|
Saturated Fat:
7
g
|
Polyunsaturated Fat:
0.4
g
|
Monounsaturated Fat:
3
g
|
Cholesterol:
35
mg
|
Sodium:
339
mg
|
Potassium:
81
mg
|
Fiber:
0.1
g
|
Sugar:
1
g
|
Vitamin A:
535
IU
|
Vitamin C:
3
mg
|
Calcium:
286
mg
|
Iron:
0.4
mg
© Food And Meal
This website provides approximate nutrition information for convenience and as a courtesy only. Nutrition data is gathered primarily from the Spoonacular Database, whenever available, or otherwise other online calculators.
 About Leyte Baked Scallops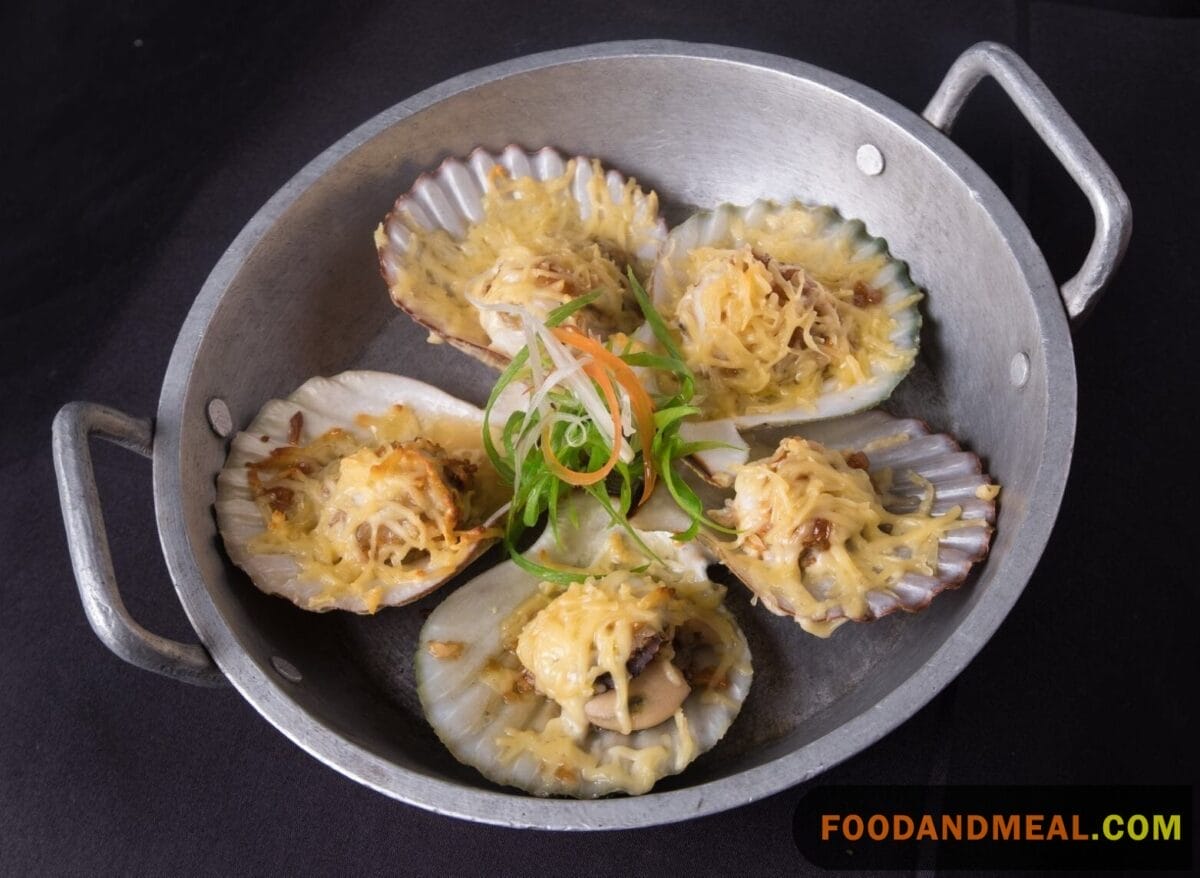 Leyte Baked Scallops is a popular seafood dish from the province of Leyte in the Philippines. This dish features fresh scallops topped with butter, garlic, and cheese, then baked to perfection. The result is a flavorful, succulent dish that's often enjoyed as an appetizer or main course. Its simplicity belies its rich taste, making it a beloved choice for seafood lovers.
Cooking Tips for Leyte Baked Scallops
Quality of Ingredients: Always opt for fresh scallops. The quality of your scallops can significantly impact the taste of your dish.
Proper Cleaning: Make sure to clean the scallops properly before cooking to remove any grit or sand.
Balanced Toppings: Achieving the right balance of butter, garlic, and cheese is crucial to creating a flavorful topping without overpowering the delicate taste of the scallops.
Serving Suggestions for Leyte Baked Scallops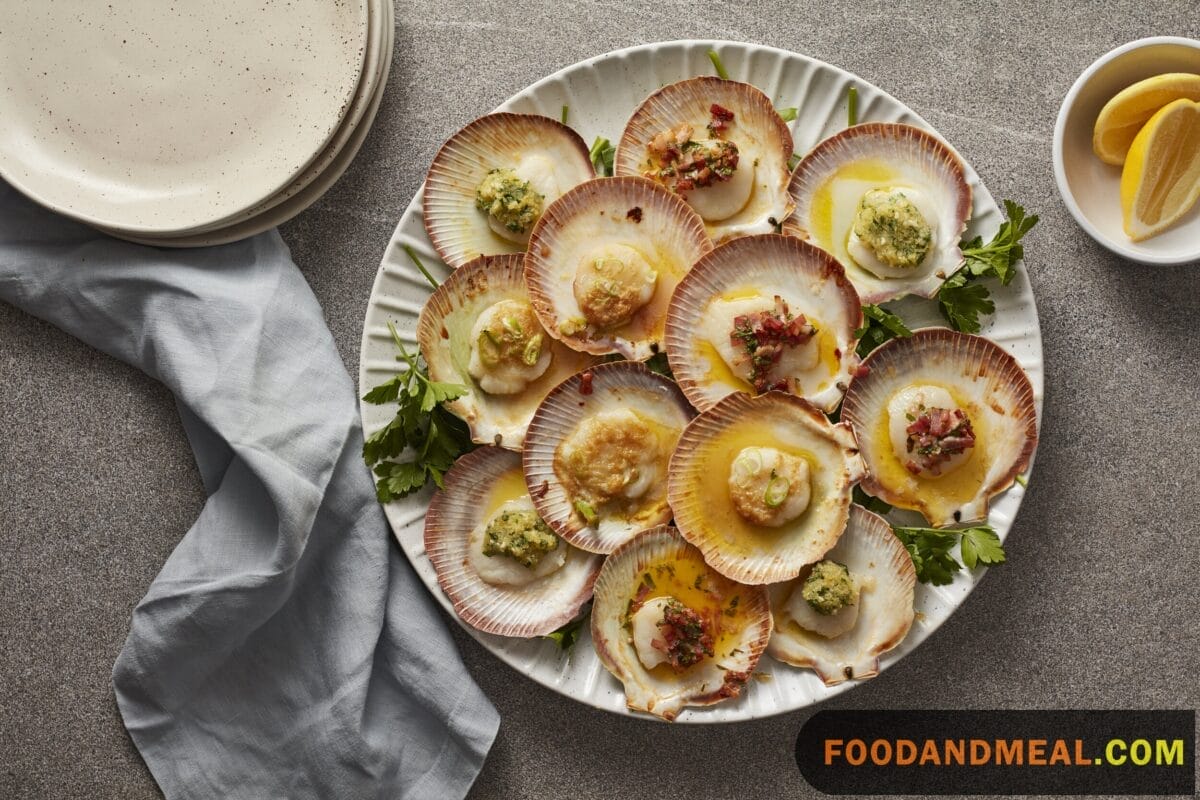 Lemon Wedges: Serve your Baked Scallops with lemon wedges on the side. The acidity of the lemon juice provides a nice contrast to the richness of the dish.
Bread Companion: A side of crusty bread makes a great pairing with Baked Scallops, perfect for soaking up the flavorful juices.
Wine Pairing: A glass of white wine, such as Chardonnay or Sauvignon Blanc, complements the flavors of this seafood dish beautifully.
FAQs About Leyte Baked Scallops
What Makes Leyte Baked Scallops Special? Leyte Baked Scallops is special due to its simple yet flavorful combination of fresh scallops, butter, garlic, and cheese.
Can I Use Frozen Scallops? While fresh scallops are recommended, you can use frozen scallops if fresh ones are not available. Just make sure to thaw them properly before cooking.
Can I Add Other Toppings? Yes, you can experiment with other toppings like breadcrumbs or herbs, but be careful not to overpower the delicate flavor of the scallops.
How Can I Store Leftovers? Leftovers can be stored in an airtight container in the refrigerator for up to 2 days. Reheat in the oven to maintain the texture of the scallops.
Can I Make It Vegan? While traditional Baked Scallops is not vegan, you could experiment with plant-based alternatives like king oyster mushrooms and vegan cheese to create a vegan version.
In conclusion, Leyte Baked Scallops is more than just a dish; it's a culinary delight that showcases the bounty of the sea in Leyte. The process of making it involves careful preparation and balanced flavors, resulting in a dish that's both simple and indulgent. Whether you're a seasoned cook or a beginner, I hope these tips and suggestions inspire you to try making your own Leyte Baked Scallops at home. Happy cooking!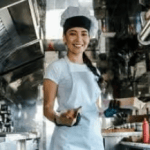 Cooking Like A Pro
Author Name : Jaime Inez
Address: Times Street, West Triangle, 1103, Quezon City, Metro Manila, Philippines
Phone:  96-2-4108596
Email: Contact@cookinglikeapro.net
Affiliate DisclaimerAbout The Content
As an affiliate, we may earn a commission from qualifying purchases. We get commissions for purchases made through links on this website from Amazon and other third parties.