Welcome, my fellow food enthusiasts, to a culinary adventure filled with vibrant flavors and delightful surprises! Today, I am thrilled to share one of my go-to recipes that never fails to impress – Flavorful Cranberry Salsa.
As an experienced mixologist and chef with a passion for creating unique dishes, this salsa holds a special place in my heart.
Crafted through blending, this tangy salsa is a true celebration of cranberries, bringing a burst of brightness to your table. So, let's embark on a journey of taste and texture with this delectable cranberry creation!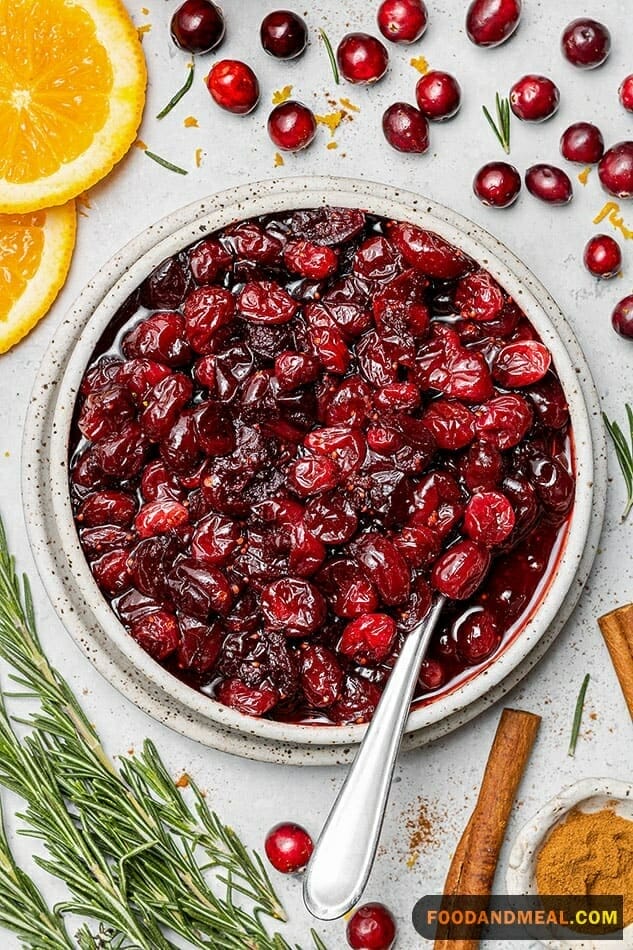 Flavorful Cranberry Salsa Recipe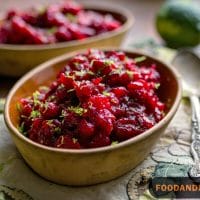 Flavorful Cranberry Salsa by blender
Blending flavorful cranberry salsa creates a harmonious blend of sweet and tangy flavors, resulting in a vibrant and versatile condiment that perfectly complements a variety of dishes
Print
Add to Collection
Go to Collections
Equipment
Ingredients
12

oz

fresh cranberries

2

jalapeno peppers, chopped

1/4

cup

fresh cilantro

1

tbsp

orange zest

2

tbsp

ginger, chopped

2

tbsp

fresh lemon juice

1/2

tbsp

sugar

Pinch of salt
Instructions
Add all ingredients into the blender container. Secure the lid.

Start the blending at low speed, then quickly increase to highest speed and blend until getting chunky consistency.

Pour blended mixture into the bowl and place in the refrigerator for 5-6 hours.
Notes
If fresh cranberries are not available, frozen cranberries work just as well.
Customize the spiciness of the salsa by adjusting the amount of jalapenos or removing the seeds for a milder taste.
For an extra touch of sweetness, add a drizzle of honey or maple syrup.
This cranberry salsa can be made ahead of time and refrigerated, allowing the flavors to meld together beautifully.
Share by Email
Share on Facebook
Share on Twitter
Nutrition
Calories:
78
kcal
|
Carbohydrates:
17.9
g
|
Protein:
0.2
g
|
Fat:
0.2
g
|
Sugar:
14.3
g
© Food And Meal
This website provides approximate nutrition information for convenience and as a courtesy only. Nutrition data is gathered primarily from the Spoonacular Database, whenever available, or otherwise other online calculators.
Why Flavorful Cranberry Salsa is Great:
This Cranberry Salsa is a delightful twist on the classic salsa, offering a harmonious balance of sweet, tart, and spicy flavors.
The marriage of fresh cranberries, zesty lime, and jalapenos creates a symphony of taste that will leave your taste buds craving more. Perfect for both holiday feasts and everyday meals, this salsa adds a touch of elegance to your gatherings and a burst of excitement to your palate.
Serving Suggestions: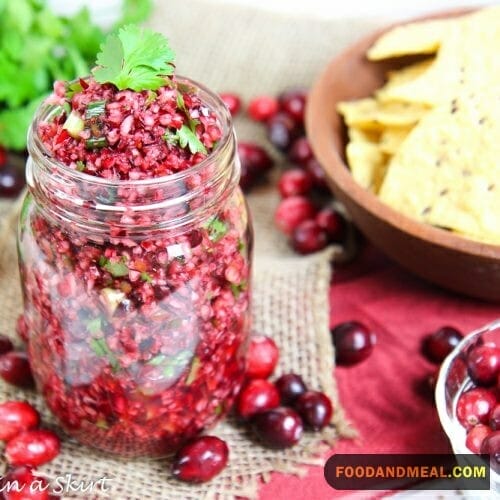 When to Use:
Flavorful Cranberry Salsa is a perfect addition to your holiday feast, offering a refreshing and tangy contrast to rich and savory dishes.
It's an ideal accompaniment to grilled meats, such as turkey, chicken, or pork, adding a burst of flavor and visual appeal to your entrees.
Audience:
Foodies who appreciate the unique combination of sweet and tart flavors with a kick of spice.
Those looking to add a pop of color and taste to their holiday or special occasion meals.
Pairing:
Serve this cranberry salsa with crispy tortilla chips for a festive appetizer that will delight your guests during holiday parties.
Pair it with creamy goat cheese or brie on a charcuterie board for a delightful blend of flavors and textures.
FAQs:
Q1: Can I use dried cranberries for this salsa? While fresh or frozen cranberries are recommended, you can use rehydrated dried cranberries in a pinch. Just soak them in warm water for a few minutes before blending.
Q2: How long can I store the leftovers? Stored in an airtight container in the refrigerator, this Cranberry Salsa can last for up to 3-4 days. Remember to give it a good stir before serving.
Q3: Is this salsa too spicy? The spiciness can be adjusted to your preference. If you prefer a milder salsa, use fewer jalapenos or remove the seeds and membranes.
Q4: Can I make this salsa without jalapenos? Absolutely! You can omit the jalapenos if you prefer a mild and purely tangy salsa.
Q5: Can I freeze the Cranberry Salsa? I don't recommend freezing this salsa, as the texture may change once thawed, affecting the overall taste and appearance.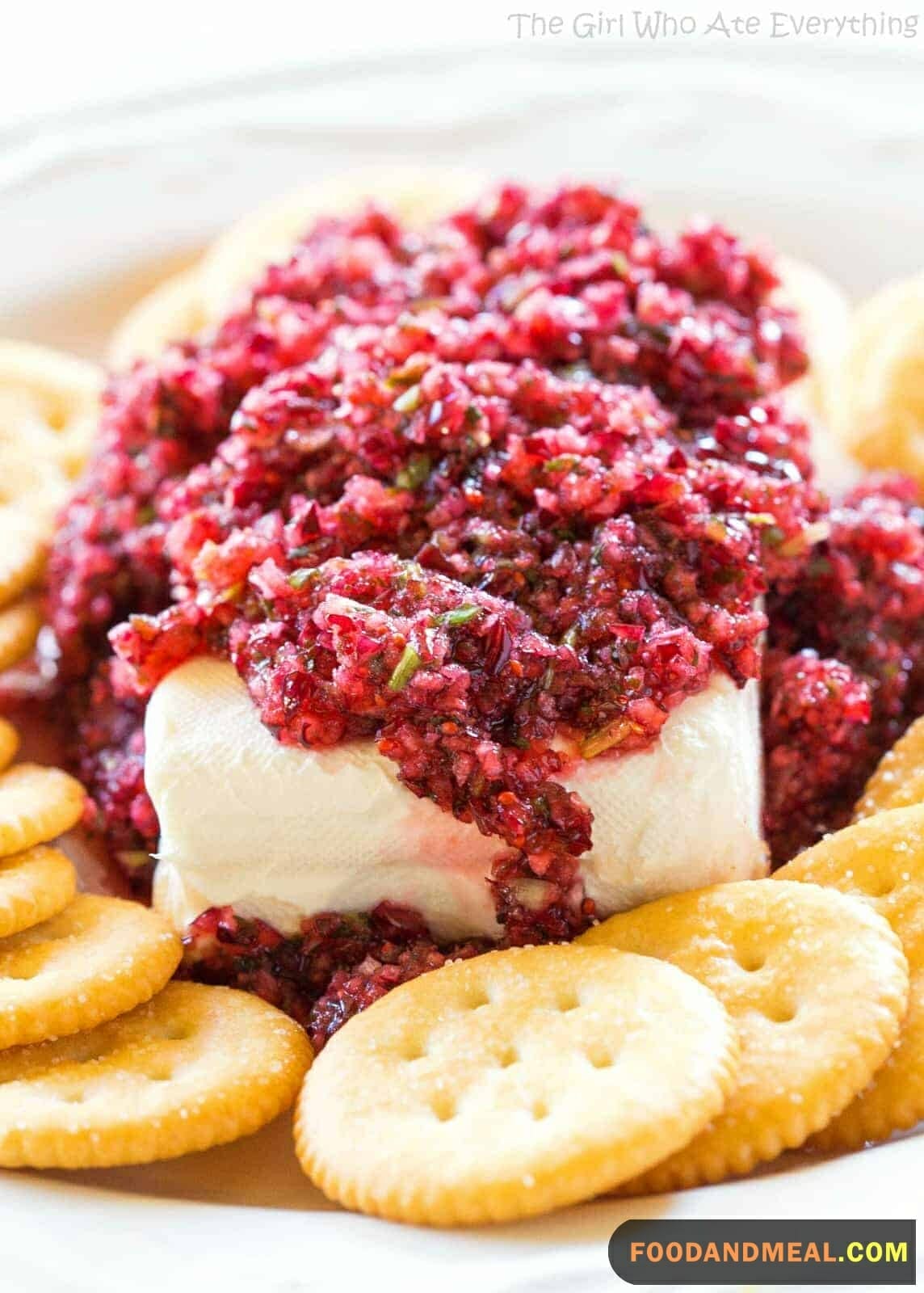 I hope you're excited to experience the delightful tangy twist of this Flavorful Cranberry Salsa! It's a perfect addition to your holiday table and a surefire way to impress your guests. Share this unique recipe with your friends and family, and don't forget to subscribe to my blog for more exciting culinary adventures. Happy blending, and enjoy the burst of flavors this salsa brings to your meals!
I'm Yukiko, a Food & Lifestyle blogger and marketing professional at Hana Hotel Travel Company, focused on Food And Meal restaurants. I love cooking, with a special affection for baking, and photography. My blog offers healthy, diverse recipes and captures the beauty of culinary arts, aiming to inspire a balanced lifestyle and connect food enthusiasts globally.
Affiliate DisclaimerAbout The Content
As an affiliate, we may earn a commission from qualifying purchases. We get commissions for purchases made through links on this website from Amazon and other third parties.