Enjoying movie nights with popcorn is a classic treat. However, traditional microwave popcorn bags often contain unhealthy ingredients and are bad for the environment. Today, you can easily make your own popcorn in reusable poppers, creating tastier and fresher results.
Choose from stovetop, electric, or microwave options to customize your popcorn with flavors like parmesan or sea salt and black pepper. Whether you prefer the classic stovetop experience, the simplicity of a microwave popper, or the convenience of an electric one, there are excellent choices to fit your budget.
Food and Meal tested Popcorn Makers to provide recommendations for stovetop, microwave, and electric models based on consistency, taste, and kernel popping efficiency, ensuring a fantastic movie night experience.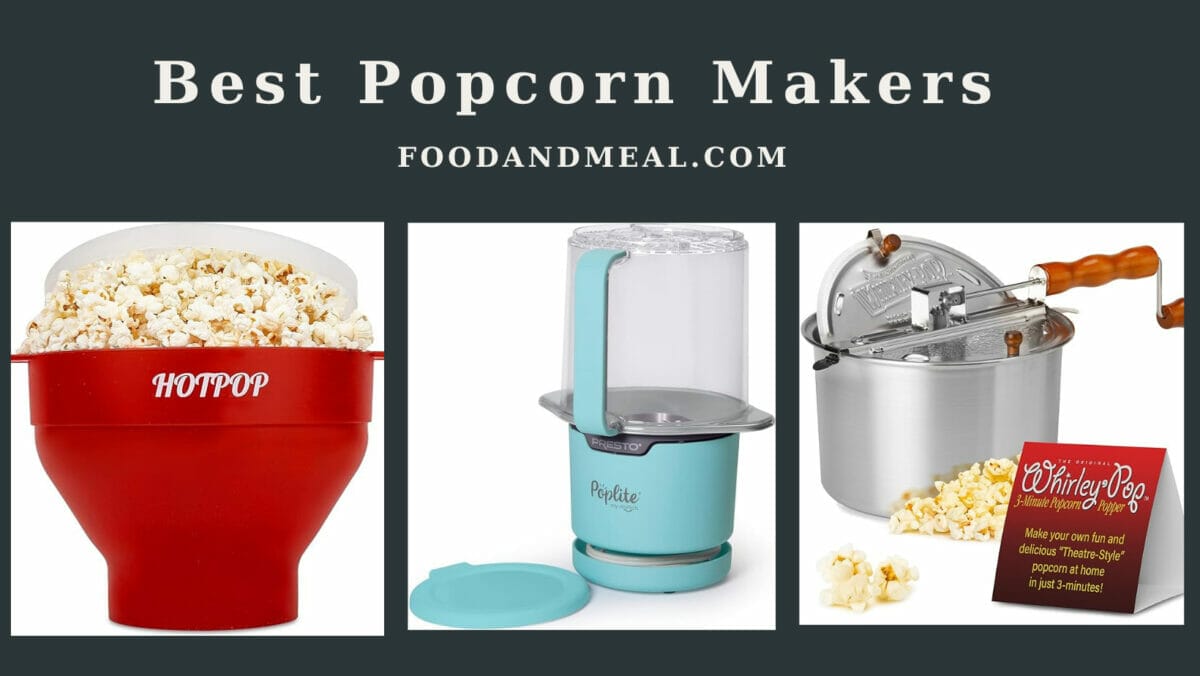 Factors to Consider
| | |
| --- | --- |
| Popcorn Popper Type | Choose between stovetop, electric, or microwave options. Stovetops offer quality but require more hands-on effort, while electric and microwave options are easier, with microwave poppers being the most familiar. |
| Capacity | Consider the number of people you'll be serving. Popcorn makers range from personal-sized (about four cups) to family-sized (up to 24 cups). |
| Ease of Cleaning | Look for models that are dishwasher-safe for easy maintenance. Some have multiple parts, so consider whether you prefer an all-in-one design and follow cleaning instructions carefully. |
The Best Popcorn Makers
Best Price
Excellent heating performance for perfectly popped corn.
Unique color-changing design adds a touch of fun.
Easy setup and use, even for beginners. Hand-cranked stirrer ensures even coating of butter and seasonings.
Customizable flavor options with your choice of ingredients.
Requires manual stirring, which might not be ideal for those seeking complete automation.
While the color-changing feature is fun, it doesn't affect the overall popcorn quality.
Our selection of this popcorn maker as the top choice is backed by solid reasons – it produces exceptional popcorn. The classic Whirley Pop stovetop maker has received a modern update with a color-changing feature, shifting from red to yellow as it heats up, and back to red when your popcorn is ready. This feature is particularly beneficial, especially when children are involved.
Throughout our testing, it consistently delivered a sizable batch of delicious, crispy, and chewy popcorn with very few, if any, unpopped kernels. While it does require continuous cranking, the process remains straightforward. We did observe some minor scorching on the bottom of the pan, but it does not affect the quality of the popcorn itself.
We strongly recommend using an oven glove, as the steam from the popcorn can be quite hot. Cleaning is a hassle-free task as well. If you use it frequently, a simple wipe-down after it cools down (indicated by its return to a full red color) will suffice. Alternatively, if you plan to store it for a while, a quick wash with a touch of soapy water does the trick.
Best Price
Chef'n Pop Top Microwave Popcorn Maker
4.0
(1524 ratings)
$20.00
Make healthier popcorn at home for friends and family with this microwave popcorn popper. Make and serve up to 10 cups of popcorn in minutes without added oil or butter. Simply fill the recessed cup in the bottom of the popper with up to 5 tablespoons of kernels, fold in the top, and place in the microwave.
Efficient popping with minimal unpopped kernels.
Customizable flavors and seasonings.
Easy to use, even for beginners.
Environmentally friendly, as it reduces the need for disposable bags.
Compact and easy to store.
The plastic material may not be as durable as some other materials used in popcorn makers.
You need to be cautious when handling the hot popper after microwaving.
This microwave popper offers a brilliantly simple design with its unique one-piece pop-open feature, combining fun with functionality. It conveniently folds up to a compact size for easy storage and pops open in the microwave once the kernels are done popping. Notably, it includes a fill-to-edge indicator, eliminating the need for a measuring cup, and we found the silicone material to be more durable compared to some of the alternatives we tested.
What sets this model apart is its ability to produce a delicious batch of popcorn without the need for any oil or butter. The user-friendly tabs make it easy to remove from the microwave, and our tests consistently resulted in chewy, evenly cooked popcorn.
While it is dishwasher safe, we recommend hand-washing for longevity, as we noticed that colors tend to fade and become spotty when exposed to the microwave.
Best Price
Even heating for perfectly popped kernels.
Easy to use and suitable for all skill levels.
Customizable flavor options.
Durable construction for long-lasting use.
Environmentally friendly alternative to microwave bags.
Requires stovetop use, which might not be as convenient as microwave options.
Regular cleaning is necessary to maintain performance.
Designed to replicate the process of making movie theater-style popcorn, this stovetop version is indeed a luxurious choice, but it's well worth the investment for popcorn enthusiasts. Crafted from solid aluminum (with a wooden handle), including the gears, this popcorn maker boasts a lifetime guarantee. While it may be a bit bulkier to store, its sleek black coating adds a touch of retro charm, making it a stylish addition to your stovetop.
To use, simply add oil, heat it up, introduce the kernels, and commence churning once you hear a few pops. If desired, you can also add salt for that classic flavor. While some of the other popcorn makers in our tests produced chewier results, this one delivered perfectly crunchy popcorn. Similar to our best overall pick, it yields almost 24 cups of popcorn, so within minutes, you'll achieve popcorn perfection – enough to share with your entire household.
Though it requires hand washing, we readily embrace this extra step to ensure its longevity, especially considering its price point.
Best Price
Presto Poplite Hot Air Popper
Personal size is great for snacking and portion control Pops up to 8 cups in about 2 minutes with virtually no unpopped kernels Pops with hot air, not oil, for a low-fat treat Vented cover assures crispy popcorn Cover doubles as a serving bowl, just snap on lid and flip
Effortless and quick operation.
Healthier popcorn with no oil required.
Compact design for easy storage.
Easy to clean.
Budget-friendly.
Limited customization options compared to stovetop methods.
The hot air popping method may result in slightly plainer popcorn.
Our top electric choice, the Presto Air Popper, offers a hassle-free setup that doesn't require any oil, providing a healthier way to create perfectly popped popcorn. It utilizes hot air to propel popped kernels through its chute directly into your bowl. Within just a few minutes, it yields approximately 18 cups of popcorn or enough for two large bowls.
For those who desire a buttery touch, this machine includes a butter warmer that also doubles as a measuring cup, conveniently resting on top of the device. Add your preferred amount of butter, and it will melt while the machine pops the kernels. During testing, we noticed that its plastic construction felt more robust than that of its competitors, and as a result, it doesn't get as hot. The outcome was popcorn with a delightful lightness, crispness, and generously sized kernels.
Cleaning this appliance is a breeze – the butter warmer can be washed with soap and water, while the rest of the machine, including the clear plastic cover and cup, can be simply wiped down with a damp cloth. Since it doesn't use oil, it remains relatively clean throughout the process.
Best Price
Hotpop Original Silicone Microwave Popcorn Popper
4.5
(29857 ratings)
$15.99
Glass popcorn poppers are fragile, can cause burns and have potential to shatter if dropped. Our silicone Hotpop Popcorn popper bowls come with a lid and convenient built-in handles. The bowl is uniquely designed to spread the heat evenly so you will get delicious popcorn with very few, if any unpopped kernels. Our Hotpop popcorn poppers are kid and family friendly, made with heat resistant, nonbreakable, food-grade silicone.
Cost-effective and eco-friendly alternative to store-bought microwave popcorn.
Easy and quick to use, with no need for additional oil.
Made from high-quality, food-grade silicone.
Customizable flavors and seasoning options.
Effortless cleanup in the dishwasher.
Some users may prefer a more hands-on popcorn-making experience.
Using the HotPop popcorn maker turned out to be a delightful surprise. Crafted from BPA-free silicone, this popper offers a straightforward popcorn-popping experience. It comes with a lid and a popcorn bowl featuring built-in handles. Impressively, it efficiently pops half a cup of kernels with just 1 to 2 teaspoons of oil.
After our initial batch, we noticed that the silicone retained heat quite well, so we opted to transfer the popcorn to a separate bowl. However, when we tasted the resulting popcorn, we were genuinely impressed by its crunchiness and neutral flavor. There wasn't a trace of scorched kernels or any burnt aftertaste. The popcorn produced by this maker was equally delicious and possessed the same fluffy texture as models that cost twice as much.
On the downside, we observed that some popcorn pieces tended to clump together in clusters, and there were a fair number of unpopped kernels at the bottom. While you may not end up with as much popped corn in your bowl, we believed the trade-off for taste and crispiness more than compensated for it. This maker excelled in all other aspects, including ease of use and cleanup. Moreover, its budget-friendly price tag makes it an excellent choice for those on a budget and a dependable gift option for any popcorn enthusiast.
Affiliate DisclaimerAbout The Content
As an affiliate, we may earn a commission from qualifying purchases. We get commissions for purchases made through links on this website from Amazon and other third parties.