At Food And Meal, we appreciate the uniqueness and indispensability of best Korean chopsticks in Korean cuisine. Distinct from other chopsticks, Korean chopsticks are crafted from metal and typically exhibit a flat and rectangular shape. This design facilitates an easier grip and maneuverability, particularly when handling slippery foods such as noodles or tofu. Moreover, Korean chopsticks are longer than their counterparts, providing greater reach and improved control. Often adorned with intricate designs and patterns, these chopsticks serve not only a functional purpose but also add an aesthetic appeal. In summary, Korean chopsticks are a valuable addition to any culinary arsenal and a must-have for Korean food enthusiasts.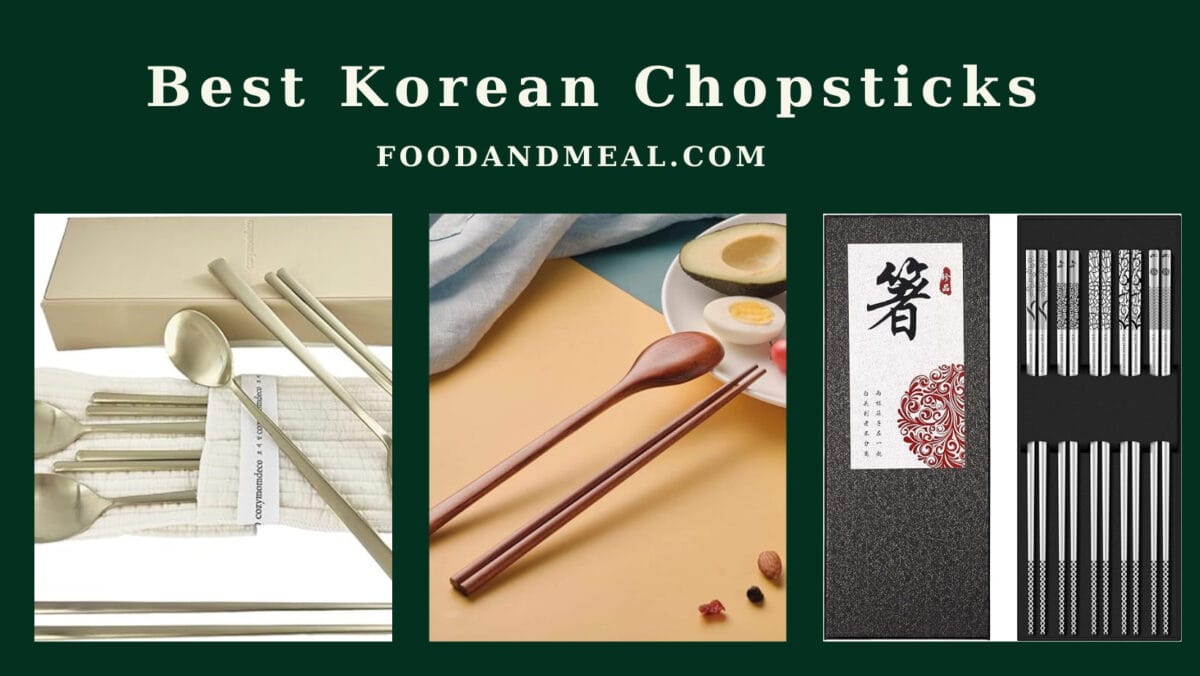 What to Look for When Buying Chopsticks
Material
Chopsticks come in a wide array of materials, each offering its unique characteristics and aesthetic appeal. These range from disposable wood, ideal for one-time use, to more elegant options like lacquered wood or metal that add a touch of sophistication to your dining experience. The choice of material plays a crucial role in determining the longevity and maintenance of your chopsticks. For instance, metal and fiberglass alloy chopsticks are known for their durability and are typically dishwasher-safe, making them easy to clean. In contrast, wooden chopsticks, both finished and unfinished, tend to wear out sooner and are more susceptible to warping over time. However, with proper care, most chopsticks can serve you for years.
Style
When it comes to style, the three most common types of chopsticks hail from China, Korea, and Japan. While other countries also have their unique styles, the general characteristics of these three types are as follows:
| | |
| --- | --- |
| Chinese-style chopsticks | Usually quite long, featuring squared or rounded sides with blunt, flat tips. They are typically crafted from lacquered wood or melamine plastic, lending them a distinct aesthetic appeal. |
| Korean-style chopsticks | Often made from brass, silver, or another metal. They are of medium length and feature flat, rectangular tips, making them easy to handle. |
| Japanese-style chopsticks | Typically shorter and come with very tapered tips. They are usually made from bamboo or lacquered wood, adding a touch of traditional Japanese aesthetics to your dining table. |
Choosing the right style of chopsticks is a personal preference and may require some trial and error. Don't hesitate to experiment with different lengths, tip shapes, and materials until you find the one that feels most comfortable for you.
Length
The ideal length of chopsticks largely depends on the style and the dimensions of your hand. A useful guideline is to measure the distance between the tip of your thumb and pointer finger, then multiply that by 1.5. If you prefer more control, shorter chopsticks may be a better fit. For cooking or serving purposes, oversized pairs are recommended as they offer protection from heat and steam. However, for eating, chopsticks longer than 10 inches might feel unwieldy, while anything less than 8.5 inches is generally too small for most adults.
Thickness and Handling
The thickness of the chopsticks can influence how easily you can scoop food and take larger bites. Chinese chopsticks tend to be the thickest, followed by Japanese-style ones, despite their precise needle-nose ends. The thinnest are Korean chopsticks, which maintain a uniform rectangular shape from end to end. These can be tricky to handle as their sharp angle can be tough on your hands. This consideration is important for all styles: overly square, 90-degree angle handles can be uncomfortable to hold.
Conversely, round chopsticks may prove elusive, causing you to constantly chase them or avoid putting them down during your meal to prevent them from rolling across your bowls, plates, table, etc. Trendy handle designs like octagonal shapes and rounded squares may strike a better balance between comfort, practicality, and aesthetics than these extremes.
Best korean chopsticks
Best Price
JOMUCO 5-Pair Stainless Steel Chopsticks (Silver)
The chopsticks add anti-slip line laser engraving on the tip, It makes the stainless steel chopsticks easy to use and effective at preventing food from falling out during use, making our metal chopsticks an excellent choice for a more enjoyable dining experience
Durable stainless steel construction Sleek and elegant design
Comfortable grip for easy handling
Long-lasting and easy to clean
Slightly heavier compared to wooden chopsticks
May take some time to get used to for beginners
At Food And Meal, we appreciate the quality and functionality embodied in the 5 Pairs Stainless Steel Chopsticks by JOMUCO. Crafted from high-grade SUS304 stainless steel, these chopsticks are not only rust-proof but also remarkably durable, promising longevity and consistent performance over time. We find that the material choice ensures they can withstand regular use without losing their luster or succumbing to damage.
One of the standout features we've noticed is the anti-slip line laser engraving on the tip. This thoughtful design element enhances grip, making the chopsticks easy to handle even for those who may not be well-versed in using them. The engraved lines prevent food from slipping off, ensuring a smooth and enjoyable dining experience.
Unlike traditional bamboo or wood chopsticks, these stainless steel chopsticks are dishwasher safe. This feature adds a layer of convenience, as it makes cleaning after meals quick and hassle-free. It also means that they are more hygienic, as they can be thoroughly cleaned and sterilized in the dishwasher, reducing the risk of foodborne illnesses.
The set includes 5 pairs of chopsticks, each adorned with an elegant pattern. This aesthetic touch elevates the chopsticks from a mere utensil to a piece of art, adding a dash of sophistication to any dining table setting. They come in a beautifully designed gift pack, making them an excellent choice for gifting. Whether it's Christmas, a birthday, or a housewarming party, these chopsticks are sure to impress with their blend of practicality and elegance.
Best Price
Metal Chopsticks by IQCWOOD
Our stainless steel chopsticks are made of high quality food grade 18/10 stainless steel to prevent chopsticks from getting stained or rusted for your safe and health. These reusable stainless steel chopsticks won't easily bend or crack like some other badly-made chopsticks. No paint or coating is for your long-lasting use.
Elegant and modern stainless steel design
Comfortable grip for easy handling
Durable and long-lasting construction
Suitable for various Asian cuisines
Might feel slightly heavier for those accustomed to wooden chopsticks
Initial adjustment period for those new to metal chopsticks
The Metal Chopsticks offered by IQCWOOD are an exceptional addition to any dinnerware set. Crafted from 304 stainless steel, a material known for its rust-resistance, durability, and non-toxic properties, these chopsticks are designed to last. They offer a combination of practicality and style that is sure to enhance your dining experience.
One of the key features of these chopsticks is their antiskid function design. The grooved tips provide enhanced control when picking up various types of food, including noodles, sushi, and rice. This feature makes them an excellent choice for those who are new to using chopsticks, as it can significantly reduce the learning curve associated with mastering this skill.
In addition to their functional design, these chopsticks also boast a seamless construction. This not only adds to their aesthetic appeal but also makes them incredibly easy to clean. Whether you prefer to wash them in a dishwasher or by hand, you'll find that maintaining their cleanliness is a breeze. Furthermore, the non-absorbent material from which they're made prevents them from getting stained when they come into contact with food, ensuring they retain their sleek, shiny appearance even after repeated use.
These chopsticks are versatile enough to be used in a variety of settings. Whether you're hosting an Asian-style dinner at home, throwing a party, running a bar, food shop, or catering hall, these chopsticks are sure to impress. They're also a wonderful tool for everyday use at home and make a thoughtful gift for guests, family, or friends. With their combination of style, functionality, and durability, the Metal Chopsticks by IQCWOOD are more than just utensils – they're a statement of good taste.
Best Price
Traditional and elegant Korean design
Ergonomic and user-friendly chopsticks and spoon
Durable and eco-friendly materials
Reflects the essence of Korean dining culture
May require slight adjustment for those accustomed to Western-style utensils
Not suitable for non-Korean cuisine
At Food And Meal believe the BAPMOO Korean Chopsticks and Spoon Set is a remarkable amalgamation of premium materials, unique aesthetics, and user-friendly attributes. This set is meticulously crafted from high-grade 18/10 stainless steel, known for its durability and resistance to rust. It includes a spoon measuring 8.26 inches and chopsticks of 8.66 inches, making them perfect companions for a wide array of Korean dishes.
The design of these utensils is as thoughtful as their construction. The chopsticks are flat, a traditional shape in Korean cutlery, and their edges have been smoothed for a comfortable grip. A semi-permanent smile illustration graces the spoon's head and the chopsticks' handles, adding a touch of whimsy to each meal.
Furthermore, the words "spoon" and "chopsticks" are engraved in elegant Korean script on the respective utensils, enhancing the cultural authenticity of the set and making it an excellent gift for those who appreciate Korean cuisine or culture.
Despite its delicate appearance, this set is designed for everyday use. It is dishwasher safe, simplifying cleanup, and its robust construction ensures longevity. In conclusion, we find the BAPMOO Korean Chopsticks and Spoon Set to be more than just a dining accessory; it's a harmonious blend of functionality, quality, and design that brings a piece of Korean tradition to your table.
Best Price
HOMQUEN 10-Pair Reusable Chopsticks
chopsticks made of high-quality stainless steel can avoid metal odor, mirror polishing process is rust-proof and durable, lead-free, cadmium-free, phthalate-free, bisphenol-A free, durable and environmentally friendly.
Sustainable and eco-friendly stainless steel construction
Ergonomic design for comfortable handling
Long-lasting durability for regular use
Value-driven option for the environmentally conscious
May feel slightly heavier for those accustomed to disposable chopsticks
Initial adjustment period for those new to using metal chopsticks
If you're on the hunt for a sturdy and eco-conscious chopstick set, we at Food And Meal highly recommend HOMQUEN's 10 Pairs Stainless Steel Reusable Chopsticks. These chopsticks are meticulously fashioned from high-grade stainless steel, which not only ensures their durability but also eliminates any potential metallic odor. Moreover, they are rust-proof and free from harmful substances such as lead, cadmium, phthalates, and bisphenol-A, underscoring their commitment to environmental sustainability.
One of the standout features of these chopsticks is the non-slip groove at their bottom, which makes picking up food a breeze. Their hollow design further enhances their user-friendliness by making them lightweight and convenient to handle. Regardless of whether you're indulging in noodles, sushi, dumplings, rice, or other culinary delights, these chopsticks prove to be a versatile addition to any dining setting, including gatherings, parties, and dinners.
Cleaning these chopsticks is equally hassle-free, thanks to their dishwasher-safe nature. They can be easily cleaned using neutral and mild detergents, ensuring they maintain their luster and longevity. In conclusion, HOMQUEN's 10 Pairs Stainless Steel Reusable Chopsticks represent a harmonious blend of durability, environmental consciousness, and practicality, making them a worthy addition to your cutlery collection.
Best Price
Ecloud Shop Wooden Spoon Chopsticks Sets
High quality and brandnew. For noodle dishes, sushi or dim sum. Food grade & Lightweight. Korean-style chopsticks and spoons. Perfect for all mixing and cooking purposes.
Timeless and authentic wooden craftsmanship
Smooth and comfortable handling for all users
Durable and environmentally friendly materials
Adds a touch of natural warmth to your dining experience
Wooden utensils may require extra care and maintenance compared to metal or plastic alternatives
Not suitable for dishwashers, requiring handwashing for optimal maintenance
Explore the exquisite Ecloud Shop Chopsticks Sets, embodying the essence of top-tier Korean-style dining tools. Crafted with utmost precision from lightweight, food-grade materials, these sets seamlessly complement a diverse array of dishes, ranging from savory noodle-based delicacies to the delicate flavors of sushi and dim sum.
Tailored for culinary enthusiasts, be it a seasoned chef orchestrating a bustling kitchen or an adventurous home cook exploring new flavors, our sets are thoughtfully designed to cater to your every need. The lightweight build ensures effortless maneuvering, while the food-grade material guarantees a secure and reliable cooking experience.
Indulge in the rich flavors of Asian cuisine with unparalleled ease, courtesy of the Ecloud Shop Chopsticks Sets. Not only do they elevate your dining encounters, but they also empower you to effortlessly craft mouthwatering dishes, from simple recipes to elaborate feasts.
Beyond their functional appeal, these chopsticks and spoons boast an aesthetic finesse that effortlessly enhances your culinary space. With their sleek design and contemporary allure, they seamlessly integrate into your collection of kitchenware, adding a touch of sophistication to your cooking escapades. Resilient and stylish, the Ecloud Shop Chopsticks Sets are not just tools; they are an investment in your culinary prowess.
Best Price
Elegant blend of wood and stainless steel
Comfortable and secure grip for effortless handling
Long-lasting and sustainable construction
Versatile and practical for various dining needs
May require extra care during cleaning to maintain the integrity of the wood
Slightly heavier compared to traditional wooden chopsticks
Discover the ideal blend of functionality and sophistication with the AKRewriteONE basedGE in Reusable Chopsticks Set. The Chopsticks and Spoon Set features a comfortable wooden handgrip perfect for easy handling, coupled with a unique design and good quality 304 stainless steel tip for effortless cleaning and safe food handling. With a user-friendly length of 9.18 inches, the set includes a spoon (8 inches) and non-slip designed chopsticks (8.66 inches), catering to all your Asian culinary requirements. The set comprises flat chopsticks, each boasting a distinct style with a smooth edge, ensuring the most comfortable and sanitary experience for every family member.
Embrace the perfect fusion of practicality and elegance with our AK.ONEGE Reusable Chopsticks and Spoon Set. Thoughtfully designed with a comfortable wooden handgrip that ensures a firm hold, our set is dishwasher safe and durable. This excellent choice for gifting comes elegantly packaged in a sleek, black gift box engraved with a minimalist Korean design.
Our set includes flat chopsticks crafted with a smooth edge, showcasing a variety of styles to enhance comfort during use. This not only adds a touch of uniqueness to the dining experience but also ensures hygiene as each family member can have their exclusive inscriptions.
The minimalist design of these chopsticks, combined with their high-quality materials, further enhances its gift-worthy appeal. Given its dishwasher-safe features, our set stands as a prime choice for those seeking practical utility. The AKONEGE Reusable Chopsticks Set is not just a set of utensils; it's an invitation to impress your guests and elevate your dining experience.
Best Price
Greatamzor 18/8 Stainless Steel Chopsticks Reusable Chopstick Set
4.8
(4881 ratings)
$16.99
Our metal chopsticks are made of food-grade 304 (18/8)stainless steel. The 304 stainless steel is healthy material widely used on flatware. Those metal chopsticks made of 304 stainless steel won't get rusty like the low quality steel chopsticks. Our stainless chopsticks weigh 33g per pair, comparing with those metal chopsticks weigh 20g or less, our metal chopsticks use more material, which ensures the sturdy quality. The best choice for safe and durable reusable chopsticks.
Modern and durable 18/8 stainless steel design
Comfortable grip for seamless handling
Long-lasting and sustainable construction
Practical and stylish addition to your dining experience
May feel slightly heavier compared to disposable chopsticks
Initial adjustment period for those new to using metal chopsticks
Greatamzor Metal Chopsticks provide an excellent option for those in search of a durable and reusable utensil. Crafted from high-quality 304 (18/8) stainless steel, these chopsticks are not only food-grade but also resistant to rust, making them a reliable and long-lasting choice. The laser-engraved pattern adds a unique touch that remains vibrant over time, ensuring a stylish and enduring addition to your dining experience.
Our anti-slip design, reinforced by laser etching on the chopstick tips, guarantees effortless food pick-up and prevents any unwanted slippage, making every meal a hassle-free experience. The square shape of the chopsticks ensures they stay put and provide a comfortable grip, allowing you to enjoy your favorite dishes with ease.
Furthermore, the dishwasher-safe nature and easy cleaning of these metal chopsticks make them a more hygienic option compared to traditional wooden or bamboo chopsticks. At Food And Meal, we highly recommend the Greatamzor Metal Chopsticks for those seeking a reliable and sustainable dining solution that doesn't compromise on style or functionality.
Best Price
cozymomdeco Spoon and Chopstick Set
Our spoon and chopsticks are quality made in Korea. It made of top food grade 18/10 stainless steel, providing durability will last you many years. Their edges have been polished many times and are smooth that they won't scratch your mouth. They are resistant to rust, corrosion and dishwasher safe. It's a great alternative to the plastic spoons.
Stylish and functional design for any dining setup
Comfortable handling for an enjoyable dining experience
Durable and reliable materials for long-term use
Versatile and practical for various cuisines
May not be suitable for dishwashers, requiring handwashing for optimal maintenance
Wooden components may require extra care to preserve their appearance
We at Food And Meal are thrilled to present the cozymomdeco Silver Cutlery Set, a high-quality spoon and chopstick set originating from Korea that promises to elevate your culinary experiences. This set is meticulously crafted from superior food-grade 18/10 stainless steel, ensuring not just durability but also resistance to rust and corrosion.
One of the standout features of this set is the careful attention paid to the edges of the spoon and chopsticks. They have been polished multiple times to guarantee a smooth and comfortable touch, thereby preventing any potential scratches to your mouth during meals.
The design of these utensils has been thoughtfully weighted to provide a comfortable grip, allowing you to enjoy your meals without any discomfort or bending of the utensils. The embossed texture coupled with their luminous shine not only enhances grip but also adds a touch of elegance to your dining setup.
In terms of maintenance, the cozymomdeco Silver Cutlery Set outshines its competitors. It is dishwasher safe and easy to care for, making it a far superior choice compared to plastic spoons. We believe it's time to move away from disposable utensils and invest in a set that offers durability, style, and a promise of longevity.
How Food and Meal Tested
Our product tester dedicated several hours to rigorously test a curated selection of chopsticks, aiming to provide the most genuine and comprehensive results. We rated these chopsticks based on a variety of factors, including their design, quality, grip, and overall value for money.
The testing procedure was multifaceted and involved using the chopsticks with a range of foods. This included noodles, rice, and cooked vegetables, allowing us to analyze the level of ease or difficulty in picking up these different items.
In addition to their performance during meals, we also assessed the ease of maintaining the chopsticks. This involved cleaning them according to the manufacturer's recommendations and observing how they held up after washing, providing insights into their durability and long-term performance.
The tests were designed to cover all aspects of using the chopsticks and included:
Picking up various types of food, including noodles, sushi, vegetables, and rice, to test their versatility and effectiveness
Cleaning the chopsticks according to the manufacturer's guidelines to assess their ease of maintenance
Observing the comfort provided to the hands and fingers during use, ensuring they are user-friendly and ergonomic.
Affiliate DisclaimerAbout The Content
As an affiliate, we may earn a commission from qualifying purchases. We get commissions for purchases made through links on this website from Amazon and other third parties.