To simplify your cooking, Food and Meal have curated a list of top egg beaters. These versatile gadgets make beating, whisking, and blending a breeze, saving you time and effort. Whether you prefer handheld, battery-operated, or electric models, our selection offers optimal rotating action for consistent batters. Choose the 10 best egg beaters in 2023 from our options and start whipping up delicious treats in your kitchen.
How To Choose Right Egg Beaters?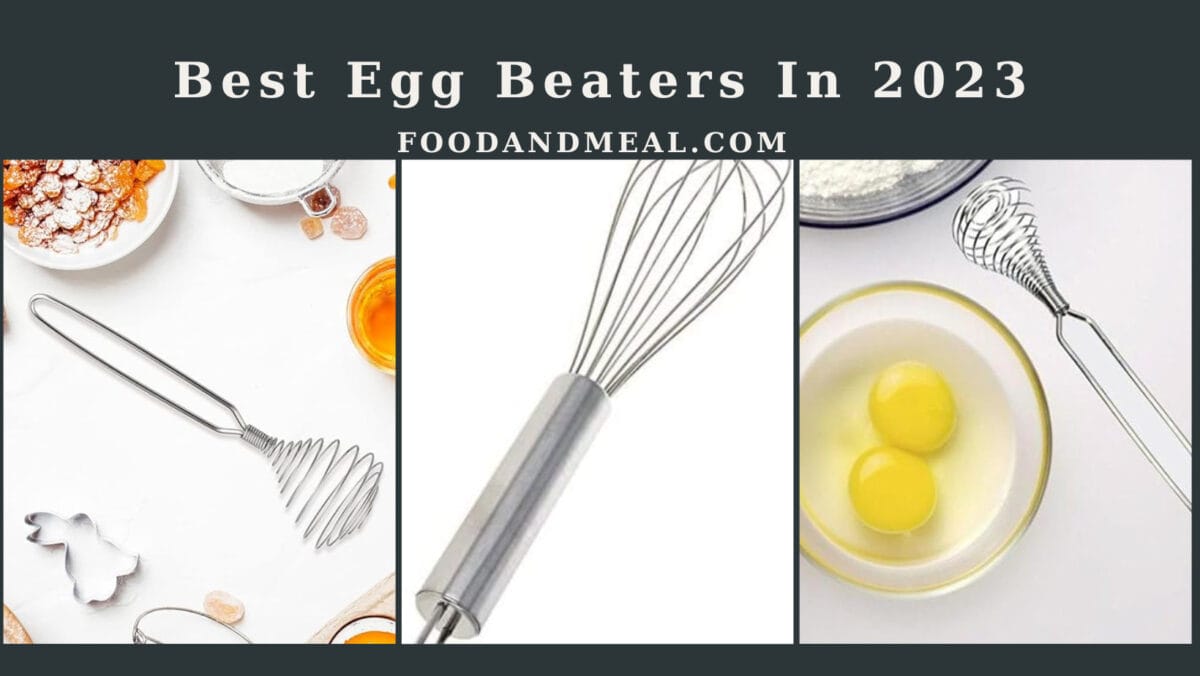 Keep the following pointers in mind when choosing an egg beater.
Safety Tips When Using An Egg Beater
Safe cooking habits are essential not only for ensuring the safety of the food we consume but also for protecting ourselves from potential harm. It is crucial to prioritize safety measures even during food preparation, considering the various hazards present in the kitchen such as gas, fire, water, and electricity. By following these safety tips, you can use an egg beater without compromising your well-being:
Electric egg beaters can pose significant risks. Always ensure that the switch is turned off and the beater is unplugged when not in use.
Use your egg beater on a dry surface and in a dry environment to minimize the risk of electrical shocks.
When cleaning an electric egg beater, detach the whisks from the machine before washing. Avoid immersing the entire unit in water.
Keep the whisks and blades out of the reach of children, as they can be sharper than they appear and may cause injuries.
If you detect any burning smell, immediately unplug the beater. In the case of battery-operated beaters, promptly replace the batteries to avoid potential hazards.
By adhering to these safety precautions, you can enjoy the benefits of using an egg beater while ensuring a secure cooking environment.
Best Egg Beaters In 2023
Old-fashioned egg beaters have long been relied on for perfectly aerated egg whites and fluffy whipped cream. Now the OXO Good Grips Egg Beater combines the same dependable results with innovation and ease. The smoothly rotating gears are enclosed in the upright handle for protection and easy clean-up. The turning knob and contoured handle have a soft, comfortable, non-slip grip for easy operation even with wet hands. The two stainless steel Beaters can be removed for individual cleaning or to offer a taste of whipped confections. The base detaches by simply pressing two side buttons and can be tossed into the dishwasher. A stainless steel bridge extends slightly longer than the Beaters to rest against the bottom of the mixing bowl to reduce arm strain. Eggs, light batters, whipped cream and more are now such a breeze to whip up that even the next generation may want to take a turn.
Weighing in at 3.8 pounds, the Koios immersion blender stands out as one of the top models in terms of weight. Its heavy-duty construction features a robust stainless steel housing, ensuring durability. While it offers excellent performance, it's important to note that the blender can be a bit loud, especially when operating at high speeds. Additionally, all parts of the blender are dishwasher-safe and made from BPA-free materials, guaranteeing easy cleaning and safety. However, it's advisable to avoid excessive dishwasher use, as it may accelerate wear and tear on hand blenders.
The Norpro egg beater showcases a timeless design with its classic hand crank mechanism, allowing for speedy and efficient egg beating, cream whipping, and ingredient mixing. Its ergonomic handle ensures comfortable use, while its extended length reaches the bottom of the bowl, ensuring thorough mixing. The stainless steel whip and cast aluminum gears are not only effective but also easy to clean, making maintenance a breeze.
The Toogel electric egg beater offers convenient one-touch operation with two speed settings, powered by a reliable 50W motor, making it an indispensable tool for any kitchen. Its ergonomically designed handle provides a comfortable and secure grip, thanks to its anti-slip feature. The unique three-way adjustable angle design enhances ease of use, allowing for seamless kitchen work.
The i Kito Stainless Steel Mini Spring Egg Beater is a functional and essential tool made of durable stainless steel. This eco-friendly beater is perfect for mixing ingredients, frothing milk and cream, or whisking eggs. Its sturdy construction ensures long-lasting performance in the kitchen.
The Muclipkot stainless steel balloon egg whisk is an essential tool for any kitchen, whether you're tackling simple or complex recipes. With its 12-inch length, this whisk is perfect for whisking, mixing, and beating tasks. The convenient end hole allows for easy storage, making it a practical addition to your kitchen utensil collection.
The Tera Stainless Steel Manual Egg Whisk is a high-quality kitchen tool that is nine inches long, providing you with ample reach and control during your culinary adventures. This versatile whisk is a must-have for any kitchen, as it can be used for a wide range of tasks, including whisking, stirring, frothing, and blending.
With its carefully designed oval wire structure and rounded shape, the Tera Stainless Steel Manual Egg Whisk ensures optimal performance and speed. The oval wire design allows for increased efficiency in mixing and incorporates more air into your ingredients, resulting in lighter and fluffier batters, creams, and sauces.
Crafted from durable stainless steel, this egg beater is built to last. Its sturdy construction ensures long-lasting performance and durability, even with frequent use. The stainless steel material also makes it easy to clean, allowing for quick and hassle-free maintenance.
In addition to its functionality and performance, the Tera Stainless Steel Manual Egg Whisk is also designed with your convenience in mind. It features a comfortable handle that provides a secure grip, allowing for effortless whisking without straining your hand or wrist. The handle also has a convenient end hole, making it easy to hang and store the whisk when not in use, saving valuable drawer space in your kitchen.
Whether you're whipping up a batch of fluffy scrambled eggs, incorporating air into your cake batter, or creating creamy homemade sauces, the Tera Stainless Steel Manual Egg Whisk is the perfect tool to achieve the desired consistency and texture. Elevate your cooking and baking experience with this reliable and versatile egg beater.
The Prepworks By Progressive Egg Beater is a fantastic rotary egg beater that will surely catch your eye with its attractive and distinctive design. Not only does it add a touch of charm to your kitchen, but it also offers impressive functionality. This egg beater allows you to have complete control over the speed, number of rotations, and pressure, giving you the freedom to achieve the perfect results every time.
With its innovative design, the Prepworks By Progressive Egg Beater ensures efficient and effortless whisking. The rotary mechanism enables smooth and consistent mixing, creating light and airy batters, fluffy creams, and perfectly blended ingredients. Whether you're preparing delicious desserts or whipping up a delectable omelet, this egg beater will help you achieve the desired texture and consistency with ease.
In addition to its excellent performance, this egg beater offers user-friendly features that enhance your cooking experience. The adjustable speed settings allow you to customize the mixing process to suit your specific needs, ensuring precise control over the desired results. The ability to control the number of rotations and pressure gives you even more flexibility and allows you to tailor the whisking technique to the recipe at hand.
Not only is the Prepworks By Progressive Egg Beater functional and versatile, but it is also built to last. The high-quality materials used in its construction ensure durability and longevity, making it a reliable companion in your kitchen for years to come. It is designed to withstand regular use and maintain its performance over time.
With its eye-catching appearance, advanced features, and exceptional functionality, the Prepworks By Progressive Egg Beater is a must-have tool for any aspiring chef or avid home cook. Experience the joy of effortless whisking and enjoy the freedom to control every aspect of your mixing process with this remarkable rotary egg beater.
For vintage lovers who have a special fondness for the classic rotary action egg beaters, the Starfrit Super Fast Egg Beater is a delightful choice that will surely capture your heart. This egg beater not only showcases a charming and nostalgic design, but it also delivers exceptional ease of use. As you whisk your eggs and other ingredients, the beater offers a sturdy grip that allows you to maintain control and precision throughout the process.
Crafted with twin whisks made of high-quality stainless steel, the Starfrit Super Fast Egg Beater ensures reliable performance and durability. These robust whisks are designed to handle a wide range of ingredients, making them suitable for various culinary tasks. Whether you're beating eggs for fluffy omelets, mixing batter for delicious cakes, or incorporating ingredients for creamy sauces, this egg beater is up to the task.
In addition to its reliable functionality, the Starfrit Super Fast Egg Beater is also easy to clean and maintain. Its stainless steel construction not only ensures long-lasting performance but also facilitates effortless cleaning after each use. Simply rinse the whisks under running water or give them a quick wipe with a damp cloth, and they'll be ready for the next culinary adventure.
Embrace the nostalgia and simplicity of rotary action egg beaters with the Starfrit Super Fast Egg Beater. Its vintage-inspired design, comfortable grip, and strong stainless steel whisks make it a delightful tool for any aspiring chef or baking enthusiast. Experience the joy of effortless whisking and achieve perfectly blended ingredients with this reliable and charming egg beater.
The ICYANG Stainless Steel Coil Whisk is a nostalgic reminder of cherished childhood memories spent in the kitchen. Just like when you were a little girl and stood on a stool to reach the kitchen counter, this whisk will transport you back in time. Its unique design and functionality will captivate your heart once again.
When using the ICYANG Stainless Steel Coil Whisk, you'll discover that it excels in its beating action. By simply pushing the beater against the bottom of your pot or pan, it bounces off the surface, initiating the whisking motion effortlessly. This feature adds an element of fun and excitement to your cooking experience, reminiscent of carefree childhood days.
Measuring at a length of 8.27 inches and a diameter of 1.97 inches, the ICYANG Stainless Steel Coil Whisk strikes the perfect balance between size and convenience. It is neither too big nor too small, offering optimal usability and control. This ensures that you can handle various recipes and mixing tasks with ease and precision.
Indulge in the nostalgia and whimsy of the ICYANG Stainless Steel Coil Whisk as it takes you on a delightful journey down memory lane. Let it reignite the joy and excitement you felt as a child while helping out in the kitchen. With its unique design and functional performance, this whisk is sure to become an essential tool in your culinary adventures.