Immersion blenders have become prized kitchen appliances known for their versatility and simplicity, excelling at tasks like swiftly blending soups and smoothies. Their popularity has surged due to their user-friendly design. Given their prevalence in modern recipes, it's common to see them featured in cooking instructions. However, what should you do when faced with a recipe calling for an immersion blender if you don't own one? Food and Meal have taken the time to address this issue, ensuring that you can still venture into new culinary creations without the need for an immersion blender.
There exists a variety of tools and techniques that can effectively Best Immersion Blender Alternatives, each with varying degrees of effectiveness depending on the blending task at hand. Below, we present 4 alternatives:
Hand mixer
Stand mixer
Food processor
Blender
While many individuals may possess immersion blenders, it's essential to remember that you don't necessarily have to. The kitchen offers a plethora of tools and techniques, and there's often more than one way to achieve your culinary goals. You have the flexibility to choose from the substitutes mentioned above, with each alternative offering its own unique advantages. To determine the best fit for your specific blending needs, read on to discover how each of these alternatives compares to the immersion blender.
Do You Need An Immersion Blender?
The popularity of immersion blenders can be attributed to their impressive utility in the kitchen. One of the primary reasons many prefer using an immersion blender over its traditional counterpart is the sheer simplicity it offers. Unlike traditional blenders that can disrupt your cooking process and become a hassle to clean, immersion blenders streamline the blending process. You can effortlessly immerse them into your ingredients right in their pot or container, saving you time and minimizing cleanup efforts. It's a kitchen tool designed for convenience, and it's notably easier to maintain.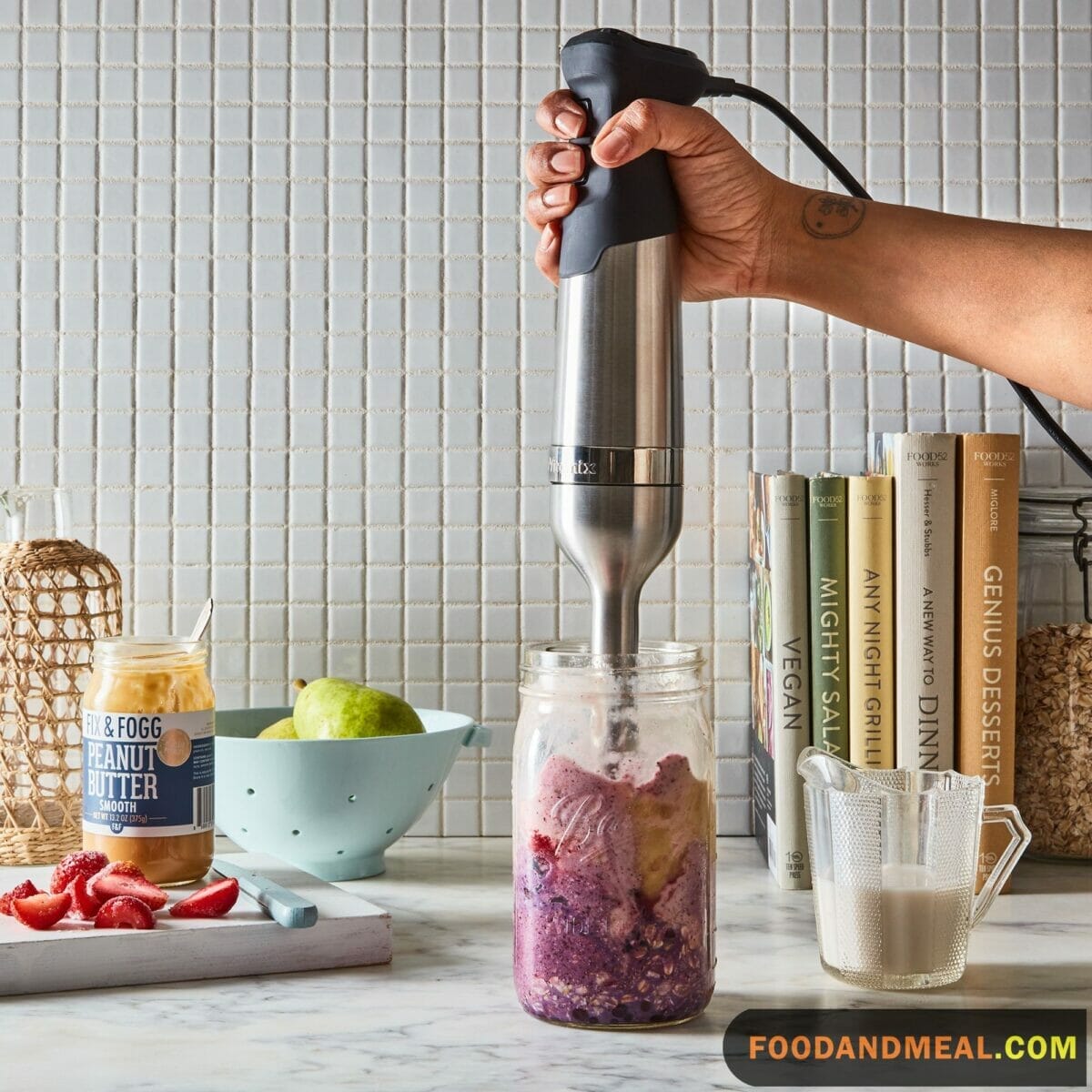 However, despite their undeniable usefulness, immersion blenders are not necessarily an absolute requirement in the kitchen. While they offer a host of advantages, they do have their limitations. One notable drawback is their potential messiness since ingredients remain uncontained during blending. Additionally, immersion blenders might not possess the same power or capacity as some of their alternative counterparts.
That said, immersion blenders excel at various tasks, such as crafting soups, smoothies, and sauces with ease. Yet, it's important to recognize that many of these tasks, and even more complex ones, can often be executed just as effectively, if not better, using alternative kitchen tools. The key lies in understanding the unique strengths and weaknesses of each tool and choosing the one that best suits the specific demands of your culinary endeavors.
Hand Mixers
Hand mixers, with a history dating back much further than immersion blenders, operate in a manner that bears striking resemblance to their newer counterparts. While conventionally associated with baking, these versatile gadgets extend their utility beyond mere batter preparation. Hand mixers can be effectively employed in tasks involving soups and sauces, much like immersion blenders.
Similar to immersion blenders, hand mixers offer the convenience of direct immersion into the pot or container housing your ingredients. What's more, they often prove to be exceptionally easy to clean since you can simply remove the beaters and place them in the dishwasher for hassle-free maintenance.
Food Processor
Typically, when the task at hand involves dicing harder foods like nuts, a food processor is the go-to appliance. In contrast, immersion blenders are often favored for softer items like soups and sauces. However, it's worth noting that there can be instances where these two kitchen tools are interchangeable. For example, when you need to puree vegetables for a soup, a food processor can certainly step in and handle the task effectively.
One consideration, though, is the cleanup involved. Using a food processor is not as minimalist as employing an immersion blender, as it tends to be more involved. On the upside, if your ingredients are relatively hard or in larger pieces, a food processor will prove highly efficient, making quick work of the task at hand.
Stand Mixer
In certain situations, you might find yourself improvising with the tools you have available, and this can involve using a stand mixer as an alternative. While this approach may seem somewhat unconventional, it can be remarkably effective.
A stand mixer, though typically associated with baking and dough preparation, can serve as a capable substitute for an immersion blender, albeit with some differences. Unlike the handheld options, a stand mixer requires you to place the ingredients in its bowl, which can be a bit less convenient. However, it shines when it comes to handling larger tasks, such as whisking substantial batches of soup or other mixtures that require thorough blending.
It's worth noting that while a stand mixer can get the job done, the cleanup process may not be as streamlined as with other methods. Nonetheless, in situations where you need a powerful and versatile tool, a stand mixer can step in and help you achieve your culinary goals effectively.
Blender
This alternative is quite straightforward, as many individuals who lack an immersion blender often have a standard countertop one. Stand blenders are well-equipped to tackle the same blending tasks as an immersion blender, and they can even handle larger-scale jobs. With a more powerful motor and larger blades, they're capable of handling more significant tasks. Additionally, they eliminate the potential splatter issue that can sometimes occur with a hand blender.
However, the downside of using a standard blender is that convenience takes a backseat. You'll need to transfer your ingredients into the blender, which can lead to extra dishes to clean up later. While it may not be as minimalist as using an immersion blender, a standard blender can certainly get the job done effectively.
Other Thoughts On Alternatives To An Immersion Blender
It's invaluable to have a repertoire of alternative methods for accomplishing tasks because, in reality, you won't always have access to the exact tools specified in a given set of instructions. In addition to being well-versed in the substitutes for an immersion blender, it's equally important to recognize when and how these alternatives can come in handy. Let's delve into some additional insights that can be exceptionally helpful in such situations:
How Do You Blend Soup Without a Blender?
Imagine you're faced with the task of blending soup, and you find yourself without a traditional blender or immersion blender. In this scenario, there are practical alternatives at your disposal. If the vegetables in your soup are sufficiently soft and well-cooked, a trusty potato masher can be an excellent choice. Simply remove the softened vegetables from the pot using a slotted spoon, mash them to your desired consistency, and then reintroduce them into the pot, combining them with the liquid. Another effective approach is to leave all the soup components in the pot and employ either a hand mixer or a hand whisk. While the texture may not mirror that of a blender-smoothed soup, these methods will certainly yield a satisfactory result.
How Do You Make a Smoothie Without a Blender?
Crafting a delectable smoothie sans blender hinges on meticulous preparation of your fruits and vegetables. It's imperative to work with soft, non-frozen ingredients. Ensure that your chosen ingredients are thoroughly cleaned, peeled, and, where applicable, seeded. You'll want to eliminate any tough skins or undesirable components from your ingredients. Once you've adequately prepared your fruits and vegetables, you can proceed to mash them using a fork or your preferred method. Once you've achieved the desired consistency, incorporate yogurt, milk, or any other liquid components, stirring them in thoroughly. While this approach may differ from the conventional blending method, it enables you to savor a delightful and satisfying smoothie, even in the absence of a traditional blender.
The absence of a hand blender shouldn't deter you from savoring delightful recipes! Thanks to the versatile alternatives we've explored, you can continue to create fantastic dishes in your kitchen. Each of these alternatives can effectively replace an immersion blender, depending on the specific blending requirements of your recipe. When you encounter a recipe that calls for an immersion blender, you can refer to these substitutes to identify the tools you already have at your disposal and select the one that best suits the task at hand.
Now that you're equipped with the knowledge that there are effective alternatives to an immersion blender, there's nothing holding you back from unleashing your culinary creativity and honing your cooking skills with confidence!