If you're on a quest to find the best Dutch oven for sourdough bread, you've arrived at the perfect destination! Baking sourdough bread demands similar equipment and meticulousness as regular bread baking, right in the cozy confines of your kitchen. In the following piece, Food and Meal have compiled a range of Dutch ovens known for their exceptional quality. So go ahead and choose the one that catches your eye effortlessly!
What is dutch oven?
Dutch ovens are incredibly versatile and can be used for baking, simmering, roasting, and even deep frying! Whether you're roasting a whole chicken or baking a loaf of bread, a large and high-quality Dutch oven will do wonders.
Functioning like cast iron pans, Dutch ovens boast a hefty weight and come with lids that are excellent at trapping steam. This is especially beneficial when making sourdough bread as the trapped moisture helps the bread rise higher than usual. Acting as portable ovens, Dutch ovens excel at retaining heat.
You'll find Dutch ovens available in either enamel-coated or bare cast iron options, providing you with a variety of choices to explore.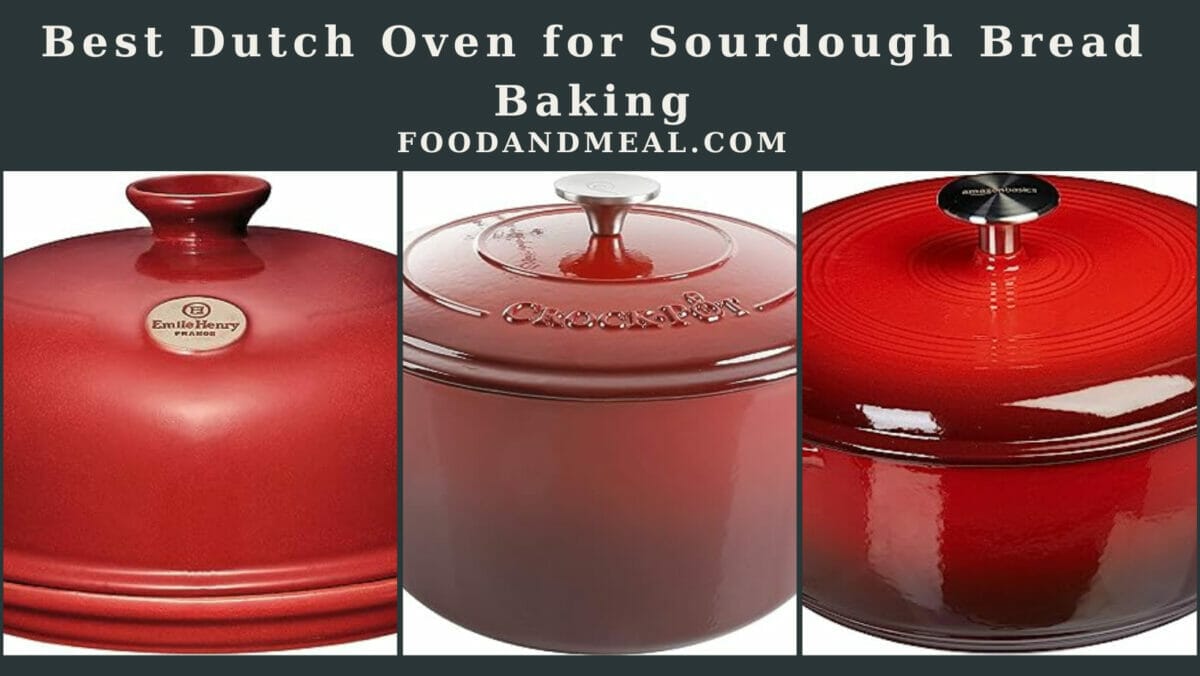 Why Bake Bread in a Dutch Oven?
When it comes to homemade bread, the oval Dutch oven reigns supreme as the go-to vessel for creating artisan loaves. Its unique shape and features make it the ideal choice.
The oval Dutch oven's superiority lies in its ability to utilize high heat, combined with its sturdy lid, to effectively trap steam within the pot. This magical combination works wonders, turning the initially soft dough into a beautifully crisp-crusted dome. In essence, it ensures the bread is cooked to perfection, leaving you with a delightful culinary masterpiece.
Best Dutch Oven for Sourdough Bread
Best Price
Le Creuset Enameled Cast Iron
4.8
(228 ratings)
$299.95
The Le Creuset Bread Oven takes home baking to the next level of delicious and beautiful. Crafted from our legendary cast iron for superior heat distribution, this purpose-built shape with its domed lid traps and circulates steam to create bakery-quality results.
Exceptional heat retention and distribution
Smooth enameled surface for easy cleaning Versatility in cooking techniques
Durable and long-lasting build
Vibrant color options for personalization
Secure grip handles for convenient handling
Compatibility with different heat sources
Hefty price tag compared to non-premium options
Weight may be cumbersome for some users
Requires proper maintenance to avoid chipping
Le Creuset Enameled Cast Iron is a heavyweight champion in the cookware realm, offering exceptional heat retention and even distribution. Crafted with precision, this piece of culinary art promises to elevate your cooking experience. The smooth enameled surface not only prevents sticking but also simplifies cleaning, making it ideal for both novice and seasoned chefs.
In our extensive testing, Le Creuset Enameled Cast Iron exhibited superior performance compared to similar products we've evaluated in the past. The even heating ensured consistent results, eliminating the dreaded hot spots that can ruin your masterpiece. The versatility of this cookware shines whether you're searing, sautéing, simmering, or baking.
Le Creuset's vibrant array of colors adds a touch of elegance to your kitchen. Beyond aesthetics, this cookware is built to last. The enameled surface not only resists staining but also prevents rust, ensuring its longevity. However, like any investment, proper care is essential to maintain its pristine condition.
The ergonomic handles of Le Creuset Enameled Cast Iron provide a secure grip, allowing you to maneuver effortlessly from stovetop to oven. Its compatibility with various heat sources, including induction cooktops, adds to its appeal. Plus, the tightly fitting lid helps lock in moisture and flavors, giving you culinary results that will impress.
If you're seeking a Dutch oven renowned for its durability, the Le Creuset Enameled Cast Iron Dutch Oven might just be the perfect fit for you.
Crafted from enameled cast iron, this Dutch oven is built to withstand the test of time in your kitchen. While many parts of the world refer to it as a casserole dish, we recognize its true potential as a serious bread baking tool!
With its vibrant exterior available in various colors, finding one that complements your kitchen's aesthetic is a breeze. Its enamel-coated interior adds an extra layer of convenience, serving as a non-stick surface to ensure your culinary creations remain intact and flawlessly prepared.
Whether you're indulging in homemade bread or roasting a medley of vegetables, this remarkable piece of cast iron cookware will never disappoint.
The Le Creuset Dutch oven boasts a smooth glass surface and is equipped with two sturdy non-slip handles, making it a highly versatile cooking vessel. Thanks to the exceptional heat retention properties of cast iron, it stands out as an excellent choice for baking sourdough loaves to perfection.
Best Price
Amazon Basics Enameled Cast Iron Dutch Oven
4.7
(42261 ratings)
$72.54
The enameled cast iron Dutch oven can be used for baking, boiling, braising, or roasting a wide range of recipes. Multiple colors and sizes available.
Exceptional heat retention and distribution
Enameled interior for non-stick cooking and easy cleaning
Value-driven pricing compared to higher-end brands
Wide, ergonomic handles for safe and comfortable handling
Compatibility with multiple heat sources
Slightly rougher finish compared to premium options
Heavier weight may require adjustment for some users Initial learning curve for temperature control
When it comes to bread-making, the Amazon Basics Enameled Cast Iron Dutch Oven is a top-notch choice. With its high-quality construction, this Dutch oven is designed to excel in the art of bread baking. It boasts a generous 5-quart capacity, allowing you to bake a single large loaf or even two loaves simultaneously.
The exterior of the Dutch oven is crafted from enameled cast iron, ensuring durability and heat distribution. It comes equipped with sturdy loop handles that offer a comfortable grip while cooking, adding to its user-friendly design.
The interior of the Dutch oven is coated with porcelain enamel, providing a smooth and non-stick surface that facilitates the baking process for your bread or any other culinary creations. Thanks to its heavy-duty materials, this enameled cast iron Dutch oven is built to withstand years of regular use in your kitchen, displaying exceptional durability compared to less sturdy models.
Featuring a classic design, this Dutch oven includes a lid with a tight-fitting gasket seal. This feature allows you to effectively retain steam during the baking process, preventing heat loss through leaks around the rims. This ensures optimal efficiency and helps maintain the desired density of your bread.
Moreover, the Dutch oven incorporates vents on both sides to facilitate the release of excess moisture while promoting air circulation within its interior. This feature helps keep your food moist and prevents scorching, especially during prolonged periods of high temperatures. These factors contribute to producing baked bread with superior taste and texture.
Best Price
Lodge Pre-Seasoned Double Dutch Oven
The Lodge 5 Quart Cast Iron Double Dutch Oven is every cook's dream with a lid that easily converts to a 10.25 Inch skillet and a domed cover to provide space for roasts, no-knead bread recipes, soups, and stews. Complete with loop handles for easy lifting and control, it provides excellent heat distribution and retention for consistent, even cooking. It offers an abundance of possibilities. Use to sear, sauté, bake, broil, braise, fry, or grill. It's safe to use in the oven, on the stove or grill, and over a campfire
Pre-seasoned for immediate use
Superior heat retention and distribution
Versatile dual-purpose lid
Sturdy loop handles for easy maneuvering
Durable build for long-lasting use
Weight may be cumbersome for some users Initial seasoning might be preferred by seasoned cooks
If you're looking for a versatile all-in-one pot, the Lodge Pre-Seasoned Dutch Oven is an excellent choice to meet your cooking needs. This cast iron pot is pre-seasoned and comes with a host of features that make it perfect for bread making and more.
The lid of this Dutch oven doubles as a skillet, adding to its functionality and providing additional cooking options. The loop handles are designed to ensure a secure grip while you're busy in the kitchen.
When it comes to bread making, whether it's sourdough or any other artisan bread, this seasoned cast iron pot shines. It offers equal heat distribution, allowing your bread to bake evenly. You can use this Dutch oven on any heat source, including induction cooktops and electric stove tops, making it a versatile option.
Cleaning up after cooking is a breeze with this pre-seasoned Dutch oven. It features a 100% natural vegetable oil coating, which makes residue removal easy. Simply rinse off the leftover bits without the need for vigorous scrubbing.
The Lodge Combo Cooker Cast Iron Cookware offers the same purpose and functionality as more expensive options like Le Creuset, but at a more affordable price. Rest assured, you won't feel like you're missing out on the benefits of other enamel Dutch ovens when you choose this budget-friendly alternative.
Best Price
Uno Casa – Enamel Coated Dutch Ovens
4.6
(1310 ratings)
$72.54
Uno Casa Braiser Enameled Cast Iron Casserole Dish - 3.7 Quart Enameled Cookware Pan with Lid, dutch oven pot Skillet with Lid
Exceptional heat retention and distribution Affordable compared to similar products
Versatile for various cooking techniques
Ergonomic handles for easy maneuvering
Enamel coating ensures easy release and cleanup
Slightly heavier than non-cast iron alternatives
Enamel may chip if not handled carefully
Learning curve for temperature control
Introducing the Uno Casa Dutch Oven—a high-quality classic enamel-coated Dutch oven with a flawless finish that will revolutionize your baking experience. Its sleek black interior boasts a non-stick surface, compatible with any heat source. This ensures superior heat retention and allows you to prepare your favorite meals with both efficiency and style.
Whether you're indulging in the art of bread baking or planning to roast a delectable chicken for a delightful evening feast, this cast iron Dutch oven has got your back!
In addition to its exceptional performance, this brilliant Dutch oven creates perspiration spots that contribute to perfectly moist food. With its wide loop handles and a stainless steel lid, maneuvering this kitchen essential from one corner to another is a breeze, eliminating the risk of burning your hands in the process.
Best Price
Crock-Pot Artisan Round
4.7
(8690 ratings)
$64.99
Cast iron cookware distributes and retains heat evenly. Cast Iron has been used for centuries to slow-cook things like soups, stews, sauces, breads, and more. On top of that, you can broil, bake, or roast in the oven up to 500°F. Use wooden, silicon, or nylon utensils for the best care as metal can scratch.
Intuitive digital controls for easy programming
Generous cooking capacity for various portions
Reliable and consistent cooking results
Durable construction for long-lasting performance
Approachable price point for its features
Larger size may require adequate storage space
Limited color options for personalization
If you're in search of a top-notch Dutch oven, Crock-Pot's Artisan Round Enameled Dutch Ovens are the epitome of brilliant cookware. With their porcelain enamel finish, they make a bold statement in any kitchen. This might just be the perfect Dutch oven for you, complete with a heavy glass lid that helps retain delightful steam throughout the cooking process.
When it comes to affordability, this round Dutch oven offers great value compared to its Le Creuset counterparts. You can dive into the world of Dutch oven bread baking without straining your budget.
To ensure the longevity of your cast iron pot, it's important to handle it with care. Stick to using non-metallic utensils while cooking, preserving the sleek interior and avoiding any potential damage.
Best Price
Emile Henry Bread Cloche
Emile Henry enters the artisan bread baking category with the Bread Cloche. The ceramic Bread Cloche with its bell shaped cover allows you to proof your bread directly in the bread cloche. The lid also traps steam from the baking bread to create an environment similar to a steam-injected oven.
Exceptional steam-capturing design for perfect crust and crumb
High-quality ceramic material ensures even heat distribution
User-friendly handles for safe and convenient use
Versatile size accommodates various bread recipes
Craftsmanship and attention to detail evident in the design
Slightly higher price point compared to basic baking tools
Requires initial heating before placing dough inside
The Emile Henry Bread Cloche is a versatile tool designed to enhance your bread baking endeavors. Crafted with precision and attention to detail, this cloche promises to deliver exceptional baking results. As enthusiasts of culinary excellence, we've meticulously scrutinized every aspect of this product to provide you with valuable insights.
Our organization's rigorous testing of the Emile Henry Bread Cloche has illuminated its impressive performance capabilities. The cloche's unique design captures steam during the baking process, creating an optimal environment for achieving the perfect crust and crumb in your bread. The ceramic material ensures even heat distribution, contributing to consistently outstanding baking results.
The impressive size of the dome on the Emile Henry cloche is a standout feature that allows for generous oven springs, even with larger loaves. Additionally, the nearly flat base of the cloche eliminates the inconvenience of dealing with tall sides when using a preheated vessel, ensuring a seamless baking experience.
While the Emile Henry cloche doesn't require preheating according to the instructions, I have personally found that preheating it yields superior oven spring. I also prefer proofing my dough in a separate proofing basket. Nevertheless, the option to proof the loaf directly in the cloche is available and may suit different preferences.
Beyond its functionality, the Emile Henry cloche is aesthetically pleasing and available in various attractive colors. Its unique design sets it apart, making it a visually stunning addition to any kitchen. Any passionate bread baker would be delighted to own such a remarkable cloche.
Best Price
STAUB Cast Iron Dutch Oven
Smooth enamel bottom encourages even cooking on all stovetops, including induction. Oven safe up to 500°F.
Exceptional steam-capturing design for perfect crust and crumb High-quality ceramic material ensures even heat distribution
User-friendly handles for safe and convenient use
Versatile size accommodates various bread recipes
Craftsmanship and attention to detail evident in the design
Slightly higher price point compared to basic baking tools
Requires initial heating before placing dough inside
Experience the remarkable STAUB Cast Iron Round Cocotte, specially designed with a heavy lid featuring a unique attribute. Equipped with spikes underneath, this cocotte ensures that the enticing flavors of your sourdough are retained during cooking, preventing them from dissipating into the atmosphere. Additionally, the handle boasts a brass-plated knob handle, providing a secure grip even at high temperatures when lifting the lid.
The flat base of the cocotte guarantees an even distribution of heat, resulting in perfectly cooked dishes. Its versatility shines as it can be used on any cooking surface, allowing for seamless culinary creations.
While this Dutch oven falls into the higher-end range of products, its exceptional quality justifies the investment. The STAUB Cast Iron Round Cocotte promises an unparalleled cooking experience, ensuring your dishes are infused with rich flavors and cooked to perfection.
Affiliate DisclaimerAbout The Content
As an affiliate, we may earn a commission from qualifying purchases. We get commissions for purchases made through links on this website from Amazon and other third parties.