There are moments when I close my eyes, take a bite, and I'm transported. The Curry Pork Hot Pot does precisely that – it takes me on a culinary journey across Japan. The rich aroma, the tender pork, and that hint of spice from the curry; it's a bowl full of memories, and I'm eager to share the secret with you.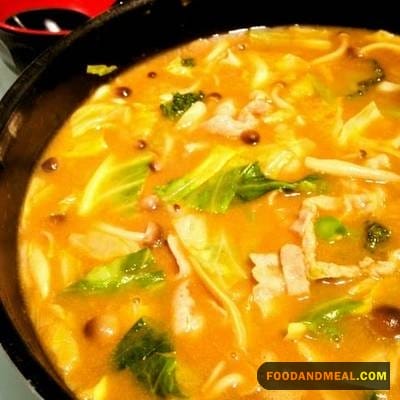 Japanese Curry Pork Hot Pot Recipe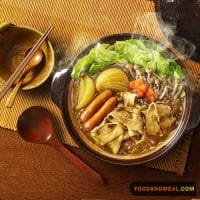 Curry Pork Hot Pot
Dive deep into the comforting world of the Curry Pork Hot Pot, a Japanese culinary marvel. After you've tried this, you won't look back. Don't forget to share this recipe with fellow food lovers and subscribe for more unique dishes straight from my kitchen to yours!
Print
Add to Collection
Go to Collections
Equipment

Ingredients
Ingredient List:
3 1⁄2

oz. of

store-bought curry roux, Japanese – available online

34

oz. of

water, filtered

3

tablespoons

of 3x concentrated Mentsuyu soup base –

available online

1 2x2-inch

square sheet

of seaweed, Kombu
Additional Ingredient List:
1⁄4

head

of cabbage, Nap

1

block of

tofu, firm

10 1⁄2

oz. of

beansprouts

2

leeks, Japanese

3 1⁄2

oz. of

carrots

10 1⁄2

oz. of

thinly sliced pork
Instructions
Soak Kombu in water for 20 minutes or so, then turn heat on. Bring to simmer.

When mixture simmers, add mentsuyu and curry base. Simmer on med. to dissolve curry roux.

Add veggies and allow to begin cooking.

Place on a hot pot burner on table.

Have diners use skewers or chopsticks to dip their slices of pork into hot soup to cook. Ladle soup into their bowls (or let them do it).
Notes
Pro Tip: Always use fresh ingredients. The quality of your pork and spices makes a world of difference. And remember, patience is key. Let the pot simmer to perfection. If this recipe warmed your heart, share the love and don't forget to subscribe for more dishes from my kitchen diary!

Chef's Note: Balancing the curry is an art. Start with a subtle amount and adjust as per your taste preference. The beauty of this dish lies in its adaptability. Loved this Curry Pork Hot Pot? Share the recipe with friends and family and join our community by subscribing!

Reminder: A hot pot is best enjoyed with loved ones. So, gather around, share stories, laugh a little, and savor every bite. If this recipe added warmth to your day, spread the cheer! Share it and subscribe for more heartfelt recipes from my culinary adventures.
Share by Email
Share on Facebook
Share on Twitter
Nutrition
Calories:
90
kcal
|
Carbohydrates:
19
g
|
Protein:
6
g
|
Fat:
1
g
|
Saturated Fat:
0.1
g
|
Polyunsaturated Fat:
0.2
g
|
Monounsaturated Fat:
0.05
g
|
Sodium:
83
mg
|
Potassium:
573
mg
|
Fiber:
6
g
|
Sugar:
11
g
|
Vitamin A:
17793
IU
|
Vitamin C:
27
mg
|
Calcium:
55
mg
|
Iron:
2
mg
© Food And Meal
This website provides approximate nutrition information for convenience and as a courtesy only. Nutrition data is gathered primarily from the Spoonacular Database, whenever available, or otherwise other online calculators.
Curry Pork Hot Pot Using a Pressure Cooker
Ingredients: As previously listed.
Method:
Searing: Begin by setting your pressure cooker to the sauté mode. Once hot, add a dash of oil and sear the pork pieces until they have a nice golden crust. This step will lock in the flavors and give a depth to your broth.
Broth Preparation: Pour in the dashi, ensuring the pork is submerged. Next, introduce the soy sauce, mirin, and sake. Stir gently, ensuring the flavors meld.
Veggies In: Layer in the mushrooms, cabbage, and other veggies, positioning them on top. Do not stir; allow them to just sit on the surface. This ensures even cooking without making the vegetables mushy.
Pressure Time: Seal the pressure cooker lid and set it to high pressure. Cook for 15 minutes. Remember, the pressure cooker will take time to come to pressure before the cooking countdown begins.
Quick Release: Once done, perform a quick release of the pressure. This will prevent the veggies from overcooking.
Final Touches: Open the lid once the steam is fully released. Introduce the harusame noodles, immersing them into the hot broth. They'll cook swiftly in the residual heat.
Serve: Pour into individual bowls, ensuring everyone gets a bit of everything – pork, veggies, and those delightful noodles. Serve with Ponzu dipping sauce on the side.
Cooking Tips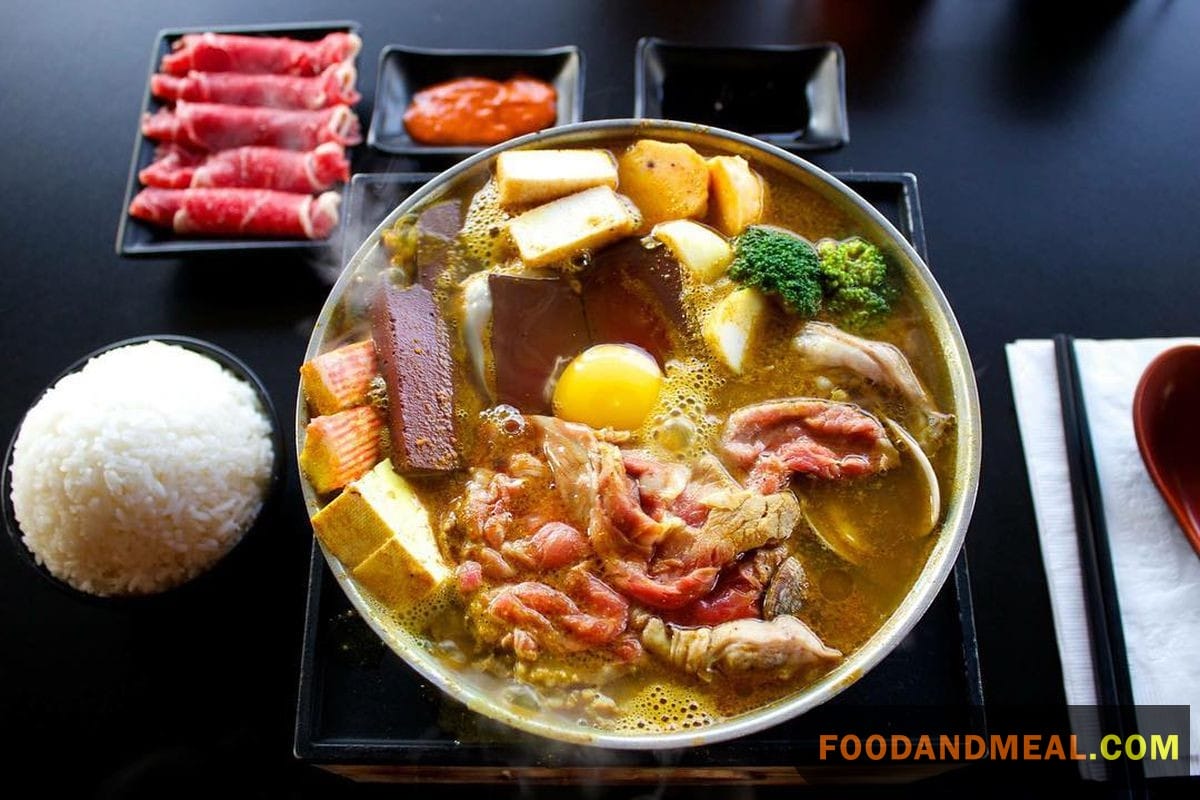 Achieving the authentic taste of Curry Pork Hot Pot is an art. Here are some tips to make sure your dish is impeccable every single time:
Quality of Pork: Always choose fresh, good quality pork. It's the star of the dish, and its quality will shine through in the taste.
Spice Levels: The spice level of the curry can be adjusted. Always add gradually and taste along the way to get the perfect balance.
Don't Overcrowd the Pot: Give the ingredients space to cook and absorb the flavors. Overcrowding can lead to uneven cooking.
Noodles Last: Always add the harusame noodles at the very end. This prevents them from becoming too soft and losing their texture.
Serving Suggestions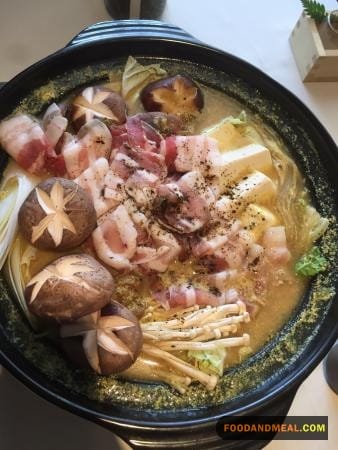 The Curry Pork Hot Pot is an embodiment of warmth and heartiness, making it an ideal dish for many occasions. Here's when and how to serve it best:
Occasions: Perfect for cold winter nights or when you have friends over for an intimate dinner. The bubbling curry under the dim lights will surely set the mood.
Audience: A favorite for both adults and kids. Though, if serving to children, you might want to control the spice levels to suit their palate.
Complements: A side of Japanese pickles (like tsukemono) and steamed rice can balance out the curry's richness. If you're feeling adventurous, try pairing it with some chilled sake or a glass of white wine like a crisp Chardonnay.
Presentation: Serving in individual bowls or clay pots can add an authentic touch. Garnish with fresh scallions or a sprinkle of sesame seeds for that extra visual appeal.
FAQs of Curry Pork Hot Pot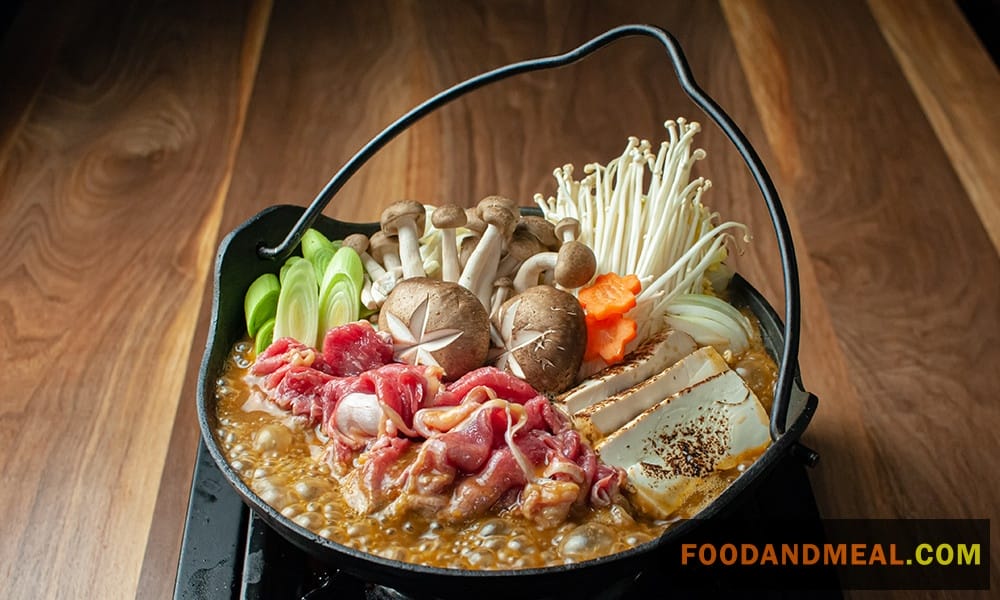 Can I use a different type of meat for the Curry Pork Hot Pot?
Certainly! While pork is traditional, you can substitute with chicken or beef. Adjust the cooking time accordingly, especially if using beef.
What if I don't have harusame noodles?
No worries! You can use rice noodles or even udon as a substitute. The idea is to have a noodle that complements the rich curry.
How spicy is this dish?
The spiciness can be adjusted to suit your palate. If you're making it for the first time, start with less and build it up to your liking.
How do I store leftovers?
Leftovers can be stored in an airtight container in the refrigerator for up to 2 days. When reheating, ensure you do it over a low flame to prevent the meat from becoming too tough.
Can I freeze the Curry Pork Hot Pot?
It's best enjoyed fresh. However, if you must freeze, avoid freezing the noodles. Store the curry and noodles separately, and when you're ready to enjoy, reheat the curry and cook fresh noodles to add in.
Craving Japanese cuisine? Discover how to whip up a sumptuous Curry Pork Hot Pot in your
kitchen
. Dive in and share the joy!
Affiliate DisclaimerAbout The Author
As an affiliate, we may earn a commission from qualifying purchases. We get commissions for purchases made through links on this website from Amazon and other third parties.