If you're searching for the best spatula for your cast iron pan, Food and Meal have compiled a list of the top 5 Best Spatulas for Cast Iron Of 2023. These spatulas are specifically designed to meet the high standards required for working with cast iron cookware.
Why Is It Important to Use the Right Spatula for Cast Iron?
Once you invest in a cast-iron skillet, you'll quickly realize that it requires special care and attention. Cast iron is known for its exceptional durability, heat retention, and ability to withstand high cooking temperatures. When properly seasoned, it can also provide a non-stick cooking surface.
Due to its porous nature, cast iron needs to be leveled to achieve non-stick properties. This is done through the seasoning process, which involves applying oil to the cookware's surface and heating it to create a smooth coating over any unevenness.
Seasoning not only enhances non-stick capabilities but also helps prevent rust formation. Cast iron is susceptible to rusting when exposed to water or acidic substances.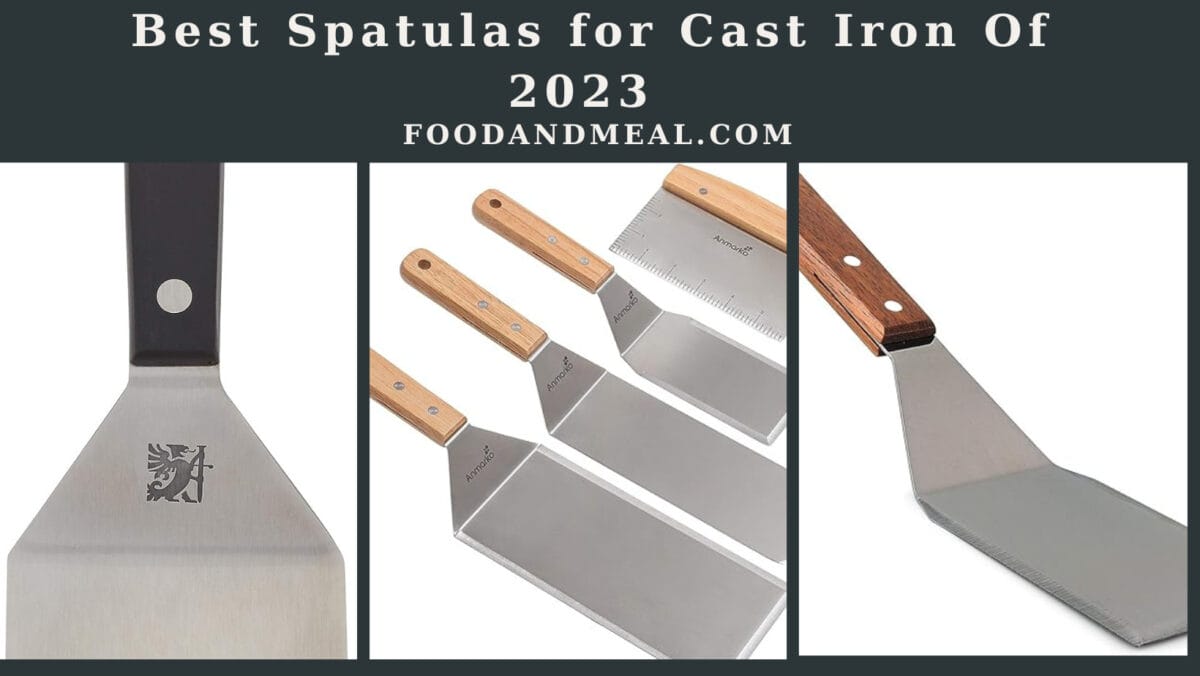 However, seasoning alone is not sufficient. To optimize your cast iron pan's performance and gradually achieve a smooth and even cooking surface, choosing the right spatula is crucial.
By using a well-designed and sturdy spatula with your cast iron pan, you can effectively level out any high spots and enhance the overall cooking area, resulting in a more even and non-stick surface.
To expedite the seasoning process and spend more time cooking with your cast iron cookware, consider using a square-shaped spatula with sharpened edges. This type of spatula will contribute to smoothing out the pan's surface over time and improving any irregularities present.
In summary, by carefully selecting the appropriate spatula for your cast iron pan and employing proper seasoning techniques, you can maximize its non-stick qualities and enjoy optimal cooking performance.
How to Choose the Best Spatula for Cast Iron?
If you're in search of the ideal spatula for your cast iron cookware, several factors should be considered to ensure the best choice.
| | |
| --- | --- |
| Material | The material of the spatula is crucial for leveling the surface of your cast iron with each use. For scraping purposes, opt for a spatula made of hardened stainless steel. Unhardened steel is softer than cast iron and can damage the pan's surface over time. Plastic spatulas are not suitable for use with cast iron as they can melt at high temperatures. While wooden spatulas are generally good for delicate food, they are not designed for leveling the pan's surface. |
| Shape | The shape of the spatula is highly significant for improving the cooking surface. A square-shaped spatula with sharp angles is the best option. Spatulas with rounded edges have minimal contact with the pan, making them unsuitable for leveling the surface. |
| Edges | Spatulas with beveled edges are ideal as they facilitate scraping off food residue and easily sliding under food. Beveled and slightly sharp edges can also be used for chopping. If precise scraping and flipping are not a major concern, spatulas with non-beveled edges can be considered. |
| Flexibility | The flexibility of the spatula depends on its intended use. More flexible spatulas are suitable for delicate foods like eggs, fish, or pancakes. They are easier to maneuver under food than sturdier options. If you plan to cook items like smashed burgers or steaks, an inflexible spatula is recommended. |
Top 5 Best Spatulas for Cast Iron
Best Price
Anmarko Metal Spatula Set
4.7
(2328 ratings)
$26.78
Professional Stainless steel spatula set - includes 1 x cooking spatula turner, 1 x grill spatula, 1 x hamburger turner 4 x 8 inch . Great for use as pancake turner , fish turner spatula , griddle spatula , kitchen spatula, bench scraper .
Diverse set of spatulas for various cooking needs. High-quality stainless steel construction for durability. Precision engineering for easy flipping and handling. Dishwasher safe for hassle-free cleanup. Affordable and excellent value for the quality.
Some users may find the handles a bit short for certain tasks.
The metal can get hot during cooking, so handle with care.
A storage solution or holder for the spatulas would be a useful addition.
The Anmarko stainless steel spatula set is an incredible steal, particularly considering its price point. This comprehensive kit includes a cooking spatula turner, a grill spatula, and a griddle scraper, providing a versatile array of utensils to complement your cast iron pan.
Although these spatulas are designed for professional chefs in commercial kitchens, they are equally suitable for use in your home kitchen or backyard barbeque. Don't let their intended use diminish your expectations, as the Anmarko set boasts professional quality.
Crafted from stainless steel, these spatulas are non-reactive and highly durable. With a thickness of 1/25, the spatula effortlessly glides under pancakes, fish, or any other food you're cooking.
The griddle turner features beveled edges, allowing for easy flipping and quick food cutting during cooking. On the other hand, the larger pancake flipper boasts rounded edges, making it a breeze to flip delicate items such as eggs.
The wooden handles are ergonomically shaped, ensuring a comfortable grip. For the convenience of storage, the wooden handles come with holes, enabling you to hang them on the wall for easy accessibility—a thoughtful detail appreciated by meticulous buyers. The handles are sturdy and securely attached with stainless steel rivets.
A significant advantage of the Anmarko spatula set is its dishwasher-safe design, allowing for effortless cleanup after use.
In summary, the Anmarko stainless steel spatula set offers exceptional value with its variety of high-quality utensils, durable construction, comfortable wooden handles, and dishwasher-safe convenience. Whether you're a professional chef or a home cook, this set is sure to meet your culinary needs with excellence.
Best Price
Homi Styles Metal Spatula
4.5
(2328 ratings)
$22.78
SMALL SPATULA PACKS A BIG PUNCH – Silicone spatulas and rubber spatulas have their time and place. When it's time to get serious in the kitchen or at the grill turn to this 11-inch professional spatula. Made of 420J2 steel with wooden handle - measures 11 inches long by 3 inches wide.
Premium stainless steel construction for durability.
Precision engineering for easy flipping and handling.
Versatile - suitable for a wide range of cooking tasks.
Ergonomically designed handle for a comfortable grip.
Easy to clean and dishwasher safe.
The metal handle can become hot during cooking, so caution is needed.
A storage solution or hanging hook would be a useful addition for convenience.
The Homi Styles professional spatula is the perfect companion for your cast iron skillets.
Designed with the needs of inexperienced home cooks in mind, this heavy-duty tool offers reliability and performance.
Measuring 11x3x1.5 inches, the dimensions of this spatula make it ideal for use with large cast-iron cookware.
With its substantial weight, the Homi Styles spatula is well-suited for tasks like making smash burgers and handling heavy scraping. The heavy gauge steel construction eliminates flexibility, ensuring precise control while using the spatula.
Crafted from hardened stainless steel, this spatula excels in scraping capabilities and offers exceptional durability. You can expect it to withstand extensive use without wearing out easily.
The sharp and non-flexible edge of the Homi Styles spatula enables evenly distributed force, making it effortless to flip heavy foods, such as large pieces of meat.
The spatula features a single piece hardwood handle. Unlike plastic handles, wooden handles do not melt and remain cool even when the cast iron pan reaches high temperatures. The handle is also tapered to provide a comfortable grip during use.
It's important to note that the Homi Styles spatula should only be washed by hand to preserve its longevity.
Overall, the Homi Styles professional spatula checks all the boxes when it comes to a high-quality tool for cast iron cookware. Its sturdy construction, scraping ability, comfortable handle, and reliable performance make it an excellent choice for any cooking enthusiast.
HIC Harold Import Co. Stainless Steel Pancake Turner
The Dexter-Russel pancake turner by HIC Harold Import Co. is an excellent choice to accompany your cast iron skillets. Don't be deterred by the name—this spatula is versatile enough to handle various cooking tasks, not just pancakes.
Crafted from stainless steel, this spatula offers robustness beyond flipping pancakes alone. Its durability makes it suitable for heavier duties in the kitchen.
What sets the Dexter-Russel spatula apart is its impeccably crafted handle. Made of walnut and securely attached to the tang with three rivets, this spatula is built to last a lifetime.
While the Dexter-Russel pancake turner comes in three sizes, we recommend opting for the largest one, measuring 5 inches. If you have smaller pans, the mini turner or slightly smaller pancake turner can be suitable alternatives. However, the larger spatula excels at handling more substantial tasks.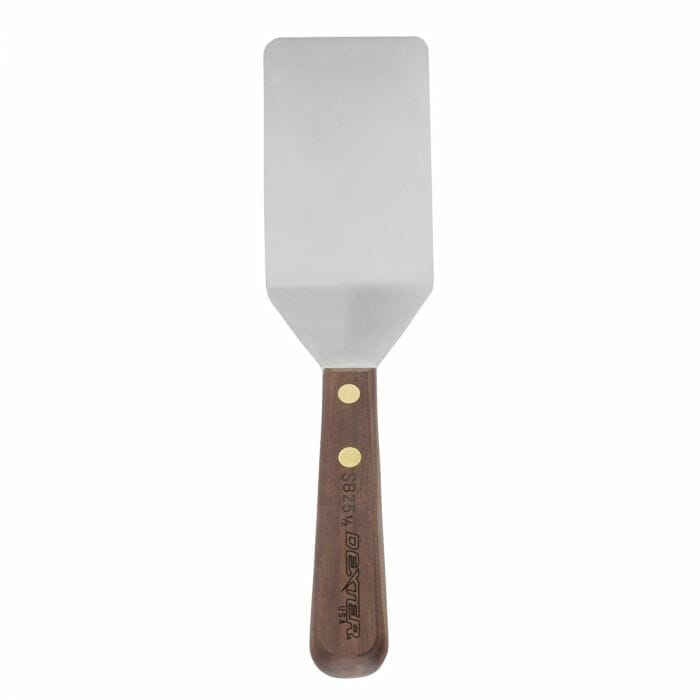 The square shape of the spatula allows you to level your cast iron pan over time, contributing to a smoother cooking surface.
One minor drawback of this spatula is that its edge is not beveled, which would have enhanced precision while turning food. However, the rounded angles prevent any scratching of your pans when flipping pancakes.
In summary, the Dexter-Russel pancake turner is a reliable and versatile spatula that pairs well with cast iron skillets. Its stainless steel construction, well-made handle, and square shape make it a durable and practical choice for various cooking needs. Whether you're flipping pancakes or tackling more heavy-duty tasks, this spatula is up to the challenge.
Best Price
Earlywood Hard Wood Scraper
It's a pancake flipper, an egg spatula, a wood skillet scraper, a beef chopper, a garlic crusher, and a wooden bench scraper. These are just a few of the things you'll find yourself busting this utensil out for.
Handmade craftsmanship for superior quality.
Versatile design suitable for various cooking tasks.
Sustainable and eco-friendly.
Gentle on cookware.
Comfortable and ergonomic grip.
Wooden utensils require regular oiling to maintain their finish.
Not dishwasher safe; hand wash and dry promptly.
The wooden spatula known as the Earlywood cooking utensil is specifically designed for use with cast iron pans.
Featuring a square shape and sharp ends, this wooden spatula is perfect for flipping pancakes and scraping off any delicious residue that has adhered to the pan's surface.
The Earlywood spatula is not only durable but also versatile. It can be used for various tasks, such as crushing garlic or chopping beef.
Surprisingly sturdy, this spatula boasts a thickness of 0.5 inches and a rounded handle that ensures a comfortable grip while cooking.
While some may find the length of the spatula relatively short, it compensates by allowing you to slide half of the utensil under pancakes or omelets, making flipping a breeze.
The Earlywood spatula stands out with its exceptional and well-thought-out design. Its simplicity combined with its uniqueness caters to both left-handed and right-handed individuals, thanks to its symmetric design.
Additionally, Earlywood is committed to sustainability and offers a lifetime warranty—a significant advantage appreciated by both amateur and professional cooks.
In summary, the Earlywood cooking utensil is a wooden spatula specially crafted for cast iron pans. With its practical design, durability, comfortable grip, and sustainability focus, it is a reliable tool that will enhance your cooking experience.
Best Price
Sabatier Triple Rivet Stainless Steel Wide Turner, 9.65-Inch, Black
4.6
(4881 ratings)
$11.71
The large head on this Sabatier Triple Rivet Wide Turner is perfect for flipping and scraping the bottom of stainless steel pans. This handy tool is great to use on the griddle, is perfect for grilling and ideal for serving. Dishwasher safe. Turner measures 9-5/8 inch long.
High-quality stainless steel construction.
Wide blade for versatile cooking applications.
Triple rivet handle for added durability.
Dishwasher safe for easy cleanup.
Comfortable to hold and use.
The wide blade may not be suitable for very small pans.
The stainless steel handle can get hot during extended cooking.
The Sabatier spatula has been designated as Amazon's choice, and it's not difficult to see why. This spatula offers a range of styles and an attractive price point.
Depending on your specific needs, you can choose from the jumbo, narrow, wide, or flex turner options. Each style comes in different sizes and shapes, catering to a variety of flipping and turning tasks. Whether you're handling lightweight pancakes, delicate fish, or heavier foods, there's a suitable option available.
The Sabatier spatulas boast professional quality, with their heads constructed from sturdy stainless steel. The rounded and slightly beveled edges make it effortless to slide the spatula under your cooking ingredients.
Thanks to the slightly sharpened edges, you can easily scrape off any delectable bits left behind from cooking meat or vegetables in your cast iron skillet.
The handle of the Sabatier spatula is made of durable plastic and securely attached to the head using three stainless steel rivets. While high-quality plastic handles can withstand heat, it's important to avoid leaving them on a hot pan, as the temperatures reached in cast iron skillets can be quite high. Excessive heat exposure may cause distortion or damage to the plastic handle.
Additionally, the Sabatier spatula is dishwasher safe, simplifying the cleaning process and saving you time and effort.
One of the standout features of the Sabatier spatulas is the inclusion of a lifetime warranty, which speaks volumes about the product's quality and durability.
In summary, the Sabatier spatula range offers a variety of styles and a favorable price point. With their professional quality, sturdy construction, versatile design, and dishwasher-safe nature, they are a reliable choice for your cast iron cookware. The lifetime warranty further highlights the confidence in the product's long-lasting performance.
Affiliate DisclaimerAbout The Content
As an affiliate, we may earn a commission from qualifying purchases. We get commissions for purchases made through links on this website from Amazon and other third parties.