Juicing has the potential to transform your well-being, whether you're on a weight loss journey or simply aiming to improve your overall health. However, the cost of purchasing a juicer can often deter individuals from taking the leap. But fear not, because this article about Best Juicers Under $100 – Buy guide of Food and Meal will give you the best.
I have curated a collection of my favorite juicers, all priced under $100. Don't let their affordability fool you; these juicers are capable of producing excellent glasses of juice that will kickstart your mornings.
Types of Juicer: A Comprehensive Guide
When it comes to shopping for a juicer, it's crucial to understand the three main types available in the market. Knowing the differences is essential, as you wouldn't want to mistakenly purchase a citrus press when your intention was to buy a juicer for leafy greens!
| | |
| --- | --- |
| Citrus Press | A citrus press is designed specifically to extract juice from citrus fruits. With a simple squeezing mechanism, it allows you to effortlessly make fresh orange juice or other citrus delights. Citrus presses are generally affordable, and you can find budget-friendly options that meet your needs. |
| Centrifugal juicers | Operating similar to blenders, centrifugal juicers utilize spinning blades at the bottom to shred the ingredients and release the juice. They are popular for their ability to quickly produce juice, making them ideal for beginners who want a convenient juicing experience. These juicers are often reasonably priced, while masticating juicers tend to be more expensive. |
| Masticating Juicers | Masticating juicers, featuring two large rotating gears, excel at extracting every drop of juice from fruits and vegetables. While they are typically pricier, there are affordable options available, even under $100. Masticating juicers offer higher juice yields compared to centrifugal ones and operate at lower temperatures, preserving the vital enzymes in the juice. |
Consider when buying a best juicer
Easy-to-Clean Design
Cleaning juicers can be a tedious task, so opting for models that are easy to clean can make your life simpler. Look for juicers with fewer parts, as they are generally easier to clean. Manufacturers often mention the ease of cleaning on the packaging or product descriptions.
BPA-Free Construction
Regardless of the price, it's important to prioritize your health. Always check if the juicer is labeled as BPA-free. This ensures that the juicer is made from materials free of Bisphenol A (BPA), a chemical commonly found in certain plastics. Choosing BPA-free juicers eliminates the risk of chemicals leaching into your food and compromising your well-being.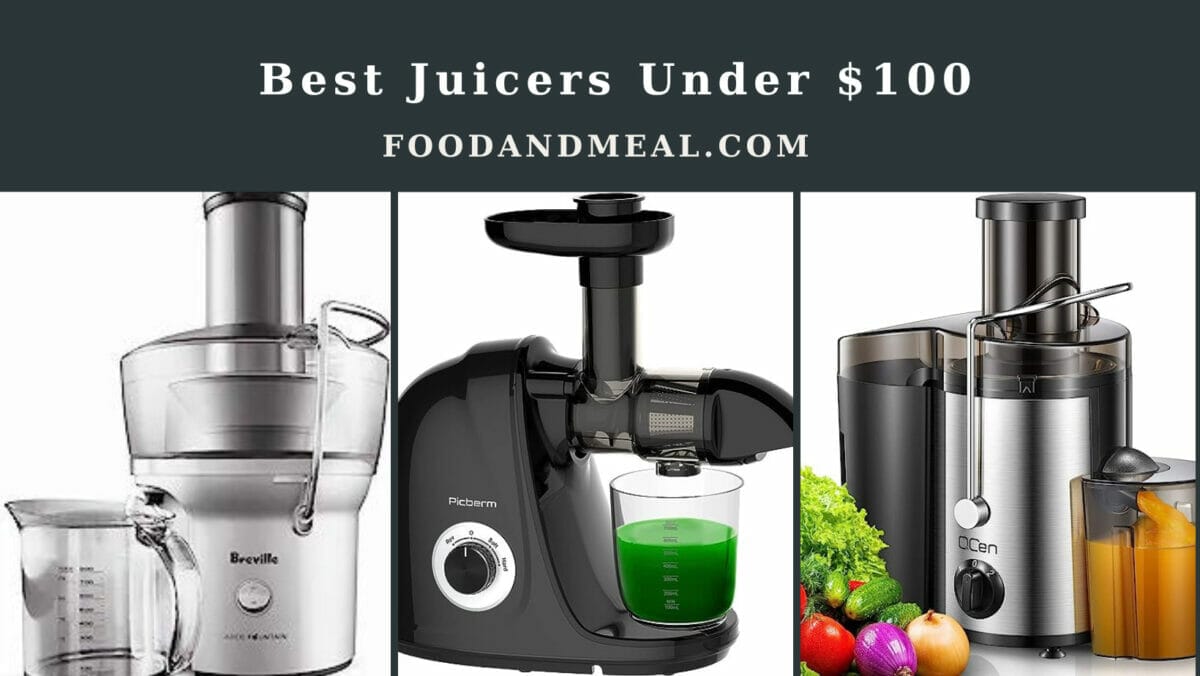 Included Waste Collection Bin
Ensure that the juicer you choose has a designated waste collection bin or pulp container. This prevents the pulp from scattering all over your kitchen counter, providing a convenient solution for waste management. While most juicers come with a pulp collection feature, it's always wise to double-check before making a purchase.
By considering these factors and understanding the different types of juicers available, you can confidently select the best juicer that suits your specific requirements and budget. Happy juicing!
Best Juicers Under $100 – Buy guide
Best Price
Hamilton Beach Juicer Machine
4.4
(35595 ratings)
Price: $69.99
? Take the plunge and go with the big mouth juice extractor from Hamilton Beach. It packs all the punch you would expect from a Hamilton Beach juice extractor: Reliable efficiency, high speed and no-fuss cleanup.it is recommended that oranges, pineapples, melons and mangoes be peeled before placing in the unit to minimize impact on juice flavor. Also, all fruits with pits and large seeds, such as nectarines, peaches, apricots, plums and cherries MUST be pitted before juicing.
Recommended for newbies to juicing
Easy to assemble, use, and clean
Fast-juicing Inexpensive
Trustworthy brand
Loud
Light so it wobbles on the counter
Customer Feedback:
"I'm new to juicing, and this juicer works perfectly for my needs. It's incredibly easy to set up and clean afterward. I'm impressed!"
"I absolutely love this juicer! Although I had to add a cheesecloth to strain out the pulp completely, it does the job well. The cheesecloth also helps create a tighter seal on the juicer, which is a bonus."
Product Review:
The Hamilton Beach Juicer Machine is a fantastic choice, as affirmed by satisfied customers. It excels in terms of ease of setup, usage, and cleaning. Thanks to its large chute feed, you can skip the hassle of cutting fruits and vegetables into smaller pieces. Additionally, the parts of the juicer are dishwasher-safe, ensuring convenience. However, we recommend hand washing the strainer or filter to effectively remove the pulp that tends to accumulate between the tiny teeth.
Who Should Consider Buying It:
If you're new to the world of juicing and want to give it a try without investing in a more expensive unit, the Hamilton Beach Juicer is perfect for you. It provides an excellent introduction to juicing, offering ease of use and straightforward maintenance at an affordable price point.
Best Price
Mueller Austria Juicer Ultra 1100W Power
4.2
(31309 ratings)
Price: $28.99
Introducing the Mueller Ultra Juicer - A compact, powerful 1,100 watt stainless-steel juicer that delivers a 16 oz cup of juice in just 8 seconds with no clogging or foaming. It offers dual-speed versatility, easy clean-ups with BPA-free materials, and a secure 3' feed chute with anti-drip function.
Choose from the 2-speed settings
Separates the seeds from the juice
Easy to clean up
Kitchen-grade and BPA-free materials 2-year warranty
Very loud
Strong vibrations when juicing
Customer Testimonials:
"After watching the documentary 'Fat, Sick & Nearly Dead,' I was inspired to embark on a healthier lifestyle. This juicer has been a fantastic companion in my journey. I'm thrilled with my choice!"
"I love how easy it is to assemble this juicer, and the fact that it's dishwasher-safe makes cleanup a breeze. Plus, there's no need to spend time cutting fruits into small pieces before juicing. It's so convenient!"
Product Review:
The Mueller Austria Juicer Ultra 1100W Power has garnered positive feedback from satisfied customers. Not only is it effortless to put together, but it's also dishwasher-safe, ensuring a hassle-free cleaning experience. A standout feature is that there's no need to go through the tedious task of cutting fruits into small pieces before juicing. The juicer's powerful performance allows it to efficiently extract juice from a wide range of fruits and vegetables. Moreover, it excels at breaking down nutrients to a cellular level, making them readily available for the body's immediate use.
Who Should Consider Buying It:
If you have plans to incorporate a significant amount of juice into your daily routine, this powerful juicer is the perfect choice for you. Its ability to handle large quantities of fruits and vegetables with ease makes it an ideal companion for those who want to make plenty of juice on a regular basis.
Best Price
AZEUS Centrifugal Juicer Machines
4.3
(1310 ratings)
Price: $58.99
The titanium reinforced blade (163 Chopping Blades) and Germany-made 2-Layer micro mesh filter basket are made out of stainless steel and together are designed for optimum juice and nutrient extraction. MODES - '1' low speed runs from 12000 to 15000 RPM for softer fruits like ra
Dual speed juicer
Automatically shuts off when overheated
Non-slip rubber feet 18-month product warranty 36-month exchange or return
Customer Feedback:
"My spouse has always wanted a juicer, especially because his parents have nine citrus trees. We are delighted that we bought this juicer, as it perfectly meets our needs!"
"I'm thoroughly impressed with this juicer. It falls under the category of best juicers under $100, yet it performs just as well as some of the pricier big brands. It's a fantastic value!"
Product Review:
The Azeus Centrifugal Juicer Machine has received positive feedback from customers who appreciate its performance and affordability. Equipped with titanium-coated blades, this juicer stands out by offering comparable functionality to centrifugal juicers while being available at a significantly lower price point. The clean finish, combined with the titanium blade and a second layer of blades, enhances its efficiency and effectiveness.
Who Should Consider Buying It:
If you love homemade juice but are on a tight budget that doesn't allow for a slow juicer, the Azeus Centrifugal Juicer Machine is a fantastic option for you. It provides excellent value for money, allowing you to enjoy the benefits of homemade juice without breaking the bank
Best Price
QCen 500W Centrifugal Juicer Extractor
4.2
(12262 ratings)
Price: $47.99
pgraded 500W Motor - Centrifugal juicer machine with upgraded 500W high speed motor, more efficient and powerful, last much longer than other competitor. 3" wide mouth will save your time on cut everything into small sticks.
500 W motor
Has wide mouth
Dual speed
Has safety design
Not dishwasher safe
Small machine
Customer Testimonial:
"I'm really pleased with this juicer. It's definitely worth the cost and investment. The QCen Centrifugal Juicer is incredibly easy to use, and cleaning it is a breeze."
Product Description:
The QCen 500W Centrifugal Juicer Extractor has garnered positive feedback from satisfied customers. Its 76mm big mouth design allows you to conveniently fit whole apples or lemons, saving you valuable time. With its powerful 500W motor, this juicer can transform fruits and vegetables into smooth juice within seconds, ensuring you receive 100 percent of the nutrients in the shortest amount of time possible. The juicer extractor is equipped with a locking mechanism arm, preventing the circular turntable with the sharp blade from flying out and causing damage if not properly secured into position.
Who Should Consider Buying It:
If you prioritize safety features, the QCen Centrifugal Juicer is an excellent choice. It features a safety lock that ensures the juicer operates securely. Additionally, the overload protection system automatically shuts off the machine when it overheats, providing an added layer of safety and peace of mind.
Best Price
4.0
(1310 ratings)
Price: $49.99
Making delicious juice is fast and easy with the Dash Compact Centrifugal Juicer. Just add fresh fruit or veggies and let this juicer do the work, separating pulp from juice quickly and ensuring you get a nutritious beverage.
Easy to store Dual speed Includes juice and pulp container and ingredient pusher
Noisy Might be a little bit hard to clean
Customer Testimonial:
"I absolutely love this tiny juicer! It's perfect for me because I prefer to keep my kitchen countertop clutter-free. With this juicer, I have extra space for my other appliances and kitchen tools."
Product Description:
The Dash Compact Centrifugal Juicer has garnered appreciation from customers who value its small size and space-saving design. It allows users to maintain an uncluttered kitchen countertop, providing additional space for other appliances and tools.
We believe this juicer is great because it efficiently and quickly produces delicious juice. Simply add fresh fruits or vegetables, and let the juicer do the rest. It swiftly separates the pulp from the juice, allowing you to enjoy your healthy drink in no time.
The juicer's sieve is made of stainless steel, ensuring its durability even when juicing tough vegetables. It comes complete with an ingredient pusher, juice container, pulp container, and everything else you'll need for convenient juicing.
Who Should Consider Buying It:
If you have a smaller kitchen and value practical storage solutions, the compact size of this juicer makes it an ideal choice for you. Enjoy the convenience of a clutter-free countertop while still being able to prepare fresh, homemade juice whenever you desire.
Best Price
Breville Juice Fountain Compact Juicer
4.6
(12262 ratings)
Price: $55.99
he Breville Juice Fountain Compact may be small but it is packed with power; It features a 3 inch wide chute allowing you to juice whole fruits and vegetables and conveniently collects pulp within the footprint of the unit to conserve counter space
Lasts for years with proper care
Compact with just four parts for easy assembly and cleaning
Removable parts are dishwasher-safe
Powerful motor
Cord wrap at the base
The plastic parts can be flimsy
Single-speed
Customer Testimonial:
"I bought this bad boy as a last-minute Christmas gift for myself after doing some thorough research. And let me tell you, I'm absolutely loving it! This juicer is incredibly easy to use, and it does an excellent job of extracting juice from both vegetables and fruits, giving me pure and healthy beverages."
Product Review:
The Breville Juice Fountain Compact Centrifugal Juicer has received positive feedback from customers who appreciate its user-friendly design and ease of cleaning. With this juicer, you can easily transform a variety of vegetables and fruits into pure and nutritious juice, enhancing your healthy lifestyle.
One standout feature is the convenience of cleaning, as the juicer includes a tool specifically designed for this purpose. While it may be a little noisy during operation, its performance as a juice extractor is exceptional, producing super healthy juice in a matter of seconds.
Why We Think It's Great:
Breville has built a reputation for offering affordable yet high-quality juicers, and this model lives up to that expectation. Its ease of use and cleaning make juicing a hassle-free experience. The compact size of this juicer packs a powerful punch, delivering impressive juice extraction capabilities at a reasonable price point.
Who Should Consider Buying It:
If you're not a fan of vegetables but understand the importance of including them in your diet, this juicer is the perfect solution. It can help you effortlessly reach your recommended daily vegetable intake by transforming them into delicious and nutritious juices.
Best Price
Picberm Masticating Juice Extractor
4.4
(1071 ratings)
Price: $47.99
uitable for juicing various fruits and vegetables with different hardness. Reverse function can reduce food residues in machines and avoid getting clogged.
Small and sleek design
Dual speed control for soft and hard fruits and vegetables
One button assemble and disassemble
Dishwasher-safe detachable parts
Reverse function to reduce clogging
Not to be used for more than 10 minutes
You need to cut up hard vegetables and fruits first
Customer Testimonials:
"One customer shared that this juicer is a breeze to install, use, and clean. Surprisingly, the noise level is not too loud, even for a masticating juicer. It's impressively fast, making it perfect for those who are always on the go."
"Another customer expressed her love for this juicer, particularly emphasizing its ease of cleaning. She highly recommends it to her friends and family."
Product Review:
The Picberm Masticating Juice Extractor has garnered positive feedback from customers who appreciate its user-friendly features and convenience of cleaning. It stands out as the best budget option among slow juicers. Installation is effortless, and operating the juicer is a breeze. The noise level is surprisingly low, providing a pleasant juicing experience. Despite its speed, it maintains the benefits of a masticating juicer.
The company offers a generous 3-year warranty, ensuring that customers receive their money's worth. While compact in size, this juicer is packed with power, efficiently delivering the desired results.
Why We Think It's Great:
The Picberm Masticating Juice Extractor is a top choice for budget-conscious individuals seeking the power, efficiency, and quiet operation of a slow juicer. It combines affordability with high performance, making it an excellent option for those who want to enjoy the benefits of a masticating juicer without breaking the bank.
Who Should Consider Buying It:
If you value the advantages of a slow juicer, such as power, efficiency, and quietness, but have budget constraints that prevent you from investing in high-end models, the Picberm Masticating Juice Extractor is the perfect choice. It offers an affordable solution without compromising on quality and performance.
Celery and carrots are both healthy foods and can be used to make juice. Discover the best juicers for carrots and best juicers for celery now! Besides, there are many delicious fruit juice recipes that Food and Meal has compiled, see right here: Top 10+ Juicer Recipes for a Healthy Boost Sip Your Greens.
Affiliate DisclaimerAbout The Content
As an affiliate, we may earn a commission from qualifying purchases. We get commissions for purchases made through links on this website from Amazon and other third parties.