Pressure cookers are renowned kitchen MVPs, swiftly cooking a variety of dishes in no time. Their standout feature is their ability to effortlessly cook essential meal components like rice and, particularly, beans. Initially underestimated, using a pressure cooker to cook beans is a game-changer. With just a few simple steps, you can achieve bean perfection, making it a go-to recipe in no time.
In this guide, Food and Meal will discuss the 7 best pressure cooker for beans, along with some easy recipes to try. You'll  find reviews of the best pressure cookers for beans, along with straightforward instructions to help you make the most of your pressure cooker.
How to cook beans in a pressure cooker
If you're eager to try out a new recipe or cooking technique, using a pressure cooker to cook beans offers a simple and relatively stress-free method to prepare a nutritious and satisfying meal. However, there are a few key factors to keep in mind if you want to achieve the best possible results with this approach.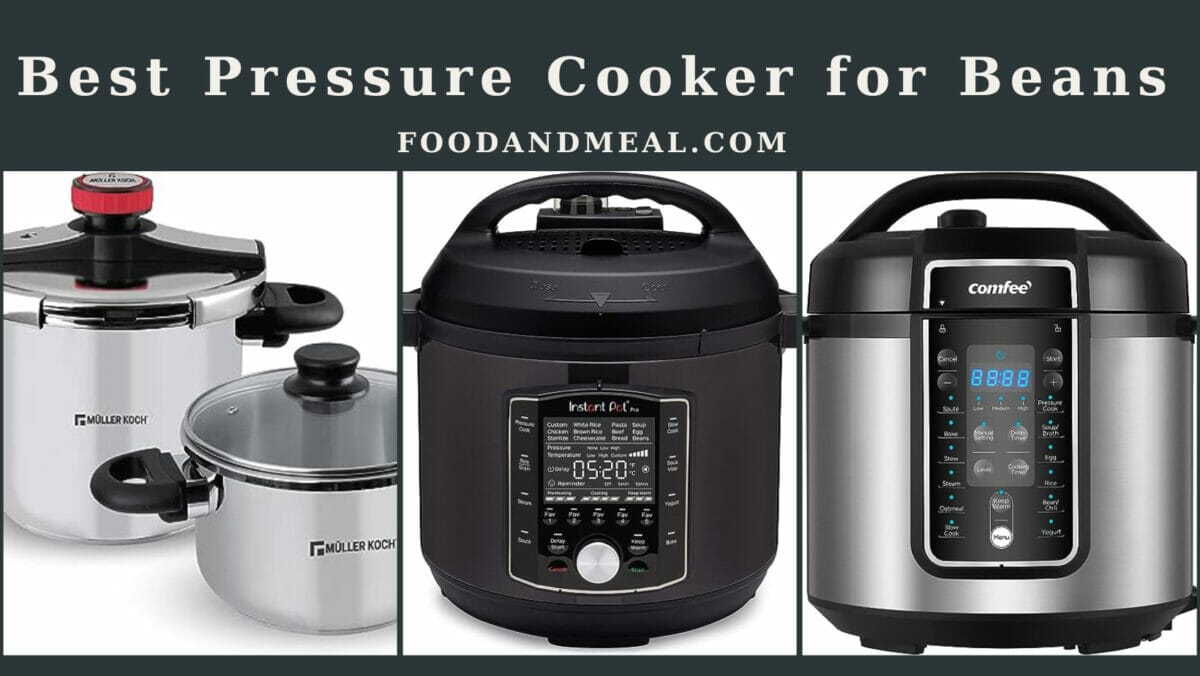 First and foremost, it's essential to soak dried beans beforehand, sometimes for an extended period, depending on the type of bean. Once the soaking is complete and you've added the beans to the pressure cooker, you can include additional ingredients like garlic, onions, or others that require a similar cooking time. It's crucial to consult the recipe at this stage to ensure proper ingredient combinations.
Afterward, the beans can be cooked for the recommended duration specified in the recipe. Depending on your pressure cooker model, you may have different high or low settings. In most cases, beans can handle a higher setting, which reduces cooking time while preserving their texture, flavor, and nutrients.
Best Pressure Cooker for Beans
Best Price
PRESTO 01362
4.
(13928 ratings)
$64.06
The smart choice for healthy, favorful meals, fast and easy. Cooks 3 to 10 times faster than ordinary cooking methods - even faster than a microwave for many foods. Chicken, fish, meat and vegetables cook to perfection fast. Helps tenderize economical cuts of meat.
Comes in two different options
Dishwasher safe 12 year limited warranty
Small stature, cannot fit a lot inside
Metal polish can dull with use
The Presto stainless steel pressure cooker is an ideal choice for households of all types, capitalizing on the growing popularity of pressure cooking. Available in two sizes, it accommodates any meal preparation needs. Its three-layered base comprises two layers of stainless steel sandwiching an aluminum layer, ensuring even heat distribution for various types of food.
This versatile pot is suitable for regular, smooth-top, and induction ranges, making it a perfect fit for any stovetop. Additionally, it boasts the convenience of being dishwasher safe, simplifying the cleanup process.
While it may be the priciest option in its category, this pressure cooker offers more than just the ability to cook an abundance of beans. It includes a cooking rack and a comprehensive 64-page instruction/recipe book, providing added value with your purchase.
The Presto pressure cooker also incorporates a cover lock indicator, a valuable safety feature that displays the presence of pressure inside the cooker. This indicator prevents the cover from being opened until the pressure has been safely reduced, ensuring peace of mind. Moreover, the attached helper handle enhances ease of handling and pot usage.
To further enhance customer satisfaction, the product is backed by an extended 12-year limited warranty, allowing for returns in case of any issues or dissatisfaction.
Best Price
Sharff & Mueller Pressure Cooker
Stainless Steel Pressure Cooker 7L+5L Easy lock lid (Lock or Open with One Hand, lid can be interchangeable between the two pots).Superior Quality 18/ 10 Stainless Steel.High Impact Bonded Base. Induction Base.Stay Cool Handles22 cm Pressure Cooker Set.
Stainless steel pot.
Dishwasher safe.
Preset buttons with bright
LED digital panel.
Beginner friendly with added accessories
Doesn't come in a size bigger than 6 quarts.
It gets pretty heavy when it is filled.
The Mueller pressure cooker stands out as the top-notch product in the market. It boasts impressive computerization and efficiency, delivering an exceptional user experience.
We conducted extensive testing on this pressure cooker and discovered that it surpasses other electric cookers in terms of user-friendliness, particularly for beginners. The package includes several useful accessories, such as a measuring cup for dry ingredients, making it ideal for cooking our favorite beans.
The stainless steel inner pot ensures durability and eliminates concerns about rusting. During our bean-cooking trials, we appreciated the heat-resistant handles, which made it effortless to lift the pot even when it was hot.
Testing the cooking process didn't require many ingredients. After presoaking the beans, we added seasonings, water, and the beans to the pot. It's important to maintain the correct water-to-beans ratio of 3:1. Additionally, we discovered a valuable cookbook in the package, providing excellent recipes specifically tailored for the Mueller pot.
One remarkable feature is the LED digital touch panel with preset options, which saved us significant time. When the timer concluded, we checked the beans and were pleasantly surprised to find them perfectly cooked.
The pot also includes a warm setting that keeps food warm for up to 24 hours, making it convenient for families with different meal times. Furthermore, cleaning the pot was a breeze using warm, soapy water—it emerged looking as good as new. Kudos to Mueller for that.
However, there are a couple of drawbacks to consider. The pot only comes in a maximum size of 6 quarts, limiting its capacity for cooking larger batches. Additionally, the pot itself is quite heavy, requiring assistance from multiple people when it's full.
In conclusion, I highly recommend the Mueller pressure cooker, alongside the Sharff pressure cooker, for your bean recipes. It's an easy-to-use and intuitive appliance that will undoubtedly enhance your cooking experience.
Best Price
HAWKIN CLASSIC CL3T
4.1
(17976 ratings)
$58.61
The Classic is Hawkins' range introduced by Hawkins and has been kept up to date by numerous innovations and improvements over the years.
Comes in twelve different size options
Equipped with a cool stay handle
Goof proof lid that seals in
Not dishwasher safe
It is not made of stainless steel
No return warranty
The Hawkin Classic slow cooker is a standout choice for those who prefer cooking on gas stoves, and it also performs exceptionally well on electric, ceramic, and halogen cooktops. This versatile and popular slow cooker is available in twelve different styles and sizes, catering to a wide range of cooking needs and culinary cravings. While it certainly excels at cooking beans to perfection, its generous capacity allows for the preparation of larger food items, making it a versatile addition to any kitchen.
Crafted from pure aluminum, the Hawkin pressure cooker boasts both a mirror-polished exterior and a matte base finish, giving it a sleek and attractive appearance. Notably, it features a "goof-proof" lid that seals securely from the inside, a design feature reminiscent of the safety measures found in jetliner airplanes. This lid design, coupled with a shielded safety valve and a robust gasket, underscores the cooker's commitment to safety during use.
One of the most impressive aspects of the Hawkin pressure cooker is its automatic pressure regulation mechanism. This feature optimizes pressure levels to facilitate fast cooking while ensuring that the desired flavors and textures are achieved in less time. The result is not only efficient cooking but also consistently delicious results.
The Hawkin pressure cooker also stands out with its stay-cool handle, which enhances comfort and safety during operation. Additionally, it includes a pressure-locked safety lid, further ensuring that all ingredients are cooked evenly and thoroughly.
In summary, the Hawkin Classic slow cooker offers a comprehensive package of features that enhance safety, convenience, and cooking performance. Whether you're a seasoned chef or an amateur cook, this pressure cooker provides the tools and safety measures needed to create culinary masterpieces with confidence.
Best Price
Comfee Pressure cooker
4.7
(1548 ratings)
$76.49
COMFEE' Pressure Cooker 6 Quart with 12 Presets, Multi-Functional Programmable Slow Cooker, Rice Cooker, Steamer, Sauté pan, Egg Cooker, Warmer and More
Comes in twelve different size options
Equipped with a cool stay handle
Goof proof lid that seals in
No removable air vent for insulation
Does not come with rice/water ratio or cooking instructions
Not completely dishwasher safe
The Comfee slow cooker is a trusted name in kitchen appliances, and this specific model offers a range of multifunctional capabilities. With user-friendly automatic switches and a bright LED display, it's easy for everyone in the kitchen to operate. The inclusion of a 24-hour delay timer adds convenience to meal preparation, allowing for greater flexibility in planning.
Safety is paramount in the design of this slow cooker, and it's evident in the cool-touch handle, which ensures your security when opening and using the cooker. This feature significantly reduces the risk of burns when handling hot substances.
The Comfee electric rice cooker is programmable, offering precise customization options. Constructed from BPA-free materials, it guarantees safety by avoiding harmful substances and chemicals. Its large capacity can accommodate 10 to 20 cups of cooked rice, 3-6 pounds of meat, or even a whole chicken, making it versatile for various occasions such as family gatherings, parties, or outdoor activities.
While the product is not entirely dishwasher safe, certain outer components can be safely cleaned in the dishwasher, streamlining the cleanup process. The nonstick coating on the inside of the pot further facilitates easy cleanup, making food preparation and washing up a breeze. Additionally, Comfee provides a 1-year manufacturer warranty with the purchase, ensuring customer satisfaction and peace of mind.
Best Price
Presto Stainless Steel 6-Quart
4.5
(7738 ratings)
$41.39
The smart choice for healthy, flavorful meals, fast and easy. Foods cook 3 to 10 times faster than ordinary cooking methods, saving time, energy, and money. Includes easy-to-follow instructions and delicious recipes. Chicken, fish, meat, vegetables, and even desserts cook to perfection fast. Helps tenderize economical cuts of meat.
Light in weight
Different presets for different dishes
Stainless steel inner pot
Added safety measures
Smaller size and cannot cook more than 3 liters of food per batch
Quality might be a bit lower than other leading brands.
After conducting extensive testing and trying out various pressure cookers, we've concluded that Presto is the perfect choice for domestic cooking. We've found that it seamlessly combines safety features with user-friendly mechanisms, making it an ideal option for home chefs like you.
What immediately caught our attention about this cooker is its simplicity and versatility. It excels at preparing a wide range of dishes, from yogurt to steamed vegetables, and it's particularly impressive when it comes to cooking beans, whether they be lima beans, kidney beans, white beans, or black beans. We've consistently experienced excellent results in no time.
One of the standout advantages of this pot is its lightweight design, making it a breeze to lift and move around the kitchen. The exterior is constructed from durable and long-lasting aluminum, while the inner pot is crafted from stainless steel, ensuring even cooking and heating.
Cooking dry beans can often be a challenging task, requiring constant supervision to achieve the desired texture without becoming mushy. This cooker addresses that challenge by offering various settings and presets, allowing you to steam, sauté, slow cook, or pressure cook with ease. Say goodbye to concerns about time consumption or complex cooking techniques.
While the initial price may give you pause, the culinary wonders this cooker can achieve with a variety of bean recipes make it a worthy investment. It also includes valuable extras like a cooling rack and a comprehensive 76-page instruction manual and cookbook, providing you with endless culinary possibilities.
Furthermore, the Presto cooker is dishwasher safe, offering a convenient solution for those leading busy lifestyles. We're confident that this pressure cooker will not only simplify your cooking but also elevate your culinary experiences.
Best Price
Instant Pot Pro 8-Quart
4.7
(63452 ratings)
$169.95
Experience the next generation of convenience with Instant Pot® Pro. It starts with 28 smart cooking programs and adds 5 new Favorite program settings. Spend less time in the kitchen with 20% faster pre-heating and up to 70% faster cooking overall.
One pot meals are possible
The best pot present in the market with the best quality
It offers 10 different features
Steamer rack not given in the package
Takes additional time to heat up your food
The Hawkin Classic slow cooker, crafted from pure aluminum, stands as a testament to both form and function. Its exterior showcases a mirror-polished finish that adds a touch of elegance to your kitchen, while the matte base finish provides stability and durability. However, it's not just about aesthetics; this cooker is designed with safety and efficiency in mind.
One standout feature is its "goof-proof" lid design, which ingeniously seals securely from the inside, reminiscent of the meticulous engineering found in jetliner airplanes. This robust lid not only ensures a tight seal but also contributes to the overall safety of the cooking process. With a shielded safety valve and a sturdy gasket, the Hawkin pressure cooker leaves no room for compromise when it comes to safety.
What truly sets the Hawkin Classic apart is its automatic pressure regulation system, a feature that optimizes pressure levels to facilitate fast cooking without sacrificing the desired flavors and textures of your dishes. This means you can enjoy shorter cooking times without compromising on culinary excellence.
The stay-cool handle of this pressure cooker adds an extra layer of convenience, allowing for comfortable handling even during the heat of the cooking process. This thoughtful design feature ensures that you can maneuver the cooker with ease and confidence.
Additionally, much like other top-tier models on this list, the Hawkin Classic slow cooker includes a pressure-locked safety lid, ensuring that all ingredients receive even cooking throughout the process, resulting in consistently delicious meals.
In summary, the Hawkin Classic slow cooker is a culinary powerhouse that seamlessly combines safety, convenience, and cooking performance. Its meticulous design and innovative features make it a compelling choice for home chefs who prioritize safety without compromising on efficiency or flavor.
Best Price
Elite Platinum 4 quart
4.2
(444 ratings)
$1399.95
Save time and energy with the Digital Pressure Cooker from Elite Platinum. With the multitude of menu functions, the Pressure Cooker allows flexibility in the kitchen for a busy lifestyle without sacrificing the food quality! Food retains nutrients and flavors mix well.
Removable and easy to clean.
2 color options to fit in your kitchen 8 built in safety features
Detachable power cord needs to be fixed securely
Nonstick inner pot
Elite Platinum offers a variety of electric pressure cooker models, similar to the Instant Pot, with minimal variations in features and settings. Drawing from my personal experience, I can attest that Elite Platinum cookers are exceptionally user-friendly and come equipped with outstanding safety features, effectively preventing kitchen accidents like oil burns. What truly impressed me was their reasonable pricing, given the impressive range of features they offer. It's no surprise that Elite Platinum has garnered a dedicated customer following and consistently ranks as a top seller on platforms like Amazon.
While Elite Platinum cookers may not include a stainless steel inner pot, the nonstick pot they provide has proven to be remarkably durable and performs just as effectively. Using the Elite Platinum cooker, I found that I no longer needed to constantly monitor the cooking process. This afforded me ample time to attend to other tasks, and when the food was ready, the convenient audible beeping sound alerted me promptly.
In my experience, we successfully cooked a variety of foods, including frozen dishes, fresh vegetables, and dried beans, using this cooker. The preset manual settings were particularly helpful in simplifying my cooking routine.
What's more, the package includes a manual that offers comprehensive guidance on cooking different types of beans in the Elite Platinum cooker. This ensures that you achieve perfectly cooked beans without the risk of them becoming overcooked or mushy.
The process is straightforward: place your desired beans in the pot along with 3 cups of water and a bit of vegetable oil, set the timer according to the recommendations in the manual, and then choose between a natural release of steam or a quick pressure release. For beans, we highly recommend using the natural pressure release option, as it allows the beans to cool down properly, resulting in ideal texture and flavor.
In summary, Elite Platinum electric pressure cookers provide a fantastic cooking experience, combining user-friendliness, safety features, and affordability. They are versatile enough to handle a wide range of dishes, including beans, and the included manual makes it easy to achieve consistent and satisfying results.
Conclusion
In conclusion, the best pressure cooker for beans is a valuable kitchen companion that simplifies the cooking process and consistently delivers perfectly cooked beans, whether they be dried or fresh. After thoroughly evaluating various pressure cookers, we have found that the ideal choice combines user-friendly features, safety mechanisms, and affordability.
A top-notch pressure cooker for beans not only streamlines the cooking process but also offers versatility, allowing you to prepare a wide range of dishes beyond beans. The convenience of automated features, such as pressure release mechanisms and timers, ensures that you can attend to other tasks while your beans are being prepared to perfection.
Moreover, safety features are paramount, and a reliable pressure cooker for beans should offer mechanisms that prevent kitchen accidents, such as oil burns. These safety features provide peace of mind while cooking and contribute to a more enjoyable culinary experience.
Affordability is another crucial factor to consider. While some high-end models may offer additional bells and whistles, there are excellent options available at reasonable prices, providing exceptional value for your investment.
Ultimately, the best pressure cooker for beans combines these qualities to make your cooking routine more efficient, safe, and enjoyable. Whether you're a seasoned cook or a beginner in the kitchen, a well-chosen pressure cooker will consistently produce delicious beans, making it an indispensable tool for every home chef.
Affiliate DisclaimerAbout The Content
As an affiliate, we may earn a commission from qualifying purchases. We get commissions for purchases made through links on this website from Amazon and other third parties.