If you're in need of an ice tray to keep your drinks cool but don't have an ice maker, worry no more. The days of flimsy plastic trays that break and make it difficult to extract ice cubes are over. There are now durable and easy-release options available that won't compromise the integrity of your ice cubes or other frozen shapes. These trays are made with no-transfer materials, allowing you to use them for a variety of ingredients without worrying about flavors transferring between them. Food and Meal have tested and evaluated different ice trays based on material, cube size and shape, design, ease of cleaning, and overall value to find out top 9 best Ice Cube Trays of 2023. Rest assured, these trays can handle everything from freezing water to baby food, herbs, and spices.
What to Look For in an Ice Cube Tray?
Materials
Ice cube trays have evolved from the traditional hard plastic models of the past. Nowadays, the best trays are crafted using durable materials such as silicone and metal. While steel trays may present some challenges when extracting the ice cubes, they boast strength and resilience, ensuring they won't crack or break easily over time. On the other hand, silicone trays offer flexibility and ease of use, allowing for effortless removal of the cubes. However, it's worth noting that silicone can absorb odors from the freezer as time goes on.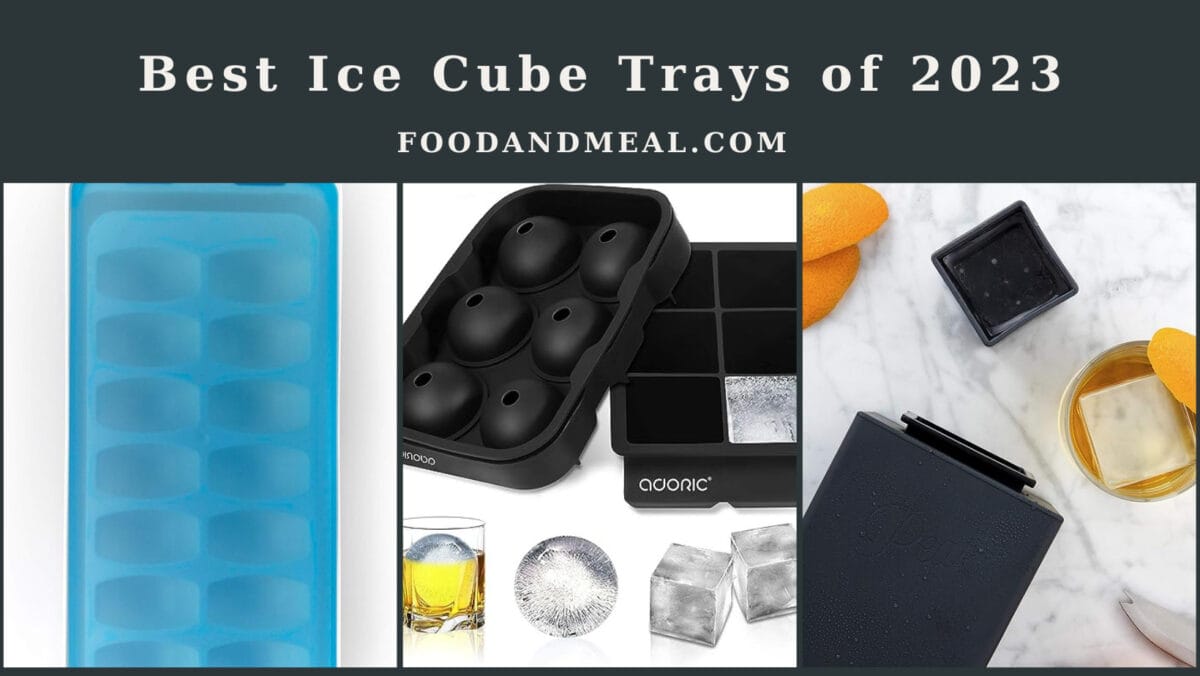 Design
When considering the design of an ice cube tray, it's important to keep in mind that it will primarily reside in your freezer. Therefore, look for a tray that can be conveniently stacked alongside other freezer essentials like pizzas. A tray with a lid is highly recommended, as it not only helps with stacking but also prevents odors and other freezer scents from seeping into your ice cubes. It's crucial to ensure that the lid securely fastens to avoid any spills.
Sizes and shapes
| | |
| --- | --- |
| Small Cubes | Ideal for quick freezing and suited for cocktails like Mojitos or Juleps. |
| Average-sized Cubes | Versatile and suitable for a wide range of drink preparations. |
| Large Cubes | Specifically designed for Scotch lovers who prefer slower-melting ice cubes. |
| Creative Shapes | Some trays offer fun and unique shapes like flowers, spears, spheres, and more to enhance your beverage presentation. |
Best Ice Cube Trays of 2023
Best Price
W&P Peak Silicone Everyday Ice Tray With Protective Lid
4.6
(2500 ratings)
$15.97
This tray makes twelve ice cubes for your everyday beverage needs The provided lid blocks out pesky flavors from your freezer while an internal steel frame makes filling and transporting the tray to the freezer a breeze
Bendable and flexible
Great for shaker ice
Stacks well
Material: BPA-free silicone
Number of Cubes: 12
Shape of Cubes: Square
Product Dimensions: 7.6 x 5.6 x 1.6 inches
If you've encountered the common problem of cracking a vinyl or plastic ice cube tray while trying to remove the ice, a practical solution is to switch to a bendable silicone tray, such as the W&P option. This flexible ice mold requires minimal effort and yields 12 square cubes. With a measurement of 1.25 inches, these ice cubes are small enough to be added to cocktails on the rocks, yet large enough to withstand shaking without rapidly diluting the drink.
During our testing, we observed that the cubes produced by this tray were not only aesthetically pleasing but also consistently shaped, surpassing what most residential refrigerators can achieve. The silicone material ensured that there was no trace of plastic smell. Despite the lid not completely sealing onto the tray, it effectively prevented any cross-contamination of food or freezer odors with the ice cubes. Removing each cube from the silicone mold was effortless; however, occasionally, some cubes tended to stick to the bottom, resulting in slightly imperfect ice.
We discovered that these trays could be conveniently stacked in the freezer, and they are also dishwasher-safe for easy cleaning. Additionally, they are available in a range of colors, both neutral and fun, such as blue, charcoal, marble, confetti, and more.
Best Price
Durable
Larger cubes
Doesn't absorb freezer odors
Removal may require tapping or warm water
No lid
Material: Stainless steel
Number of Cubes: 18
Shape of Cubes: Square
Product Dimensions: 11.25 x 5 x 2 inches
The Onyx ice tray offers exceptional durability and a stainless steel construction that prevents the absorption of freezer odors, making it an excellent choice for freezing broths, herb cubes, or fruit juices without any lingering flavors. While this tray lacks the flexibility of a silicone mold, it features a stainless steel handle and a removable divider that facilitates ice extraction. When your ice is frozen, simply flip up the handle and effortlessly pop out the cubes.
In addition to its functionality, the Onyx tray brings a touch of beauty to the often-neglected area of the kitchen—the freezer. The concept of a metal tray that releases all the cubes with a lever is ingenious. However, in our testing, the tray did not perform as promised, which makes it difficult to justify its price tag. During one test, only three out of the eighteen cubes were successfully released, with the remainder sticking to the metal divider. The manufacturer suggests allowing the tray to sit at room temperature for several minutes to ensure proper cube release, but in reality, it took closer to ten to fifteen minutes before the remaining cubes were freed.
Best Price
Tovolo Sphere Ice Molds, Set of 2
4.7
(28928 ratings)
$11.99
Add perfectly formed sophistication to any drink with the Tovolo Sphere Ice Molds. These unique molds deliver the art and science of slow-melting, cylindrical ice without messy ice blocks or complicated carving. The extra-large 2.5' spheres size is perfect for your cocktail favorites. The silicone cap seals tightly and allows the molds to stack neatly in your freezer, conserving space.
Easy to extract
Slow to melt
Dishwasher safe
Sphere mold can be tricky to use
Will not fit in all glasses
Material: Plastic and BPA-free silicone
Number of Cubes:

2

Shape of Cubes:

Round

Product Dimensions: 

3.5 x 3.5 x 6.5 inches
Tovolo's ice molds combine plastic and silicone to create spherical ice orbs that are both sturdy and easy to extract. Although using the mold may initially pose a slight challenge, it's a simple process of assembling the mold, filling it with water, and waiting for approximately 24 hours to obtain crystal-clear, 2.5-inch circular ice. For optimal clarity, it is recommended to use distilled or pre-boiled water.
These molds have gained popularity among cocktail enthusiasts due to their design. When tested, they consistently produced nearly perfect spheres of ice that melted slowly, ensuring minimal dilution of cocktails or spirits. However, it's worth noting that slight inconsistencies can occasionally occur, resulting in less-than-perfect spheres. Additionally, the size of the ice is relatively large, which means it may not fit in every glass on every occasion.
Product tester Sarah Freeman found the molds to release the ice easily, and she also noted that their plastic-silicone combination resists freezer odors, which is a valuable bonus.
In addition to the sphere mold, Tovolo offers a variety of other shapes such as mustaches, roses, and highballs. Furthermore, you can use these molds to freeze flowers or colorful juices, adding visual appeal to cocktails or punch bowls. The set includes two BPA-free and dishwasher-safe molds for convenience and peace of mind.
Best Price
Kitch Easy Release White Ice Cube Trays
4.7
(14881 ratings)
$11.81
Made In The USA: Proudly made in the USA out of top quality food grade materials. Each purchase supports American industry and factory workers
Releases easily
Stacks well
High walls prevent overflow
Material: Plastic
Number of Cubes: 16
Shape of Cubes: Square
Product Dimensions: 12 x 4.5 x 3 inches
If you often struggle with removing ice from traditional trays, you might want to consider the easy-release option provided by Kitch. These trays, made of flexible plastic, are specifically designed to effortlessly pop out ice cubes without the need for twisting or banging on the counter, setting them apart from similar plastic ice cube trays. Furthermore, they stack neatly in the freezer, ensuring convenient storage.
During our testing, we found the Kitch trays to be user-friendly. The notched compartments allowed for more even cube formation, while the high walls effectively prevented overflow or spillage when transporting the filled trays. Designed to fit and stack in standard freezers, each tray is equipped with handles for easy maneuvering. Removing the resulting cubes from the tray was a breeze, requiring none of the usual twisting and smacking associated with other plastic trays.
Offering excellent value, each tray has a capacity of 16 ice cubes and is available in packs of two (total of 32 cubes) or four (total of 64 cubes)—ideal for preparing cocktails for large gatherings. These ice cube trays are also 100 percent BPA-free and dishwasher-safe, ensuring convenience and peace of mind.
The Kitch tray represents a notable improvement over conventional ice cube trays, thanks to its remarkably easy release mechanism and robust stacking ability. The only drawback is that, over time, the trays may develop cracks.
Best Price
W&P Peak Clear Ice Mold
This ice mold makes one extra large crystal clear ice cube perfect for a pour of your favorite spirit or craft cocktail To use the mold simply fill with water and place in the freezer overnight The insulated sleeve causes the ice to freeze from the top down forcing any bubbles or impurities to the base of the mold Once frozen simply break the mold apart to release your clear ice cube and enjoy
Makes perfectly clear ice
Easy to use
Easy to remove
Only makes one cube
Takes a while to freeze
Material: Silicone
Number of Cubes: 1
Shape of Cube: Square
Product Dimensions: 6 x 4.5 x 4.5 inches
For those who are serious about their cocktails, investing in a mold that creates impressive ice cubes is a must. The W&P model stands out by producing a single large, crystal-clear 2-inch ice cube. It consists of a silicone mold and an insulated sleeve that work together to create the cube.
During our testing, we inserted the mold into the sleeve and filled it with water. The top-down design of the mold ensured that the ice froze without any bubbles or impurities. Gravity effectively pushed the bubbles to the bottom of the mold, where a small section captured any impurities, resulting in a clear cube at the top. The bottom of the sleeve can be easily popped out to facilitate the removal of the mold.
It's important to note that this ice mold creates only one cube at a time and occupies a considerable height in the freezer (5.75 inches). Additionally, due to the larger size of these ice cubes compared to standard cubes, it may take up to 24 hours for them to freeze completely. However, using the mold is a breeze, and according to Freeman's experience, the results were nearly flawless.
Best Price
AiBast Ice Cube Tray Set
4.3
(1786 ratings)
$22.90
AiBast Safe Food Grade Silicone Ice Cube Tray -- Our silicone ice cube trays are made of 100% food-grade silicone which is BPA free, non-toxic, odorless, durable. Non-stick and easy release design make your drinking time much happier.
Includes a range of molds
Options for fancy and standard ice shapes
Comes with lids
Will take up lots of space in your freezer
Irregular shaped cubes
Material: Silicone
Number of Cubes: 49
Shape of Cubes: Square, round, and hexaganoal
Product Dimensions: 6 x 5.6 x 1.6 inches; 7.6 x 4.7 x 2 inches, 7.6 x 4.7 x 2 inches
Consider this kit your comprehensive starter pack for all your cocktail ice needs. It includes various materials to create different types of ice. You'll find a large round ice cube tray designed for slow-melting spheres, ideal for scotch or other sipping spirits. Additionally, there's a standard large cube tray for making sizable rocks, producing 1.8 x 1.8-inch cubes. The sphere mold creates six 1.8-inch diameter cubes and comes with a funnel and measuring cup for easy filling.
For smaller, average-sized ice cubes, the set includes a honeycomb tray with a lid, capable of producing 37 cubes at a time. However, our tester noticed that the thin silicone design of this tray resulted in some irregularly shaped cubes. The circular mold design also led to some unconventional shapes. While the square and honeycomb molds were straightforward to fill during testing, the rounded ones required the use of a funnel and small measuring cup, making the process slightly more laborious.
Thanks to the lids on these trays, our tester didn't experience any spillage issues during transport. The lids also allow for convenient stacking of the square and honeycomb tray. All the cubes were easy to release from their respective molds, and there was no trace of plastic or freezer odor. However, it's worth noting that these trays do occupy a considerable amount of freezer space.
All the trays in the kit are crafted from food-safe, odor-free, and non-stick silicone material. The silicone is temperature resistant between 104℉ and 446℉, making it suitable for freezing not only water but also coffees, simple syrups, fruit juices, and more.
Best Price
Ice melts more slowly than typical cubes
Easy to clean
Fun ice shapes
Sphere mold is tricky to use
What's Included: 1 cube tray, 1 ball mold, 1 funnel
Material: Silicone
Dimensions: 7.3 x 4.7 x 2 inches
 Number of Cubes: 6 per tray
Cube Size: 2 x 2 x 2 inches
Having a variety of ice options at your disposal is always a good idea, and this set provides just that. It includes two molds: one for crafting 2-inch cubes and another for creating ice balls. Both the large cubes and spherical ice are perfect for drinks that you want to enjoy without quick dilution. These larger ice pieces melt more slowly, minimizing the amount of water added to your drink over time. If you've ever visited a trendy bar, you've likely encountered this ice trend, and now you can bring it right into your home with these molds.
While we found that the large cubes and spheres added a stylish touch to our beverages, achieving that style wasn't completely effortless. The spherical ice tray needs to be properly sealed to prevent liquid from freezing between the mold and its base. It may take a little practice to achieve uniform shapes, but if you're looking for maximum cooling without rapid dilution or fun shapes to enhance your sipping experience, this design will satisfy you. Moreover, there were no unpleasant smells or freezer debris found in the enclosed molds, although some excess water froze over the dividers. Both trays securely nest together and can be carried without any spills.
Among all the options on this list, these ice shapes exhibited the longest-lasting performance. One cube, which is the maximum that fits in a water-filled whiskey glass, remained visible for two hours and thirty minutes, while two balls endured for a full three hours when tested in a glass of water.
Best Price
Arrow Home Products Arrow 60 Cube Ice Tray 3 Pack
4.3
(10595 ratings)
$19.99
This set of small ice cube trays create mini ice cubes that are the perfect size for sports bottles, blenders, cocktails, ice coffee or simply for chewing/sucking. Each pebble ice tray creates 60 small, round-bottom cubes. Includes 3 trays (180 cubes total).
Trays are sturdy and easy to stack
Cubes can fit into soda and water bottles
Ice shapes are uniform
What's Included: 3 trays
Material: Plastic
Dimensions: 10.5 x 4 x 1 inches
Number of Cubes: 60 per tray
Cube Size: 0.75 x 0.63 x 0.5 inches
These unique "pebble" ice cubes effortlessly release from the tray with just a few twists of the plastic, and their small size allows them to fit through the narrow necks of water and soda bottles. These small cubes are perfect for drinks that you tend to finish quickly, such as iced tea or a mojito. However, we noticed that these cubes melt quite fast, even when piled up in a glass. So, if you want to avoid dilution, it's best to consume your drink promptly.
Each tray in this set of three produces 60 tiny ice nuggets. They are great for adults to add to their favorite cocktails, and kids can have fun playing with them in their juice cups. We were pleased to discover that the trays stack easily and securely on top of each other, allowing for efficient storage. However, it's important to be cautious when stacking them since the small cubes and the absence of lids can cause each tray to stick to the cubes below as they freeze.
Best Price
XO Good Grips No-Spill Ice Cube Tray with Silicone Lid
4.6
(6548 ratings)
$13.99
Change the way you keep cool with the OXO GG No-Spill Ice Cube Tray. The innovative silicone lid of seals water into the Tray and keeps it from leaking out – at any angle! Simply fill the Tray with water, press the silicone lid over the Tray and smooth the lid while pouring out any excess water.
Easy to fill and store
Comes with leakproof lid
Cubes come out easily
Lid can be difficult to remove
What's Included: 1 tray with lid
Material: Plastic and silicone
Dimensions: 15.5 x 5.7 x 1.1 inches
Number of Cubes: 14
Cube Size: 2 x 1.13 x 0.63 inches
Ice cube trays can be a hassle in a cluttered freezer, as they require a flat surface to prevent spills. This often means rearranging other frozen items just to make room for a dozen ice cubes. Luckily, the OXO Good Grips No-Spill plastic tray offers a convenient solution. It comes with a sealable silicone lid that allows you to carry and stack the tray without any mess. The lid effectively prevents your cubes from absorbing unpleasant freezer odors, and it can be easily cleaned on the top rack of your dishwasher.
During our testing, we found that the lid truly prevented spills both when filling the tray at the faucet and when the tray was tilted while freezing. It may take a bit of practice to ensure a smooth seal and to tip the tray over the sink to remove any excess water from the rim. If water accumulates beneath the lid as it freezes, it can make the removal process slightly more challenging.
All the cubes were effortlessly released with a single twist. When the tray was placed flat in the freezer, the ice formed identical half-moon shapes. The peel-back lid effectively kept any freezer residue out of the ice, and none of the cubes exhibited any unexpected scents from the other contents of the freezer.
Affiliate DisclaimerAbout The Content
As an affiliate, we may earn a commission from qualifying purchases. We get commissions for purchases made through links on this website from Amazon and other third parties.