Keeping your freezer stocked with delicious food offers numerous benefits, one of which is curbing impulsive takeout and delivery orders, resulting in saving money. However, to ensure proper food storage, the right containers are essential. Using an empty sour cream tub simply won't cut it.
When selecting freezer containers, consider the type of foods you'll be storing and your preference for materials—whether it's glass, plastic, or even silicone. Each has its merits: glass is durable and recyclable, though it comes at a higher cost, while plastic is budget-friendly and lightweight but may not be the most sustainable option. Ultimately, the choice depends on your personal preferences and needs.
To save you time and effort, Food and Meal have conducted thorough research to curate a selection of the best freezer containers for your kitchen. Whether you're freezing soup, planning your meals in advance, or storing various dishes, these containers will undoubtedly meet your needs and ensure your food stays fresh and ready to enjoy whenever you desire. Embrace the convenience and efficiency of these top freezer containers, and elevate your freezer organization to a whole new level.
What to Look for in a Freezer Container
Freezer Specific
Specifically designed for the freezer, these containers and bags are engineered to withstand extreme cold and seamlessly transition back to room temperature. Some of these materials are so robust that they can go directly from the freezer to the microwave or oven, but it's essential to check the manufacturer's care and use instructions to ensure they can handle heat and dishwasher cycles without any issues.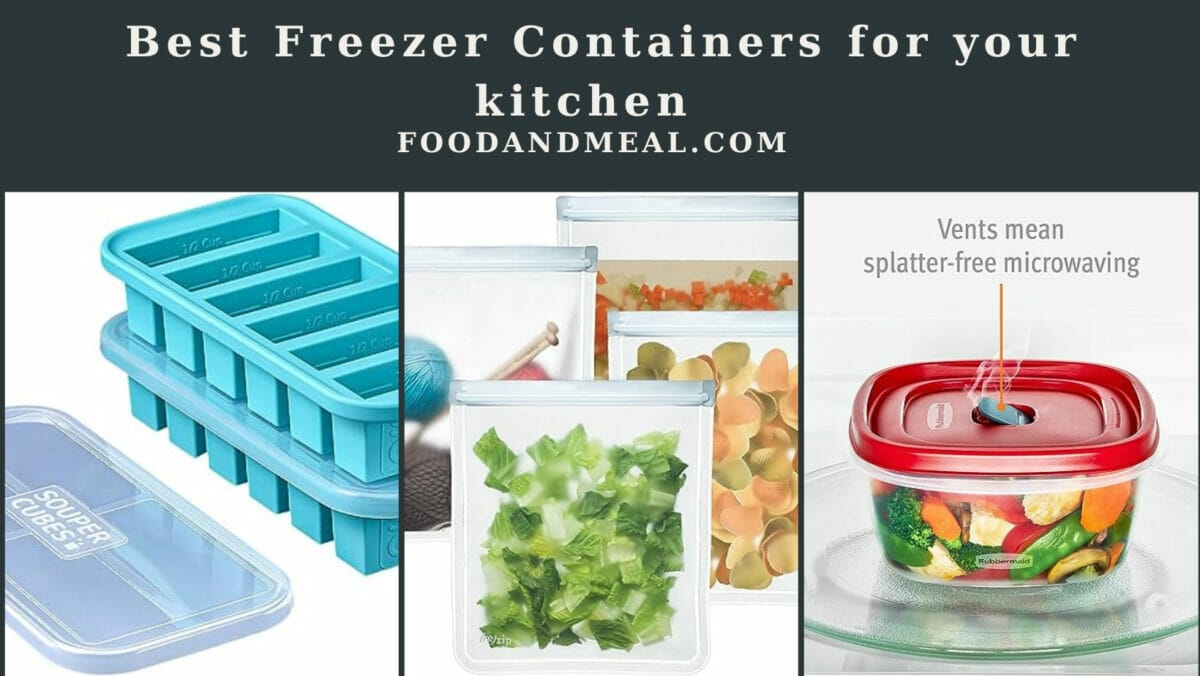 Airtight Seal
One of the key features of these freezer-specific containers is their airtight seal. This seal prevents air from sneaking into the container or bag after it's closed, which could lead to undesirable effects like freezer burn, ice crystals, and dehydrated, leathery food. By keeping the air out, these containers maintain your frozen food at its peak quality, preserving its taste and texture.
However, it's worth noting that some lids with a tight seal can be challenging to open right after being removed from the freezer. If you encounter this issue, try letting the container sit at room temperature for a few minutes to make it easier to open.
Just-Right Sizing
When selecting the right size for freezing food, striking a balance is crucial. Extra air trapped in the container can also contribute to freezer burn, so it's best to avoid using containers that are too large for the amount of food you're freezing. On the other hand, going too small might not leave enough room for expansion as food freezes. As a general guideline, the National Center for Home Food Preservation recommends leaving 1/2 to 1 inch of space in a container with a wide opening, depending on the liquid content of the food being frozen. By choosing the just-right sizing, you can ensure your frozen foods stay in top condition and remain delicious when it's time to enjoy them.
Best Freezer Containers for your kitchen
Best Price
DuraHome Food Storage Containers With Lids Combo Pack
4.6
(17024 ratings)
$22.91
DuraHome Food Storage Containers with Lids 8oz, 16oz, 32oz Freezer Deli Cups Combo Pack, 44 Sets BPA-Free Leakproof Round Clear Takeout Container Meal Prep Microwavable, Airtight Lids (Mixed Sizes)
Three sizes handle most freezer needs
Transparent lids stay securely closed
Lids fit all containers
Quarts may fit awkwardly in top dishwasher racks
We've found it challenging to come across a better deal than this 44-item set of deli storage containers, especially since we enjoy sharing food with friends. This collection offers unbeatable value, featuring tubs in three practical sizes: quart for freezing soups and stews, pint for beans and grains, and cup for sauces – effectively meeting our various storage needs.
These containers truly excel at freezing food, even for extended periods, while ensuring that the freshness and taste are well-preserved. Additionally, their dishwasher- and microwave-safe design adds to the convenience of easy cleaning and reheating.
The deli-style containers have become an essential part of our kitchen, effectively covering all our food storage requirements. We've put them to the test with a variety of foods, and there hasn't been a single item we couldn't freeze effectively with one of these sizes. The icing on the cake is their interchangeable lids, which have eliminated the frustration of hunting down the right one when we're ready to store leftovers after dinner. Thanks to this fantastic set of deli storage containers, our kitchen organization and food preservation have become a breeze.
Best Price
Rubbermaid Easy Find Lids Square 3-Cup Food Storage Container
4.8
(1822 ratings)
$19.99
Featuring a new built-in vent for splatter-resistant microwaving, these meal prep containers are easy to organize and help conserve space in your cabinets. The lids snap to each other and to the bottom of the containers and have a bright red color, helping ensure that they are always easy to find.
Affordable set
Stacks neatly with lids when empty
Seals tightly
Can stain from colorful foods
We've discovered the ideal solution for storing homemade meals with Rubbermaid's sturdy and timeless containers. Perfectly sized for one or two portions, these reliable containers have become our go-to choice for freezing lasagna, chicken enchiladas, tuna casserole, pasta dishes, chicken breast with mashed potatoes, and more. With these durable containers on hand, we always have quick and delicious dinners ready whenever we need them. Thanks to their secure snap closure, they create an airtight seal, ensuring our food stays fresh and flavorsome.
We can finally say goodbye to the frustration of mismatched lids and orphaned containers! Rubbermaid's special easy-find lids effortlessly snap onto the base of each container for convenient storage, eliminating the need to search for the right match. This ingenious system has also made organizing our kitchen a breeze, promoting a neat and tidy storage space. Moreover, the clear base allows us to easily see the contents inside, so we can quickly identify what we're pulling out of the freezer for a microwavable lunch.
These versatile containers are dishwasher, microwave, and freezer-safe, offering ultimate convenience for our daily food preparation and reheating needs. However, it's worth noting that they may retain light food stains from dark-colored foods like tomatoes or beets. We wholeheartedly embrace the practicality and reliability of Rubbermaid's classic containers, as they have simplified our meal planning and storage with ease.
Best Price
Oxo Good Grips 4-Cup Glass Round Food Storage Container
The Smart Seal Glass Food Storage Containers are made of naturally BPA-free borosilicate glass, enabling them to withstand extreme temperature changes without the risk of cracking or shattering. The Smart Seal lids ensure a leakproof seal, and an elegant design means the Containers can move seamlessly between the oven and the table.
Glass can withstand extreme cold and heat
Plastic lid with silicone gasket locks airtight
Glass surface resists odors and scratches
Identical containers don't stack well when empty
We always strive to ensure we have a hearty stash of homemade soup at the ready in our freezer, and the benefits are undeniable. Surprisingly, unlike some foods, soup's flavor actually improves when stored in the freezer, making it a delightful choice for future meals. Oxo's containers have proven to be a top-notch option for all our soup and stew freezing needs, guaranteeing the preservation of taste and quality.
Crafted from shatter-resistant borosilicate glass, these containers provide optimal protection against thermal shocks, granting us the freedom to move a quart of chili directly from the freezer to the oven without any concerns of breakage.
A crucial feature for soup storage is a completely leakproof lid, and this Oxo container excels with its four locking tabs that ensure a tight seal every time. Beyond functionality, these glass containers are especially appealing to those seeking alternatives to plastics for their food storage needs.
In cases where our soup only fills the container partially, we've found it beneficial to press a piece of plastic wrap against the food's surface to prevent freezer burn, ensuring that every spoonful is as delicious as the first.
With Oxo's reliable and versatile soup containers, you can now savor the convenience and pleasure of having delicious homemade soups and stews ready to enjoy at a moment's notice. Say goodbye to the hassle of inadequate storage solutions and embrace the convenience and quality of Oxo's top-of-the-line containers.
Best Price
Souper Cubes 1/2-Cup Freezing Tray with Lid
4.8
(2635 ratings)
$35.00
Spend less time thinking about what you're going to eat and more time enjoying it. Our freezer trays are designed to make meal prep a breeze. They are made from food-safe silicone with a steel-reinforced top and a convenient lid.
Long bars defrost quickly
Easy-to-see fill lines mark smaller volumes See-through lid shows contents
Cover can stick when frozen
We've bid farewell to the hassle of thawing and refreezing sauces in large containers, which can compromise their quality. This ingenious container has provided us with the perfect solution for freezing sauces in convenient portions, allowing us to have small servings of pesto, marinara, gravy, and more, readily available for quick heating. With this approach, our sauces remain fresh, as we avoid the detrimental effects of repeated thawing and refreezing.
The container features a tight-fitting, transparent lid that ensures the sauces are well-preserved during storage. The clear lid allows us to easily identify the contents without the need for labeling, adding to the convenience of use.
Made from BPA-free silicone, this container ensures that each portion of frozen sauce pops out neatly and effortlessly, thanks to its oven-safe material (excluding the lid). The slender, long shape facilitates quick defrosting, making it even more practical for busy kitchens.
For those of us who love to create an assortment of sauces for freezing, having multiple containers is a brilliant idea, especially since they are stackable, ensuring effortless storage. Each tray can make six 1/2-cup or 125-milliliter bars, and each compartment is thoughtfully marked with convenient fill lines, indicating ½ cup, ¼ cup, 50 milliliters, and 125 milliliters. We wholeheartedly embrace the convenience and efficiency of this clever sauce freezing container, as it has simplified our meal preparation with perfectly portioned sauces ready to enhance our culinary creations.
Best Price
Wide, flat shape freezes quickly
Well-sized for a quart of ice cream
Locking lid with gasket keeps out air
Locking tabs can stick when just removed from freezer
We understand that when it comes to storing homemade ice cream, grocery store-style cup-shaped containers may not be the most optimal choice. For the best results, we recommend using a flat or skinny rectangular container, which offers a larger surface area, allowing more of the ice cream to be exposed to cold air. This results in rapid freezing with minimal ice crystal formation.
Snapware's 5-cup rectangular container perfectly fits the bill, providing an affordable and efficient solution. The single-wall plastic quickly allows cold air to penetrate, effectively freezing the contents. With ample space, we can store a quart of homemade ice cream, gelato, or sorbet, and even have room to mix in delightful bonus flavors like fresh fruit and chocolate shavings. The lid's four locking tabs and gasket work together to keep air out, minimizing the risk of freezer burn and preserving the ice cream's quality.
In addition to its functional design, this container easily stacks with others for organized freezer storage. The rectangular shape makes it a breeze to run an ice cream scoop down the length, ensuring effortless serving. As an added bonus, you can conveniently write the flavor directly on the lid and easily wipe it off when washing it by hand or placing it in the dishwasher on the top rack. We wholeheartedly embrace the efficiency and convenience of Snapware's rectangular container, as it has allowed us to enjoy perfectly stored homemade ice cream without compromising on taste and texture.
Best Price
Individual cubes pop out easily
Makes small portions for young eaters
Food-safe silicone resists stains
When it comes to freezing baby food in appropriately sized portions, we understand that it can be a challenge, especially when aiming to provide a well-rounded meal for your child. Thankfully, W&P has come up with a brilliant solution with their silicone tray. This innovative tray allows us to freeze 12 cubes of various purees in one container, and the individually molded compartments make it a breeze to pop out the cubes as needed.
To ensure stability and ease of use, the tray's perimeter is steel-embedded, keeping it steady while we add puree and remove the cubes. While the silicone lid doesn't lock closed, it securely rests atop the tray, allowing us to stack it with other freezer foods without any worries.
W&P prioritizes food safety with the design of this tray and lid. The silicone used is BPA-free and complies with California's Proposition 65 regulations. Additionally, it has been LFGB certified, a more rigorous European food-safety test than the U.S. Food and Drug Administration standard. We can rest assured that our baby's food is stored in a safe and reliable container.
Not only is this tray practical and safe, but it is also easy to clean by hand and resistant to staining, even when used with bright-colored foods like raspberries. When we need larger portions, we can easily upsize to the W&P Cup Cubes Freezer Tray, providing even more convenience for our baby's meal preparation. We wholeheartedly embrace the functionality and safety of W&P's silicone tray, as it has simplified the process of freezing and storing baby food with confidence.
Best Price
(re)zip Lay-Flat Gallon Leakproof Reusable Storage Bag
Incredibly useful in all kinds of situations beyond the kitchen, from stroller to market, to carry-on bag, throughout a vacation, and back again. Lightweight yet tough enough to keep belongings safe and dry while hiking, biking, or on the beach
Material is sturdy and reusable
Zipper closes securely
Bags can stack when frozen flat
Not microwave- or dishwasher-safe
If you're seeking eco-friendly alternatives to disposable freezer bags, we highly recommend these reusable gallon-sized bags as a game-changer. Particularly useful for those with limited freezer space, we use these a ton and find them incredibly practical.
Crafted with durability and lead-free materials, these versatile bags are capable of storing almost anything we want to freeze. To maximize space-saving, simply freeze them flat for efficient storage.
With (re)zip's estimate that just one of these bags can replace a staggering 300 disposable bags, we can feel great about reducing our environmental impact. Made from lightweight PEVA material, they offer the same flexibility as their disposable counterparts. The double locking mechanism on the closure ensures an airtight seal, providing peace of mind against any potential leakage.
It's important to note that washing these bags by hand is recommended to maintain their longevity, ensuring we get the most out of their reusable capabilities. By opting for these durable and eco-conscious (re)zip bags, we can enjoy both practicality and sustainability in our kitchen storage choices.
Each of these freezer containers offers unique features and benefits, catering to different storage needs in your kitchen. Consider your specific requirements and preferences when selecting the best freezer containers to streamline your meal preparation and storage, while also contributing to a more sustainable kitchen.
Affiliate DisclaimerAbout The Content
As an affiliate, we may earn a commission from qualifying purchases. We get commissions for purchases made through links on this website from Amazon and other third parties.