Whether you're a culinary enthusiast or enjoy freshly-squeezed juice, having the right citrus juicer is essential. Food and Meal have tested and curated a selection of the best manual and electric citrus juicers to suit your needs. From compact and budget-friendly options to high-end models, you'll find the 9 best citrus juicers of 2023 for fresh citrus juice whenever you desire.
Factors to Consider to buy
citrus juicer
| | |
| --- | --- |
| Size | The size of a  juicer is a matter of personal preference. It ultimately depends on your intended usage. If you plan to make small batches of orange juice on weekends, a compact juicer will suffice. However, if you anticipate juicing multiple times a week, it's advisable to choose a larger option to minimize effort and cleanup. |
| Manual vs. Electric | When it comes to manual versus electric juicers, the choice is subjective. Some experts prefer manual juicers for the greater control they offer. Although squeezing numerous oranges by hand can test your patience, they argue that the process is more rewarding. Manual juicers provide access to the fruit's complete flavor profile, preventing an excessive bitter taste from the pith. Nevertheless, casual juicers can find equal satisfaction in using an electric juicer. |
| Cleanup | Cleaning your juicer is easy. Use dish soap after each use or a mixture of baking soda and water for tougher cleaning. Use it in the sink to minimize splatters. Wipe down the entire machine if you juice on the countertop and hand wash all the parts to avoid stickiness. |
The 8 best citrus juicers of 2023
Best Price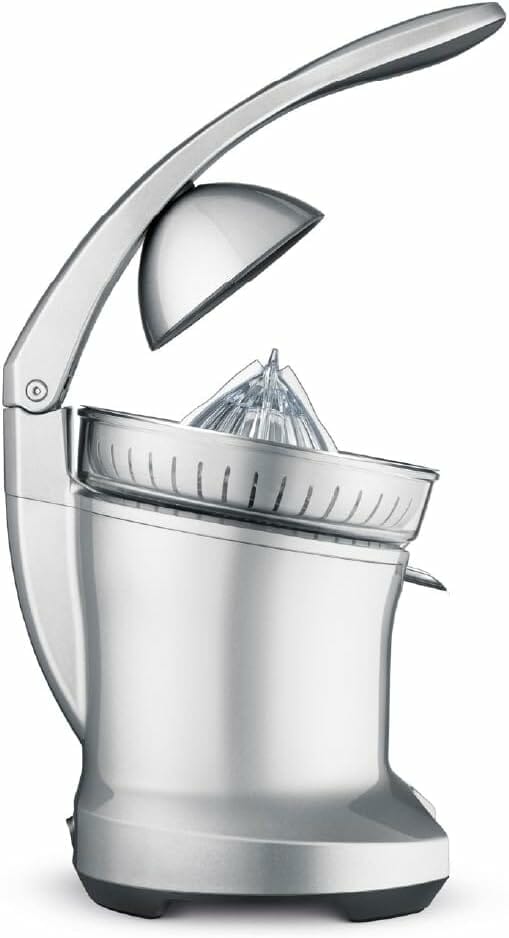 Buy on Amazon
Breville Citrus Press Pro Juicer
4.7
(706 ratings)
$149.95
The Citrus Press is equipped with one cone for all citrus types (lime, lemon, orange, grapefruit) and with patented juicing fins and dome grip that provides even pressure to maximise juice extraction.
This citrus juicer is electric, which makes juicing large batches a breeze. It also has a near-silent motor.
Weighing 11 pounds, this electric juicer has a slightly larger and bulkier footprint.
If you prefer to avoid manual preparation, the Breville Citrus Press Pro Juicer is our top recommendation for an electric citrus juicer. In our tests, this model achieved a perfect score in every category, including performance, design, ease of use, and versatility.
Whether you need just a small amount of lemon juice for a salad vinaigrette or a whole pitcher of grapefruit juice, this kitchen tool is up to the task. Its acid-resistant cone ensures maximum extraction from any fruit you're juicing, and the power-assisted lever makes squeezing effortless, even with just one hand. The juicer is equipped with a safety switch that prevents the cone from spinning unless both arms are lowered and sufficient pressure is applied, making it a safe choice for families. Additionally, during our tests, we found the Breville juicer to have a nearly silent motor.
The intuitive design of the Breville juicer is another standout feature. It boasts a conveniently placed power button on the side and an eject button for easy removal of the magnetic cup. The adjustable spout allows for precise control of juice flow, even when using larger citrus fruits like grapefruits. After juicing, the Breville incorporates a handy drip-stop system that prevents countertop spills by holding the juice back. Moreover, all the parts of the juicer can be easily disassembled for effortless cleanup in the dishwasher.
Best Price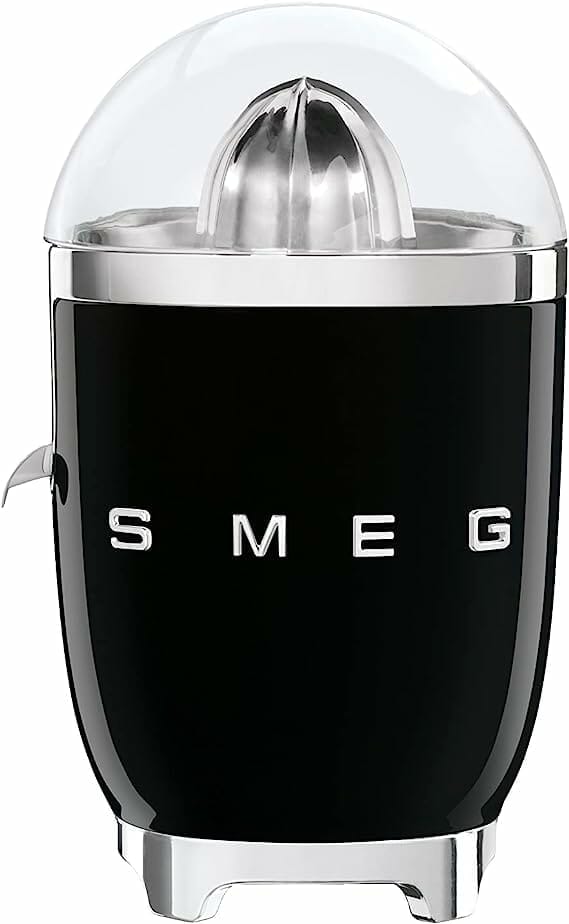 Buy on Amazon
Smeg Citrus Juicer
4.6
(446 ratings)
$123.51
SMEG's electric citrus juicer combines elegant design and superb performance with reliability. This citrus juicer is a great addition to the kitchen, making it more inviting and offering a sense of well-being from savoring a delicious fresh citrus juice.
The Smeg Citrus Juicer is compact, easy to use, and looks great on your countertop.
The reamer tends to collect quite a bit of pulp during extraction, requiring hand-washing after each use.
If you're searching for a citrus juicer that combines functionality with aesthetic appeal for your kitchen, look no further than the Smeg Citrus Juicer. We understand the importance of having stylish tools in your culinary arsenal, and this juicer fits the bill perfectly.
Crafted from durable stainless steel and featuring anti-corrosive components, the Smeg Citrus Juicer utilizes its reamer and strainer to extract every last drop from your fruit. With its anti-drip spout, the juice can be poured directly into a glass without any mess. The juicer does most of the work, requiring only a bit of pressure on the reamer from you. As an added bonus, the juicing bowl is BPA-free and impact-resistant, serving as a convenient bowl for fruit and peels when not in use.
During our testing, we found the Smeg Citrus Juicer to be highly effective in extracting juice from oranges, limes, and grapefruits. The reamer proved to be comfortable and easy to hold. However, we did observe a noticeable amount of flesh and pulp accumulating around the edges of the reamer after juicing each fruit. Therefore, it is recommended to thoroughly hand-wash this juicer after each use to maintain its optimal performance.
If your main focus is juicing lemons and limes, the KitchenAid Citrus Squeezer is a standout option due to its compact design. Its thoughtful features make it a reliable choice for obtaining fresh juice without any hassle. The built-in strainer ensures that no unwanted seeds or pulp find their way into your juice, resulting in a clean and smooth liquid. With the integrated pour spout, transferring the extracted juice directly into your preferred container or recipe is a breeze, free from spills or mess. Moreover, the ergonomic handle offers a comfortable grip, enabling effortless squeezing and minimizing strain on your hands.
Crafted from durable, high-quality aluminum and nylon materials, this juicer is perfect for individuals who enjoy cooking, baking, or crafting cocktails. During our tests, we found the KitchenAid Citrus Squeezer to be highly effective in juicing small- to medium-sized citrus fruits. We were able to extract all the juice in approximately 30 seconds, leaving no mess behind. When not in use, simply place it in the dishwasher for easy cleaning, and store it in a drawer alongside other kitchen tools like tongs and spatulas.
The Zulay 3-in-1 Manual Citrus Juicer Reamer Cup is a reliable and functional tool that prioritizes sturdiness and practicality over unnecessary embellishments. Although it is a manual juicer, it streamlines the process of extracting juice from citrus fruits, making it quick and effortless. The juicer is thoughtfully designed with a drip-free spout and a comfortable handle, allowing you to pour the juice directly into a glass for immediate enjoyment.
One of the significant advantages of this juicer is its versatility. It includes two reamers: a 12-tooth reamer tailored for lemons and limes, and a 3-claw reamer suitable for larger fruits such as oranges and grapefruits. Additionally, it features a convenient flip-top strainer that can even be used to separate egg yolks.
In our testing, we put this juicer to the task with three different types of citrus fruits: oranges, tangerines, and grapefruits. We found that it produced clear and flavorful juice with a slight pulp content, and the entire process was quick and mess-free. Compared to other manual juicers, the Zulay required less extraction pressure, enhancing the overall user experience.
We recommend this budget-friendly product for small-scale juicing tasks, such as cooking, cocktail-making, and preparing beverages for one to two people. However, it may not be practical for large batches or gatherings where larger volumes of juice are needed.
With a soft, non-slip handle designed for comfort and a secure grip, the OXO Good Grips Citrus Squeezer ensures that extracting juice is effortless and strain-free for your hands. The handle is crafted to be gentle on your hands while providing a firm grip. Additionally, the extended handles offer extra leverage, further easing the squeezing process.
This squeezer is optimized to maximize juice extraction while effectively straining out seeds and pulp, guaranteeing that every precious drop of juice is captured. In our tests, we were impressed by the exceptional performance and efficiency of this juicer, particularly when used with lemons, limes, and other small citrus fruits. It is well-suited for handling smaller juicing tasks with ease.
Cleaning the OXO Good Grips Citrus Squeezer is a breeze as well. Constructed from durable and BPA-free materials, this juicer is dishwasher safe, ensuring convenience for everyday use and effortless maintenance.
If you're new to juicing and not yet ready to invest in a professional-level tool, the Zulay Premium Quality 2-in-1 Hand Juicer is a reliable choice. This citrus press is designed to deliver high performance, extracting every last drop of juice from various fruits while effectively eliminating seeds. During our testing, we found that it has sufficient capacity to juice up to five limes at once, although it does require some hand strength throughout the process. Additionally, it is dishwasher-safe, ensuring quick and easy cleanup.
Constructed with sturdy industrial aluminum and featuring a protective coating, this juicer is primarily designed for handling limes and large lemons. Its dual-bowl design allows for juice extraction while simultaneously straining out seeds and pulp. However, it is worth noting that this juicer is not very versatile. While smaller oranges or satsumas might fit, they are not the primary focus of its design.
OXO Good Grips 2-in-1 Citrus Juicer
You can easily switch between the small reamer for lemons and limes or the large reamer for oranges and grapefruits by snapping them on. The pour spout is designed to be drip-free, and the reamers are removable, allowing for effortless cleaning, including in the dishwasher. With a vessel to catch the juice, we were able to juice up to six limes, four lemons, and three oranges without running out of capacity. The OXO Juicer is suitable for individuals who juice frequently but not in large quantities. However, if you require large volumes of citrus juice or frequently juice oranges or grapefruits, this may not be the best choice for your needs.
When it comes to juicing large quantities of citrus, our top recommendation is the Vivohome Manual Citrus Press. We found this model to be relatively user-friendly and straightforward to assemble, paying attention to aligning the subtle dots on the funnel with the opening on the reamer. The heavy-duty, professional-grade base ensures stability and minimizes mess during the juicing process. As it lacks electrical components, we anticipate fewer issues with this model in the long run, offering a reliable juicing solution.
The main drawback of the Vivohome Manual Citrus Press is its size, which may occupy a significant amount of space in your kitchen. If you don't juice on a regular basis, you might be better served by a smaller model that can be easily stored away. While the two removable parts are easy to clean, the fruit dome, which comes into contact with the citrus, poses a bit more of a challenge as it is not removable. However, for enthusiastic juicers who frequently extract citrus juice, the Vivohome Press is a worthwhile investment.
Affiliate DisclaimerAbout The Content
As an affiliate, we may earn a commission from qualifying purchases. We get commissions for purchases made through links on this website from Amazon and other third parties.