Don't underestimate the hand mixer's value and versatility compared to its larger counterpart, the stand mixer. While proficient in handling tough doughs and thick batters, hand mixers truly shine in quick, light kitchen tasks like whipping cream, beating eggs, and blending dressings. They're cost-effective, space-saving, and often come with attachments and storage compartments. Unsure which to choose? The article about Best Hand Mixers of Food and Meal can help you decide.
How to Choose the Right Hand Mixer for You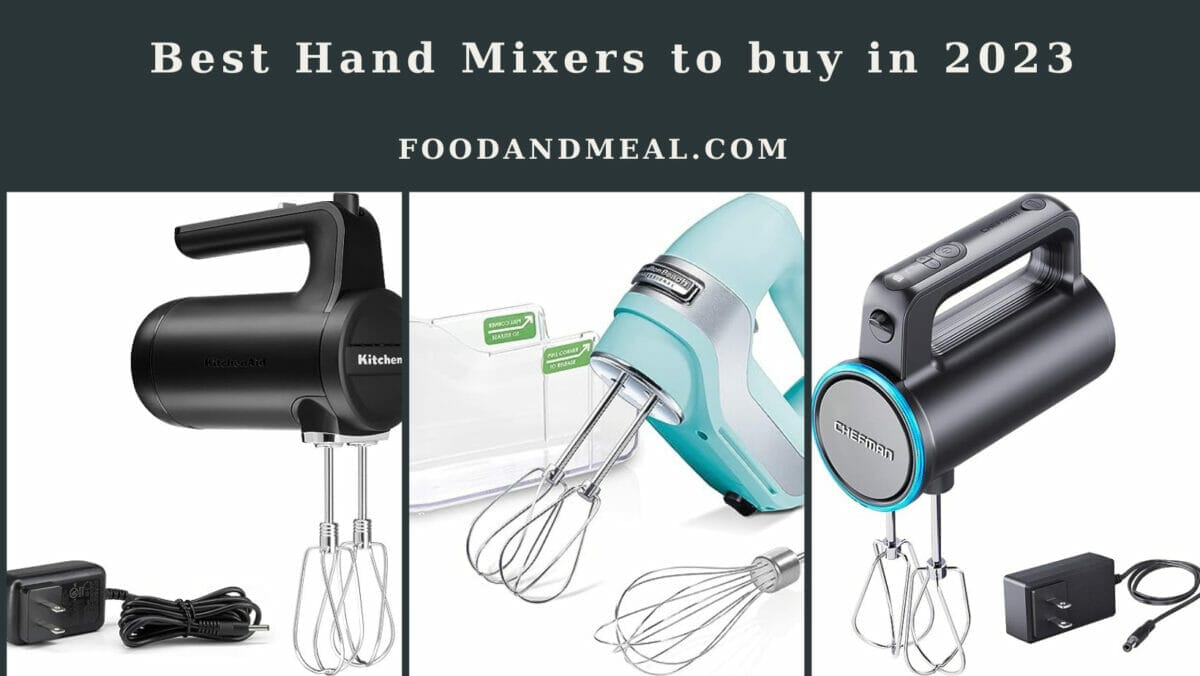 | | |
| --- | --- |
| Size | Just as with other kitchen appliances, the hand mixer's size matters. Designed to simplify baking mixing, it's crucial to avoid arm strain from a bulky unit. Assess your preferred mixer's weight and opt for manageable models, especially if arm fatigue is a concern. |
| Speed | Electric hand mixers typically offer 5 to 9 speeds for different tasks. Slower speeds prevent splattering, while higher speeds are essential for effective whisking, especially for egg whites. More speed options provide greater flexibility, benefiting frequent bakers and delicate recipes. |
| Attachments | Hand mixers vary in accessories. Some offer a range—beaters, whisks, dough hooks—while others stick to basics with two beaters. Attachment choice hinges on your baking style. Basic accessories work for whisking and mixing, but frequent bread bakers need mixers with dough hooks. |
Our top picks: Best Hand Mixers to buy in 2023
Best Price
Cuisinart Power Advantage Plus
4.6
(16666 ratings)
$66.16
The Cuisinart Power Advantage Plus 9 Speed Hand Mixer performs any task a recipe calls for, and then tucks into its own storage case. Once it has mixed heavy batters, whipped up fluffy meringues and kneaded homemade bread dough, just clean it up and put it away.
Intuitive speed controls
Includes helpful manual
Dishwasher safe attachments
When it comes to tasks ranging from whipping cream to kneading bread, the Cuisinart Power Advantage Plus 9-Speed Hand Mixer with Storage Case reigns supreme.
This culinary tool ensures even mixing of ingredients, eliminating the need for halting to scrape the bowl. It effortlessly incorporates additional components and adeptly handles kneading yeast dough, resulting in impeccably smooth, elastic balls akin to those formed by human hands.
The user-friendly on/off switch and speed controls require no effort to navigate, while the mixer consistently starts at a gentle pace, preventing initial flour splatters on your face.
Among the mixers assessed, this model boasts the most user-friendly manual, even featuring recipes you'd genuinely consider making. The stainless-steel attachments are dishwasher-safe and fit neatly in the snap-on storage case provided, conveniently attaching to the mixer's top.
The only drawback is its somewhat notable noise level, although it pales in comparison to the din produced by blenders or hairdryers.
Best Price
Braun MultiMix Hand Mixer
The MultiMix 5 Hand mixer delivers 50% more power* than leading competitors. With its 350-watt motor, you can whisk, knead and chop even the toughest ingredients for your favorite recipes with excellent results.
Easy to hold
Easy to set speed dial
Dishwasher safe
The Braun MultiMix astounds with its remarkable speed, performance, and convenience. It outpaces most other hand mixers in swiftly combining cake batter. Although lacking a whisk, its mixing beaters excel at achieving peak volume when whipping egg whites.
In this model, the motor's weight is positioned upfront rather than beneath the handle, ensuring effortless handling during lengthy tasks. However, this design also lends it a taller profile, affecting its fluidity when working with thick dough compared to certain alternatives.
The speed dial is incredibly user-friendly to set prior to activating the Braun. Should you pause to scrape or monitor your progress, there's no need to readjust the speed when you resume.
Uniquely, this mixer boasts no air vents, simplifying cleanup by eliminating batter residue in slots. Additionally, all beaters can be safely cleaned in the dishwasher, and a provided bag aids in their storage to prevent misplacement.
Best Price
Affordable
Simple operation
Easy to clean
The 6-speed Black + Decker Easy Storage electric hand mixer might not boast extravagance, but it does come with a splendid array of attachments. These include two wire beaters (not the conventional kind with central posts), a whisk attachment, and dough hooks. And in the realm of whipping, mixing, and kneading, it certainly doesn't fall short.
This mixer possesses the prowess to swiftly produce fluffy combinations of creamed butter, sugar, and egg whites with stiff peaks. Unlike some in its price range, it adeptly slices through cookie dough and ensures even ingredient integration. While it might not be the swiftest at combining cake or bread ingredients, it consistently delivers impeccable batters.
Operating this mixer is a breeze, with a single control that you shift forward to power on and select a speed. The manual suggests hand washing all beaters, but we found this to be a minor inconvenience, as they rinsed clean with ease.
Accompanied by a storage box that accommodates the mixer and its attachments, keeping everything organized in one place is hassle-free. Given its cost, we believe you'd be hard-pressed to find a superior hand mixer.
Best Price
Breville the Handy Mix Scraper
4.7
(2381 ratings)
$131.31
Size: 8.5 x 3.5 x 10.25 inches
Weight: 3.2 lbs
Speeds offered: 9
Attachments included: 2 scraper beaters, 2 dough hooks, 2 balloon whisks
Dishwasher safe attachments
Easy to care for
Quiet
Confusing speed controls
Too expensive
Loaded with an impressive range of features, Breville's Handy Mix Scraper stands out. It features a light and timer that activate when mixing commences, along with a pause button for added convenience. Furthermore, the incorporated Beater IQ recognizes attachments and adjusts speed irrespective of the setting.
However, the Breville falls slightly short in terms of top-notch mixing performance. It's among the slower models and is the sole one we encountered that struggled a bit when kneading enough dough for two loaves of bread. Surprisingly, the timer feature isn't as beneficial as anticipated, with the more intuitive option being to press "off," leading to time loss.
Despite having two whisks instead of one, it doesn't excel in achieving particularly airy egg whites. Furthermore, weighing over 3 pounds, it becomes cumbersome to hold continuously for more than a minute.
Featuring an easily detachable trigger for the beaters, a plug that's simple to pull from the socket, dishwasher-safe attachments, and a storage case to keep all parts organized, this mixer is hassle-free to maintain.
Best Price
Simple construction
Fast mixing
Snap on attachment case
This Hamilton Beach model sports conventional beaters with central posts, as opposed to the current standard wire ones. However, it doesn't include dough hooks.
With a single control, a simple forward push both powers on the mixer and selects from its six speeds, while a downward push ejects the beaters.
Despite its straightforward design, this mixer effectively completes tasks, often outpacing others when it comes to blending cake batter and cookie dough. While the attachments require hand washing, even with the center post, cleaning isn't notably demanding. A valuable extra is included: a case for the attachments that neatly snaps onto the mixer for organized storage.
Best Price
Dash Go SmartStore Hand Mixer
4.5
(10000 ratings)
$16.79
Size: 7.4 x 3.2 x 4.7 inches
Weight: 1.9 lbs
Speeds offered: 3
Attachments included: 2 traditional beaters, 1 whisk, and a snap-on storage case
Lightweight
Easy to store
Affordable
Hard to differentiate speeds
Slow mixing
At first sight, the Dash Go SmartStore mixer appears compact, lightweight, and adorned with vibrant colors—almost resembling a toy more than a serious kitchen appliance. Yet, despite ranking among the slower performers among all hand mixers, it capably manages an array of mixing tasks you might challenge it with.
While the Dash may not produce the airiest whipped cream and might not glide through cookie dough as effortlessly as desired, it's still capable of yielding delightful cookies and tender sponge cakes if you give it a shot.
The handle design isn't particularly ergonomic, and it offers just three speeds, which aren't distinctly discernible. However, the beaters conveniently snap onto the body for storage, rendering the mixer easy to tuck away or transport. If you prioritize a budget-friendly option and aren't planning on venturing into bread making, this mixer deserves your consideration.
Best Price
Battery level indicator light
Sleek minimalist design
Smaller size is easy to store
Doesn't include whisk or dough hook attachments
Only appropriate for light-duty mixing
Known for their top-tier stand mixers, KitchenAid's hand mixer models intrigued us. We tested the 7-Speed Cordless variant, a rarity in reputable brands. Cordless mixers prioritize convenience but can sacrifice performance due to power demands.
In performance, charging and power retention posed no issues. Mixing times for tasks like cake batter were normal, but simpler tasks took longer. Holding the mixer for 10 minutes became uncomfortable. The absence of a whisk attachment prolonged whipping times. The mixer struggled with thicker dough, halting for safety if resistance was too high.
Despite trade-offs, the cordless convenience outweighed concerns. The mixer felt sturdy, without overheating or alarming noises. Infrequent bakers will have no issues with softer batters and doughs.
Best Price
Balloon whisk attachment
Easy to handle and operate
Not appropriate for very thick doughs
A household essential, this immensely popular hand mixer graces kitchens worldwide. While it lacks the complexity of some other models, it's a straightforward, dependable choice that's stood the test of time. The latest version includes an upgraded feature—a snap-on case to store mixer attachments—and offers both beater and whisk attachments.
At its zenith, this 6-speed hand mixer employs a 250-watt motor, bolstered by a "burst" button to effortlessly tackle batter clumps. With easy storage and a weight suitable for adults and kids alike, it's well-suited for brownie mixes, cake batters, and light cookie doughs. This mixer's design even allows it to rest on the bowl's side when you need a break, without concerns of batter spilling onto your counter.
Breville Handy Mix Scraper Hand Mixer
Best Price
Battery level indicator light
Sleek minimalist design
Smaller size is easy to store
Doesn't include whisk or dough hook attachments
Only appropriate for light-duty mixing
We explored KitchenAid's renowned stand mixers and tested their hand mixer line, including the 7-Speed Cordless model. Though cordless convenience often compromises performance, this model had no charging or power issues during tasks. Mixing times for tasks like cake batter were typical, but simpler tasks took longer. The mixer struggled with thicker dough and has a safety feature that stops it if overwhelmed. While trade-offs were expected for cordless convenience, we were satisfied with the mixer's sturdy performance.
Which Mixer Is Best: Hand or Stand?
All the hand mixers we tested performed well in each of our trials. However, continuously beating eggs and sugar for an extended time proved tiring, prompting us to switch hands even with the lightest models.
When it came to kneading bread dough, maintaining the movement of the dough hooks through the heavy load demanded focused effort.If these tasks are infrequent for you, a stand mixer isn't necessary. For whipping cream, blending cake mix, or even tackling cookie dough, a handheld mixer suffices.But if you're a frequent baker, often double your recipes, and regularly work with yeast doughs, it's worth the investment and counter space to opt for a stand mixer.
Affiliate DisclaimerAbout The Content
As an affiliate, we may earn a commission from qualifying purchases. We get commissions for purchases made through links on this website from Amazon and other third parties.