Creating your own non-dairy milk is a breeze with a nut milk maker. These convenient kitchen appliances produce fresh nut milk in just minutes, offering a cost-effective and sustainable alternative to store-bought options. Homemade nut milk is not only more nutritious but also allows for creativity with different ingredients and flavors. Food and Meal's selection of the 6 nut milk makers at home 2023 is based on thorough research, testing, and expert input, ensuring you can enjoy the benefits of homemade nut milk with ease and confidence.
What to Look for in a Nut Milk Maker?
Consider the Ingredient Requirements When Purchasing a Nut Milk Maker:
When you're in the market for a nut milk maker, it's important to take into account the ingredient requirements of the machine. One factor to consider is whether the machine necessitates soaking nuts and ingredients overnight before making nut milk. If you tend to lack planning or have a busy schedule, this requirement can serve as a hindrance to utilizing your nut milk maker effectively. In such cases, you might prefer a machine that doesn't mandate ingredient soaking.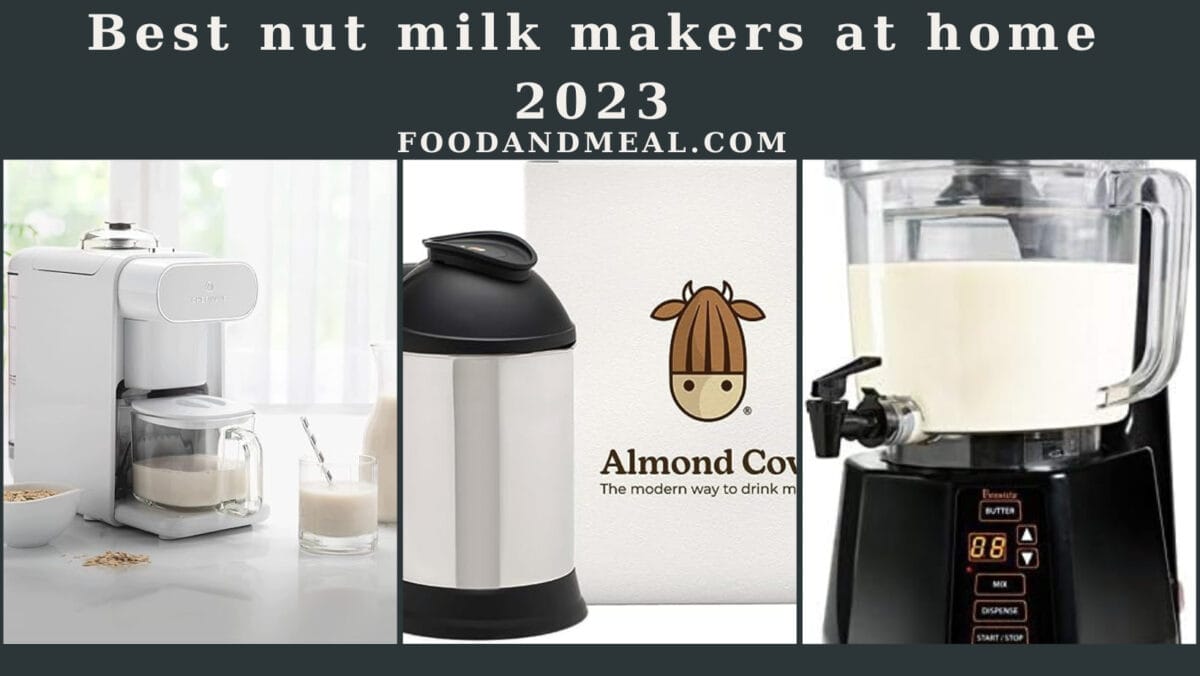 Opt for a Filter or Filterless Design:
To achieve a wonderfully smooth nut milk without any undesirable particles, the milk must undergo filtration. Certain nut milk makers, such as the Almond Cow, incorporate an internal filter within the machine that handles the filtration process for you.
If your chosen machine lacks an internal filter, you may need to manually filter the nut milk using an external device like a nut milk bag. One advantage of a filterless design is that it facilitates easier and quicker cleanup.
Explore Additional Features:
Certain nut milk makers offer supplementary settings that extend beyond the scope of nut milk production, like the Idavee. Depending on your specific needs and preferences, you might be interested in purchasing a machine that offers additional functionalities.
 The 6 Best nut milk makers
Best Price
Idavee Brand IAE15 Presto Pure Soy Milk Maker
The Idavee brand Automatic Soy Milk Machine is the highest capacity machine of its kind. It is capable of making 1.9 liters of plant-based dairy-free milk at a time. That's just over a half gallon! In thirty short minutes, you'll have fresh, homemade, soy, nut, and seed milk without additives and preservatives like you'd find in store-bought milk, at a fraction of the cost.
Large capacity
Does not require presoaking nuts
Expensive
Does not include a self-straining function
Elevate your culinary adventures beyond nut milk creation with the remarkable Idavee PrestoPure machine. This multifunctional appliance transcends its primary purpose, allowing you to effortlessly whip up flavorful soups, hearty porridge, and invigorating fresh juices. With its capacious 1.9-liter pitcher, it becomes an ideal companion for larger families or individuals who frequently indulge in nut milks for various purposes like drinking, baking, and cooking.
Tailor Your Nut Milk Preparation to Perfection: The Idavee PrestoPure machine offers you the flexibility to customize your nut milk preparation. Choose between a dry or wet setting, depending on whether you prefer to soak your ingredients or not. It's important to note that this machine does not come equipped with a built-in filter. Therefore, for an ultra-smooth nut milk free from any lingering nut or seed particles, manual straining may be required.
Effortless Assembly and Cleanup: Experience the sheer simplicity of assembly and cleanup with the Idavee PrestoPure machine. Its filter-free design streamlines the process, making it a breeze to use. Additionally, the double-walled stainless steel pitcher ensures a quiet operation while providing an outer layer that safeguards against heat, prioritizing your safety during usage.
Best Price
Chef'n Nut Milk Maker
The easy to clean, re-usable filter makes straining simple and mess-free and the glass carafe is perfect for serving. Saving some for later? Snap on the leak-proof silicone lid and pop it in the fridge. Almonds, Macadamias, or even Coconut, the possibilities are endless! Got nut milk.
Compact size
Lower price point
Easy to clean
Must be used with a blender
Can take up to 30 minutes
If you already own a blender, the Chef'n Nut Milk Maker is an excellent choice for a compact and cost-effective nut milk making solution. Specifically designed to be used in conjunction with your blender, this nut milk maker eliminates the need for a separate nut milk bag.
Creating delicious nut milk with the Chef'n Nut Milk Maker is a straightforward process. Begin by blending a cup of soaked raw nuts, seeds, or grains with water in your blender. Once blended, pour the mixture into the Chef'n filter for straining. In less than 30 minutes, you'll have freshly made nut milk ready to enjoy.
Equipped with a convenient glass carafe, the Chef'n Nut Milk Maker simplifies the straining process. Any remaining nut milk can be stored in the refrigerator using the carafe and its silicone lid. With its easy cleaning, compact design, and seamless integration with your blender, this nut milk maker provides a hassle-free solution for crafting homemade nut milk.
Best Price
NutraMilk Nut Processor
4.0
(115 ratings)
$386.05
Makes non-dairy milks (almond, soy, oat, etc.) and smoothies in only 5-12 minutes; Use any nut, plus seeds, legumes + more! Makes up to 8 cups of alternative milk - with a 7 day shelf life and free of emulsifiers
Large capacity
Does not require pre-soaking nuts
Multipurpose
Can go in the dishwasher
Expensive
Waiting time between processing steps (from nut butter to nut milk)
If you're passionate about creating ample quantities of homemade nut milk on a regular basis, the NutraMilk machine is a worthy investment. This nut milk maker delivers incredibly smooth and creamy milk in less than twelve minutes, guaranteeing a delightful experience. Thanks to its robust 500-watt motor, there's no need to pre-soak your ingredients.
The NutraMilk operates by initially transforming the nuts into a luscious nut butter within its capacious work bowl. By adding water to the nut butter, the machine effortlessly converts it into nut milk while expertly filtering out any fine particles. The built-in spigot on the bowl allows for easy dispensing. Depending on the milk variety you desire, the process can take as little as 5 minutes for oat milk or up to 11 minutes for almond milk
With the NutraMilk, achieving the desired consistency of your milk is a breeze. Simply adjust the recipes by adding less water for thicker milk options. While pre-soaking nuts and straining the final product are not mandatory steps, we've found that they enhance the overall texture and mouthfeel, particularly for almond milk.
Create up to two liters of homemade nut milk in the NutraMilk and conveniently store it in the refrigerator for optimal freshness for up to seven days. The container and its parts are dishwasher-safe, ensuring effortless clean-up, and for added convenience, the NutraMilk comes with a cleaning brush.
Best Price
NUTR Nut Milk Maker
3.9
(857 ratings)
$134.99
NUTR Machine Automatic Nut Milk Maker, Homemade Almond, Oat, Coconut, Soy, or Plant Based Milks and Non Dairy Beverages, Boil and Blend Single Servings, Stainless Steel, Self-Cleaning,
Large capacity
Does not require pre-soaking nuts
Multipurpose
Can go in the dishwasher
Expensive
Waiting time between processing steps (from nut butter to nut milk)
If you're in search of a compact nut milk maker that can produce smaller 1-2 cup servings of various plant-based milks, including almond, cashew, soy, coconut, rice, flax, and more, look no further than the NUTR Nut Milk Maker. We appreciate its hassle-free operation, as it doesn't require any pre-soaking of ingredients, and its user-friendly design makes it a breeze to use and clean, complete with a convenient 90-second self-cleaning function. The accompanying user manual is clear and comprehensive, providing detailed instructions along with helpful tips and recipes for different milk alternatives.
Crafting your desired milk is a simple process. Just combine your chosen base, water, and optional flavorings such as spices or sweeteners, then press start, and your milk will be ready within minutes. If you prefer a creamier final product and want to pre-soak your ingredients, the machine allows you to do so by setting a delayed start. While the NUTR Nut Milk Maker doesn't include a built-in filter, it does come with a separate strainer for removing pulp. Alternatively, running the machine for two cycles produces only a minimal amount of pulp and grittiness, even with tougher nuts like almonds.
Another notable feature is the temperature control setting, granting you the option to choose between room temperature, warm, or hot milk based on your preferences. For instance, the hot function is ideal for creating milk for hot coffee beverages. Additionally, the machine offers a keep warm setting, allowing you to conveniently refill your cup. Depending on your chosen temperature setting, milk production can range from 4 to 20 minutes.
Best Price
Almond Cow Plant-Based Milk Maker
4.6
(159 ratings)
$245.00
The Almond Cow Machine is an economical, planet-friendly alternative to buying cartons of plant-based milk. Ensure quality ingredients and know exactly what's in your milk when you use this nut milk machine.
Easy to use, one button function
Built in filter, no straining required
Produces milk in one minute or less
Hand wash only, harder to clean
Securing the top of the filter basket can be tricky
For those seeking the quickest nut milk-making experience, the Almond Cow is the ultimate appliance. It outshines the competition with its remarkable speed, allowing you to create your own nut milk in one minute or less. This makes it an ideal choice for individuals with a busy or hectic schedule, ensuring you can enjoy fresh nut milk even on the go.
With each batch, the Almond Cow produces an impressive five to six cups of nut milk. Simply add half a cup to one cup of your preferred combination of nuts, seeds, and grains, along with water, to create your desired milk. Although the machine lacks a heating function, you have the flexibility to fill it with either hot or cold water, depending on the desired temperature of your milk at the end.
To achieve the smoothest nut milk, Almond Cow recommends soaking your ingredients beforehand, a step we found to significantly enhance the final product. While the machine includes a built-in filter, we discovered that additional straining was necessary to minimize any potential grittiness or slimy texture, depending on the type of nuts or grains used. Both almond milk and oat milk benefited from an additional straining, resulting in improved mouthfeel and overall texture.
The Almond Cow excels in user-friendliness. Simply add your ingredients, plug in the machine, and press a button—it's as easy as that. We also appreciate its compact size, making it suitable for those with limited kitchen counter space. With just a few parts, including the blade, stainless steel pitcher, and mesh strainer, cleaning is a breeze, though it requires hand washing.
Best Price
ChefWave Milkmade Dairy Alternative Vegan Milk Maker
4.3
(966 ratings)
$225.60
Create fresh, delicious, plant-based dairy alternative beverages with the ChefWave Milkmade Non-Dairy Milk Maker. The Milkmade features 6 preset milk making programs, including almond, soy, cashew, oat, macadamia and coconut.
Easy to use with six presets for a variety of milks
High yield per ounce of nuts
Does not require pre-soaking nuts or straining (has a built-in filter) Hands-free, self-cleaning function
Expensive
Nut milk is on the thin side
Affiliate DisclaimerAbout The Author
As an affiliate, we may earn a commission from qualifying purchases. We get commissions for purchases made through links on this website from Amazon and other third parties.