The optimal choice of cookware for a gas stove consists of three-ply metal construction. This entails a robust combination of stainless steel, copper, and aluminum layers, resulting in durable and non-reactive cookware capable of rapid heating across various cooking surfaces. While cast iron is suitable for gas stoves, it tends to heat up slowly and is better reserved for specific cooking techniques.
When transitioning to a gas stove, it's common to initially utilize your existing cookware. However, as you gain experience, you'll discover that not all pots and pans perform equally well when cooking on gas. Follow the article of Food and Meal about best cookware for gas stoves of 2023 to know more informations.
What is the best cookware for gas stoves?
When selecting cookware for your gas stove, there are key factors to consider in order to find the best fit.
Materials
The ideal cookware for a gas stove should be made of materials that can withstand high temperatures without warping or melting. Popular options include stainless steel, copper, cast iron, and anodized aluminum. Stainless steel offers durability and easy cleaning, while copper provides excellent heat retention and conduction. Cast iron excels in heat retention but requires regular seasoning to prevent rust. Anodized aluminum is lightweight, strong, and resistant to corrosion. Each material has its own advantages and disadvantages, so consider your cooking preferences before making a choice.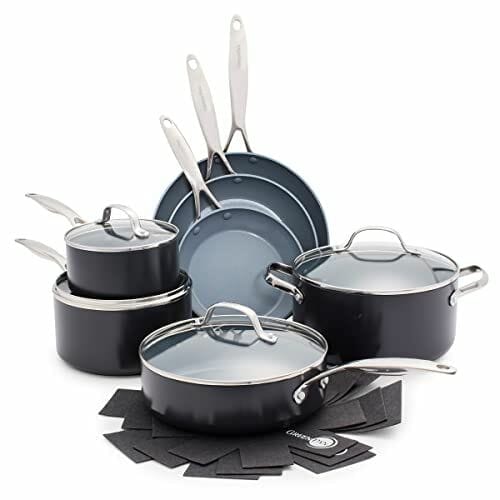 Durability
Look for cookware that is specifically designed for gas stoves and prioritizes durability. High-quality cookware will not only save you money in the long run but also enhance your cooking experience. It should be able to withstand high temperatures and provide even heat distribution, which is crucial for gas stoves. Materials like stainless steel and copper are known for their longevity and heat conductivity. Additionally, non-stick surfaces can make cleaning easier.
Size
Consider the size and shape of the cookware in relation to the burners on your gas stove. Gas stoves have burners of different sizes, so it's important to select cookware that fits your stove properly. With these factors in mind, you can now explore some of the best cookware options available for gas stoves.
What different cookwares are there?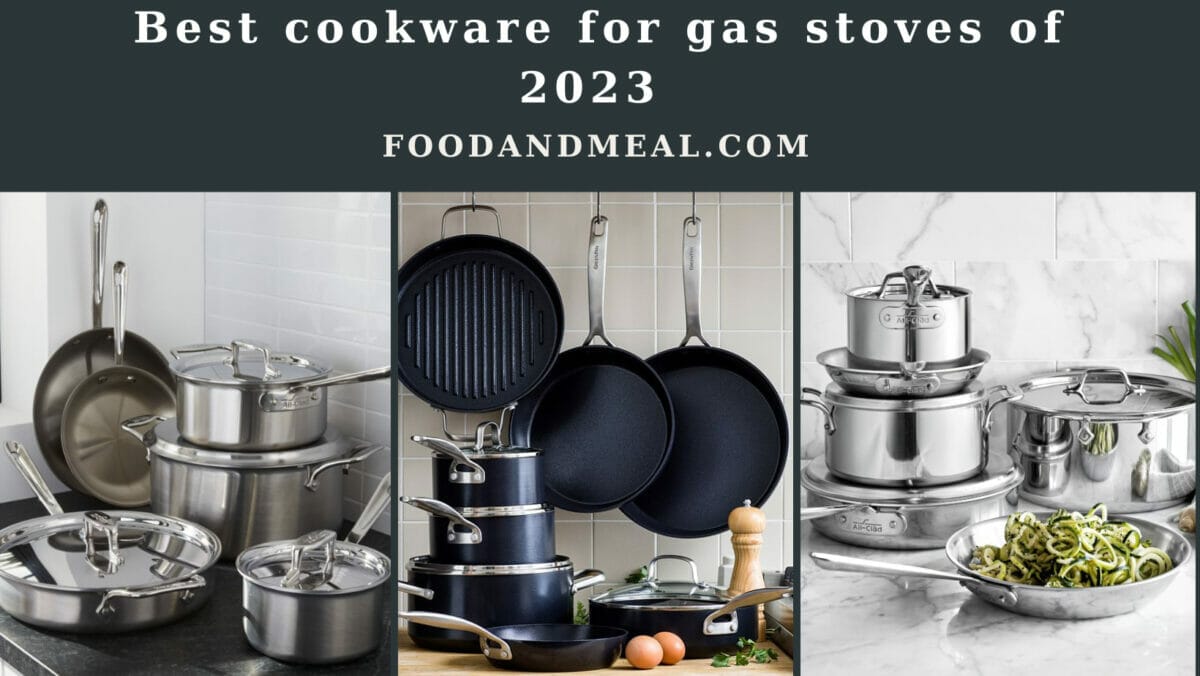 Each type of cookware has its own advantages and considerations. Choose the one that best fits your cooking needs and preferences when using a gas stove.
| | |
| --- | --- |
|  Nonstick cookware |  It offers convenience, easy cleanup, and longevity. Its special coating prevents sticking, making washing a breeze with warm water and soap. For gas stoves, use medium heat to avoid damage. Handwashing extends its lifespan. |
| Stainless steel cookware | It is a durable and versatile option for gas stoves. It handles high heat well without warping and provides even heat distribution. Stainless steel is suitable for various cooking methods and doesn't react with acidic ingredients. Cleaning stainless steel is easy with warm soapy water and a gentle scrub. |
| Cast iron cookware | It is a fantastic choice for gas stoves due to its durability and even heat distribution. It retains heat effectively, keeping food hot even after removing it from the flame. Cast iron cookware is suitable for oven and stovetop use and requires proper seasoning for easy cleaning and maintenance. |
| Carbon steel cookware | It offers affordability, reliability, and quick heat conduction. It is lightweight and conducts heat evenly, making it suitable for gas stoves. Carbon steel cookware is resistant to corrosion and easy to clean, making it ideal for busy cooks. |
|  Ceramic Cookware | Ceramic cookware excels in heat conduction and is safe to use on gas and electric stoves. It is durable, scratch-resistant, and free from harmful chemicals. Ceramic cookware distributes heat evenly and is easy to clean with warm soapy water. |
The best cookware for gas stoves of 2023
Best Price
Ninja C39900 Foodi NeverStick Premium
4.7
(6071 ratings)
Price: $529.99
Set Includes: 8″ Fry Pan
10.25″ Fry Pan W/Lid
2.5-Quart Saucepan W/Lid
3-Quart Sauté Pan W/Lid
Quart Stock Pot W/Lid
Heats Evenly
Priced Reasonably 10 Year Warranty
Not As Durable As Cast Iron
I have a personal favorite cookware set that I highly recommend for its exceptional value. The aluminum pans in this set are truly nonstick, backed by a 10-year warranty, and effortless to clean.
Ninja has been impressing us with their fantastic products, and their cookware is no exception. The Ninja Neverstick cookware set is a standout option for upgrading your gas stove cookware. Crafted with high-quality nonstick aluminum, this set ensures superior heat distribution and consistent cooking performance, resulting in perfectly cooked meals every time. What sets it apart is its easy maintenance and cleaning, making it the perfect choice for busy cooks who prefer less time spent on post-meal cleanup.
Best Price
HexClad
4.7
(2024 ratings)
Price: $829.99
Set Includes: 12″ Pan w/ Lid
10″ Pan w/ Lid
8″ Pan w/ Lid
12″ Wok
Heats Evenly
Durable
Oven Safe
Up To 500 Degrees
Stay Cool Handles
Dishwasher Safe
Hexclad has rapidly gained popularity as a leading brand in the world of nonstick cookware. What distinguishes them from the competition is their remarkable blend of stainless steel sturdiness and a reliable nonstick surface, achieved through their ingenious 2-layer design.
The Hexclad cookware set showcases the inclusion of stainless steel handles that stay cool throughout the cooking process, ensuring your safety and comfort. Additionally, these handles are heat-resistant up to 500 degrees Fahrenheit, granting you the freedom to utilize them in the oven without any concerns.
One of the standout advantages of Hexclad pans is their advertised dishwasher-safe feature, making post-cooking cleanup a breeze. This added convenience saves you time and effort, allowing you to focus on enjoying your culinary creations.
With its escalating reputation and impressive array of features, Hexclad is unquestionably a brand that warrants serious consideration when it comes to fulfilling your nonstick cookware requirements. The combination of durability, heat resistance, and easy maintenance makes Hexclad a compelling choice for anyone seeking high-quality nonstick cookware.
Best Price
Calphalon
4.7
(6548 ratings)
Price: $179.99
Set Includes:
10" Fry Pan
12" Fry Pan W/Lid
Qt. Saucepan W/Lid
2.5 Qt. Saucepan W/Lid
3 Qt. Sauté Pan W/Lid
8 Qt. Stockpot W/Lid
Heats Evenly
Long Lasting
Need to season it regularly
Food Tends to stick
Calphalon is renowned in the cookware industry for its exceptional stainless steel pots and pans. Crafted with a robust 3-ply stainless steel construction, these cookware pieces offer superior heat distribution, ensuring that your food cooks evenly and precisely.
Not only do Calphalon stainless steel pots and pans deliver outstanding cooking performance, but they also provide convenience when it comes to cleaning. These cookware items are dishwasher safe, allowing you to effortlessly maintain their pristine condition after every use.
Furthermore, the versatility of Calphalon stainless steel cookware is truly impressive. With an oven-safe capability of up to 450 degrees Fahrenheit, you can seamlessly transition from stovetop cooking to finishing your dishes in the oven. This flexibility expands your culinary possibilities, enabling you to prepare a wide array of recipes with ease.
In addition, Calphalon stainless steel cookware is designed to withstand the rigors of everyday cooking. You can confidently use metal utensils without worrying about damaging the cooking surface, ensuring that your cookware remains in top-notch condition for years to come.
Whether you're sautéing, searing, boiling, or braising, Calphalon stainless steel pots and pans are up to the task. Their durable construction and reliable heat conduction make them ideal for achieving professional-level results in your home kitchen.
In summary, Calphalon stainless steel pots and pans are a trusted choice for both amateur and professional chefs alike. With their durable construction, even heat distribution, dishwasher-safe convenience, and high-temperature resistance, these cookware pieces provide exceptional performance and versatility to elevate your cooking experience.
Best Price
Caraway ceramic cookware set
4.4
(1786 ratings)
Price: $395.00
Set Includes:
10.5″ frying pan
3 qt. sauce pan with lid
6.5 qt. dutch oven with lid
4.5 qt. sauté pan with lid
4 modular magnetic pan racks
Canvas lid holder with hooks.
Naturally nonstick
Easy to clean
The Caraway Cookware Set is an exceptional choice for those seeking a ceramic cookware set that guarantees safety and versatility across all cook surfaces, including ovens. What sets this set apart is its innovative nonstick ceramic coating, specially designed to provide a cooking experience free from concerns about the leaching of harmful substances into your food.
The ceramic coating used in the Caraway Cookware Set is carefully formulated to ensure that it remains intact and does not release any toxic chemicals during the cooking process. This feature gives you the peace of mind to prepare meals for yourself and your loved ones, knowing that the food will be free from any unwanted contaminants.
Not only is the Caraway Cookware Set safe to use, but it all so offers outstanding performance. The ceramic coating provides excellent nonstick properties, allowing you to cook with minimal oil or butter. This feature not only promotes healthier cooking by reducing unnecessary fat intake but also makes cleaning a breeze. Say goodbye to stubborn food residues sticking to your pans and embrace the convenience of easy cleanup.
Additionally, the Caraway Cookware Set is designed to be highly durable and long-lasting. The ceramic coating is resistant to scratches and abrasions, ensuring that your cookware stays in pristine condition even with regular use. You can confidently use metal utensils without worrying about damaging the nonstick surface.
Whether you're sautéing, frying, boiling, or baking, the Caraway Cookware Set is up to the task. Its compatibility with ovens allows you to seamlessly transition from stovetop to oven when necessary, expanding your cooking options and culinary possibilities.
Best Price
Made in the USA.
Rugged 5-ply build with solid copper core for rapid heat spread, durability, & heat retention.
Ultra-responsive – The best cookware for gas stoves when you need precise heat control.
Durable, non-reactive 18/10 stainless steel cooking surface.
Metal utensil-safe.
Compatible with all cooktops, including induction.
Oven & broiler-safe to 600℉.
Dishwasher-safe, but I recommend hand-washing to prevent dulling.
Lifetime warranty.
A bit heavy.
Expensive.
The exposed copper ring can discolor. You can restore it using Bar Keeper's Friend.
It takes some practice to cook eggs without sticking.
The rapid heat response takes getting used to.
Going a bit too hot can quickly scorch your food.
The All-Clad D5 Copper Core is undeniably the ultimate choice in All-Clad cookware lines for gas stove cooking. With its exceptional performance, it harnesses the capabilities of copper cookware sets valued at over $2500, all at a fraction of the cost.
The remarkable 5-ply construction begins with a corrosion-resistant 18/10 stainless steel interior. This high-quality stainless steel ensures that your food remains untainted in flavor, and its enhanced polish minimizes the risk of sticking, adding a delightful bonus to your cooking experience.
Directly beneath the stainless steel layer, two layers of conductive aluminum work harmoniously to distribute heat evenly, eliminating any hot spots and maintaining an affordable price point.
However, the true highlight of this cookware set lies within its core
Unlike the standard D5 line that incorporates a steel core, the Copper Core set boasts a substantial copper core, measuring nearly 1mm in thickness. This genuine copper core allows for rapid adjustments in heat, surpassing the performance of cheaper copper imitations, all while keeping the price more accessible.
The robust design of the All-Clad D5 Copper Core ensures that your food is cooked evenly and swiftly, whether you're preparing fluffy eggs or searing hearty meats. It truly excels in delicate recipes that demand precise heat control, as even the slightest adjustment of the stove's dial results in immediate temperature changes, preventing any risk of over or undercooking.
The flared rims of the cookware prevent spills when pouring liquids, while the vented stainless steel handles remain cool to the touch, even when exposed to intense flames. The unbreakable steel lids securely lock in flavors and can withstand oven temperatures of up to 600℉, expanding your cooking possibilities.
With its unmatched performance and an array of thoughtful features, the All-Clad D5 Copper Core cookware set is the epitome of excellence for gas stove cooking, offering you unrivaled control and precision in your culinary endeavors.
Best Price
Durable 5-ply design with four layers of conductive aluminum.
18/8 stainless steel cooking surface never affects food flavor.
Metal utensil-safe.
Hard-anodized exterior with dark charcoal color will not warp or discolor from flames. Plus, it enhances side-wall heat transfer.
Compatible with all cooktops, including induction. Oven & broiler-safe to 500℉.
Dishwasher-safe, but I recommend hand-washing to prevent dulling.
Pricey.
A bit heavy.
Takes some practice to prevent sticking.
Viking's exceptional 5-ply construction is specifically designed to address the inefficiency caused by heat escaping around the sides of cookware when used on gas cooktops.
Similar to Demeyere, this cookware set features a 3-layer aluminum core, offering a higher quantity of aluminum compared to most layered pans intended for gas stoves. This abundance of aluminum ensures superior heat distribution and retention, resulting in optimal cooking performance.
However, what truly sets Viking apart as one of the best cookware options for gas stoves is its unique exteriors.
Instead of using stainless steel, Viking incorporates a fourth layer of hard-anodized aluminum on the outside of the pans. This clever design takes advantage of the heat that would typically escape, allowing it to penetrate through the sides of the cookware. As a result, the sides of the pan experience immediate heat transfer, enabling faster and more efficient cooking, even in crowded pots. In contrast, cookware with steel exteriors tends to conduct heat less effectively, allowing heat to escape.
The three additional layers of aluminum within the cookware further contribute to heat spread and retention, ensuring that the 18/8 steel cooking surface is always ready for optimal cooking results.
In terms of durability, the hard-anodized exterior is equally resistant to warping compared to steel. Additionally, it offers a nonstick surface for easier cleanup and superior resistance against discoloration, allowing the cookware to maintain its like-new appearance for an extended period.
Furthermore, the inclusion of a bonus 400-series steel disk on the bottom of the pan enhances its resistance to direct flames.
For added comfort, the vented steel handles remain cool to the touch, ensuring a secure grip. The oven-safe domed steel lids, capable of withstanding temperatures up to 500℉, provide self-basting capabilities, keeping your food tender and flavorful.
One standout feature is the presence of volume markings (both US and metric) inside all the pots, excluding the fry pans. These markings eliminate the guesswork when recipes require specific amounts of liquid, such as when boiling pasta. This practical addition enhances precision and convenience in your cooking endeavors.
Moreover, the rounded rims of the cookware prevent dripping when pouring liquids, adding an extra level of practicality to the set.
With its innovative design, efficient heat distribution, durability, and thoughtful features, the Viking cookware set emerges as a top contender for gas stove cooking, offering unmatched performance and ease of use.
Best Price
Made in the USA.
Rugged yet lightweight 3-ply build with 1.7mm-thick aluminum core for fast, even heat spread.
Durable, non-reactive 18/10 stainless steel cooking surface – metal utensil-safe.Dishwasher-safe, but I recommend hand-washing to prevent dulling.Compatible with all cooktops, including induction. Oven & broiler-safe to 600℉.Lifetime warranty.
It takes some practice to cook eggs without sticking.
A little pricey compared to lower-end steel cookware.
No helper handles on saucepans.
The All-Clad D3 line offers excellent value with its polished exterior, responsiveness, and affordability. Its 3-layer construction includes a corrosion-resistant steel interior, a thick aluminum layer for rapid heat spread, and a hardened stainless steel exterior. The D3 pans are more responsive than non-copper models and provide quicker heat adjustments, making them forgiving for gas stoves. The cookware features stay-cool handles, space-saving hang holes, and unbreakable lids. Flared rims and helper handles add convenience during pouring and maneuvering. All-Clad D3 is a reliable choice for gas stove cooking.
Best Price
GreenPan SearSmart
4.6
(119 ratings)
Price: $549.99
Included in this set:
8" fry pan & 10" fry pan
1.5-quart & 2.25-quart covered saucepans
3-quart covered saute pan
5-quart covered casserole
Duoforged hard-anodized aluminum body for optimal heat spread, strength, & warp defense. The black color resists burn marks & stains.
Healthy non-stick ceramic coating with diamond for easy cooking, durability, heat distribution, & safety.
Full Efficiency body fits the same food volume from a 12" pan in a lighter weight 10," helping you do more with less.
Works on all stovetops, except induction.
Lifetime warranty.
GreenPan claims this set is safe for the dishwasher, metal utensils, & oven/ broiler up to 600°F. Again, I recommend avoiding all three as they diminish the non-stick lifespan.
GreenPan's SearSmart cookware combines the best of non-stick ceramic, aluminum's heat conduction, and cast iron's flavor-enhancing texture. It features a double-hard-anodized Duoforged body that is warp-resistant and withstands the heat fluctuations of gas stoves. The thick armored base ensures even heat distribution without hot spots. The multi-layered Thermolon Diamond Advanced coating, infused with diamond flakes, provides excellent non-stick performance and durability. The textured coating prevents food from sticking and adds a crispier texture. SearSmart offers increased cooking space and comes with tempered glass lids for moisture retention. The vented steel handles stay cool and allow for easy storage. GreenPan's SearSmart is a reliable and efficient option for gas stove cooking.
Affiliate DisclaimerAbout The Content
As an affiliate, we may earn a commission from qualifying purchases. We get commissions for purchases made through links on this website from Amazon and other third parties.