Got enough turkey leftovers after Thanksgiving? We have listed the top 5 most favourite turkey sandwiches you can make from the leftovers.
HOW TO MAKE CLASSIC TURKEY SUB
This classic style turkey sub will surely reward your day whether you go to a picnic or the office. Remember to choose natural, fresh and organic ingredients to bring out the potential of this delicatessen. Sink your teeth in this ultimate goodness after performing the recipe underneath: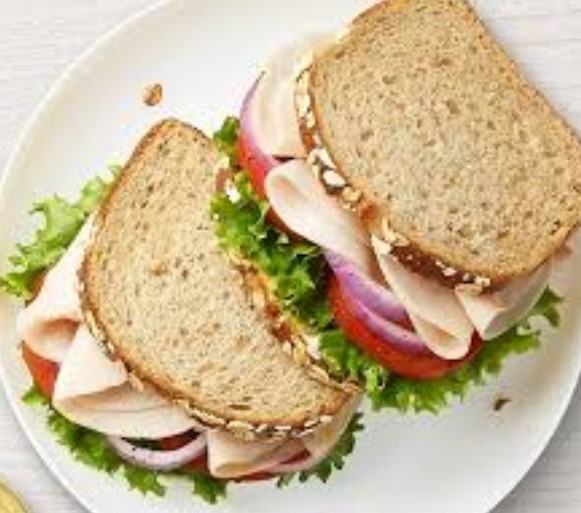 Ingredients
1 baguette, freshly made would be fabulous
1/3 pound of turkey, sliced thinly
lettuce
4 round slices of tomato
4 slices of provolone
a couple of slices of red onion
1 tbsp. of mayonnaise
1 tbsp. of mustard
1 tbsp. of oil and vinegar mix
salt and pepper
avocadoes and pickles (optional)
Directions
Slice baguette in half lengthwise, spread mayo on one side and mustard on the other side. If you choose to use avocado, smear it over the mayo spread.
Spread the cheese and the turkey slices evenly.
Top the turkey with the tomato slices and then add the pickles and onion.
Put lettuce and drizzle with oil-vinegar dressing.
Season with salt and pepper if so desired or leave it as it is.
Wrap the entire sandwich with a piece of wax and cut it in the middle using a serrated knife.
TURKEY REUBEN SANDWICH RECIPES
As you may know, Reuben sandwiches are not conventionally made with turkey. They are traditionally made with the all-time favourite, corned beef.  However, there's no restricting with creativity and how you take care of your health.  Make this turkey Reuben sandwich anyway and enjoy a nourishing diet.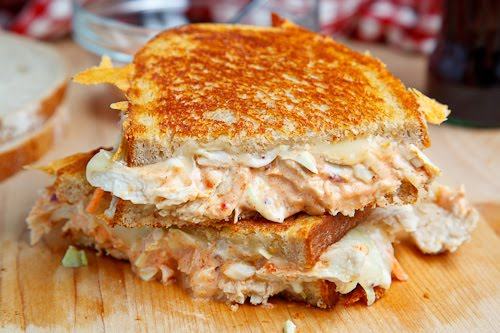 Ingredients
A quarter of roasted turkey left-over, shredded
2 slices of marbled rye
1000 Island Dressing
2 tbsp. of sauerkraut
2 slices of Swiss cheese
½ tsp. of yellow mustard
1 big squeeze of sriracha sauce
2 slaps of salted butter
Directions
Get one slice of marbled rye and smear it with 1000 island dressing.
Top it with a slice of cheese, turkey, sauerkraut and the remaining slice of cheese.
Get the other slice of marbled rye and spread 1000 island dressing, and then close the sandwich.
Butter both sides with salted butter and then put the sandwich aside.
Heat skillet on a medium flame and place the buttered sandwich into it.
Toast each side for a couple of minutes or until the cheese melts. Turn off the stove, get the sandwich and set it aside for another minute.
Slice the cheese in half and serve with 1000 Island dressing at the side.
ITALIAN ANTIPASTO SANDWICH – Turkey Sandwich Recipes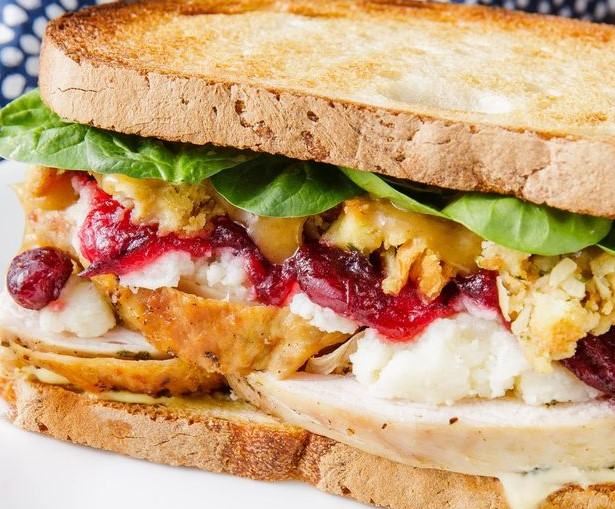 We're talking Italian here so be prepared with the deluge of veggies, spices, olives, mushrooms, cheese and other flavorful ingredients. What we love for antipasto is that probabilities for ingredients and flavours are endless.  Now, what we're going to substitute for the cured meats is our beloved turkey.
Ingredients
1 small french baguette
1/3 lbs. of cracked pepper turkey
3 thin slices of mozzarella-prosciutto rolls
3-4 small baby romaine leaves
2 tbsp. of sun-dried tomatoes in olive oil
1 tbsp. of banana peppers
few slices of red onions
1 tbsp. of whole-grain Dijon mustard
few fresh basil leaves
Directions
Slice your baguette in half lengthwise and toast it in the oven. Smear once slice with Dijon mustard and arrange the romaine leaves.
Top the leaves with cracked pepper turkey. Over it are tomatoes, banana peppers and red onions.
Assemble the mozzarella-prosciutto rolls over the spices, maintaining even spaces.
Put fresh basil leaves over the rolls and serve.