Print
How to Make Eggplant Parmesan – 12 easy Steps
---
Description
Eggplant Parmesan is one traditional Italian dish that is enjoyed all around the world due to the abundant flavours bursting in your mouth with every bite. In choosing the main ingredient, the eggplant, one must choose a young one which can be identified through its weight of 8 ounces.  Rest assured that the eggplant then is about 2 days old only.  Remember, selecting older eggplant may mean a much bitter taste. So let us
---
Scale
Ingredients
Ingredients 
An

8 oz

. eggplant

1 tsp

. of salt

¼ cup

of parmesan cheese, finely grated

8 oz

. of mozzarella, grated
Flour (for breading)
Egg (for breading)

1 tsp

. water
Bread crumbs (for breading)

6 tbsp

. of olive or vegetable oil

12 oz

. of spaghetti sauce
Materials
Colander
Paper towels
Cheese shredder
Plastic bag
Dishes
Skillet
---
Instructions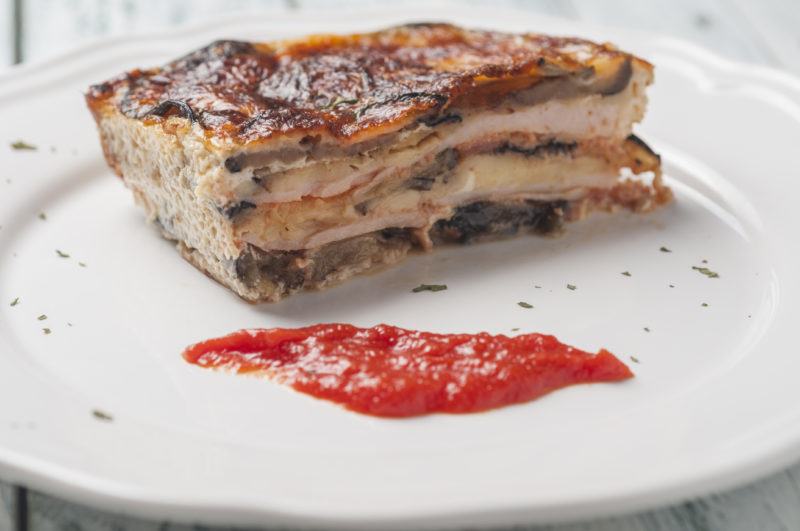 Cut the eggplant into ¼ inch thick apiece. Sprinkle the eggplant cuts with salt, seeing to it that they are salted on both sides. Set aside the eggplants in a colander for about 30 minutes.
Get the eggplant slices and blot the moisture that comes out from them with a paper towel. Again, blot the moisture with a second paper towel.
If you haven't shredded the cheese, shred both mozzarella and parmesan.
Put the egg and bread crumbs in two separate dishes while putting the flour in a plastic bag. Add 1 tsp. of water to the egg and beat the two together with a fork.
Array all the dishes: eggplant slices, flour (in a bag), egg, bread crumbs and an extra plate.
Put all the eggplant slices into the plastic bag with flour and gently shake. Now, one by one get the slices into the egg, then into the crumbs and set onto the plate. Make sure that both sides of each slice are covered with breading.
Set your skillet over a medium flame and pour 3 tbsp. of oil. Commence frying the breaded eggplant slices with each side cooked in about 4-5 minutes.  Flip over and do the same frying instruction.
Put the fried eggplants over a dish with a paper towel to get rid of the excess oil.
In an oven dish, set the spaghetti sauce and proceed into aligning the eggplants over it.
Cover the eggplants first with mozzarella cheese, then with parmesan.
Bake the eggplants for about 15 minutes in a 435⁰F heat until the cheese is golden and the sauce is foamy.
Remove from the oven and serve the eggplant parmesan cheese.
Notes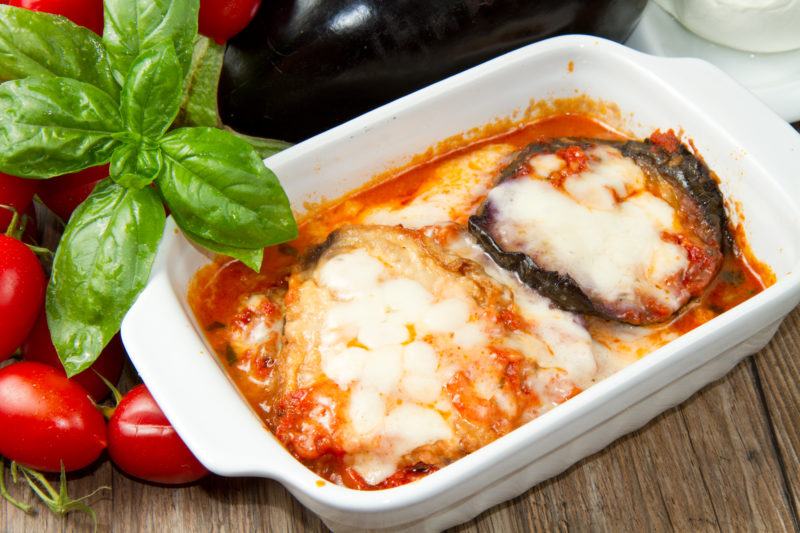 Keywords: Eggplant Parmesan